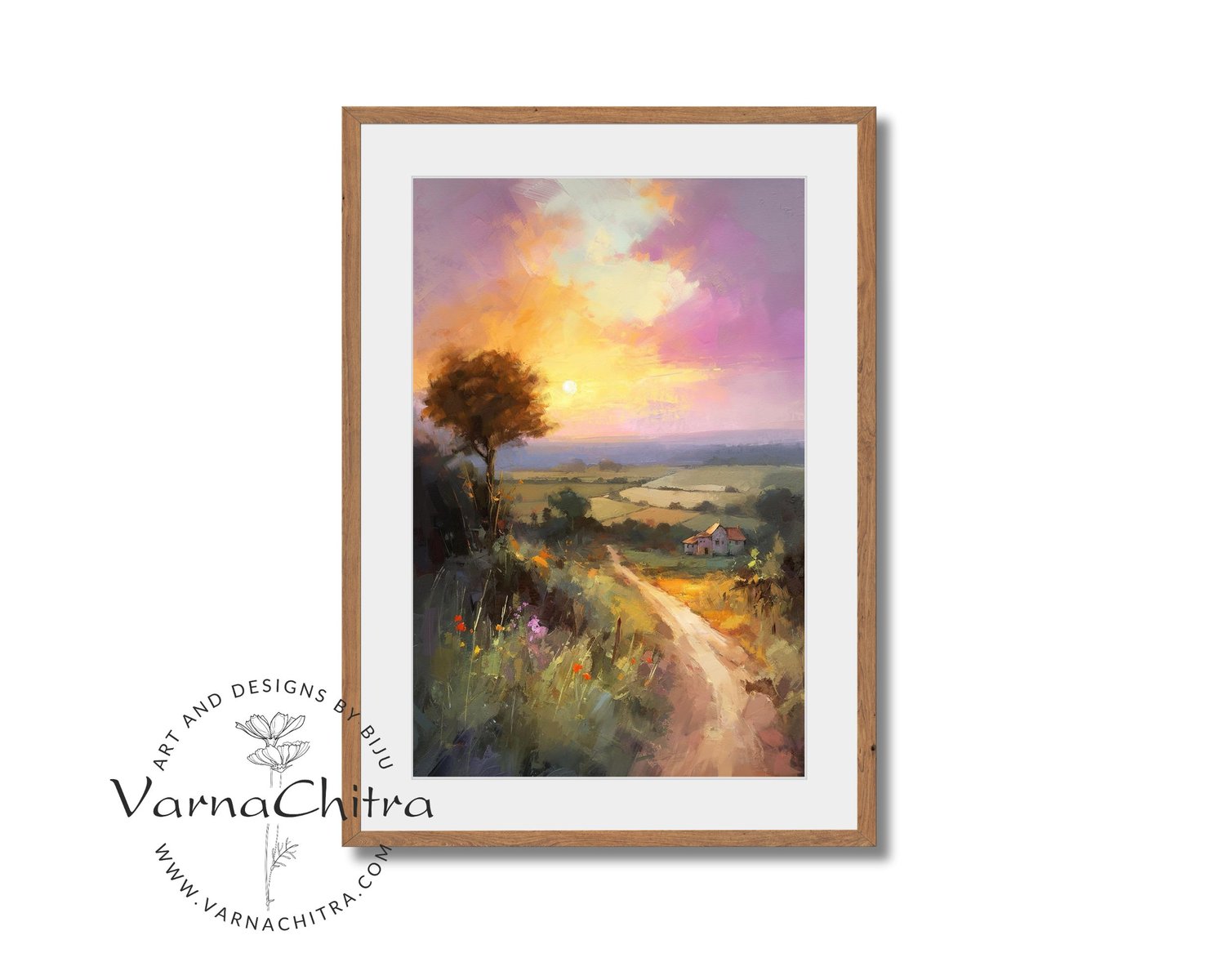 Landscape Painting 17 in Semi Impasto Oil Painting Style of a Sunset Scene in Thick Paint Strokes, Colorful Painterly Wall Art
This painting is crafted in a loose artistic style that blends semi-impressionism with expressive brushwork. It effortlessly captures the serene beauty of a countryside sunset, transporting you to a world of vibrant colors and breathtaking landscapes.
With its portrait orientation, this artwork becomes an exquisite focal point in any room. Its lively brushstrokes and vivid palette infuse energy and vitality, breathing life into even the dullest spaces. It can elevate the mood and ambiance of your interiors with this captivating allure.
Whether as a personal indulgence or a thoughtful gift for any occasion, this painting exudes charm and sophistication. Bring the magnificence of the natural world into your life, transforming your surroundings into a haven of tranquility and inspiration.
Upon purchase you will receive 1 jpg file as instant download.
Use the downloaded file for customized printing and framing at any of the online printing and framing services like shutterfly, canvaschamp etc. You may also utilize the service of your local printing and framing shops.
THIS ITEM IS A DIGITAL DOWNLOAD ONLY. NO PHYSICAL ITEM WILL BE SHIPPED.
YOU WILL GET 1 JPG FILE OF SIZE 32x48 inches each with 300 ppi AS A DIGITAL DOWNLOAD.
The file can be easily resized to
24x36 inches(2:3 aspect ratio) and below
24x24 inches (1:1 aspect ratio) and below
18x24 inches (3:4 aspect ratio) and below
16x20 inches (4:5 aspect ratio) and below
11x14 inches
A3 (ISO) 11.7x16.5 inches
You can contact me for any other size after purchase.
For personal use only. No commercial use permitted.