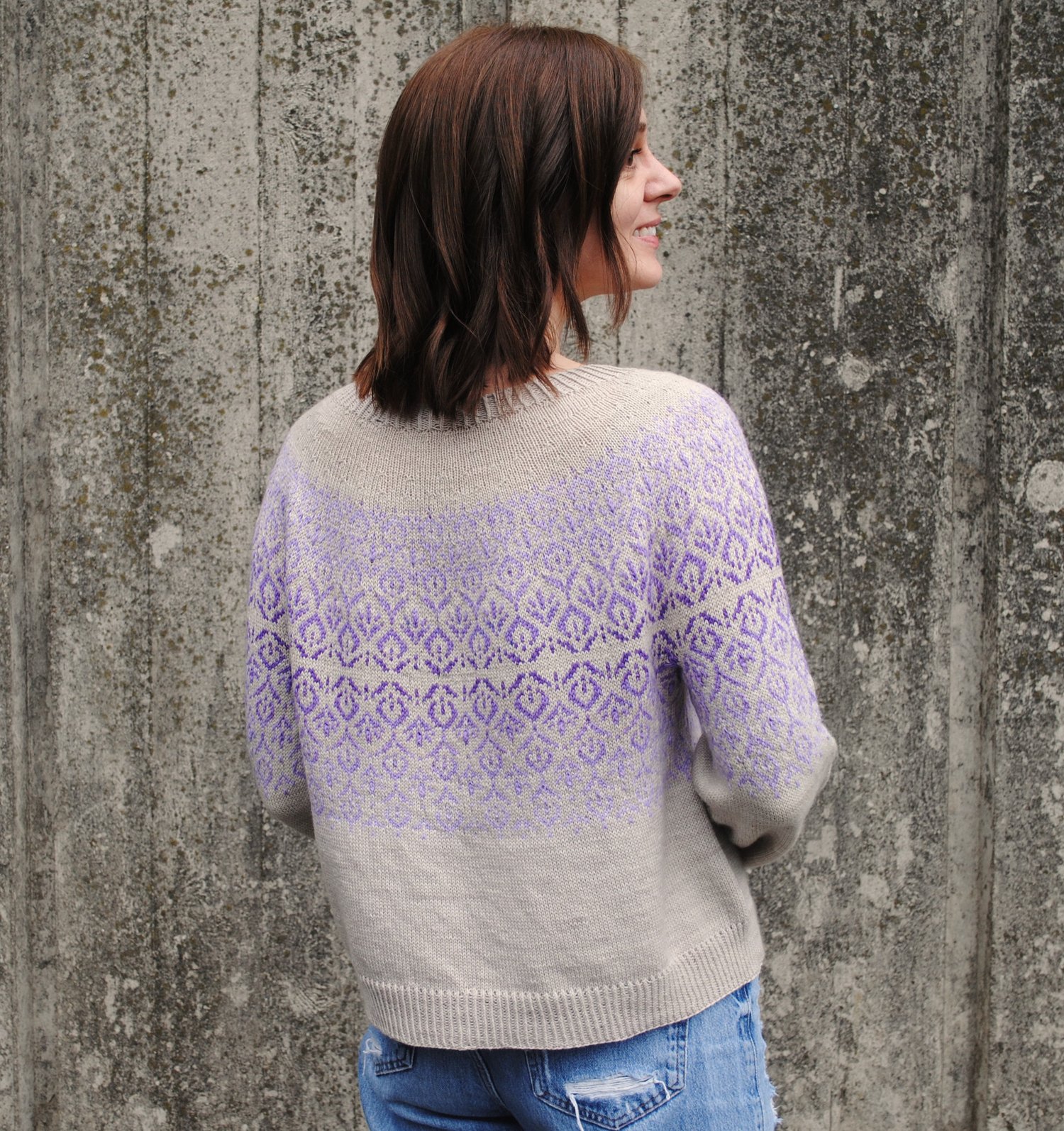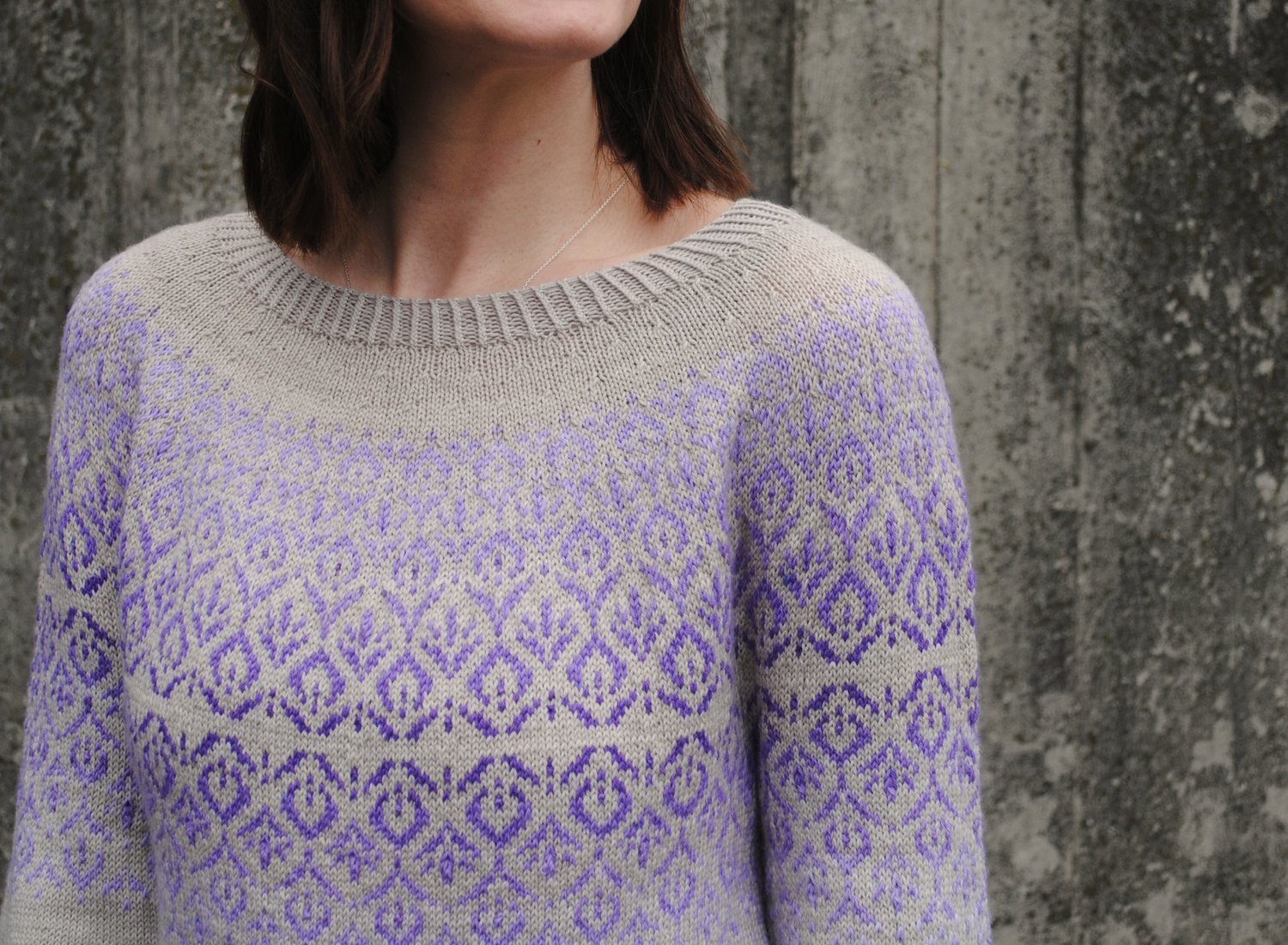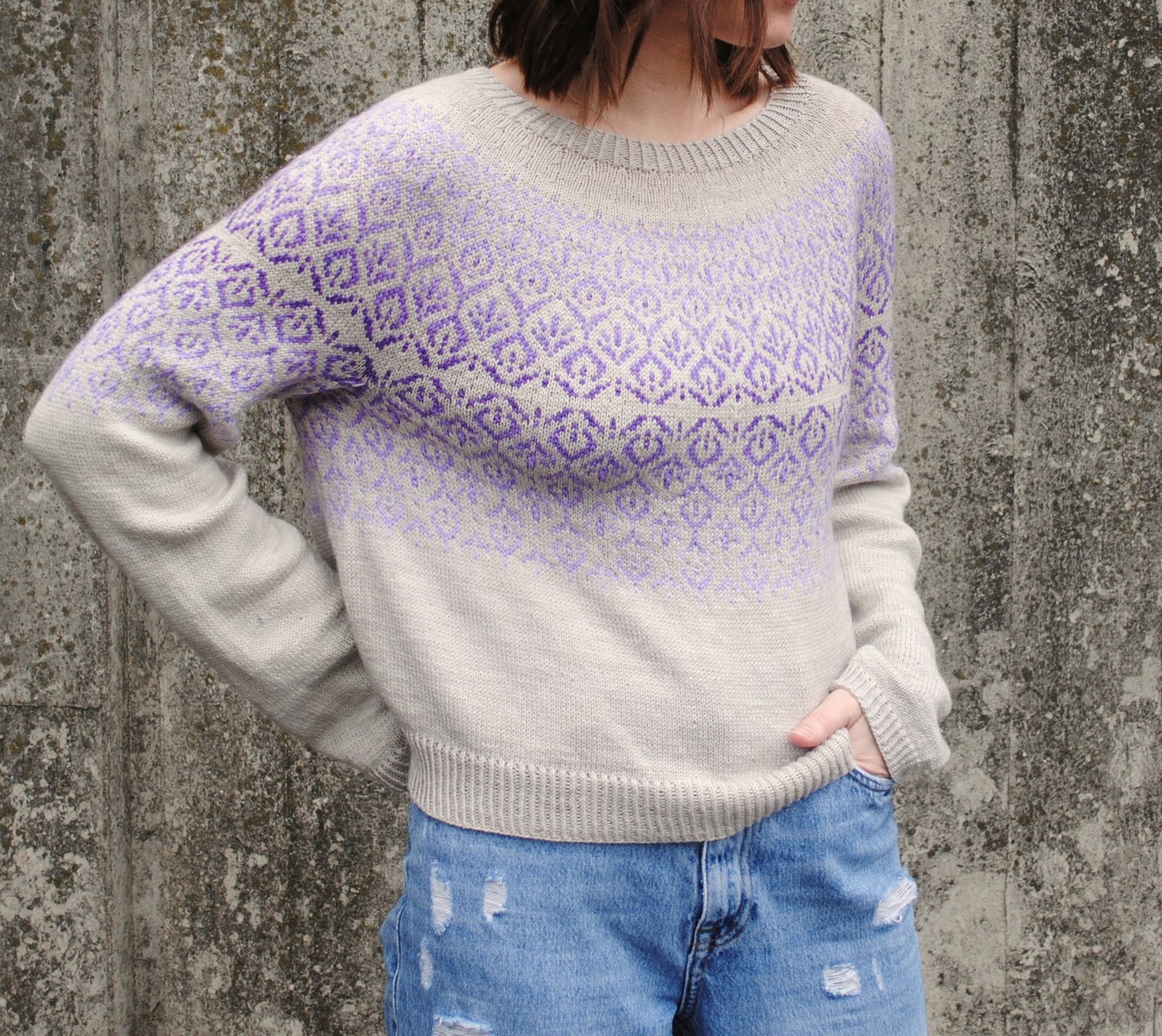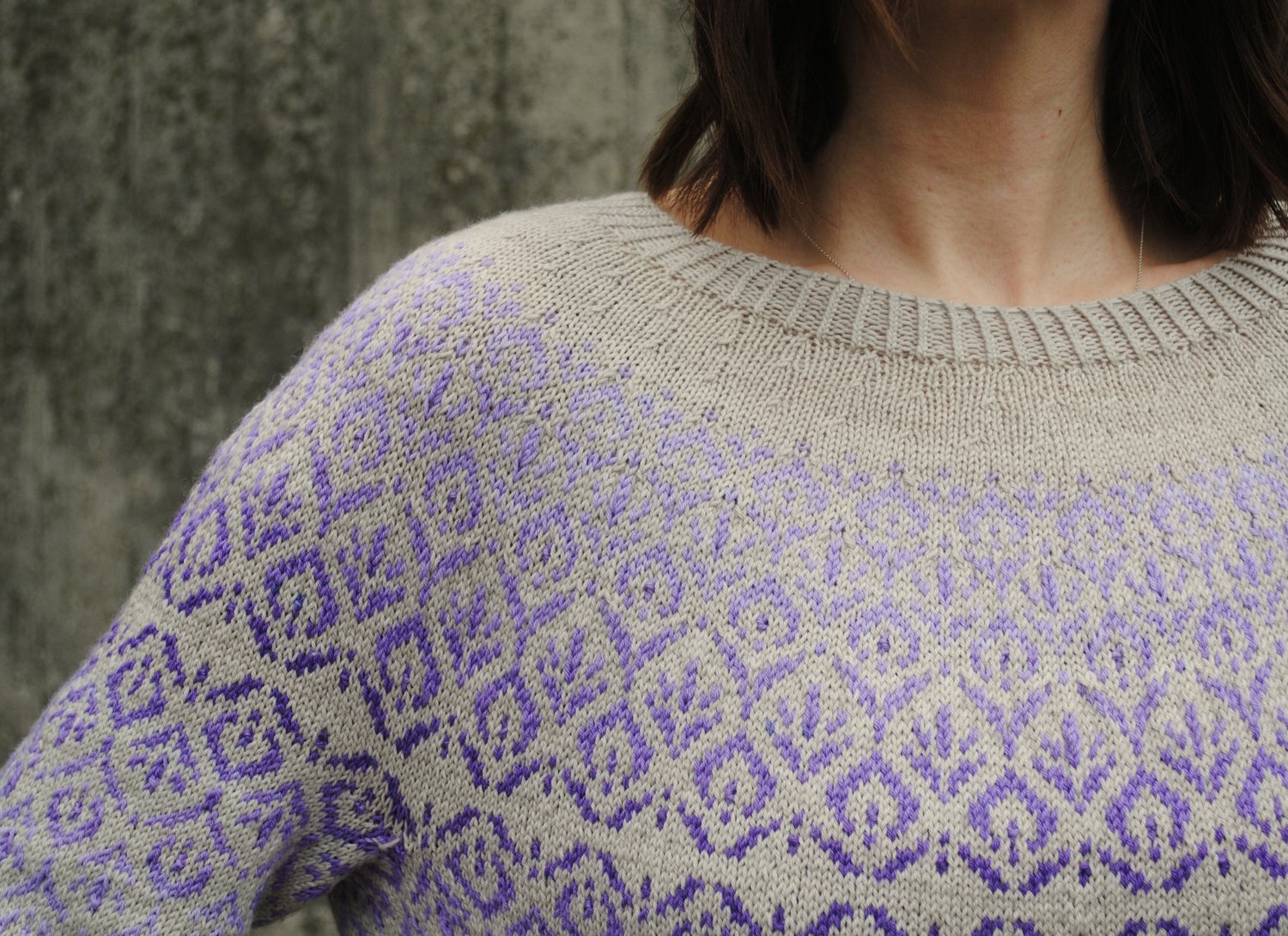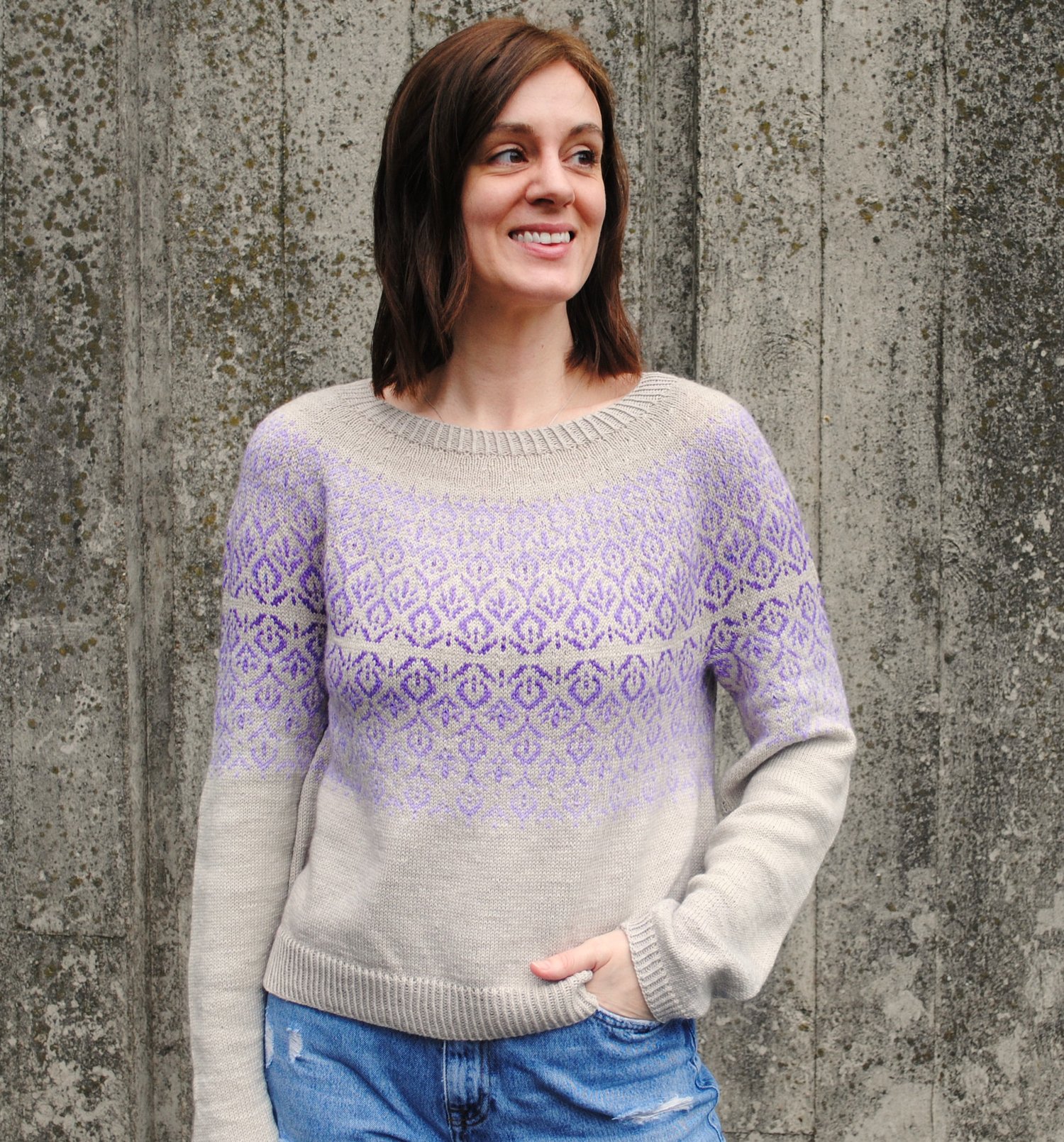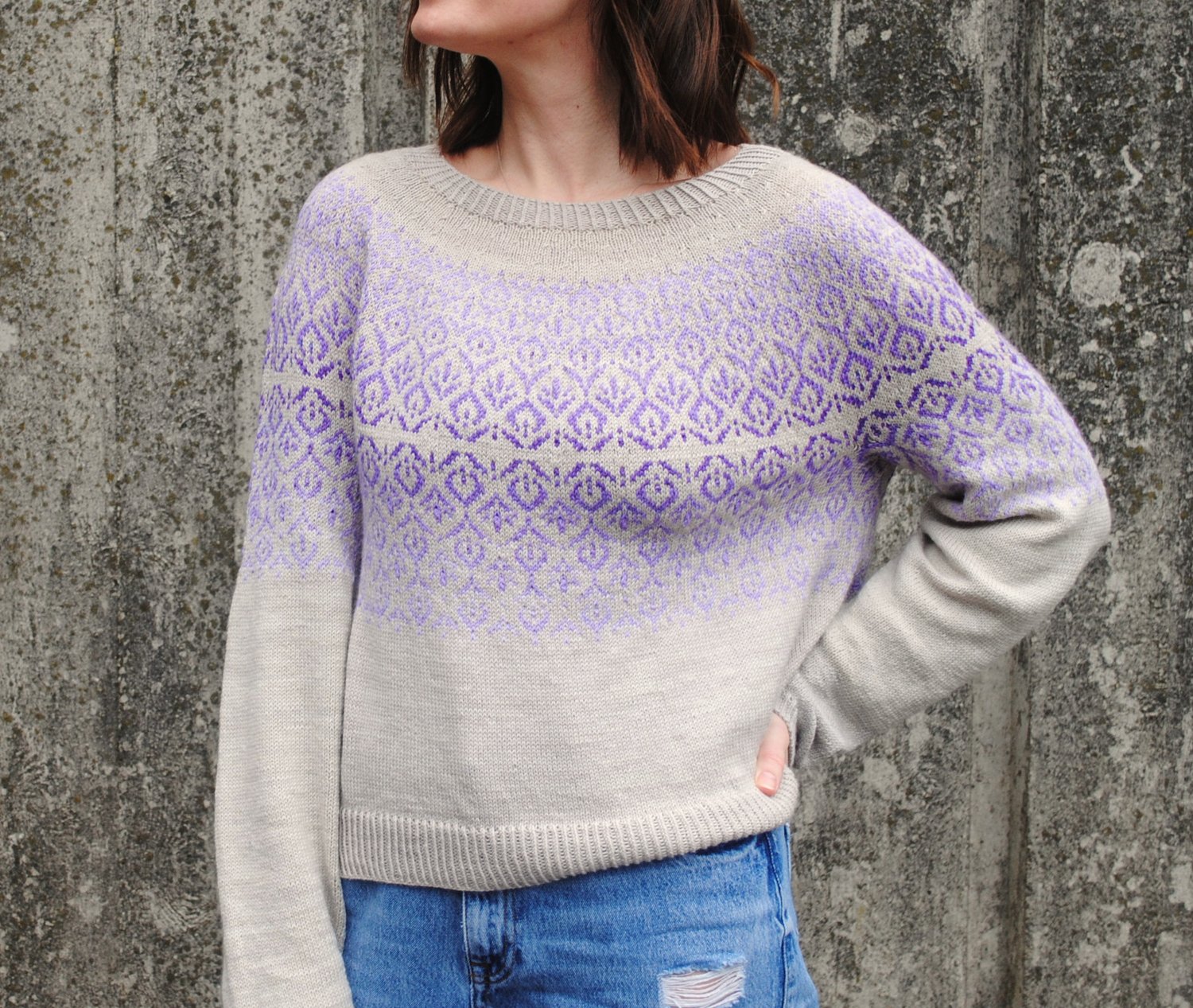 Reflecting
On Sale
Reflecting takes inspiration from the reflections of foliage and flowers on water. The yoke features stranded colourwork combined with delicate textured stitches to create a beautiful and intricate motif inspired by shapes found in nature; this motif is then reflected in the end of the yoke and into the body and sleeves.
SAMPLE
The wearer is 5'10" / 178 cm with a 37" / 92.5 cm chest circumference. The sample has been worked in size L, giving the wearer 9.75" / 24.5 cm of positive ease at the chest. To allow for the wearer's height, an extra 1" / 2.5 cm has been worked into the sleeves and an extra 2" / 5 cm has been worked into the body.
CONSTRUCTION
The yoke of this garment has a somewhat unusual construction: stitches are cast on (using Judy's Magic Cast On) near the end of the yoke, then the yoke is worked bottom up, in the round, to the neckband. Stranded colourwork combined with textured stitches is worked through the majority of the yoke. Once the yoke is complete, the knitter returns to Judy's Magic Cast On and the second set of stitches to continue working the end of the yoke, top down and in the round. Here a mirror image of the stranded colourwork and textured stitches is worked and this pattern continues into the body and sleeves. Once yoke depth is reached, stitches are separated into body and sleeves, each of which is worked in the round.
SIZING
This garment is graded into sizes XS (S, M, L, XL) (2XL, 3XL, 4XL, 5XL). Recommended positive ease is 3-10" / 7.5-25 cm at the chest circumference.
Finished Garment Chest Circumference:
33.5 (37.25, 41, 46.75, 50.5) (54.25, 57.75, 61.5, 65.25)"
84 (93.5, 102.5, 116.5, 126) (135.5, 144.5, 154, 163.5) cm
GAUGE
Using 3.25 mm / US size 3 needles, or needle size required to meet gauge, 30 stitches over 36 rounds in both stockinette stitch and colourwork, blocked, creates a 4x4" / 10x10 cm square.
Neckband, waistband and cuff circumferences assume you are working 8 sts per 1" / 2.5 cm.
YARN
The sample has been worked using Botanical Yarn's 4ply Merino Sock base (75% Superwash Merino / 25% Nylon; 425 m / 465 yds per 100 g) in colourway Pampas Grass for the Main Colour and the Reflecting Violets 5 Mini Skein Set as the Contrast Colour.
YARDAGE (includes ~10% excess)
Main Colour:
979 (1040, 1157, 1301, 1360) (1453, 1548, 1655, 1706) metres
1071 (1138, 1265, 1423, 1488) (1590, 1693, 1811, 1866) yards
230 (245, 272, 306, 320) (342, 364, 389, 401) grams
Contrast Colour:
213 (230, 262, 304, 320) (336, 369, 402, 418) metres
233 (251, 287, 322, 350) (368, 404, 440, 458) yards
50 (54, 62, 71, 75) (79, 87, 95, 98) grams
TOOLS & NOTIONS
2.75 mm / US size 2 circular needles (to work neckband, cuffs and waistband; varying cable lengths would be helpful)
2x 3.25 mm / US size 3 circular needles (to work yoke, body and sleeves; varying cable lengths would be helpful)
1 marker
scrap yarn
tapestry needle to weave in ends
up to 12 removable markers (optional)
cable stoppers (optional)
SKILLS REQUIRED
-Judy's Magic Cast On
-joining and working in the round
-working half-twisted ribbing
-German short row shaping
-reading colourwork charts
-working stranded colourwork with two colours
-long tail cast on with two colours
-working a repeating pattern of decreases
-decreasing using K2tog and SSK
-tubular bind off