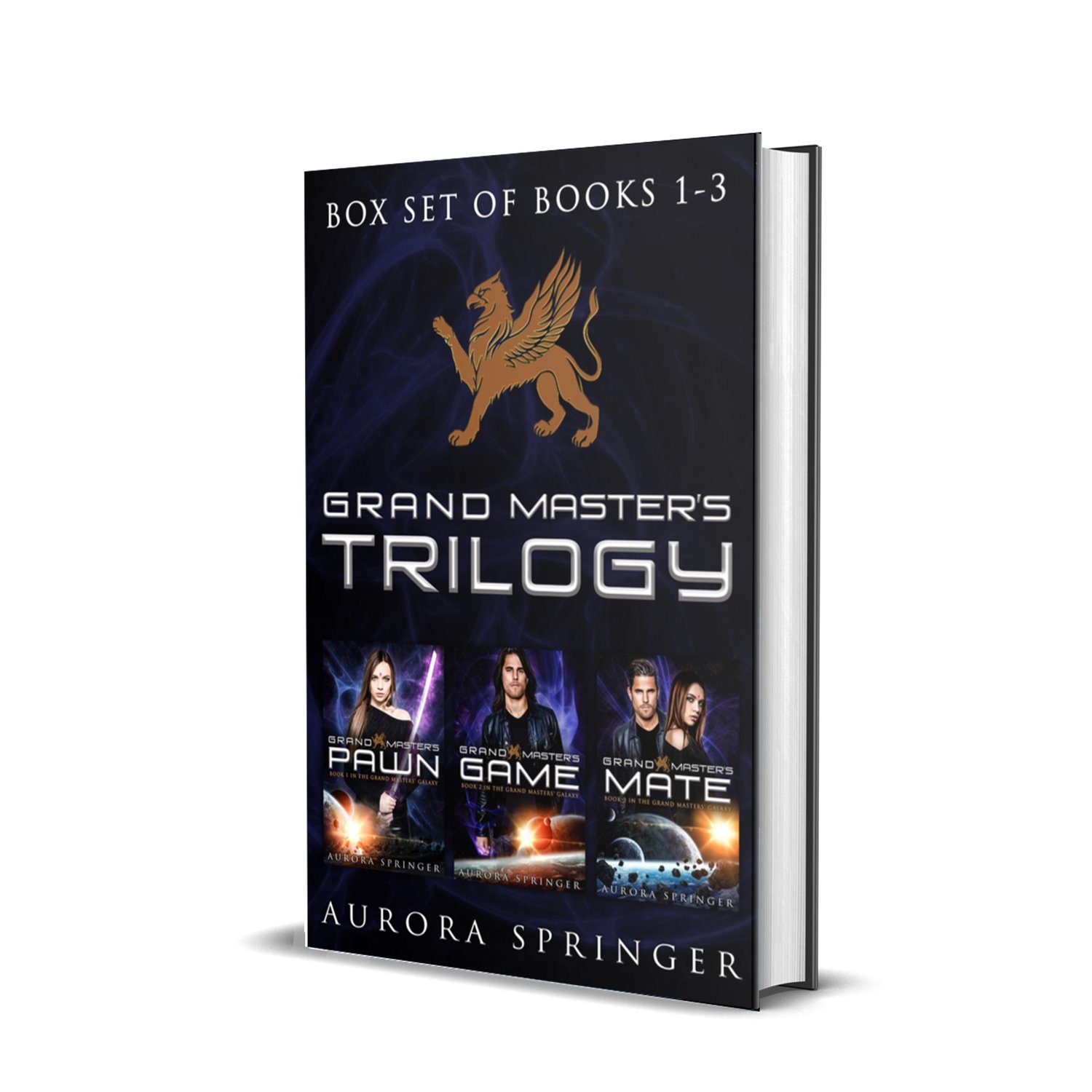 Grand Master's Trilogy, Books 1-3 of Grand Masters' Galaxy
On Sale
Epic SciFi / Fantasy Adventure and Romance - Three Volumes in One.
Spin through the galaxy, meeting exotic aliens, as young empath Violet hunts the secrets of the Grand Masters.
Grand Master's Pawn, Book 1
Grand Master's Game, Book 2
Grand Master's Mate, Book 3

Grand Master's Pawn
One young woman challenges the secret rulers of the galaxy, and risks a perilous love.
Young empath, Violet Hunter, dreams of exploring exotic planets as a Grand Master's pawn. When life-threatening cracks appear in the teleportal web, Violet is tasked with investigating the disruption. Suspicions point to the twelve Grand Masters, and she must penetrate their curtain of secrecy to identify the culprit. Her challenges escalate when she meets the enigmatic man behind the griffin avatar. She plunges into a world of deadly intrigues and risks a perilous love. Armed with only her erratic powers and a mishmash of allies, she must battle the most powerful beings in the galaxy.

Grand Master's Game
Psychically linked lovers fight to save the galaxy.
The rebellious Grand Master, Athanor Griffin, devises a risky plan to uncover the culprits responsible for life-threatening failures in the portal web. His loyal pawn and lover, Violet Hunter, is the key to success as they contend with hostile aliens and Grand Masters. But, she wrestles with her erratic psychic talents and doubts about their unequal partnership. She must surmount her insecurities and recruit allies to survive the inevitable battle with their enemies. Their worst nightmares lie ahead.

Grand Master's Mate
Young empath, Violet Hunter, and crafty Grand Master Athanor Griffin, tackle the villains threatening civilization.
Their worst enemy rampages across the galaxy, while blocked portals prevent normal interplanetary commerce. Compounding their problems, half the Grand Masters on the Council vow to eliminate Violet. To restore peace, Violet and Athanor embark on a hazardous quest for a weapon hidden by the ancient psychic masters. But, the weapon proves elusive, dangers lurk in the ancient sites, and new alliances forged with bizarre entities may not suffice to thwart their foes and save the galaxy.