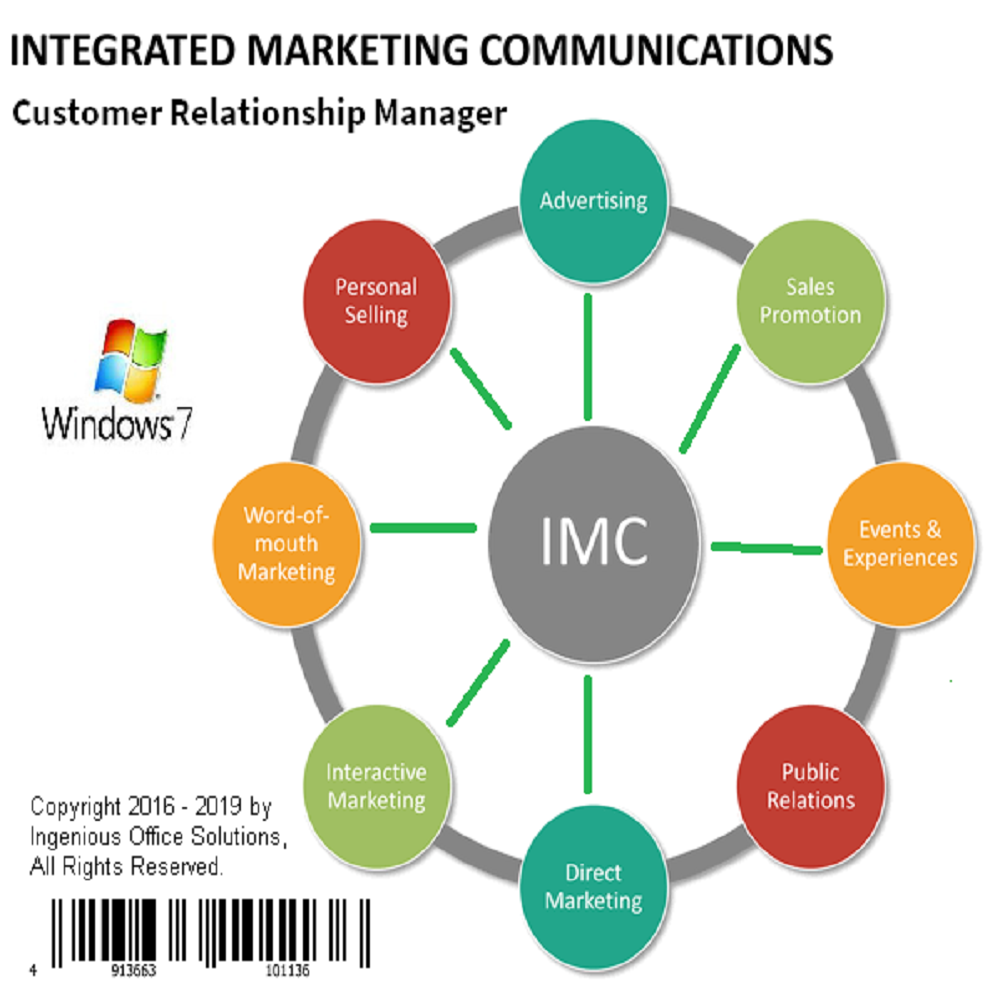 IMC-Customer Relationship Manager by IOS
On Sale
$5.00
IMC-CRM
Integrated Marketing Communications-Customer Relationship Manager
On Sale Now! Was $15.00
IMC-CRM MANAGER
Take your Customer Relations and Affiliates Management to the Next Level with IMC Manger.
Now, you can control every aspect of your Customers Data with the IMC Manager. This unique software program allows you to keep all of your customers and affiliates information all in one spot. Our software program is password protected, so all of your employees can have their own login user name and password.
Simplistic design with block tabs down the screen on the left for ease of access to all tabs, also on the left, the Clients Contact List which allows you to quickly locate any customers file, and the Data Entry fields are all on screen.
IMC Manager / CRM Includes:
Clients Tab - Client Management (see photos)
• Add New Clients
• Client ID Number
• Clients Affiliate Number (optional)
• Clients Contact Information
• Clients Important Data such as Birthdays, and Family Contact Information
• Further Information Tab
• Renewal Reminder Tab - Great for making future calls.
• Make Notations of Previous Products Purchased
• Print a Hard Copy of the Customers Data (for your records)
• Attach Comments of any Prior Conversations
• Archive any Customers Data
• Delete Clients
Affiliates Tab - Allows you to add new, delete information about affiliates.
Calendar Tab - Displays either daily or weekly calendar.
Reminders Tab - Shows all reminders that have been set.
Search Tab - Allows You to Search for any Customer
Archive Tab - Create Data Archives and Restore Archived Data
Control Panel Tab - Add New User Accounts (User Name and Passwords) - Program allows you to enter Full Name, Address, DOB, Phone Number, eMail Address, Level, User Type (Admin/Normal User), and Comments for all of your employees.
• Administration Users have full access to the admin page.
• Normal Users only have access to their accounts on the admin page, but cannot change the User Type; and they cannot see the renewal reminders.
• Set Event Types
• Add/Delete Product Types
• Set Renewal Reminders
• Change Color Scheme
• Set Reminders
• Backup All Data Within the Program
• Import Customer Data (.csv)
REQUIREMENTS:
Windows XP, Vista, 7 (not tested on Windows 8 or Higher)
Sorry, No Demo Is Available