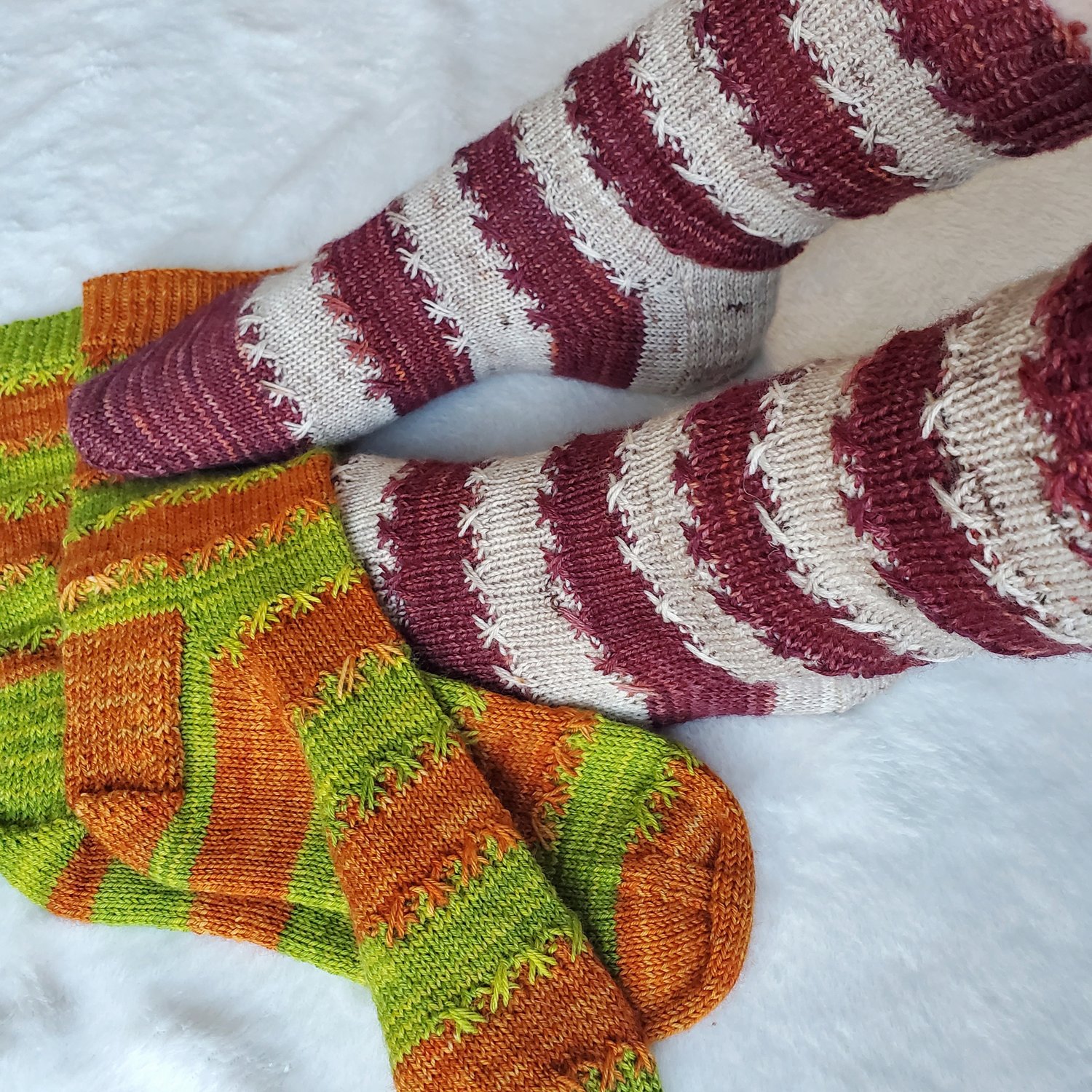 Frankenseam Socks
On Sale
$6.00
It…is…A SOCK! MWAHAHA!

These socks are worked cuff-down, with a heel flap and
gusset construction and a wedge toe. Contrary to how
they may look, these socks do not involve any seaming!
Just a few simple techniques get you this lashed-together
look that allows you to incorporate as many colors as you
like. Whether you're handy with a cable needle or want
to try cabling without one, I have your back with photo
tutorials on how to knit the X stitches (see additional
attachment).

Make it scrappy, use a contrast heel or toe color, and
make these your own. Use a sedate color palette or go
wild with bright, vibrant colors! They would even be ideal
for those lovely holiday boxes of minis from your favorite
dyer: use a 12-skein box for a matching pair or a 24-skein
box for fraternal twins.

Whatever you decide, I hope that these socks make you
so happy and inspired that you feel like lightning has
struck.

~~~

Sizes:
S (M, L)
Fits approximate foot circumference of 7 (8, 9)" / 17.5 (20, 22.5)cm

Gauge:
32 sts x 48 rounds in stockinette stitch over 4" x 4" / 10cm x 10cm

Needles:
US 1/2.25mm needles

Yarn:
Republica Unicornia BFL Sock (75% Blue-faced Leicester, 25% nylon)
464yds/424m per 100g skein
MC: Moondance (orange) (~40-50g)
CC: Magical Mystery Tour (green) (~40-50g)
or
MC: Winesap (reddish-brown) (50-60g)
CC: Toasted Marshmallow (speckled cream) (30-40g)
or
50g each of 2 colors of comparable sock weight yarn

This pattern has been professionally tech edited and test knit.