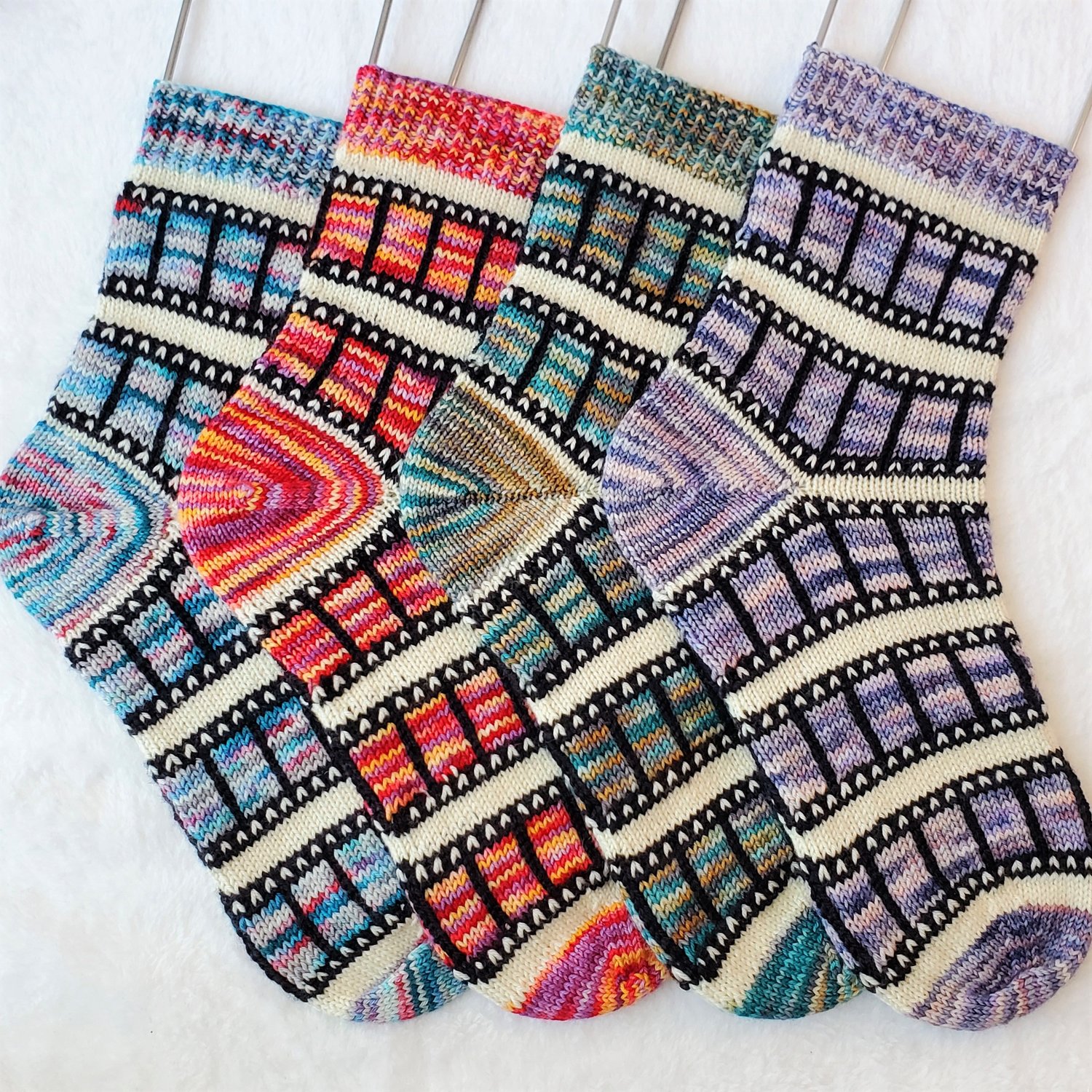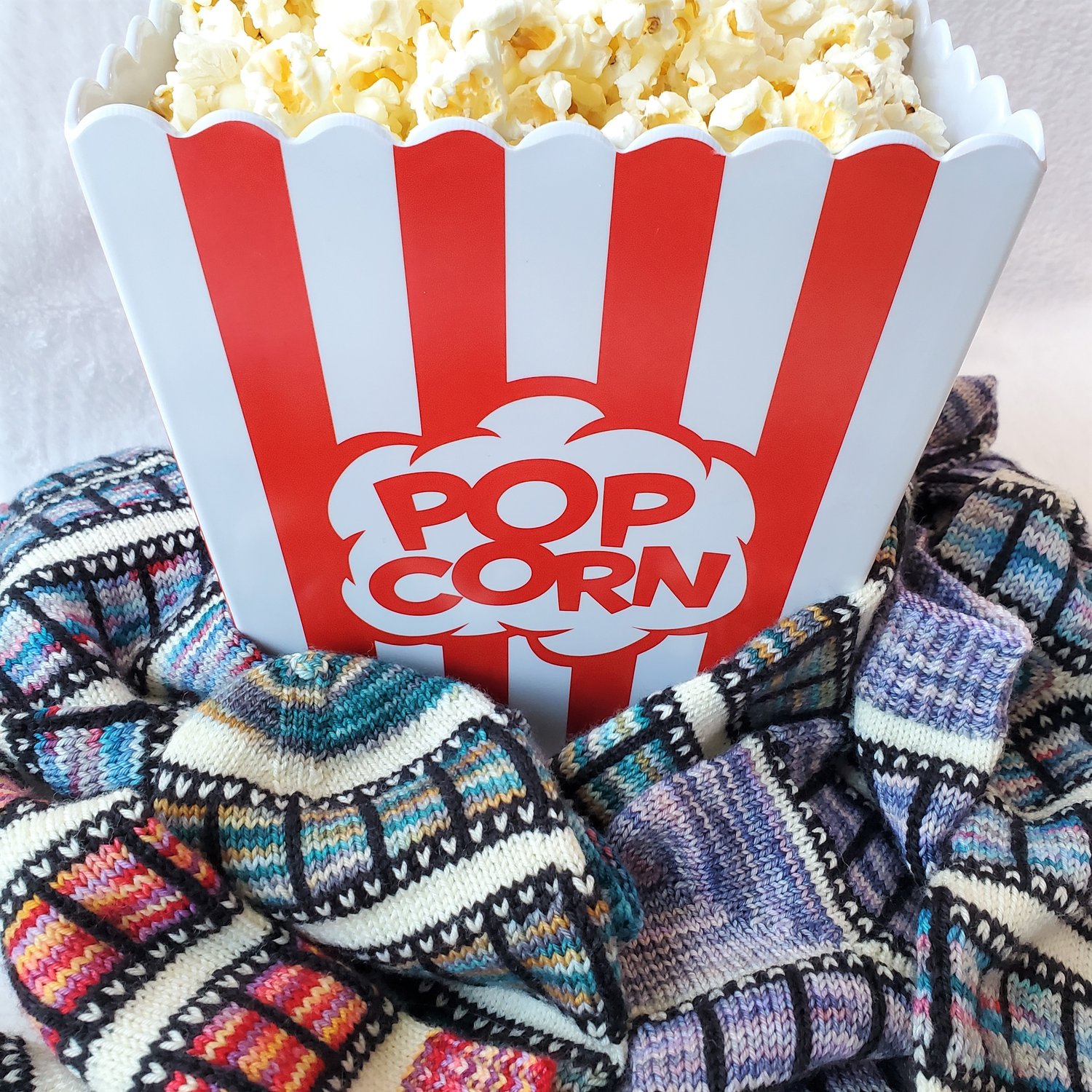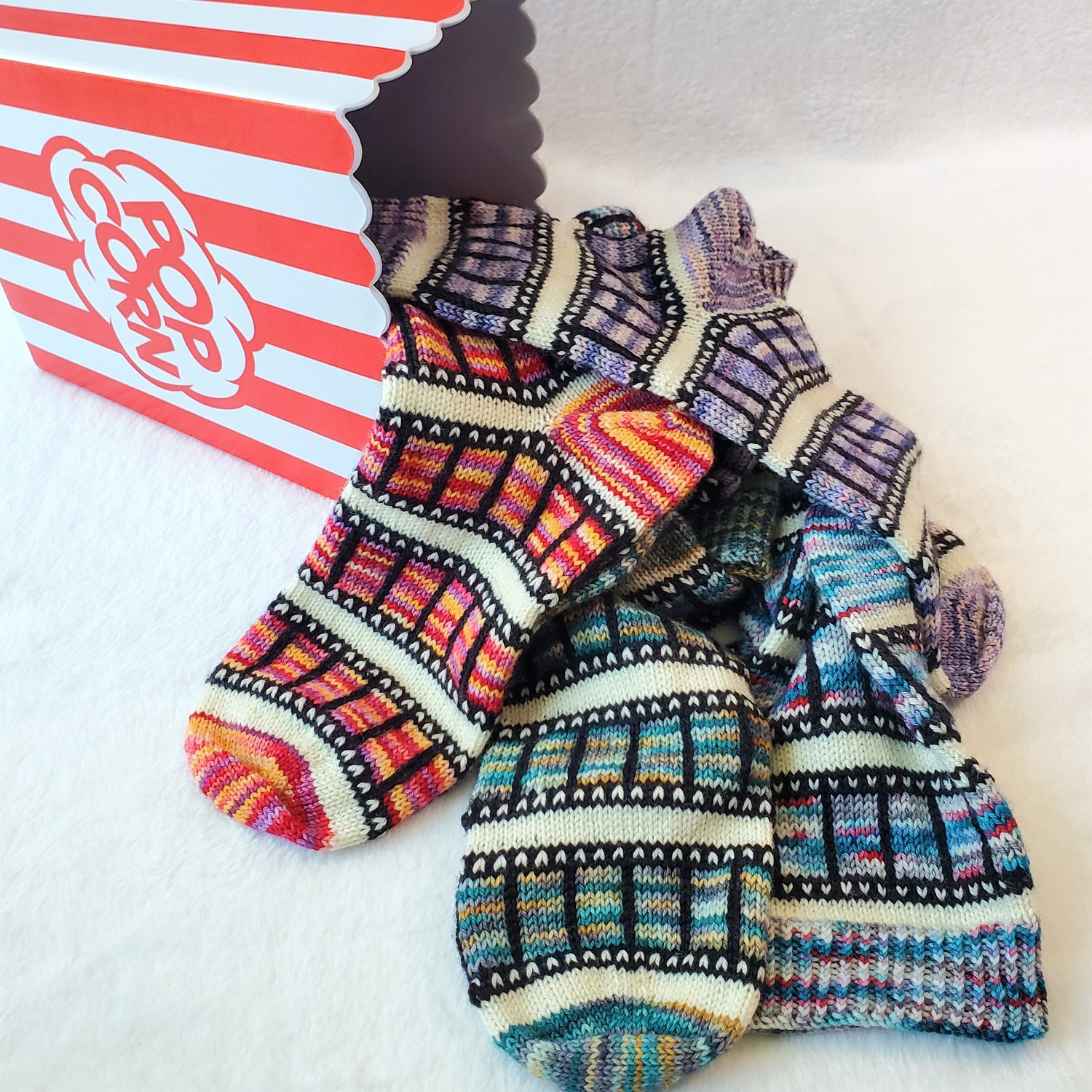 Film Reel Socks
On Sale
$6.00
Use code FILMREEL for 20% off everything in my shop until Sunday May 22nd at 11:59pm PDT!

This knitting pattern has been rated PG-13 for Stranded Colorwork, Thematic Elements, and Mild Crude Humor
NOW SHOWING: THE FILM REEL SOCKS
Are you a movie buff? Because I sure am. Black-and-white or color, slapstick comedy or high fantasy, I love pretty much everything about movies. And there's nothing I love more than a good reference to something I've seen.
These socks are built to showcase your favorite movie- or show-themed yarn, no matter how variegated (and, in fact, the more variegated, the better!) So bust out those single skeins that you bought just for the name and give them a chance to shine.
This pattern is knit from the cuff down using stranded colorwork. There are 4 different heel "genres" for you to choose from:
Thriller (cut-in afterthought)
Sci-Fi/Fantasy (forethought)
Action/Adventure (German short row)
RomCom (wrap-and-turn short row)
Choose your own knitting adventure and knit the best fit for your fun single skeins. The possibilities are endless!
Lights, camera, ACTION!
~~~
Sizes
A (B, C, D, E, F)
Approx. finished circumferences of 7 (7.75, 8.5, 9.25, 10, 10.75)" / 18 (19.5, 21.5, 23.5, 25.5, 27.5)cm
Since these are colorwork socks, choose a size that gives you as close to 0" of ease as possible, but not bigger than your feet (rather than the standard 10% negative ease for a stockinette sock)
Yarn
MC: Retold Yarns Silver Screen Sock (463 yd/115g, 75% merino, 25% nylon) - 30-60g
CCW: any white or undyed sock yarn - 10-20g (I used The Black Squirrel Yarns "Ecru Brute" on the Wesley Sock base)
CCB: any saturated black sock yarn - 20-40g (I used Stunning String Studio's "Little Black Dress" on the Stunning Superwash base)
Needles
US1 (2.25mm) for non-colorwork sections
US2 (2.75mm) for colorwork
I used 32" circulars for magic loop on non-colorwork sections and 10" circulars for colorwork, but use whatever sock knitting method you prefer.
Gauge
NOTE: The gauge for these socks is very important to ensure that the colorwork can fit over your heel.
31sts x 40 rows **in colorwork pattern** over 4"x4"/10cm x 10cm, after blocking
32sts x 48 rounds **in stockinette stitch** over 4"x4"/10cm x 10cm, after blocking
Notions
5 stitch markers
2 locking stitch markers
Waste yarn (for afterthought and forethought heels)
Tapestry needle