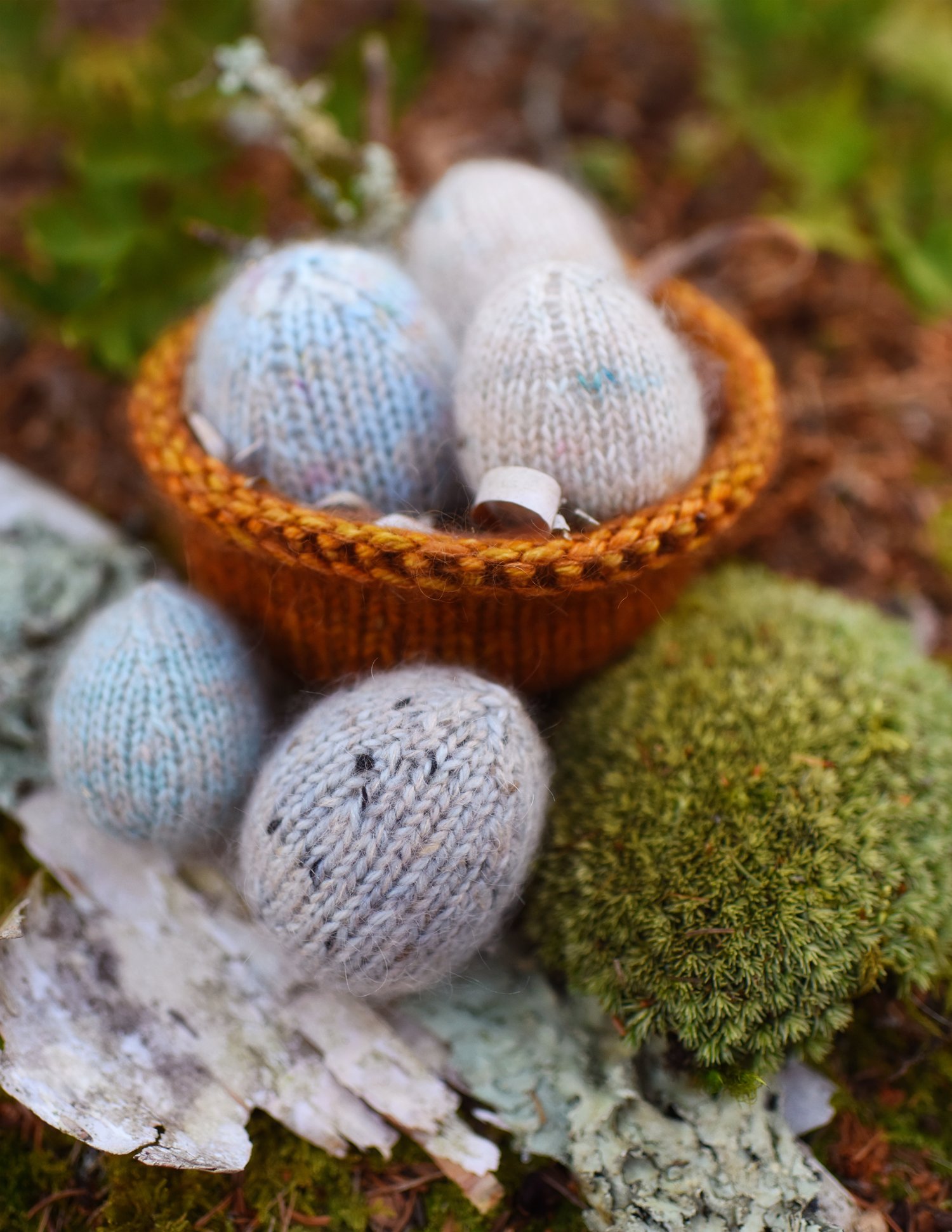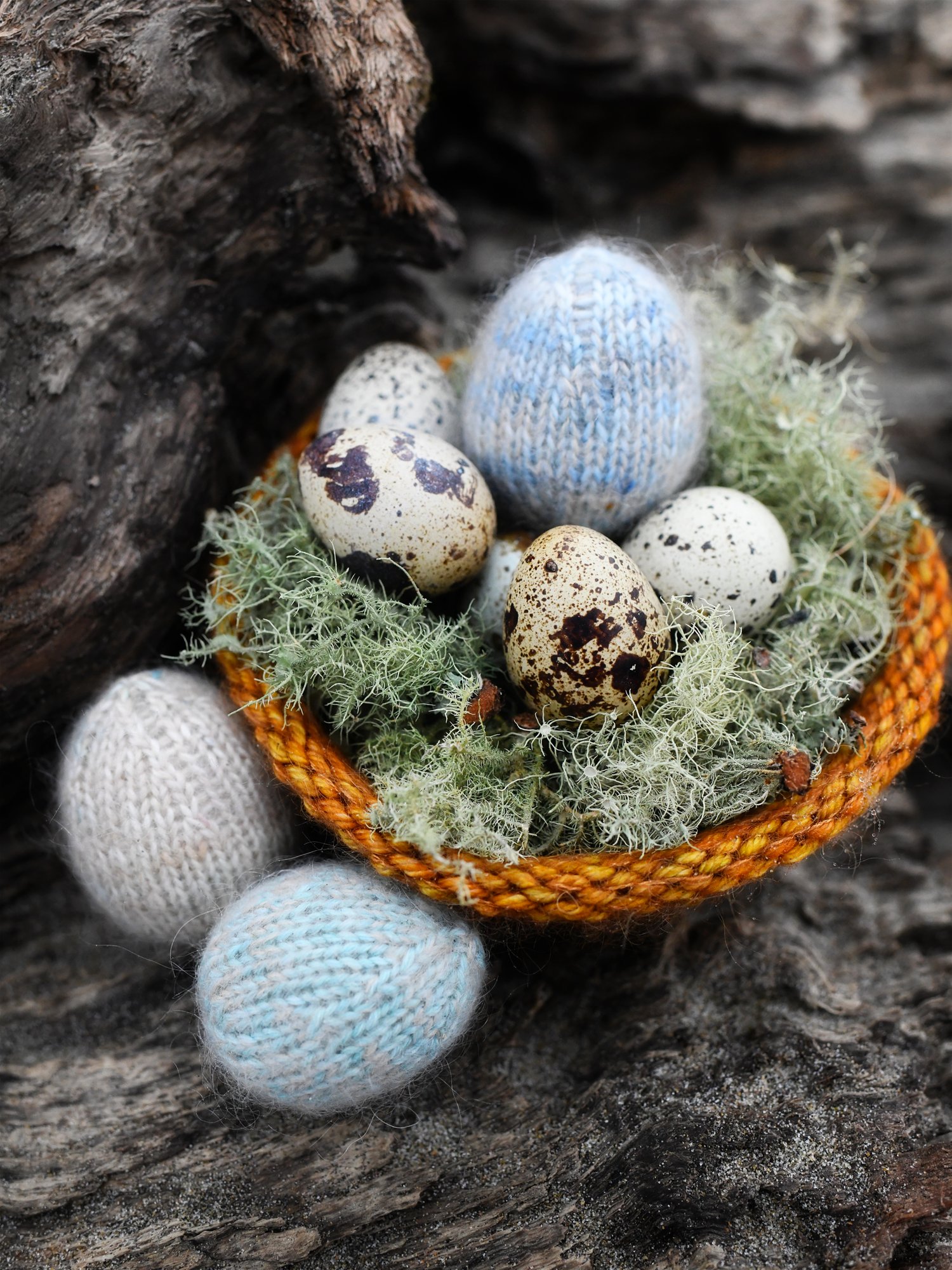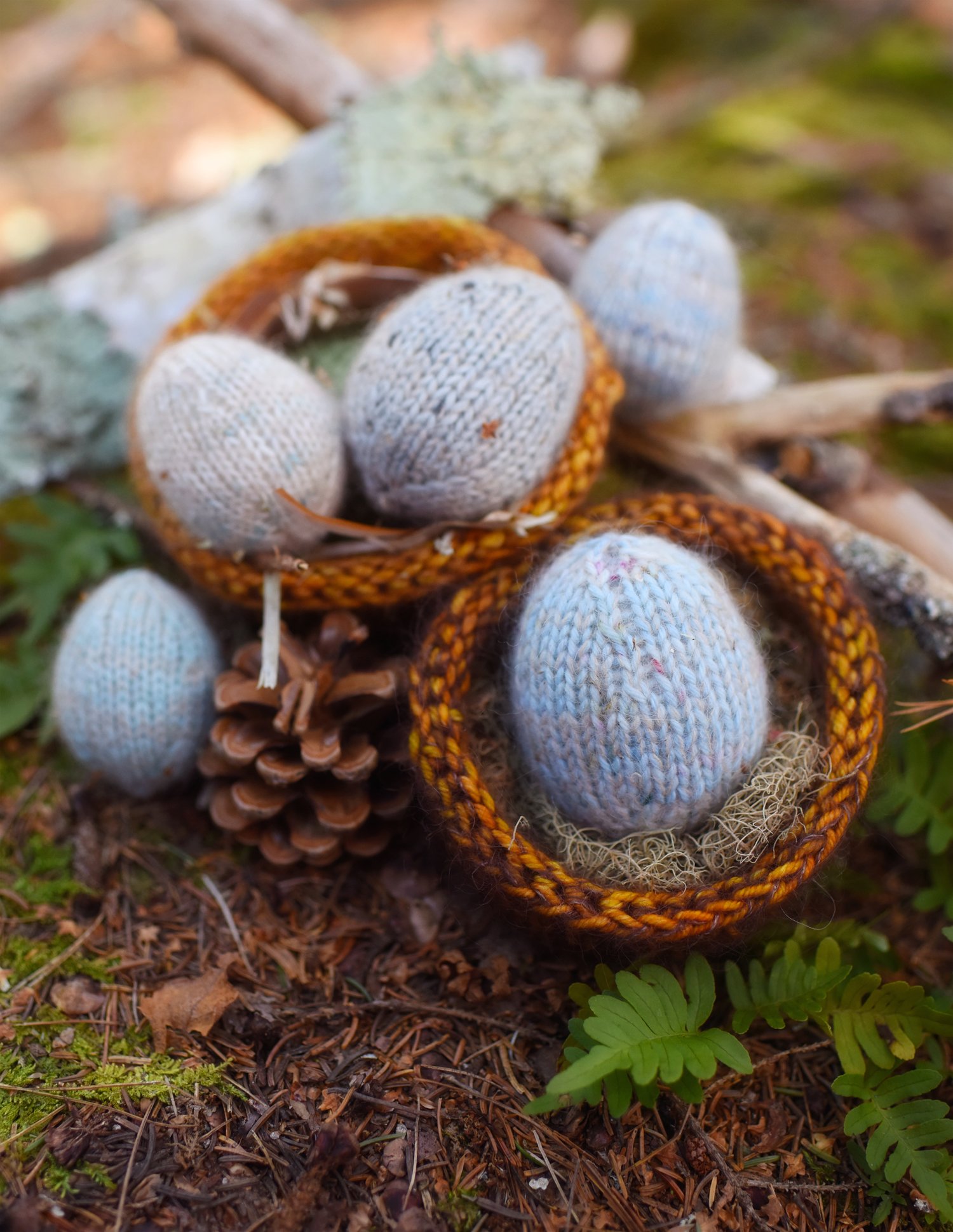 Hatched
On Sale
---
These were never intended to see the light of day. They were meant to be for my own private amusement, inflicted on no one else.
For you see, I am a board game person (not one of you is shocked). And not just a board game person, but one of those people whose enjoyment of a board game is substantially increased if the various bits and pieces of the game are...cute (again, not a single one of you is shocked). So it was only natural that I knit myself a little nest to hold the egg-shaped tokens in one of my favorite games (someone is about to ask, it's called Wingspan and it's great).
And then, well then the nest made an appearance in a couple of random instagram pictures, because that sort of thing happens. And it turns out rather a lot of you share my peculiar predilections and wanted to do something similar. And I couldn't in good conscience do just the nest by itself. So naturally I decided to add in some eggs (because somehow that makes it better?).
So here we are. A little nest, complete with drawstring ready to turn it into a pouch for game pieces or candy or whatever else you find amusing, and some eggs to go with it. Because sometimes these things happen. It's better not to fight it.
---
General information
This 20-page pattern is tremendously detailed and holds your hand every step of the way. There are pages and pages of step-by-step photos to show you exactly what to expect as you work. The pattern is full of helpful tips on everything from casting on, blocking, filling your eggs, turning your nest into a little drawstring pouch, and managing your ends.
It's almost absurdly detailed, but it really does mean you can totally make these, even if you've never knit a project like this before!
Skills & scope
Each egg or nest fits in the palm of your hand and takes only a few hours to knit. The knitting is mostly stockinette worked in the round with just a few carefully placed increases and decreases to give it shape.
The pattern uses
charts
, so you will need to know how to follow a knitting chart.
Yarn, gauge & sizing

The pattern includes both the egg (in two sizes) and the nest (which can be made in a range of sizes). You can make them in any weight of yarn, and the finished size will change depending on what yarn you use (but they're more or less the size of real mushrooms). You don't need to match any particular gauge, but you do need to knit tightly enough to make a firm fabric so your filling doesn't show through.
I've knit mine in fingering, sport, DK, worsted, and aran-weight yarn, held double with a silk and alpaca lace-weight yarn to make it a bit fuzzy.
You can absolutely use scrap yarn for this.
The nests and eggs in the pictures took less than 50 yards of each yarn used. They are worked between 9 stitches per inch (for the fingering-weight yarn) and 6 stitches per inch (for the aran-weight yarn). The eggs are between 1.5 and 2.5 inches tall, between 1.25 and 1.75 inches across. The nests are about 1.5 inches tall and between 3.5 and 4 inches across.
Tools & supplies
You'll need needles that let you work in the round (circulars or DPNs) in whatever size lets you get a firm fabric with your chosen yarn plus the general knitting tools you need for most projects (scissors to cut your yarn, a darning needle to weave in ends, the occasional stitch marker or bit of scrap yarn to hold stitches).
You'll also need something to fill the eggs with. I used plastic pellets. I have a page
here
with information about the supplies I use in my projects.
---