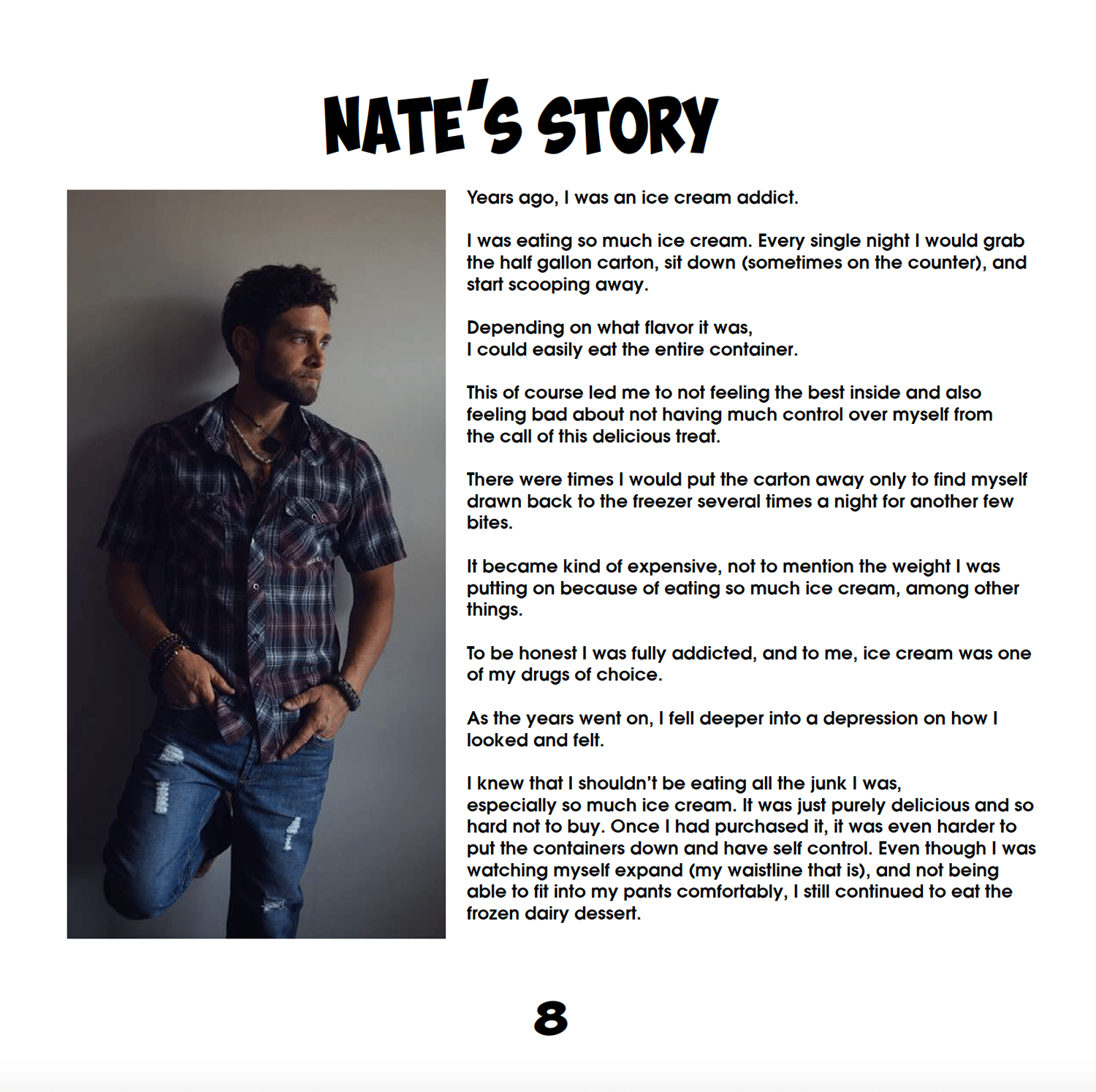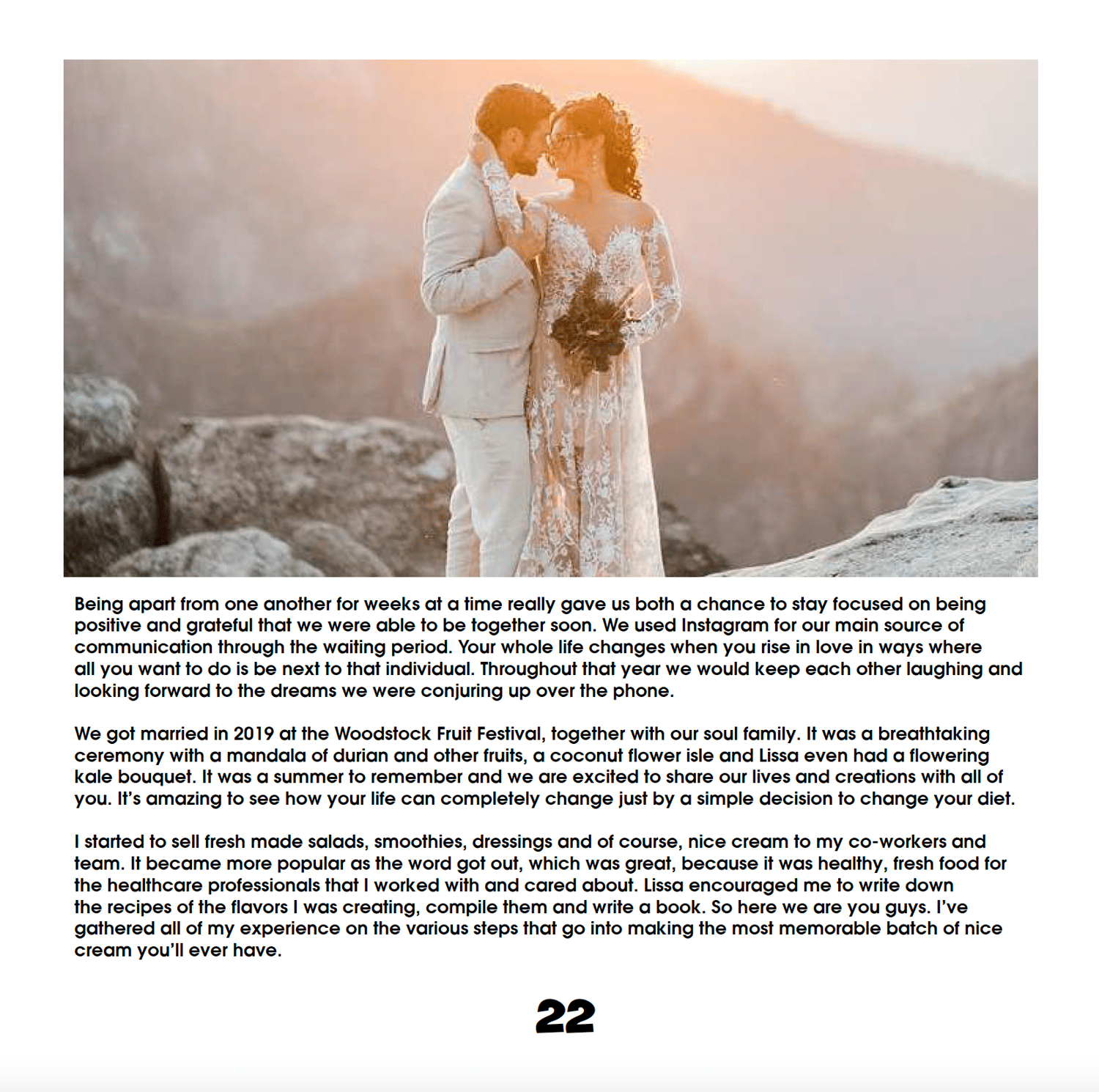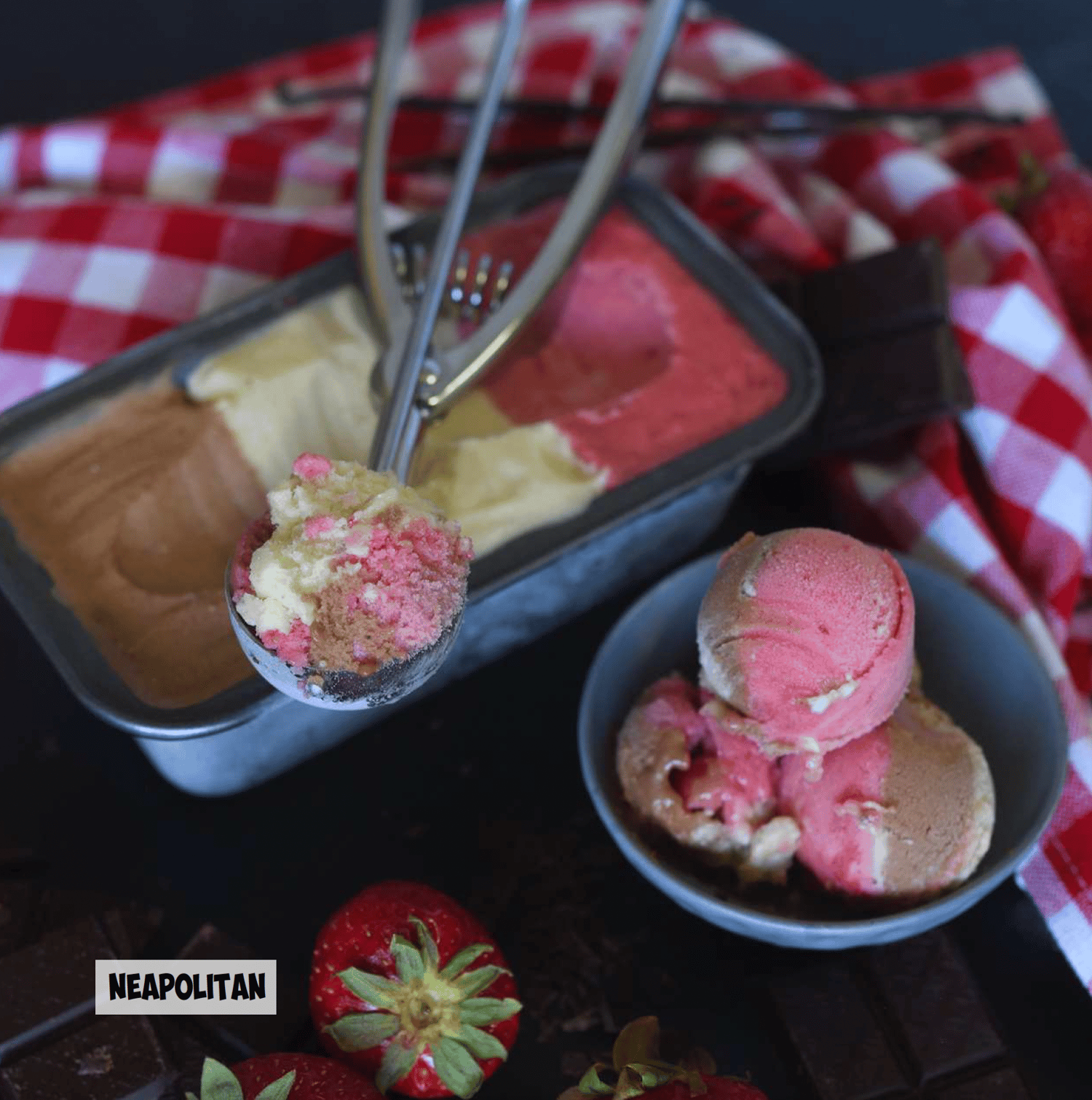 THE INSIDE SCOOP • NICE CREAM eBOOK
On Sale
Preview
THE INSIDE SCOOP • MASTERING THE ART OF SMALL BATCH NICE CREAM
eBook Written by Nathan Maris
Photographed and Designed by Lissa

Looking to enjoy some dairy-free, plant-based ice cream options made from bananas?

Join us and enjoy the wonderful world of NICE cream - ice cream that is NICE!

With 106 beautifully photographed recipes, including multiple sauce and drizzle options, this book not only takes you on a journey with Nathan as he discovers a new lifestyle, but teaches you how to make this wonderful sweet treat using bananas as the base!

Recipes ranging from no-fat fruity blends, herbal and chocolate, to a few higher fat options with nuts! There is also a section on replacement options, how to buy and freeze bananas, what appliances you can use, and even a food combining discussion.

Inside you will find:
59 NO-fat and low-fat Nice Creams (only a couple recipes with young coconut)
17 Nice Cream recipes with NUTS (higher fat, fun for transitioning)
5 NON-raw Nice Creams (4 with coffee beans, 1 with oats)
25 Sauces & Toppings (a combo of no-fat, high-fat with nuts and some with coffee beans)
Check out the recipe list here:

NO-fat and low-fat Nice Cream Recipes
Banana Split 
Sweet Maple Cherry 
Berry Vanilla 
Mango Tango 
Orange Creamsicle 
Lemon Drop 
Sweet Summer Strawberry 
Pina Colada 
Red Queen 
Berry Bubblegum 
Rosemary Zing 
Strawberry Lime 
Blueberry Lavender
Cotton Candy 
Sunshine Special 
Tropical Punch 
Raspberry Mash-up 
Figgycot 
Pineango 
Strawberry Mango
Strawberry Rose 
Key Lime Pie 
Cranberry Harvest 
Blueberry Basil 
Strawberry Kiwi 
Lavender Lemon 
Raspberry Burst 
Peach Sunrise 
Nectarine Dream 
Strawberry Fig 
Sunburst 
Mint Mojito 
Green Power 
PCT - Peppermint Chocolate 
Snow White Vanilla 
Soft Licorice 
Vanilla Rose 
Holiday Spice 
Apple Pie a la Mode 
Sweet Ginger Genie
Jonah's Earth Song 
Cinnamon Bun 
Carrot Cake 
Canadian Maple 
Macascotch Ripple 
Salted Caramel Swirl 
Vanilla Chocolate Chip 
Lissa's Chocolate Malt 
Chocolate Cherry Vanilla 
Neapolitan 
Classic Chocolate 
Chocolate Cherry Bomb 
Midnight Thunder 
Rocky Strawberry Stream 
German Chocolate 
Hot Chocolate 
Chocolate Orange 
Chocolate Crunch Deluxe 
Rocky Mint Trail

Nice Cream recipes with NUTS
Candied Pecan 
Strawberry Cheesecake 
Banana Cream Pie 
Reace Peace 
Walnut Hill 
Chocolate Macadamia 
Pistachio 
Chocolate Chip Cookie Dough 
Coconut Macaroon 
Black Walnut 
Gingerbread 
PB & J 
Jacob's Pure Peanut Butter Fluff 
Maple Almond Crunch 
Maple Almond Crunch Supreme 
White Chocolate Macadamia 
Cookies and Cream

NON-raw Nice Creams
Chocolate Espresso 
Fireball 
Tiramisu Cheesecake 
Caramel Maca-iato 
Oatmeal Cookie 

25 Sauces & Toppings
Cherry Vanilla Sauce 
Seasonal Spice Drizzle 
Creamy Clove 
Black Sage Sauce 
Orange Ginger Drizzle 
Blueberry Basil Jam 
Chocolate Sauce 
Chocolate Mint Sauce 
Chocolate Orange Sauce 
Strawberry Drizzle 
Caramel Drizzle 
Macascotch Drizzle 
Raspberry Sauce
Sugar Icing 
Pucker Power 
Creamy Coconut 
Mango Maple 
Nutty Espresso 
Chocolate Espresso Sauce 
Cheesecake Bits 
Cinnamon Buns 
Candied Pecans 
Cookie Dough 
Gingerbread Cookies 
Cookie Topping 

If you make any of these wonderful flavors, TAG us on social media! We would love to re-share! 

FIND THE PRINT VERSION via AMAZON here: The Inside Scoop - https://www.amazon.com/dp/B08FB31VV7

Follow us on SOCIAL MEDIA!
Instagram: @rawfoodromance • @rawnattyn8 • @tales_fromthetailgate
YouTube: Lissa's Raw Food Romance • Raw Natty N8 • Tales from the Tailgate


*** When you purchase from my site, I have to inform you that you are also automatically added to my email list. You can freely unsubscribe at any time though! 

* NOTE * I am not a purist, I do randomly use a dehydrator, maple syrup, apple cider vinegar, spices, garlic, nutritional yeast, cashews, coconut aminos a small amount of coconut nectar, etc. I just don't cook any of my food. You can leave items out if they bother you, and I do offer replacement suggestions at the beginning of the book. Just letting some of you know in case you were curious. 

*** Due to the digital nature of this product, there will be NO refunds issued, and no exceptions. This is an electronic, digital book, NOT A PHYSICAL COPY! You can order those via AMAZON if you want a printed version. Once your payment is complete, you should receive an email with a download link. If you have problems downloading, try using a different browser. ALWAYS back up your files after downloading. If you have further issues, contact me at • rawfoodromance@gmail.com • with a screenshot copy of your receipt with the date of purchase and correct email address :)