From Publish to Profit
How to Create an EPIC Brand to Sell Low and Medium Content Books
for Passive Income

Dear fellow entrepreneur,
If you:
✔️ Like the idea of making passive income selling low content books that require little to no writing on Amazon
✔️ Are a current low content book publisher that wants to stop throwing spaghetti at the wall and start building "recognizable" brands on Amazon to sell books from.
✔️ Are a service provider feeling "stuck" doing one-on one work that wants to add more revenue to your business with passive income products…or
✔️ Anyone that wants to get into the low content book publishing game…
Then this may be one of the most exciting pages you've read in a while.
But, before I get into that, let me share a quick story with you.
I still remember the first time casually pulling out my phone and logging into my KDP dashboard to check to see if I had made any sales.
There it was, that little gray bar (which is an indication of a new sale) that would become a complete GAME changer for me.
The fact that someone from somewhere in the world had found one of the books that I was selling on Amazon and purchased it was mind blowing to me.
From that day forward, I was hooked.
Since that day, I've gone on to sell thousands of low content books that include things like coloring books, journals and activity books on AMAZON KDP that bring in consistent passive income every month.
Now, maybe you're thinking these things to yourself,
✔️ I want to cash in on making and selling low content books, but I'm not sure where to start OR
✔️ I've been publishing low content books for a while and I'm frustrated with the lack of progress I've made OR
✔️ I'm a service provider! I feel stuck doing on on one projects and want to add more revenue to my business but don't know how" OR
✔️ I wish I could create something that can sell itself, but I don't know where to start."
Or maybe you've told yourself ALL of these things.
If so, this makes YOU the PERFECT person to join me in From Publish to Profit Course!
WHAT'S INCLUDED IN THE PUBLISH TO PROFIT COURSE
7 Course Modules with 20+ Video Lessons that Show you Step by Step How to Create an EPIC Brand to Sell Low Content Books for Passive Income!
So here's the thing:
When I started publishing low content books I made the mistake of thinking that MORE books would bring in more sales. I quickly discovered that this is not always the case.
Wanna know the key to becoming a successful low-content publisher?
It's ALL about building a brand or simply put a line of low content books for a specific audience!
You see:
When you've created a BRAND and line of low content books that people LOVE, they are more likely to become repeat customers who will follow your brand and can't wait to get more from you.
In fact:
It wasn't until I started noticing that books from specific "brands" (a line of low content books) that I created became my bestsellers.
That's when the lightbulb went off and I made it a mission to start focusing on publishing books under "BRANDS" and sell them to people that love them.
This is where I discovered one of the "keys" to becoming a successful low content publisher: it's all about building a brand.
Instead of publishing all kinds of books for any and everybody, we're going to focus on building a brand (a line of books that compliment each other) for a specific audience.
In fact, it's through building a BRAND on KDP to sell books that I had my HIGHEST MONTH EVER raking in $7K PLUS.
And get this…it was from just 4 BOOKS!
Talk about a game changer!
As a result, I've made it a mission to focus on building BRANDS (a line of low content books) on Amazon to sell versus just publishing books all over the place.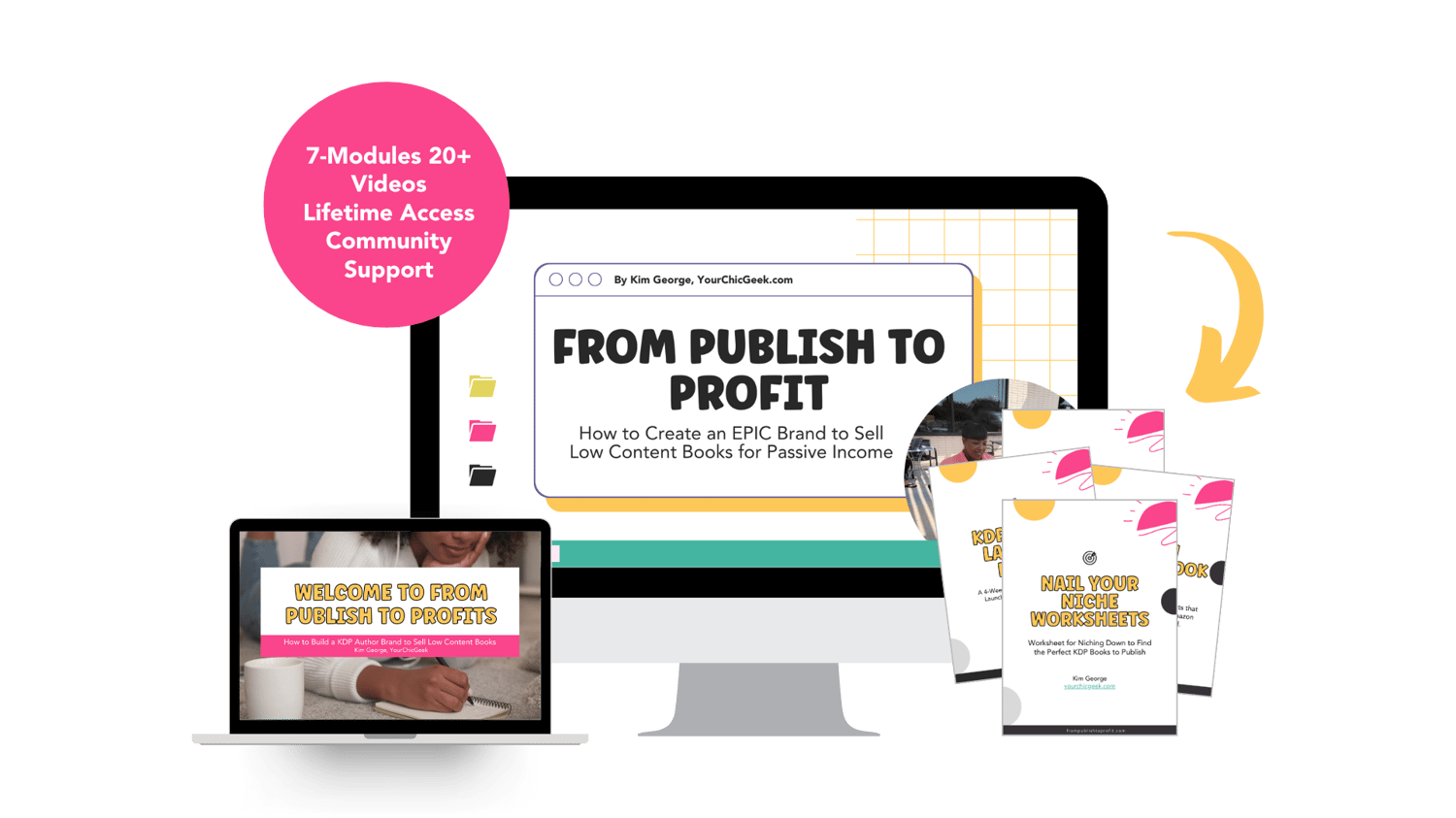 As a self-publisher, I have seen the incredible potential that low content books have for aspiring entrepreneurs.
With the rise of print-on-demand technology, it has never been easier to create and sell journals, planners, coloring books, and other low content books that appeal to a wide range of audiences.
As I previously mentioned, the course includes 7 modules with 20+ video lessons that will teach you everything you need to about building an EPIC brand to sell low content books with that includes:
Module 1: Unlocking the Secrets of Six and 7 Figure Brands: In this module of the course, we're going to take a deeper look into how several 6 and 7 figure independent publishers are raking in major cash with low content books + discover proven strategies and techniques to create a powerful brand that captivates readers and drives sales for your low or medium content books on Amazon KDP.
Module 2: Creating an EPIC Brand Identity: In this module of the course, you will learn tips for gaining a competitive edge by harnessing the power of branding plus discover tips and tricks for creating a brand identity that gets your books the attention they deserve.
Module 3: Niche Research and Validation: Here's the thing: the low content book market is competitive. If you want to compete, you will need to understand the key principles of market research to identify and connect with your ideal readers. In this module, you will learn strategies for finding "golden" and untapped niches to create books in plus get tips for identifying profitable sub-niches "with low competition" to create books in.
Module 4: Designing Books to Stand Out from the Crowd: You only have a split second to make a great first impression. In this module, you will learn tips for outshining your competitiors by harnessing the power of branding. Here you will get tips on how to create eye-catching book covers, compelling descriptions, and engaging author profiles that will make your books look polished and professional to potential buyers.
Module 5: Launching your Books Like a CHAMP: In this module, you will learn to simple yet effective launch strategies, marketing plans and promotions plans to get your books in front of the right audience (without breaking the bank)
Module 6: Marketing and Growing your Brand: You've launched your low content books now what? In this module of the course we will go through some effective book promotions strategies that go beyond basic advertising. Here you will learn simple and effective strategies for marketing your books through the use of social media platforms and strategies for growing an email list of subscribers eager to learn more about your brand.
Module 7: Scaling your Business By Releasing More Books: In this module, we will discuss tips for scaling your brand by releasing more books for long term success. This includes tips for expanding your low content book product line and building a loyal customer base and generating repeat sales.
Students Are Raving About the From Publish to Profit Course
Thank you, thank you, thank you for this course! It's just what I needed. I've been playing with low content publishing for about a year now. But, the more I did, the more I realized I had gaps in my knowledge. Your course filled in those gaps!
— Jennye Guy
Your course is really good and no I am not just engaging in flattery. I have been combing through stuff on branding and KDP and printables and LCB etc. and yours does the best job and in a short amount of time plus it is very clear and up to date
Maureen Injete
I set lofting goals before starting this training. The depth of knowledge you have poured into this training is mind boggling. Thank you so much sharing your incredible gifted way of explaining with all of us.
— Mari MoseleyCannon
And That's Not All…
If you decide to join me in the course you will get to watch me build a NEW brand and line of books that are LIVE on KDP from scratch, plus get access to these bonuses worth $400 that include:
BONUS #1 ($97 Value) The KDP Low Content Book Starter Kit
A low content book design kit is a collection of design templates and resources that can be used to create and customize low content books, such as journals, planners, and notebooks. The kit includes done for you low content book interiors and covers that can be customized in Canva to help you get on the fast track to creating your first low content book with ease!
BONUS #2 ($100 Value) The Low Content Book Marketing Kit
A collection of resources and tools that can be used to promote and market your low content books like a CHAMP on social media platforms. This includes done-for-you marketing swipe files, hashtags to help your posts stand out, marketing graphics that you can edit and customize in Canva, a social media marketing toolkit with a list of the TOP tools you can use to market your low content books online like a champ.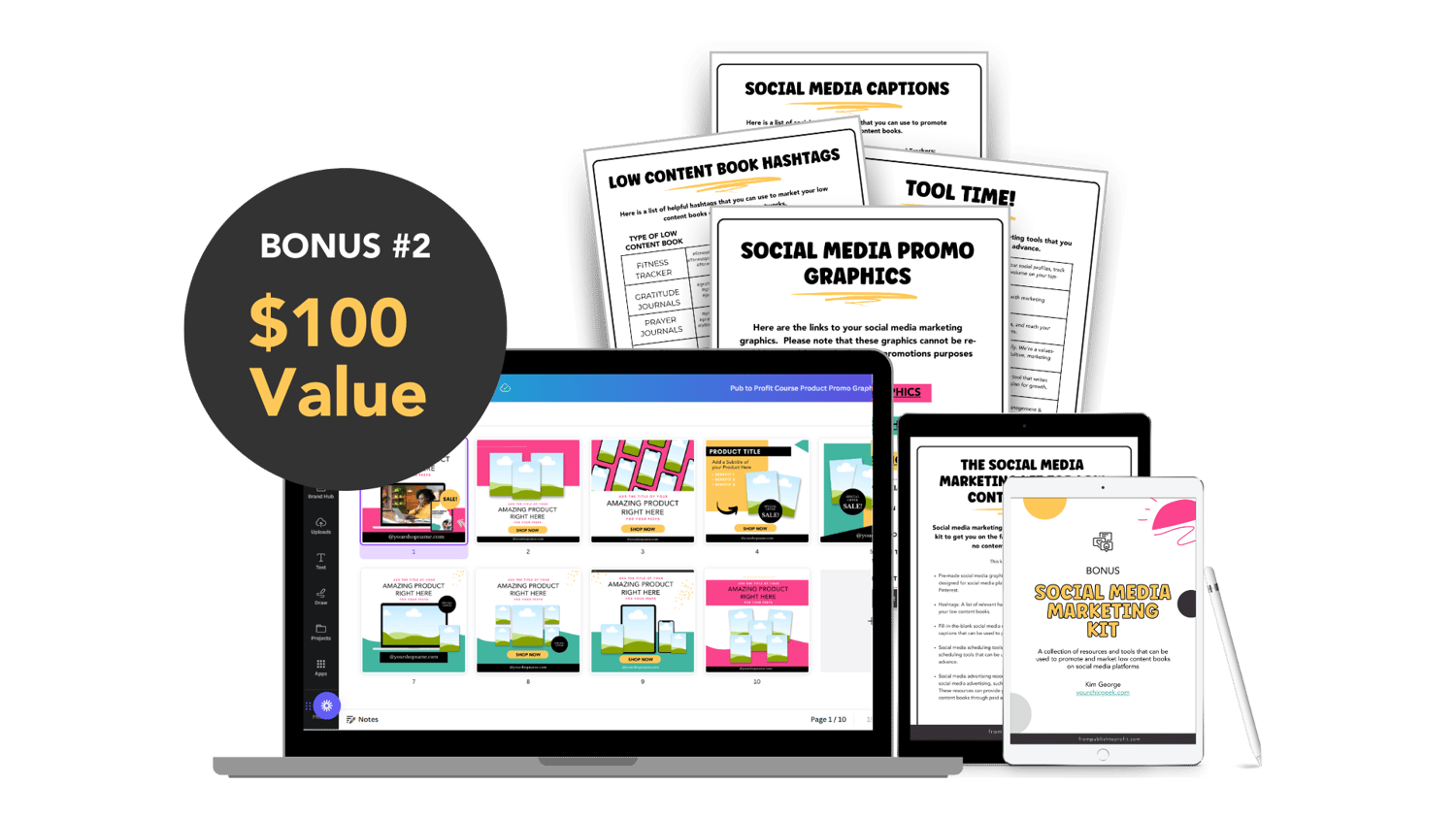 BONUS #3 ($197 Value) From Publish to Profit Private Community
Access to a supportive community of fellow entrepreneurs, where you can connect, share your work, and get feedback and support from your peers.
What's the Investment for this Course?
If you were to try to figure all of this out on your own, it could take months of research, or weeks of spinning your wheels combing through YouTube videos trying to find answers. This can lead to a mountain of frustration, wasted time and even wasted money.
But luckily for you, now there's a MUCH easier solution that takes away all the pain of building a brand with low content books on Amazon KDP, that saves you time and money and it's all covered in… From Publish to Profit – which takes you step by step through this entire process – from idea to launch.
For a Limited Time You Can Get Access To Course + 3 Bonuses A Total Value = $748
---
Yours Today For Just $197 or 3 Payments of $82 (with a 3rd option available)
So what are you waiting for?
Enroll in From Publish to Profit today and take the first step towards building your own low content book empire.
I hope to see you inside the course!
Course curriculum
1

Introduction and Overview

Join the Private Facebook Community

2

Module 1: Understanding Low + Medium Content Books Behind the Scenes of EPIC 6 and 7 Figure Independent Brands

Lesson 1: The Difference Between Low Vs Medium Content Books + Deciding What to Publish

Lesson 2: Three EPIC Benefits of Building a KDP Brand to Sell Low Content Books

Lesson 3: Behind the Scenes of EPIC Six-Figure Plus Independent Brands on Amazon KDP

3

Module 2: Creating a Brand for your KDP Books

Lesson 1: Getting your Brand Essentials Together

Lesson 2: Choosing a Pen Name for your KDP Brand

Lesson 2A: Using Multiple Pen Names on Amazon for Brands

Lesson 3: Creating Stylish Logo Designs for your Brand

Lesson 4: Creating a Brand Kit to Design Low Content Books Faster

Lesson 5: Building a Brand Presence on Social Media

4

Module 3: Niche Research and Validation

Lesson 1: The Riches are in the Niches! Why Niche Research is Important for Low Content Book Success

Lesson 2: How to Find GREAT Niches to Publish Low Content Books In

Lesson 3: Validating Niche Ideas on Amazon

Lesson 4: Using Publisher Rocket to Find GOLDEN Niche Ideas Faster

5

Module 4: Designing Low Content Books

Lesson 1: Getting your Low Content Book Design + Branding Assets Together

Lesson 2: Designing Attractive Book Covers that Stand Out and Attract Buyers

Lesson 3: Designing the Back Cover of your Book + 4 Clever Ways to Spruce up your Design

Lesson 4: Time-Saving Design Hacks to Create Stunning Book Covers - FAST for Any Niche!

Tips for Outsourcing Design Work to Freelancers

Lesson 5: Creating Unique Low Content Book Interiors

Lesson 6: Designing Your Books Interior + The Top 5 Pages You Should Add

Lesson 7: Creating Reusable Book Interiors for your Brand

6

Module 5: Publishing your Books on Amazon KDP and Launching your Brand!

Lesson 1: Setting up Your Amazon KDP Account

Lesson 2: Two Formulas for Creating KDP Book Titles and Subtitles that Rank on Amazon

Lesson 3: How to Correctly Fill in the 7 Backend Keyword Slots V2

Lesson 4: Uploading Your Books to KDP

Lesson 5: Launching your KDP Brand

Lesson 6: How to Get Reviews for your Book

7

Module 6: Marketing and Growing Your Brand

Lesson 1: Creating an Amazon Author Page for your Brand

Lesson 2: Creating A+ Content to Market Your Books

Lesson 3: Adding QR Codes to your Books for Marketing

Lesson 4: Building a Landing Page and Starting an Email List to Sell Products to your Customers

Lesson 5: Growing your Brand with Amazon Ads

8

Module 7: Scaling your Business by Releasing More Books + More tips for GROWTH

Lesson 1: Tips for Scaling Your Brand

Lesson 2: Making your First $500 and $1,000 on Amazon KDP

9

Bonus 1: The KDP Starter Kit

Bonus #2: Low Content Book Social Media Marketing Kit

The EPIC Low Content Book Swipe File 200+ Niche Ideas!
FAQs (Frequenly Asked Questions)
Upon enrollment, you will receive login credentials for our learning platform. Simply log in, and you'll find all your course materials when you login.

Yes, our platform is mobile-responsive, so you can access your course materials from your smartphone or tablet for convenient learning on the go.

How does lifetime access sound? Yep that's right! When you enroll, you will get lifetime access to the course to include any future updates.

Yes! If for any reason you are not happy with the course material, you have 14-days to get a full refund.