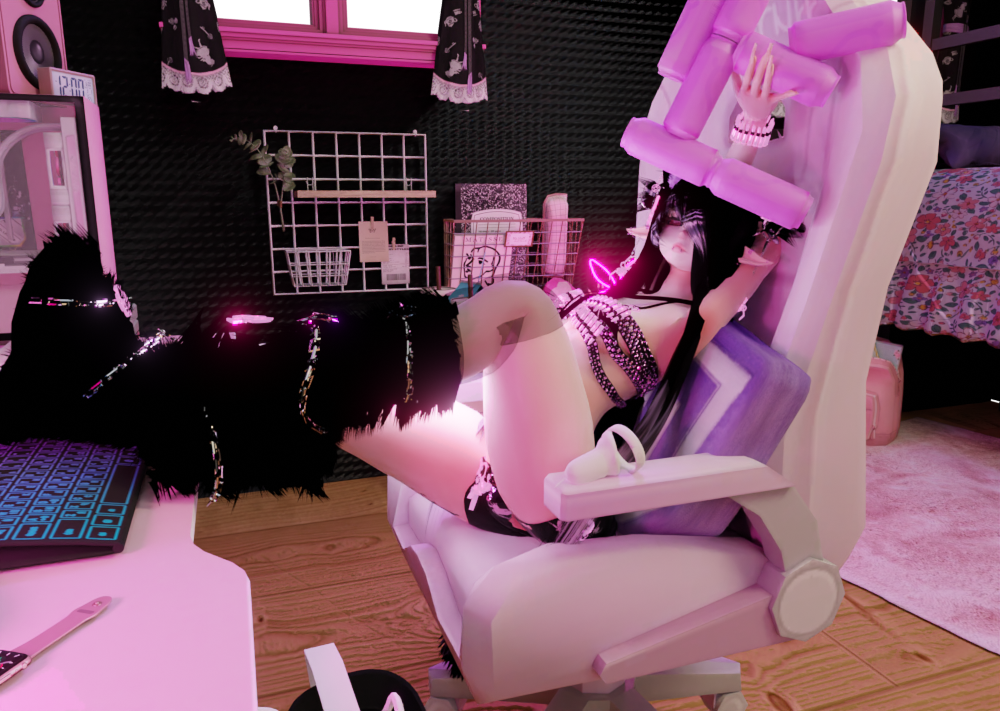 scenecorewh*re 3.0
On Sale
$999.99
**imvu inspired vrchat myspace cutie**

*ੈ✩‧₊˚"these bullets on my belt r real." *ੈ✩‧₊˚
" you wanna talk to me? ew, add me on my space."
*ੈ✩‧₊˚*ੈ✩‧₊˚*ੈ✩‧₊˚*ੈ✩‧₊˚*ੈ✩‧₊˚*ੈ✩‧₊˚*ੈ✩‧₊˚*ੈ✩‧₊˚*ੈ✩‧₊˚*ੈ✩‧₊˚*ੈ✩‧₊˚*ੈ✩‧₊˚*ੈ✩‧₊˚*ੈ✩‧₊˚
IF YOU MAKE TIKTOKS OR CONCENT, PLEASE TAG ME, YOU CAN GET A 10 PERCENT DISCOUNT CODE FOR EACH VIDEO YOU MAKE,. 

(all speices toggles, cat, ddog, bunny, elf) included.
CUMS wit- Moster can guns. 
- POC skins. 
-30+ toggles (customizeable as hell)
-3 hue shifts. 
-baggy pants, and shorts for more comfort. 
-fluffy boots. 
-scartch assets. 
-emo imvu insipred hair.
-warp tour inpsired landyard with gifs. 
(。・:*:・゚★,。・:*:・゚☆my credits 。・:*:・゚★,。・:*:・゚☆)
- bruh eh what i made. 
- shorts. 
- hair
-fuff boots.
-chains
- charms
-bullets.
- probably more but im slow <3
-gun (its an edit of a sketch fab asset)
-body edit, (base isnt mine)



(。・:*:・゚★,。・:*:・゚☆other credits 。・:*:・゚★,。・:*:・゚☆)
hello kitty shirt.  - here
cat ears. - here
bunny ears- here
dog ears - here
base - here
elf ears - here
head - here
skin textures - here
stripper heels - here
belts -  here
pants - here
leg warmers baggy see through - here
monstercan - here -retextured. 
dog tails - here
quest  gif. 。・:*:・゚★,。・:*:・゚
⛧ rules ⛧

▹Do NOT redistribute this package

▹No reselling, sharing with friends, trading, or leaking

▹You are not allowed to upload with avatar to your account as public

▹Do NOT buy this avatar for the purpose of taking assets from it

▹Please do not put non hand-drawn textures on this avatar

- feel free to edit and post in my server~! 


UNITY BY WORK BY Bɘan#8403