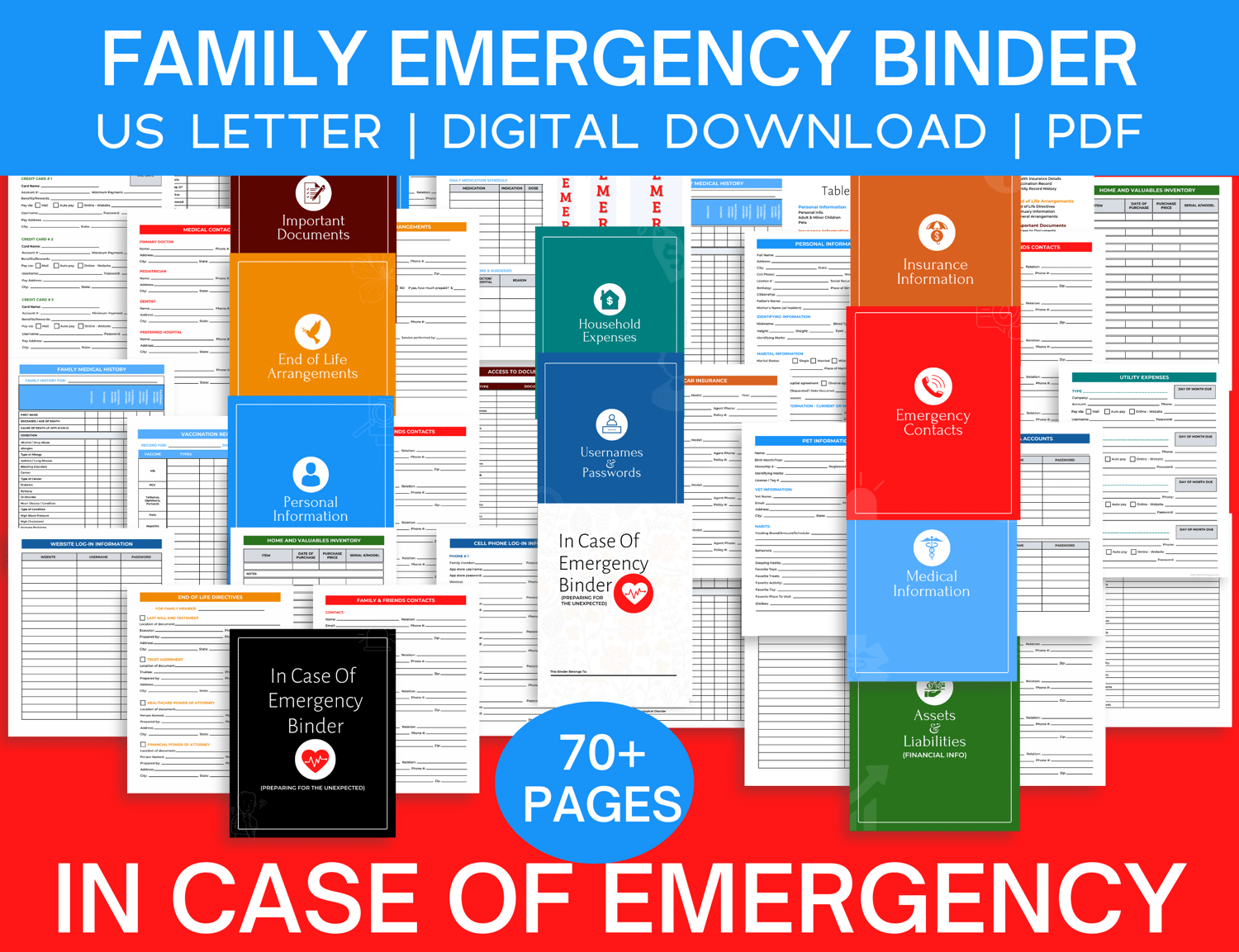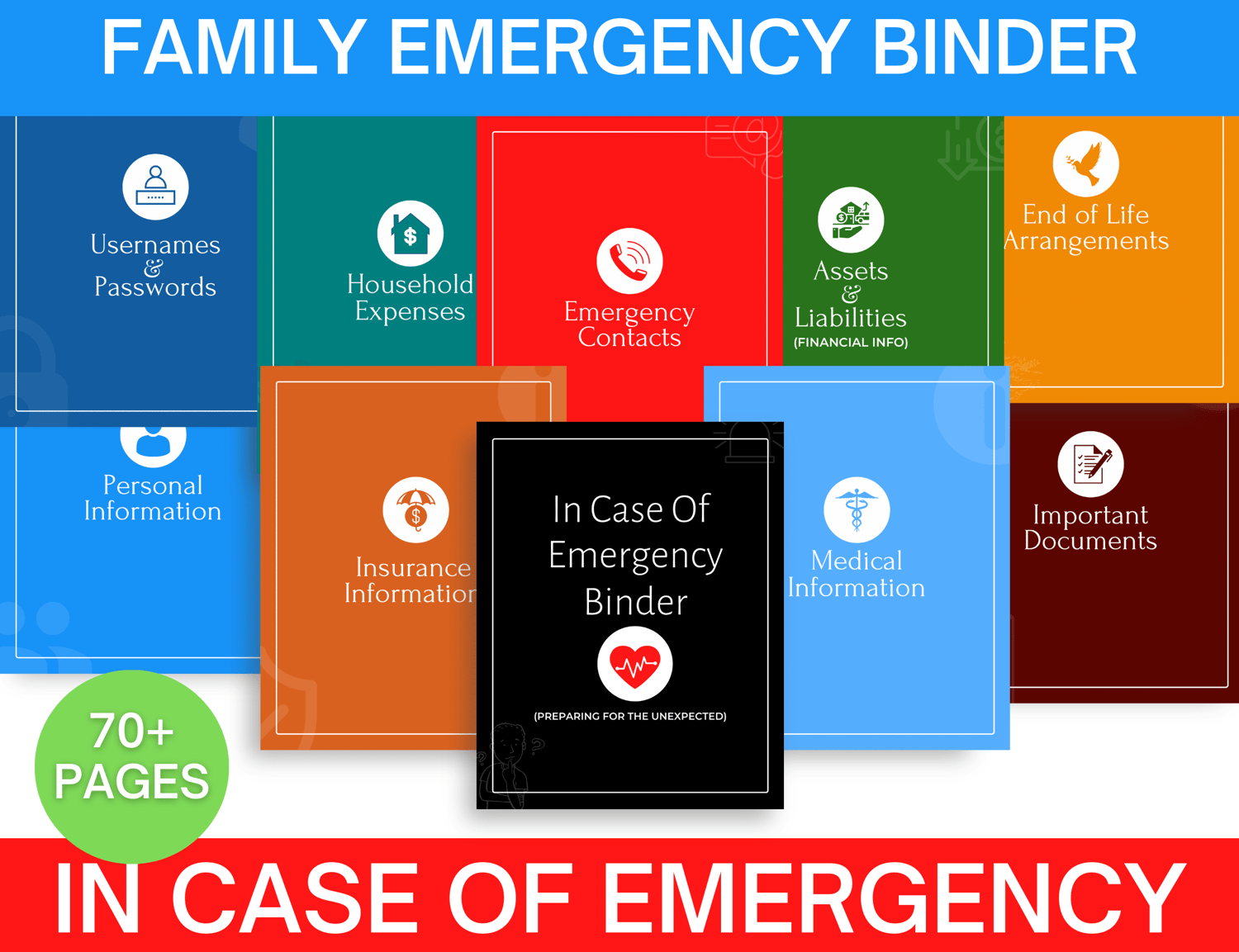 In Case Of Emergency - Family Planner
On Sale
$24.00
In Case Of Emergency Planner - Family Emergency Binder
All the information and worksheets you need to build the Ultimate In Case of Emergency Family Binder.
Be prepared for the unexpected. 
If something happens to you or your spouse, have everything in one place for someone to take over taking care of your affairs. 
Includes 70+ Pages: 
Personal information - Record all family members' contact, medical, and employer/school information. Separate information sheets for adults, children, and pets. 
Insurance information - Keep track of important insurance policy details for homes, cars, boats, life, and health insurance.
Emergency contacts - Keep a record of all personal, medical, and professional contacts in the event of an emergency. Includes space to fill in relationships for personal contacts.
Household expenses - Includes space to track important details like company, account number, payment due date, auto-draft, and online account log-in info for all household expenses (Mortgage, Utilities, TV, Internet, Cell Phone, Insurance payments, etc). Also includes a one page summary of Monthly Expenses at a Glance for quick reference.
Assets and Liabilities (financial info) - Record important details about all financial accounts including bank names, account numbers, debit card PINs, stock accounts, retirement and investment accounts, and credit card accounts.
Username and passwords - Keep a record of all usernames and passwords for easy access to online accounts and websites. Includes space to fill in passcodes for cell phones, computers, a home safe, a security system, and all social media accounts. Also includes a worksheet to record common security questions and answers.
Medical information - Have all of the medical information for you and your family in one place. Includes medical summaries, medical conditions, allergies, vaccinations, a list of past surgeries and treatments, family medical information, and more. 
End-of-life arrangements - Includes space to fill in funeral arrangements and burial preferences, how to access End of Life documents (Power of Attorney, Will, Advanced Healthcare Directive), obituary notes, and notes for contacting family and friends.
Important documents - Includes a checklist of 27 documents to put in your Emergency Binder. If you don't want to include actual copies of certain documents in the binder for security purposes, use the worksheet for "Access to Documents" to give instructions for where documents are located.
Notes section - Use this Notes page to include any other information that would be important to know in the event of a family emergency
4 Cover options
5 Different binder spine sizes
Table Of Contents
Once purchased, these pages can be printed as many times as you would like, and your planner can continue to grow and be utilized as needed. 
*THIS IS A PRINT-ONLY PRODUCT. FOR COPYRIGHT PROTECTION, ALL PAGE ELEMENTS ARE LOCKED IN PLACE AND CANNOT BE EDITED. THIS PRODUCT IS A DIGITAL DOWNLOAD AND THEREFORE NO PHYSICAL ITEM WILL BE SHIPPED. FOR PERSONAL USE ONLY & CANNOT BE RESOLD.