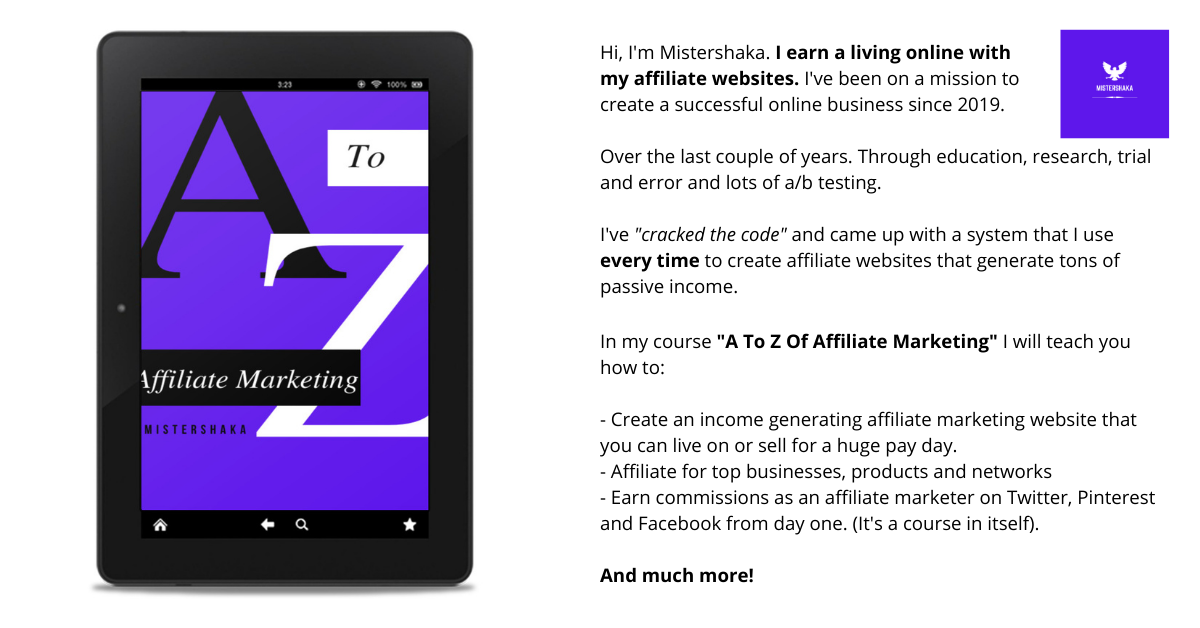 A To Z Of Affiliate Marketing: Earn Thousands Monthly Online
On Sale
Struggling To Make Money Online?
Do You Want Financial Freedom And A Successful Business Online With Your Own Affiliate Marketing Website That Generates $10k+/Mth?
My new course is based on countless hours of a/b testing, research and implementing strategies to see what works best and makes more money.
I've developed a proven system that will make you money on cruise control. You can earn $5k-$10k/month with one engaging website or more! 
Have you ever wondered, there must be something easier than a 9-5 to make more money? 
There is, in this course you will learn how to create your own income generating Affiliate Marketing Website.
You will learn all you need to know to make a living online. From Affiliate Marketing, Blogging, to how to sell digital products online and more!
Do you want a way to make money from anywhere, even while traveling and on your own time? Here it is.
"You need to be a good writer to blog as an affiliate, right?" Wrong! You DO NOT need "creativity" to publish engaging content!
Find out my step by step formula that makes it all work. Once your affiliate website starts generating income, it'll only go up from there as long as you stick with it.
You will make money literally as you sleep if you follow my easy step-by-step instructions. 
I also go deep into how to effectively use social media to not only promote your affiliate website, but how to specifically use Twitter, Pinterest and Facebook to make money online as an affiliate from day one! (It's like a course within a course!!)
Affiliate Marketing is one of the few side hustles that can grow into a full-time+ income and gives you the freedom to work from anywhere. Even at home in bed wearing your pj's!
However, despite the possibilities it offers, not everyone has a breakthrough online. 
This is unless you have the right information and skillset.
You don't need any special online experience. 
Just a desire to succeed, and instruction on how to do it.
You'll need a complete breakdown and details in order to succeed with an Affiliate Marketing website. 
You get everything you need to succeed in my new course. 
✅ Who this course is for:
- Those who want to get started in affiliate marketing
- Those who have already started but aren't making as much money as they'd like to
- You, if you are sick and tired of living paycheck to paycheck working a 9-5
Here's a Fraction of What You'll Get:
Niche topics that make the most money
How to earn a full-time income and more in your spare time. Or as a new career choice working just 1-2 hours a day
Freedom to do what you want with your time. You will be able to be your own boss, work where and whenever you want
Web traffic automation techniques- Learn to create content that will drive traffic to your website and allow you to reap the rewards. (More traffic = More money)
How to create motivating content that sells
Site structure design to rank in the SERPs (search engine results pages)
How to create an engaging blog that attracts LOYAL readers and subscribers
How to build passive income generating systems- get paid while you sleep
The best ways to brainstorm hot money making ideas for website content and blog posts, every single time!
Tools to develop and diagnose an income generating affiliate marketing system
Learn top high converting ways to monetize your website. (My specialties)
How to maximize search engine optimization (SEO) principles
The importance of backlinks and top ways to create them
Email outreach persuasion templates
Step by step Pinterest dominating, money making, traffic driving techniques
Put the world on notice with my 2 step Facebook implementation
Unleash and leverage lead generation strategies to turn subscribers into paying customers
How to successfully promote your website
How to truly generate long-term passive income. No daily work required!
And much, much more...
Here's an excerpt from the course:
"Backlinks are links to your website from other websites. Backlinks are one of the, if not the MOST IMPORTANT FACTOR IN SEO for your website. Search engines like Google and Yahoo use backlinks as an important ranking factor because when one website links to another, it means they believe the content is noteworthy.High-quality backlinks can help to increase a site's ranking position and visibility in search engine results pages (SERPS). The ideal goal is to have your web page ranked high enough to be included on the first page of search results.  The most natural way to get backlinks is to write great content.When you write great content other webmasters and bloggers will want to connect with and link to your site. Write about insightful, new information on interesting and popular topics."
There are many ways to get backlinks to your site. I break it all down in my course. 
Learn how to build an income generating affiliate website right from the start.
With actionable strategies, clear takeaways, and an easy-to-follow plan.
If you could turn an affiliate website that is producing just $500 a month into a five-figure paycheck, would you do it?
This can be easily done with the help of my course. Earning $10k/mth. or more is possible!
You can sell an affiliate website that's producing just $500 a month of income for $10,000 on sites like Empire Flippers and Flippa. $500 a month is easy!!!
So, you can earn a living with your affiliate website income or create affiliate sites and sell them for a living. I've sold a couple sites, but earn a living with my affiliate websites.
You will learn EVERYTHING you need to know to create a successful affiliate marketing website.
After completing the course, you will be able to create a new income stream online with your own monetized affiliate website like a pro!
Create passive income, financial freedom, and the freedom to do what you want.
Get Your Copy of The Most Comprehensive Affiliate Marketing Course Today.
FREE bonus workbook to compliment the course included for a limited time!
Live life on your own terms.
What are you waiting for? Get the course.
Start now.