Standing out online can be  h a r d. 
You have a great idea for a post and fling something together (which might look pretty good) but then you do it again, and again... and it turns out that your brand doesn't look too good with all those mismatched visuals. 
And worse - 
no one recognises you. 
A stand out brand is recognisable, it's memorable and it gets you referred. When people are scrolling they see your posts and they STOP. Why? 
Because they can see instantly that it's you and they want to see what you have to say. 
And it's easy. 
Let me show you how standing out becomes easy...
I've created editable Canva templates that you can tweak to match your brand so that you can consistently stand out online. 40 each for Facebook, Instagram, Twitter, LinkedIn and Stories.
All you gotta do is change the colours to match your brand, tweak the text, add your handle or logo - and hit publish. 
(Don't worry, I've included a video to show you exactly what to do)


Most of the templates are already pre-filled with something you can use, so the first time you use them you don't even have to think about what you want them to say. 
Using templates is a game changer when you're creating your content. They're a HUGE time saver aaaand they make sure that whatever you post is on brand. It's consistent. Your brand becomes recognisable, memorable and referrable.
The templates are really easy to change to suit your brand.
Insert a photo, change to your brand colours and fonts, swap out the text and add your own handle, url or logo. Here's how they can be adapted...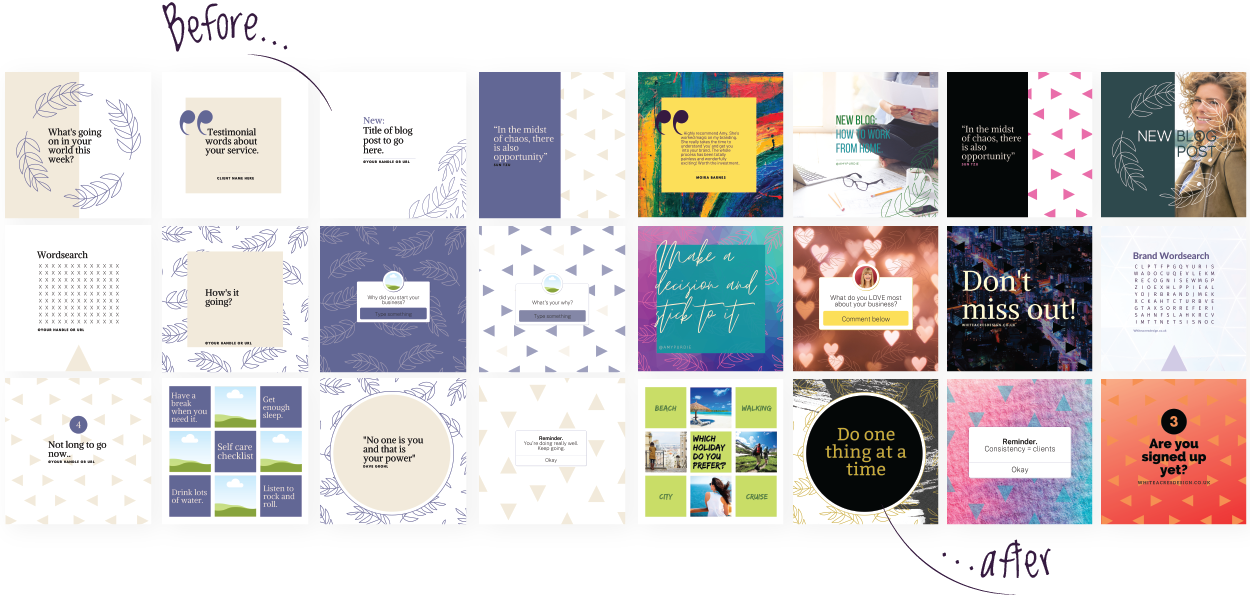 Download your 200 social media templates and start to stand out on social.