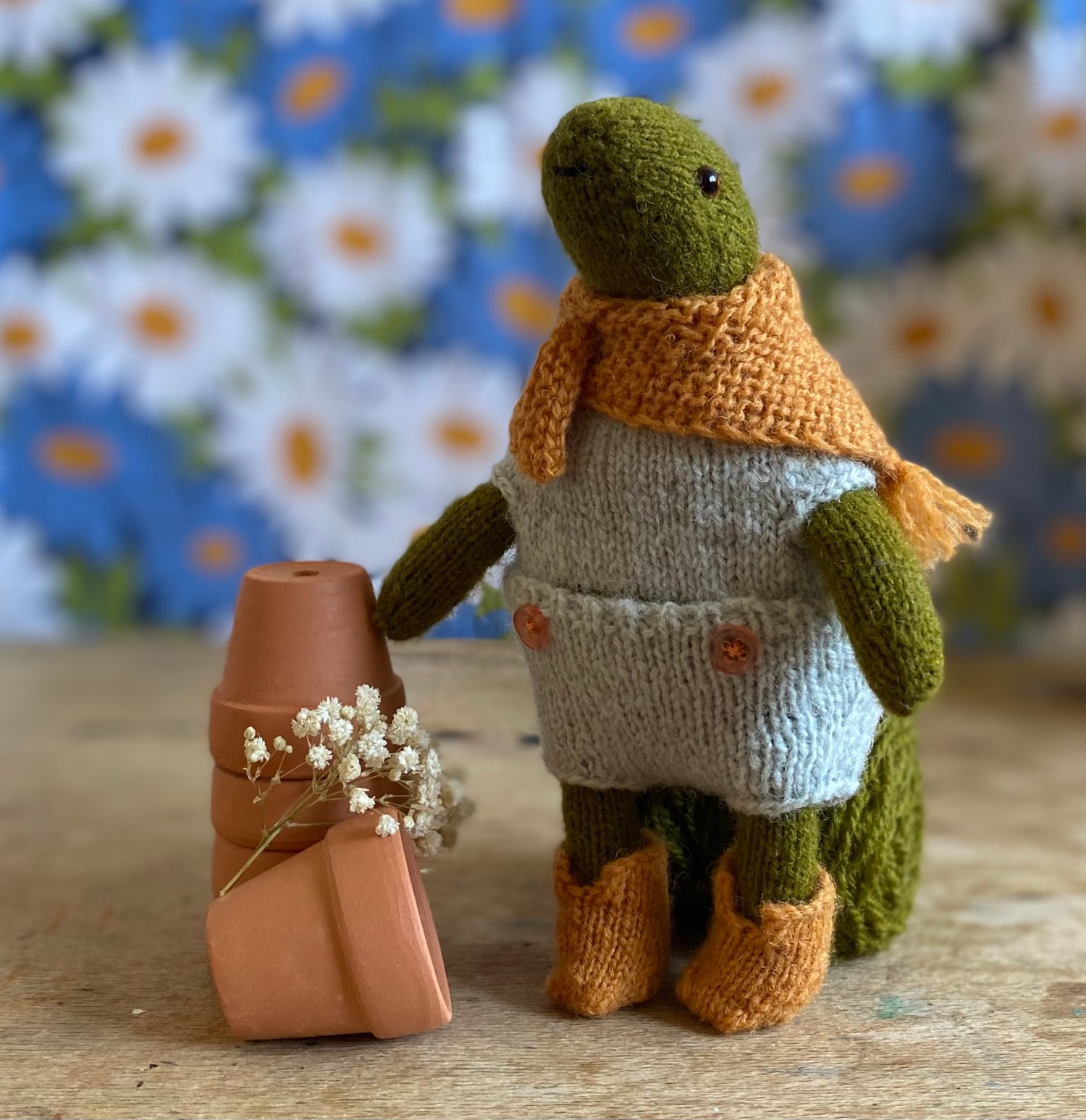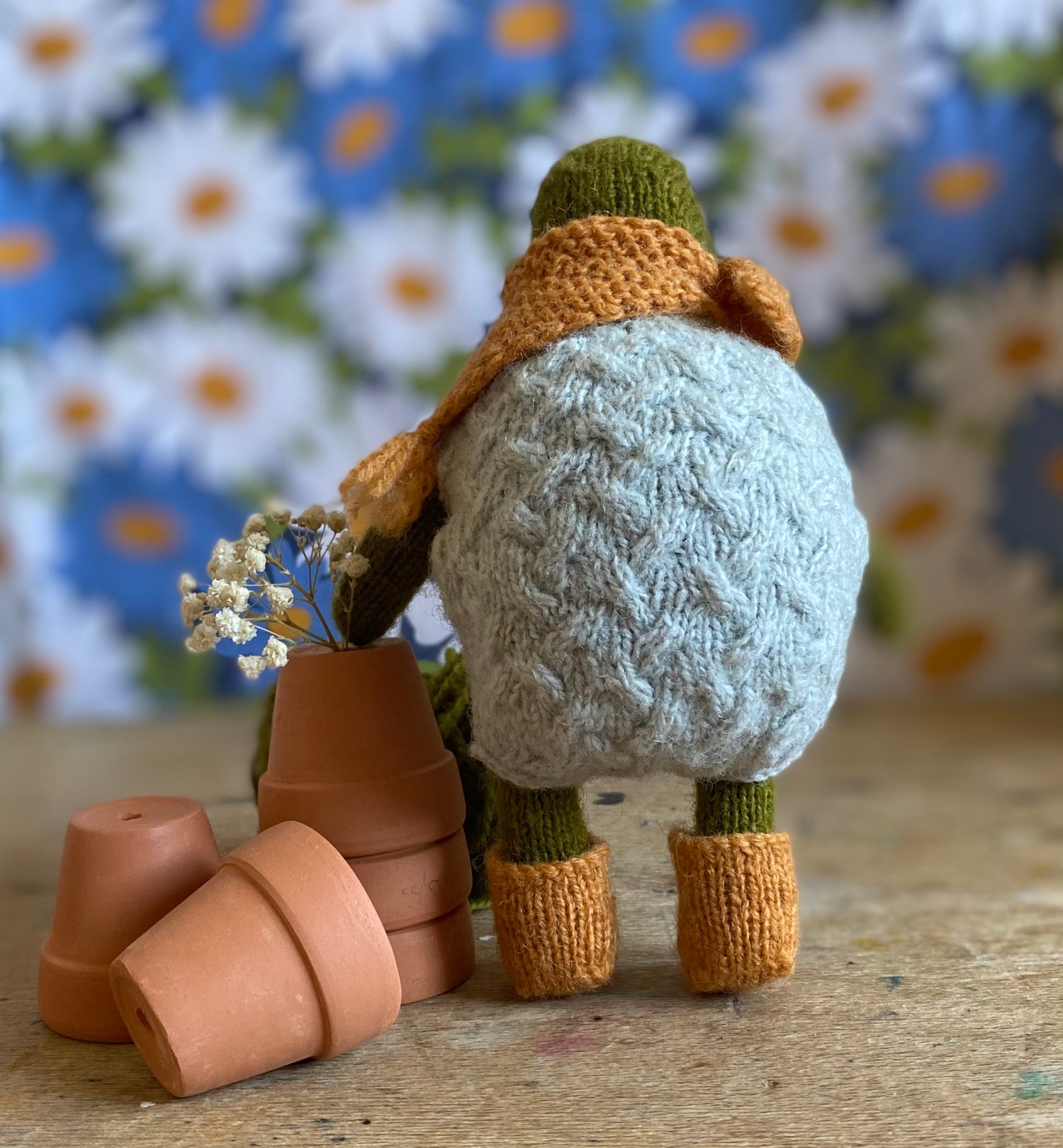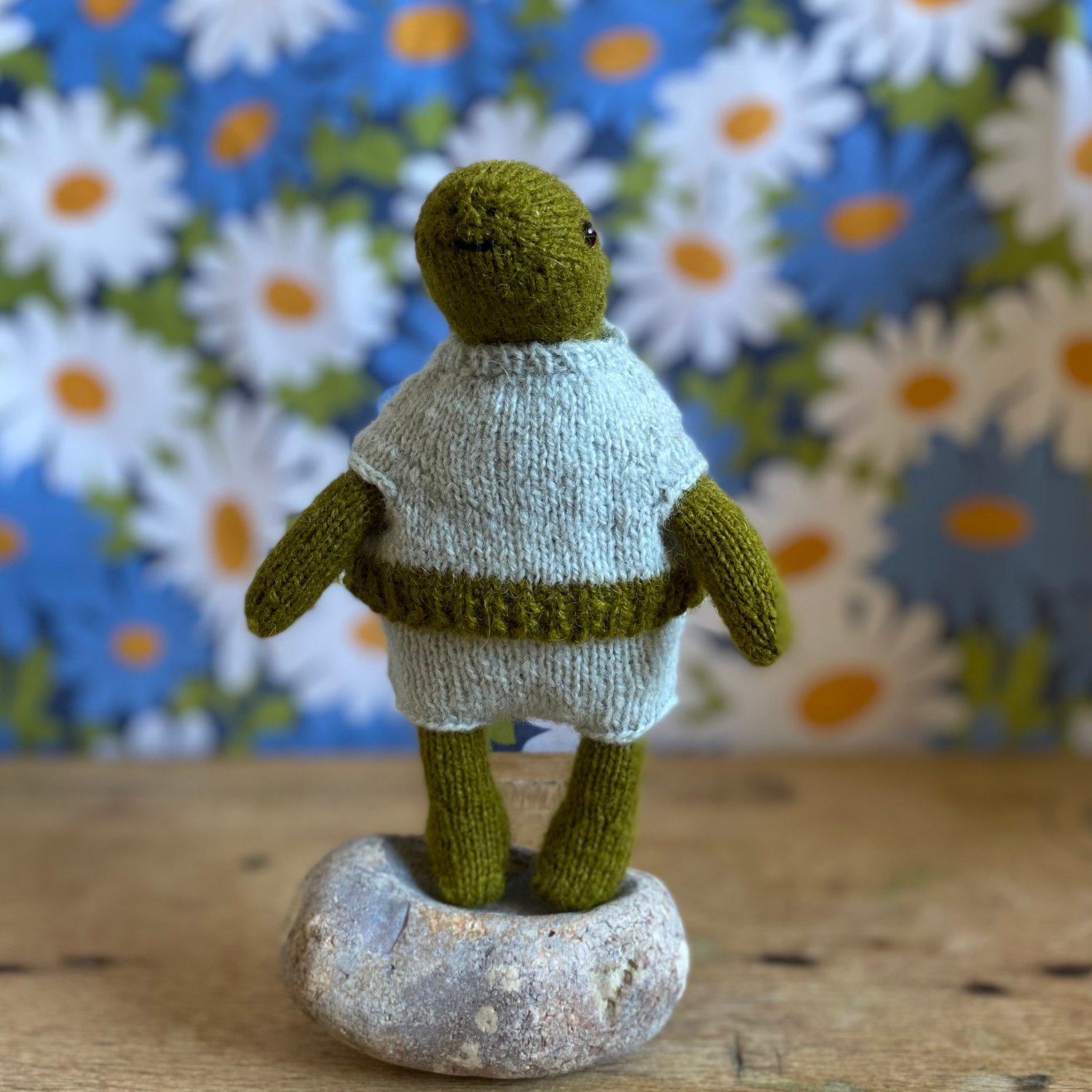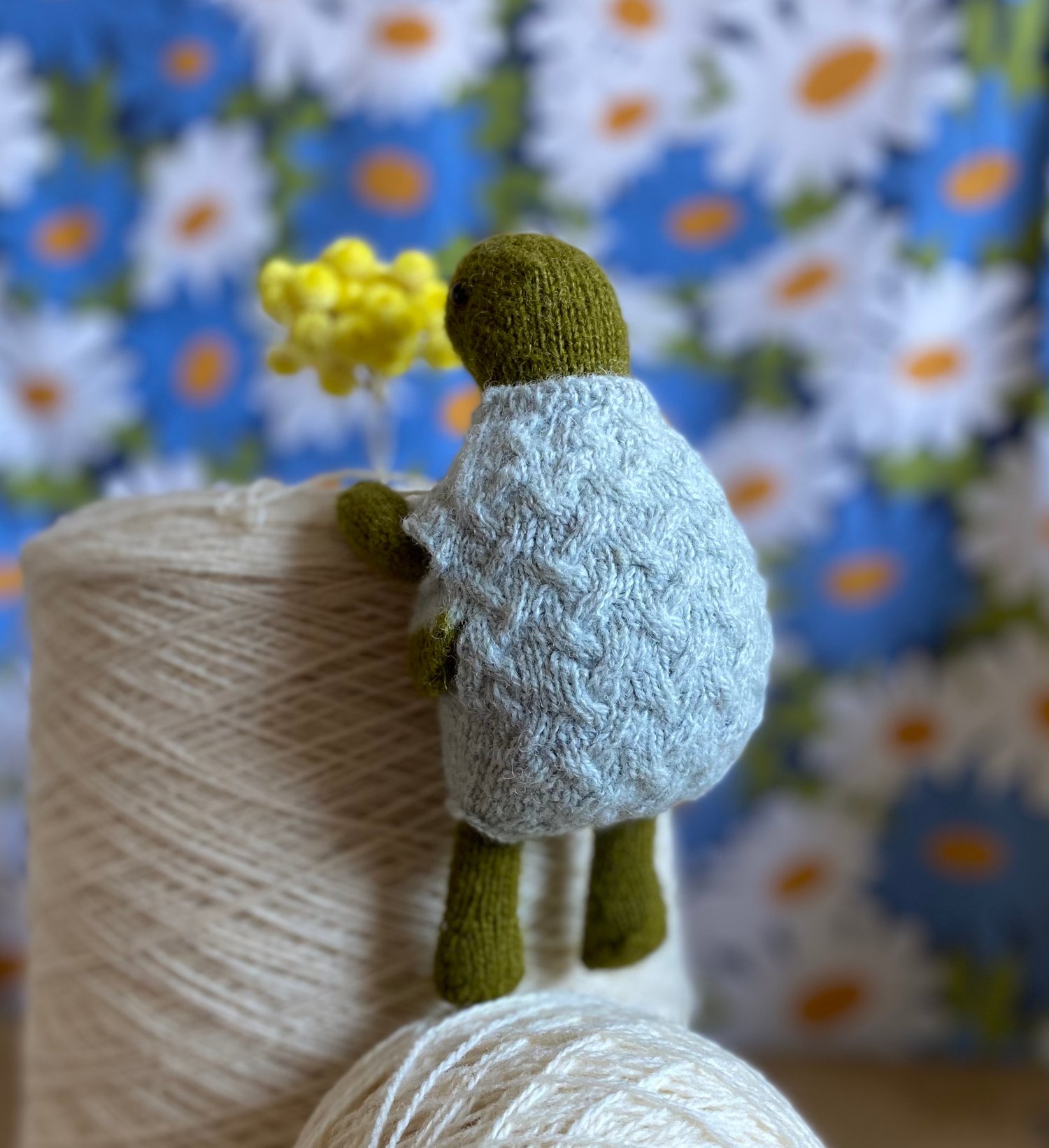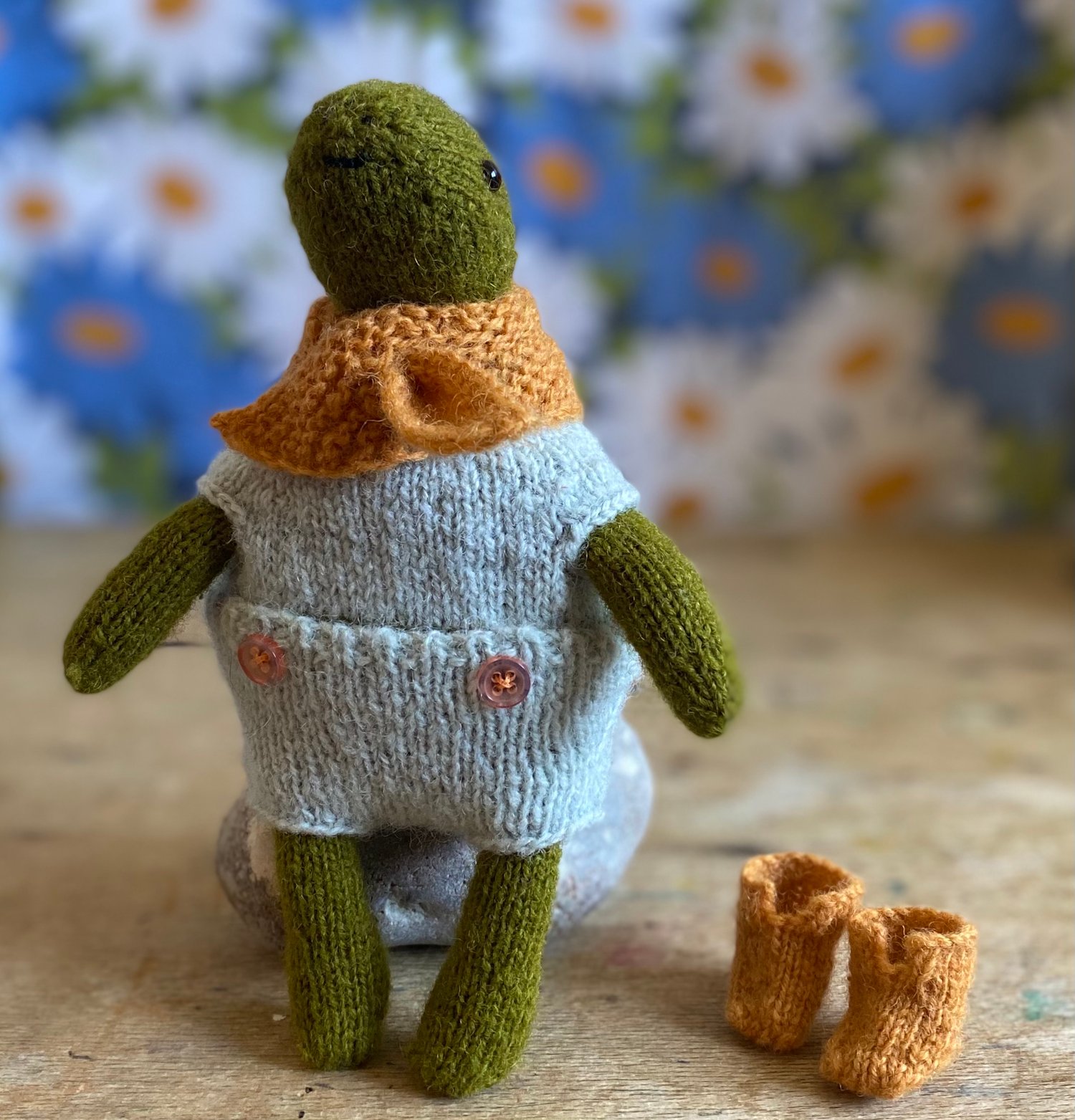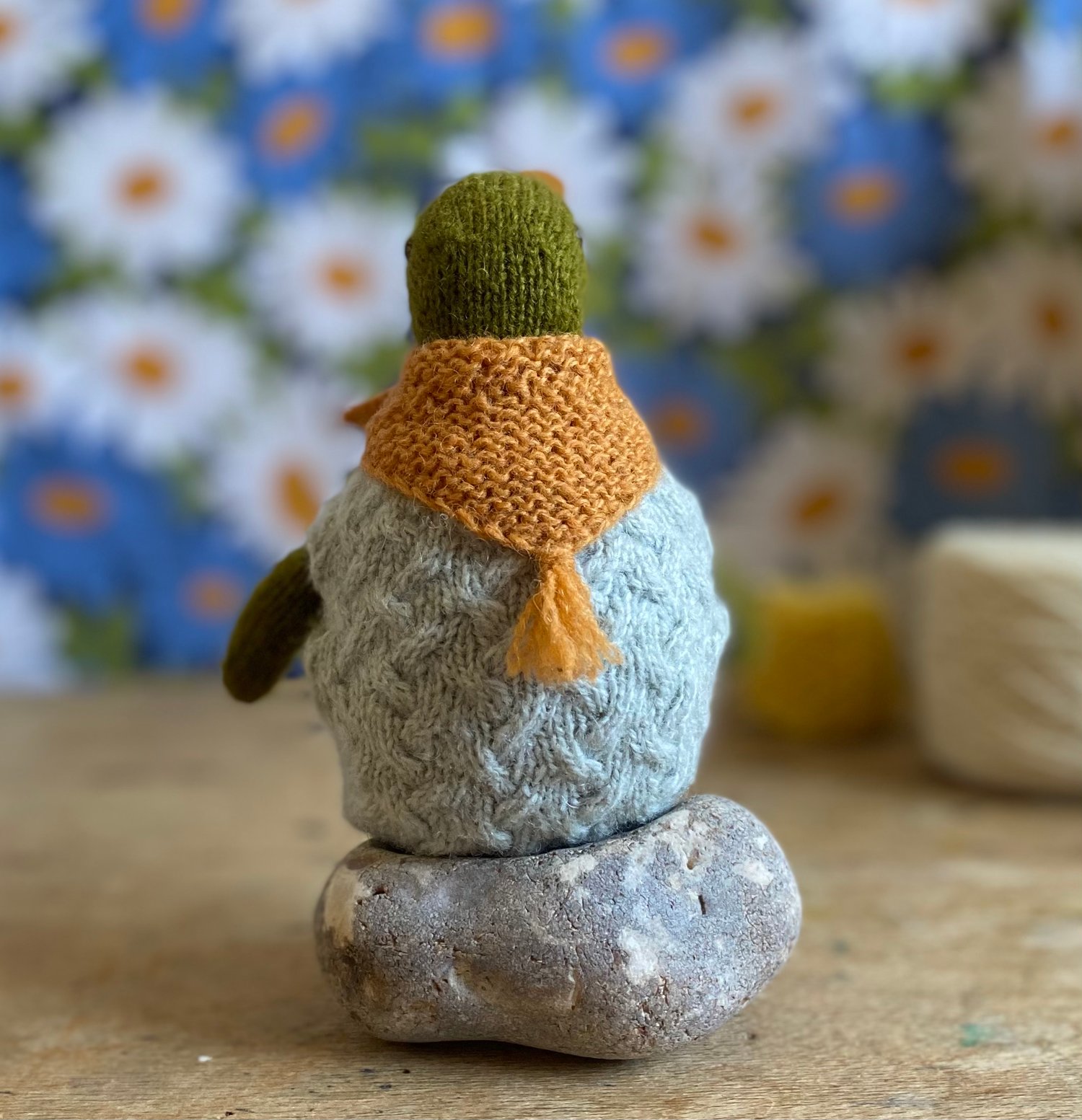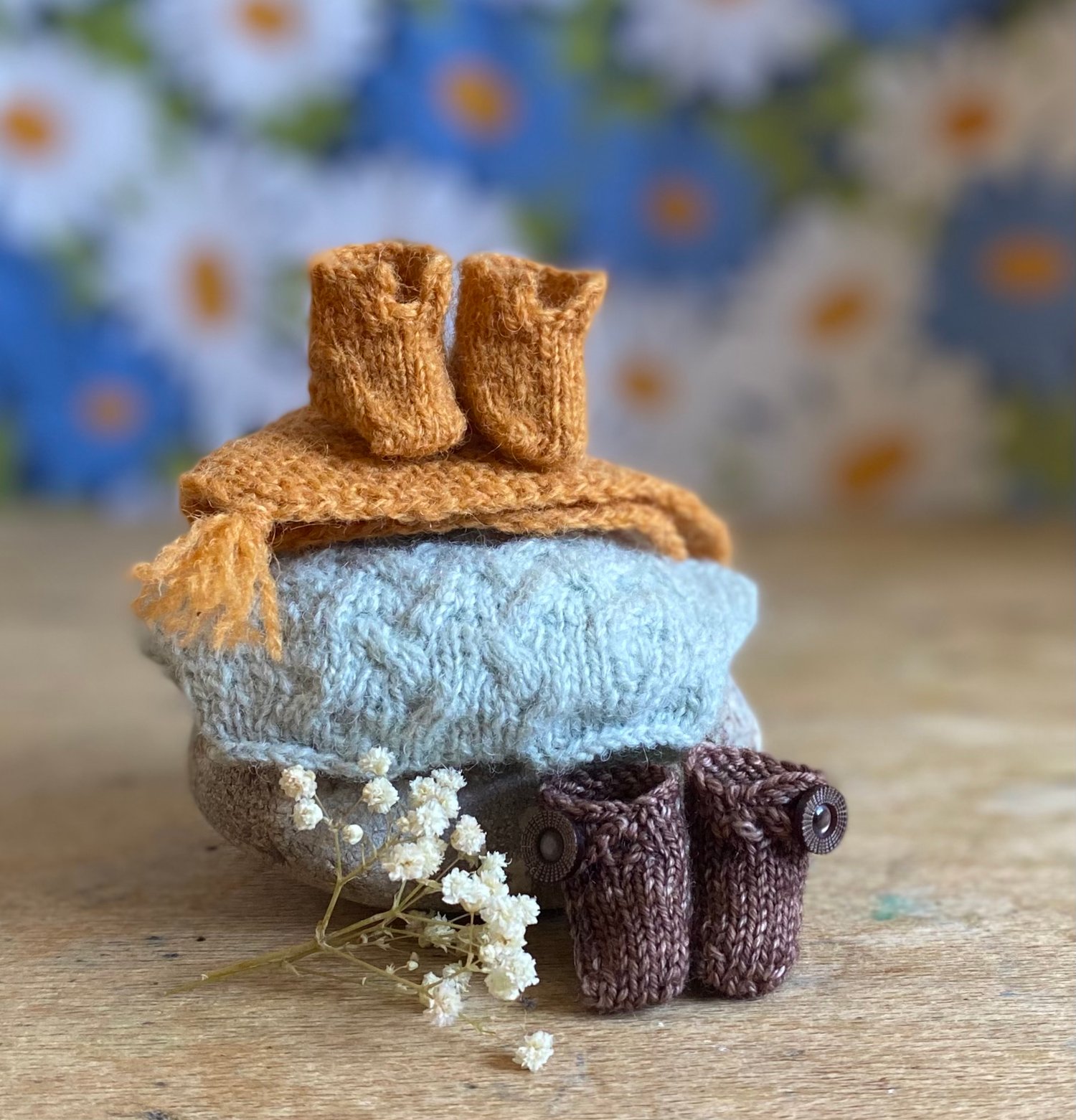 JODIE TURTLE PATTERN
On Sale
Jodie is a very kind little turtle knit in one piece,
totally seamlessly
, from the tip of her nose to the tip of her toes.
The pattern is available in
english
 and
french
.
It includes instructions to knit the turtle and her complete outfit.
It also includes a guide gathering hints and tips to knit seamless toys with ease and pleasure.
Instructions are written to be worked either with DPNs or magic loop.
AMOUNT OF YARN
° Knitted in fingering weight yarn, a little turtle requires about 15 g of wool - about 60 m / 66 yds of yarn to come to life
° Count about 10 g - about 40 m / 44 yds - to make her main shell-garment, about 4 g to make her shawl (about 16 m / 18 yds) and 3 g for her little shoes (about 12 m / 14 yds)
Perfect for minis balls and skeins, and for leftovers !
As shown in pictures, Jodie is knitted with Bouclelaine Ouessant 50 : Bourgeon de printemps, Larme d'Aphrodite, Abricot - Find lovely bundles to knit Jodie on
Bouclelaine website
. 
As for all my patterns, the process is thought for the maker's happiness of having a character truly emerging during the knitting, a very lively little soul appearing at a early stage of the making then growing organically stitch by stitch.
- No seaming.
- No assembling.
- All the finishing done as you go, and face features added right from the beginning.
When you're done with the last stitch, you're done with your little woolly friend too.
- Jodie Turtle pattern has been tested and fully tech edited.
-
About the difficulty level
 : i would rate it between advanced beginners and intermediate. The only true prerequisite is knowing how to knit small circumferences in the round. On this basis, I worked at providing detailed instructions as well as extra tips and pictures, to offer a smooth process. If you've already knit a sock or a mitten, something small and tubular, then you can do it !
SIZE
With the yarn and needle size used for the sample shown, Jodie measures about 16 cm (6,3 inches) from the top of the head to the sole of the little feet. If you use a thicker yarn, you will get a bigger turtle. In that case, don't forget to adapt the size of the eyes if you use safety eyes.
SPECIFIC NOTIONS
Stuffing, safety eyes (as shown here, 6 mm diameter brown), embroidery floss
RIGHT RESERVATIONS
© Cinthia ValletThis pattern is intended for your personal non-commercial use only. It may not be reproduced or transmitted in any form, as a whole or partially. The finished toys made from it may not be sold. They are meant to be used for yourself or gifted. No yarn kit may be proposed without my explicit permission. If you would like to sell yarn kits, please contact me to have a chat about it first.Thank you very much for respecting these rights reservations.
For pattern queries, contact by email at fromcinthia@gmail.com
- - - - - - - - - - - - - - - - - - - - - - - - - - - - - - - - - - - - - - - - - - - - - - - - - - - - - - - - - - - - - - - - - - - - - - - - 
FRANÇAIS
Jodie est une petite tortue tricotée en un seul morceau,
100% sans couture
, du bout du nez jusqu'au bout des orteils.
Le patron comprend les instructions pour tricoter la tortue et sa tenue complète. Il inclue également un guide pour bien aborder le tricot de peluches en un seul morceau.
Les instructions sont écrites pour tricoter indifféremment en magic loop ou avec des aiguilles double-pointe.
NOTE IMPORTANTE AU SUJET DES CONVENTIONS DE TRADUCTION
Toutes les explications sont intégralement rédigées en français mais les instructions techniques en
elles-mêmes intègrent l'usage d'abréviations issues de l'anglais. Ce parti pris est expliqué en détail dans le patron lui-même et ne requiert pas de connaissance de l'anglais.
QUANTITÉ DE LAINE NÉCESSAIRE
° Avec une laine de type fingering (type laine à chaussettes), il faut environ 15 g de laine pour tricoter une tortue (environ 60 m)
° Prévoir 10 g (environ 40 m) pour faire son vêtement carapace, 4 g pour faire son châle (environ 16 m) et 3 g pour ses petites chaussures (environ 12 m)
Projet parfait pour les mini écheveaux et les petites pelotes, ainsi que pour les restes !
Telle que vous la voyez ici, Jodie est tricotée en laine Bouclelaine, Ouessant 50 : Bourgeon de printemps, Larme d'Aphrodite, Abricot - Vous pourrez trouver des petits assortiments pour tricoter Jodie directement sur le
site de Bouclelaine
. 
Comme pour tous mes patrons, l'accent est mis sur le plaisir de faire, et la joie d'avoir un personnage très vivant qui émerge très tôt au cours de la fabrication, et qui grandit directement sur les aiguilles, maille après maille, vous encourageant à aller jusqu'au bout.
- Pas de coutures.
- Pas d'assemblage.
- Les finitions sont évacuées tout au long de la fabrication et les détails du visage complétés dès le début.
Quand vous tricotez votre dernière maille, votre personnage est terminé !
- Le patron Jodie Turtle a été intégralement testé et édité.
-
Niveau de difficulté
 : entre débutants avancés et niveau intermédiaire. Le seul véritable pré-requis est de savoir tricoter des petites circonférences en circulaire (avec la technique qui vous convient : magic loop ou aiguilles double pointe). À partir de là, les instructions sont très détaillées et accompagnées de nombreuses explications, pour faciliter la fabrication au maximum. Si vous avez déjà tricoté une chaussette ou une moufle, quelque chose de petit et de tubulaire, alors vous pouvez sans aucun doute y arriver.
TAILLE
Avec la laine suggérée dans le patron, Jodie mesure environ 16 cm de la tête aux pieds. Si vous utilisez une laine plus épaisse, vous obtiendrez une plus grosse tortue (il vous faudra alors adapter la taille des yeux de sécurité si vous en utilisez)
MATÉRIEL SPÉCIFIQUE
Rembourrage, yeux de sécurité (6 mm), fil à broder
TOUS DROITS RÉSERVÉS© Cinthia Vallet
Ce patron est réservé à un usage personnel, non-commercial uniquement. Il ne doit être ni reproduit, ni transmis sous aucune forme, même partiellement. Les peluches réalisées à partir de ce patron ne peuvent pas être vendues. Elles sont destinées à être gardées pour vous-mêmes ou offertes uniquement. Aucun kit ne doit être proposé sans mon autorisation explicite. Je vous remercie par avance pour le strict respect de ces limitations d'usage.

Pour toute question concernant le patron : n'hésitez pas à prendre contact à l'adresse fromcinthia@gmail.com