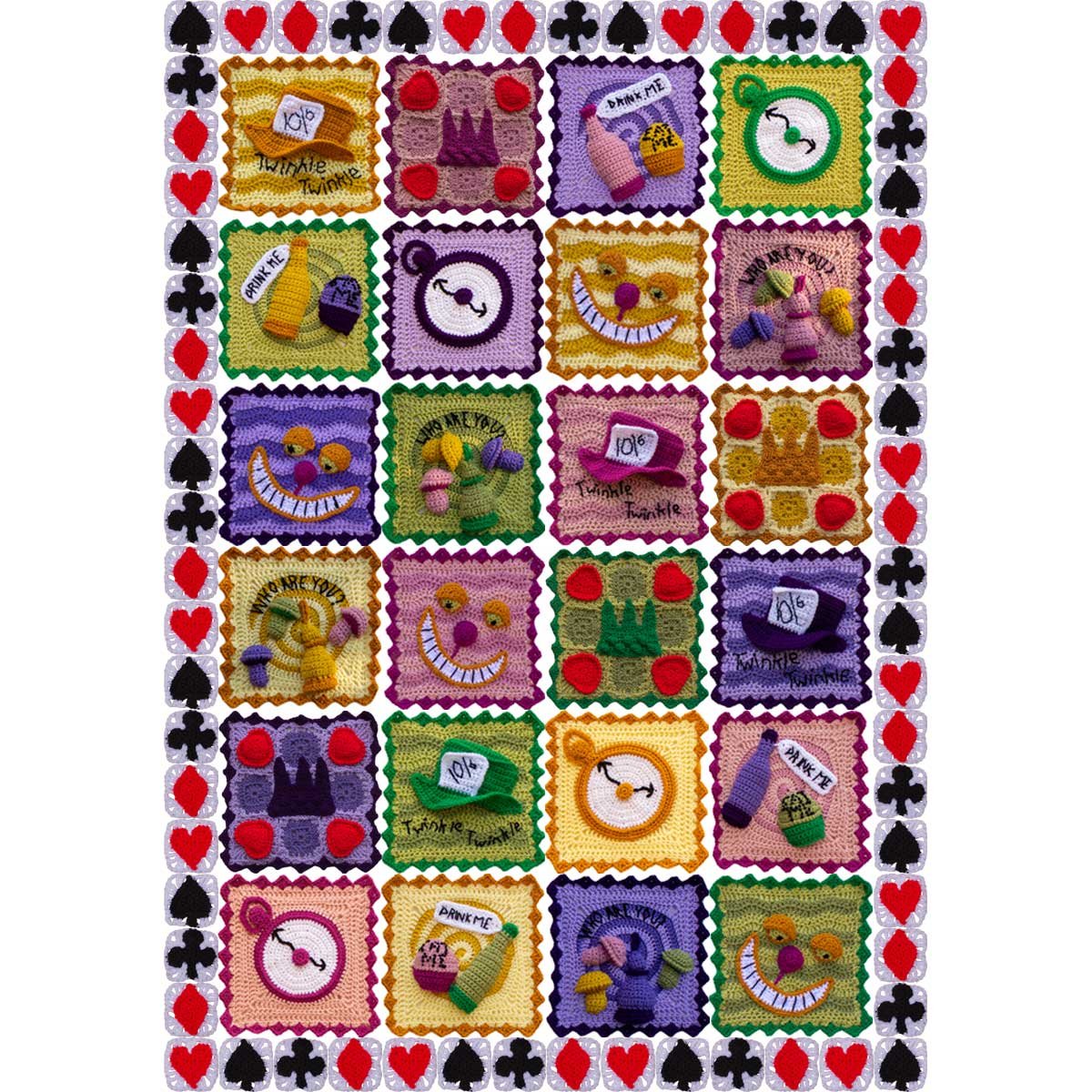 Wonderland CAL
On Sale
£6.25
UK Special Offer!
 Buy the Yarn Pack and get access to the pattern for half price.
Yarn packs are available
online from Rainbow Valley
or
in store at participating Yarn Shops
.
Please wait until your yarn pack arrives before buying the pattern so that you can take advantage of your half price discount code using the code in the pack.


Based on "Alice's Adventures in Wonderland" by Lewis Carroll, this CAL will take you down the Rabbit Hole and through the adventure of your life. I have tried to keep as close to the book as possible but have used a little bit of artistic licence occasionally!
There are 24 main blocks plus 64 small blocks for the border made with Wendy Supreme DK.   Main blocks are about 22cm not including the hedge and the finished size is about 155cm x 115cm.
Release Dates
The CAL will start on January 14th which is the anniversary of Lewis Carroll's death in 1898.  The blocks are released on the Facebook group at 10am UK time on the stated dates and will be added to PayHip and Ravelry within 24 hours.
Available Now:
 Notes
January 14th:
 Down the Rabbit Hole
January 28th:
 The Pool of Tears
February 11th:
 Advice from a Caterpillar
February 25th:
 We're All Mad Here
March 11th:
 A Mad Tea-Party
March 25th:
 Who Stole the Tarts?
April 8th:
 Alice's Evidence
April 22nd:
 And now the tale is done
May 6th:
 Or is it?
Materials:
 Wendy Supreme DK (100g), 1 ball of each colour, 4 balls of White.
Yellow:
 A-20 Lemon, B-45 Mustard, C-23 Gold
Pink:
 A-08 Blush, B-09 Rose, C-13 Berry
Green:
 A-26 Pistachio, B-46 Spring Meadow, C-47 Emerald
Purple:
 A-07 Lilac, B-06 Lavender, C-14 Purple
Accents:
 40 Black, 01 White, 15 Red
Small amount of toy filling.
You will also need:
  4.00mm hook, 3.00mm hook, stitch markers, needle for sewing in ends.