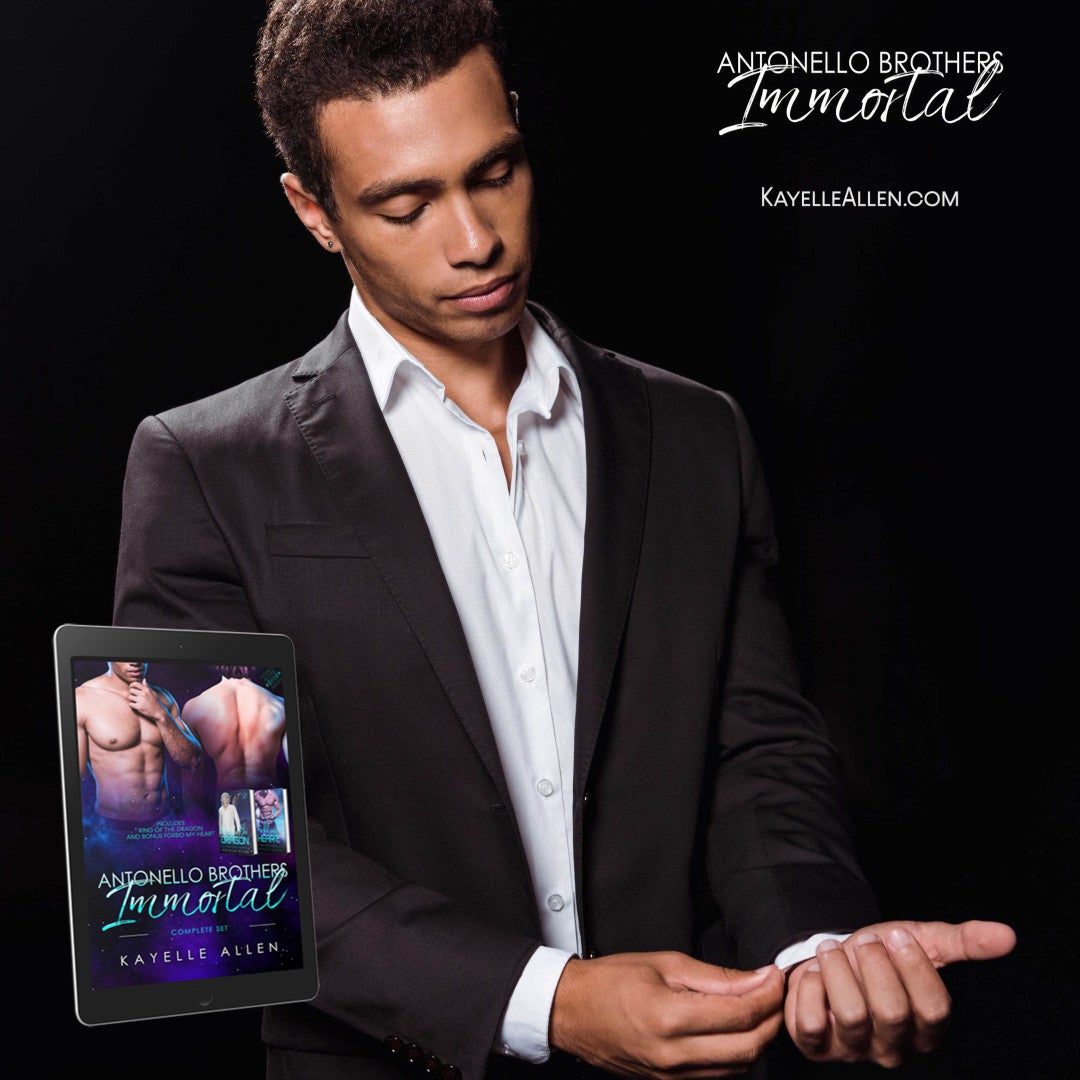 Complete Set Antonello Brothers: Immortal
On Sale
$9.99
Alone for centuries, Luc seeks mortal lovers to hold the loneliness at bay
, but unlike himself, when they die, they don't come back. When his latest mortal lover falls in love with another, Luc steps aside. Will he never find his own forever love?
Izzorah, a young Kin male, comes into Luc's life, and the outlook brightens
. This catlike alien reads Luc's emotions as if they were written on his face. Instead of fleeing from Luc's pain, Izzorah presses closer, offering solace.
When a life-threatening accident nearly kills Izzorah, the thought of losing him is too much to bear. Luc breaks the highest law among immortals and saves him by a transfusion of blood.
But instead of a simple cure, Luc's blood triggers a latent power
, and an ability no one expected. Immortality. Could his precious Izzorah be Luc's forever love?
One thing is certain. Once Luc sets his mind to a thing, what Luc wants, Luc gets.
But to claim Izzorah's full surrender, Luc must first offer his own...
♥If you like a cuddly cinnamon roll hero who purrs, and an alpha male who has met his emotional match, this MM Sci-Fi Romance book bundle is just what you've been looking for. Bonus points if you prefer your love scenes with only a hint of steam.
♥Includes a bonus book and links to a full universe of stories with these characters.
---
Bonus Offer
Become an an immortal, or a citizen of the Tarthian Empire. Like to multitask? Become both! There's also an option to just get one email notification when I release a new book. That way, you don't miss a thing. Cost? $0.00 with no money down. ;) See? I know how to treat my friends!
What do you get for all that moolah? Welcome emails from the Empress of Tarth herself and the immortal king, Pietas. (Okay, it's really just me. WiFi between here and Tarth is killer expensive. But play along, all right? It'll be fun!)
Every two weeks, I'll send you book recommendations in either sci-fi, or sci-fi plus romance (your choice), links to inside information about characters and stories, links to maps and downloads, membership in the Banner Club - original memes for every holiday I can think of (or get asked to make), among other reader exclusives. You might get an occasional extra treat or goodie on alternate weeks.
Plus -- the opportunity to read any of my books at no cost by joining my review team.
Personally, I detest spam, so I vow never to inundate you with junk, sell or share your email, and I solemnly swear that I will not reveal your contact info to evil immortals, ever. Scout's honor.
Enter the Empire here:
https://kayelleallen.com/immortality
All Other Retailers
https://books2read.com/abi-complete