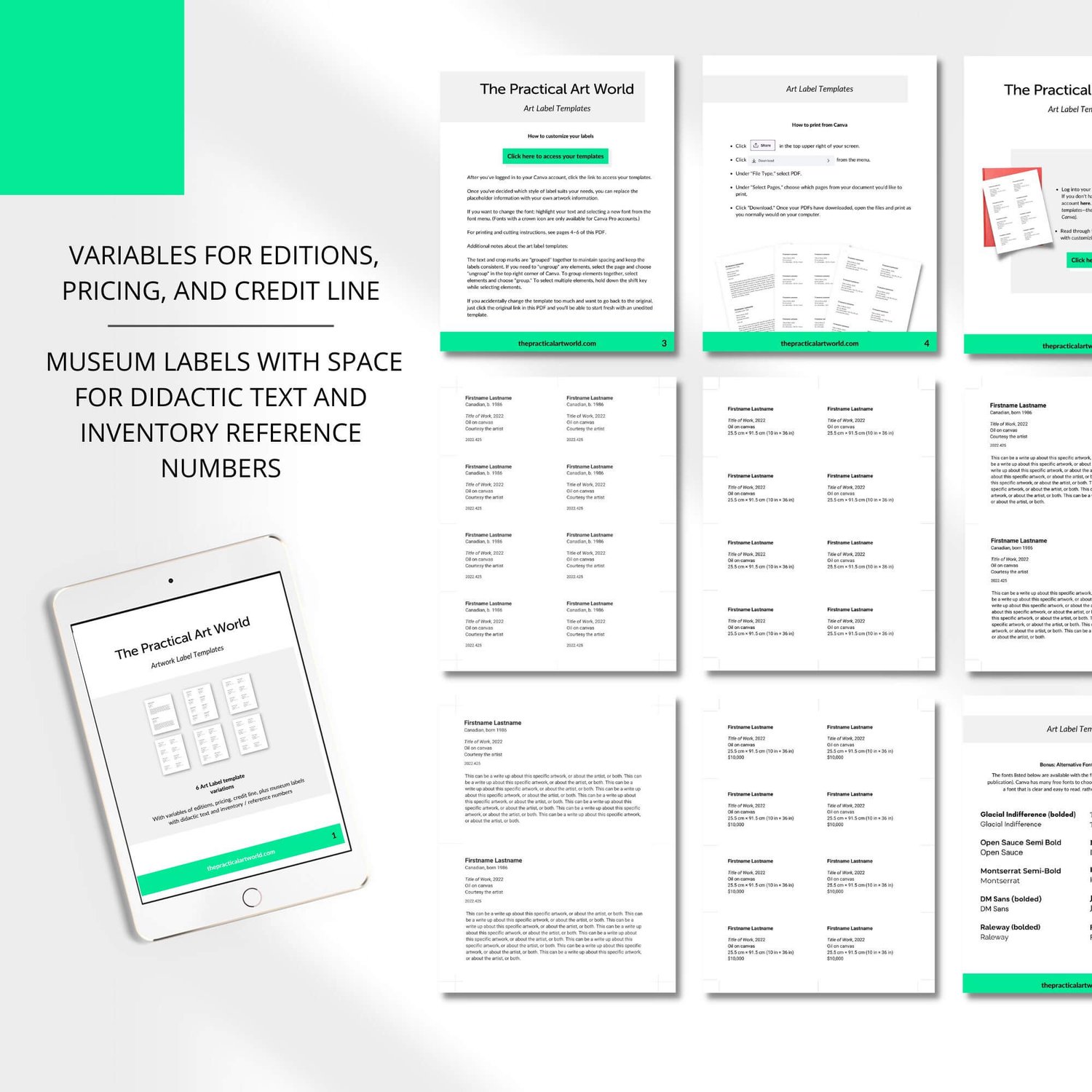 Art Label Templates for Canva
On Sale
$6.50
Pre-formatted artwork information and guidelines for cutting ensures the perfect art label, without the hassle of formatting. Simply replace your own information to the placeholder text, print, assemble, and hang on the wall. 
Includes a "museum" label template with space for didactic text, inventory number, and credit line.
Your purchase includes:
A link to 6 versions of art label templates with customizable font, colour, and information in Canva
An instructional PDF with information on customizing and printing your labels
Instructions for assembling and cutting your labels using the embedded cutting guidelines 
10 alternate font suggestions compatible with your free Canva account
What you'll need to use these templates:
A free Canva account
A desktop computer
A printer to print your labels
A pencil, a ruler, and a cutting blade 
If you decide to mount your labels, you'll also need
Foamcore or matboard
Spray adhesive 
www.thepracticalartworld.com
Terms and Conditions 
You are purchasing a digital product that will be delivered via email. There will be no physical shipment for your order.
Please note that you are purchasing a template only. The elements within are accessed using a free Canva account. All elements in The Practical Art World templates are fully compatible with the free version of Canva at time of publishing.
Due to the nature of digital products, all sales are final. Once your purchase is complete, no returns or refunds will be issued. For any inquiries, please contact thepracticalartworld@gmail.com.
Templates may be used for personal or commercial purposes, but as end-products only.
You may not re-sell or redistribute your purchased template as an editable template, or as a modified version of an editable template.
Please use a desktop computer to customize these templates, not a mobile device.