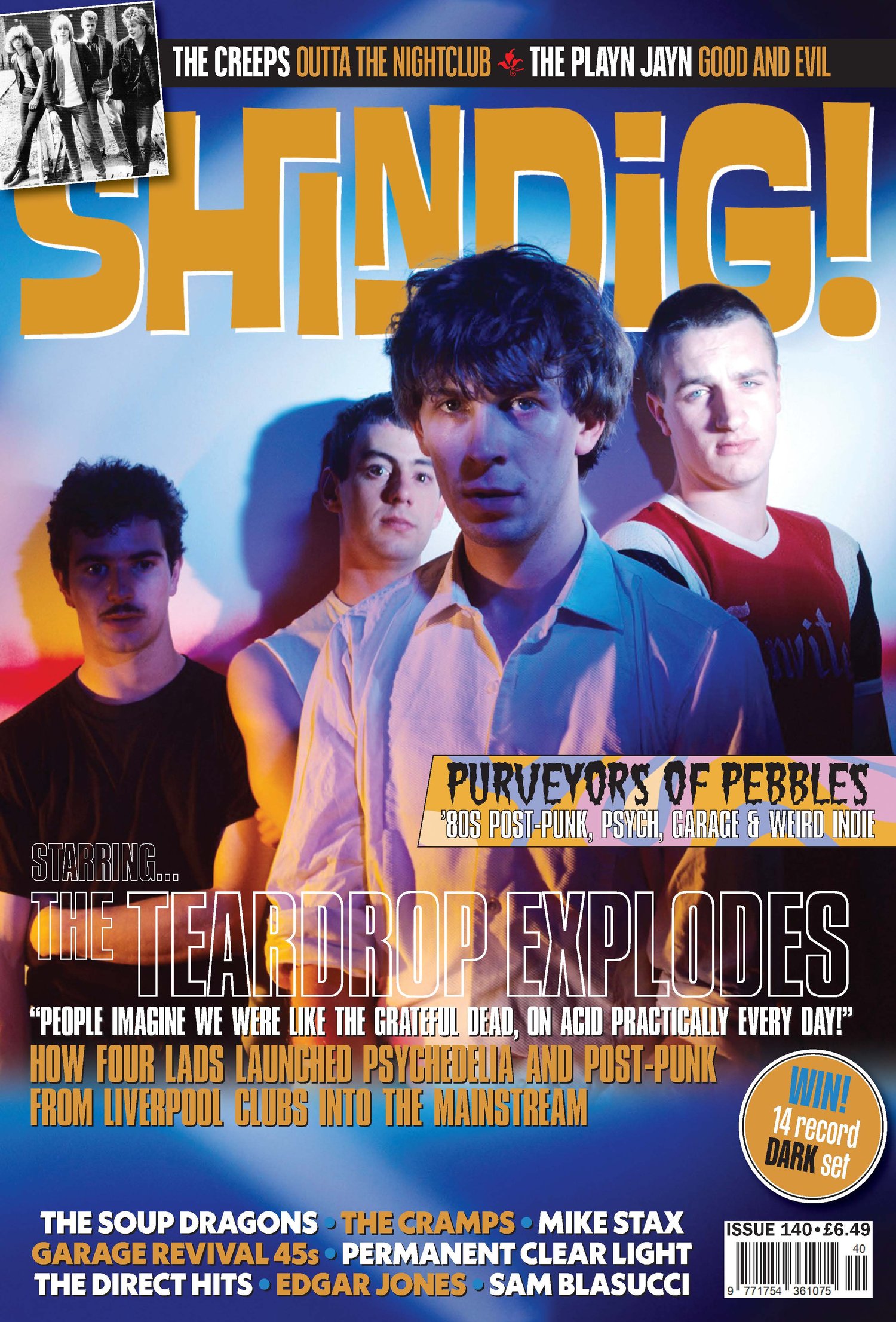 Shindig! 140
On Sale
Features
The Playn Jayn  Straight outta London's psychedelic pub-rock
scene of the '80s.
The Soup Dragons  The DIY garage-infused beginnings of the Glasgow
indie-pop stalwarts.
The Teardrop Explodes  As a Kilimanjaro-sized career overview arrives, we go
deep inside the complex and contrary story of the Merseyside
act that brought psychedelia to the masses like no other.
The Creeps The Swedish garage purists who wooed all that witnessed them before mainstream success became inevitable.
Regulars
Thoughts & Words Your letters, tweets and emails.
Shindiggin' What's hot on the Shindig! turntable.
Subscribers' Prize Draw  Subscribe now and you could win a set of 14 Dark records
It's A Happening Thing Permanent Clear Light, Edgar Jones, Sam Blasucci, The
Bevis Frond, Calibro 35, The Crystal Teardrop, The Saxophones,
Paul Moody, Enys Men, The 13th Floor Elevators, Full Time Hobby
Family Album The Direct Hits' 1986 mod-pop outing House Of Secrets
Deep Cuts Choice international garage revival singles of the '80s
The Cramps How B-movie trash style and '60s garage-rock
created a monster
20 Questions Musician, publisher, writer and renaissance man
Mike Stax tells all
Reviews The best in reissues, new releases, books, and live shows.
Prize Crossword Win Barclay James Harvest's Once Again on vinyl
Vinyl Clicks The Birdmen Of Alkatraz's 1989 garage-psych gem
From The Birdcage
Vinyl Clicks  Colin Lloyd Tucker's 1984 oddity Toybox