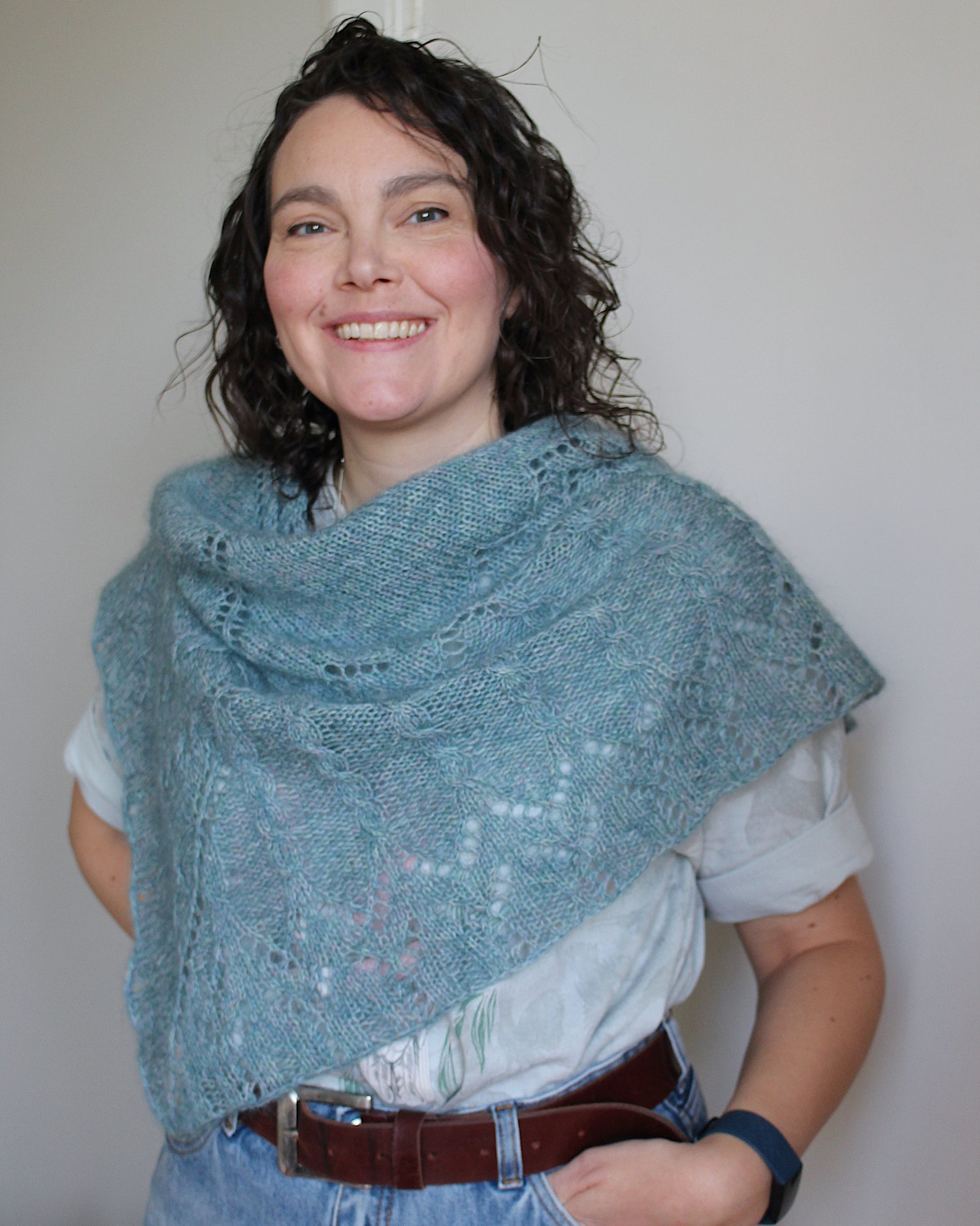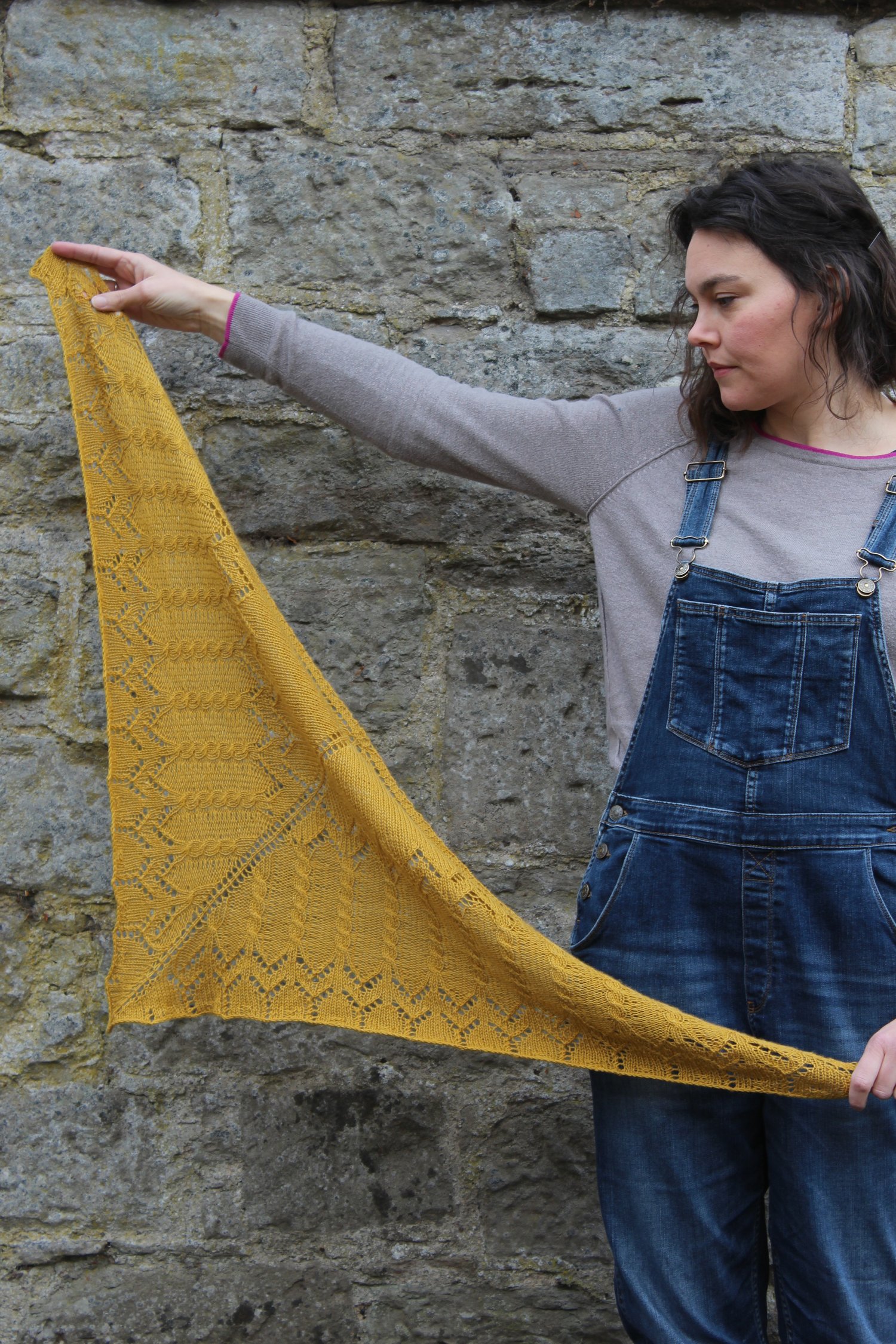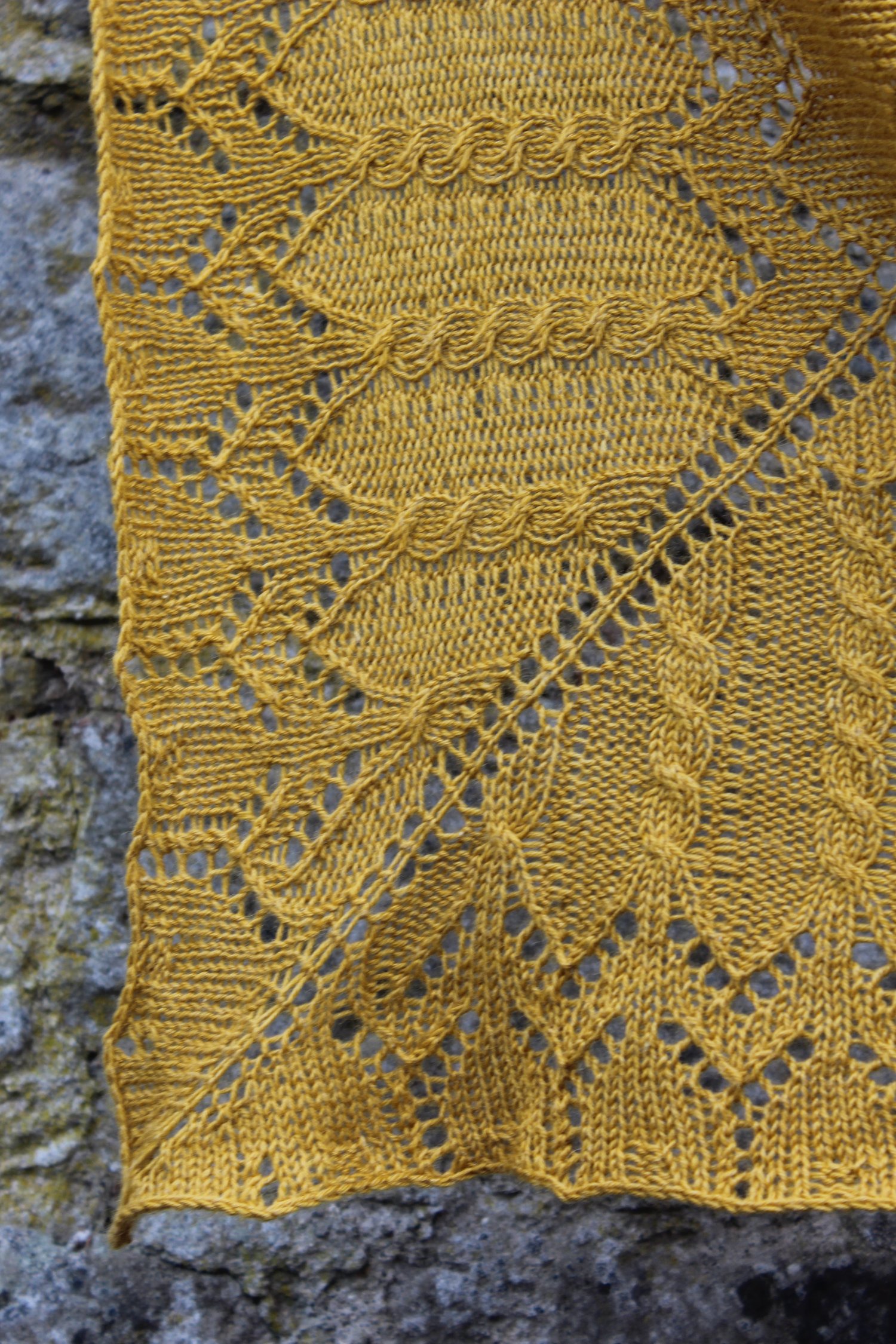 Sycamore Shawl
On Sale
£4.50
"Stars shining bright above you
Night breezes seem to whisper "I love you"
Birds singing in the sycamore tree
Dream a little dream of me."
Dream A Little Dream of Me, Andre/Schwandt/Kahn
My children and I regularly walk through our local park, which has a lovely avenue of sycamore trees. We enjoy watching the leaves emerge in spring and then fall from the trees in autumn. 
The Sycamore Shawl is a beautiful triangular shawl, featuring an unusual combination of lace and cables.
The shawl's name is inspired by the V-shaped stitch pattern that emerges as the shawl grows on the needles; it's reminiscent of sycamore trees and their beautiful leaves.
First published in Knit Now Magazine in Autumn 2016, the pattern has now been updated to include instructions for knitting Sycamore in 4ply/fingering-weight yarn, as well as the original larger version, now knitted with a strand of mohair lace held together with a strand of woollen lace.
The pattern contains both charts and written instructions for the textured sections, and tips for completing the cables without a cable needle. Sycamore has been fully tech-edited and includes clear photographs and a schematic.
Limited Edition Kits available via
www.maddieharveydesigns.com
CONSTRUCTION NOTES
Sycamore is a traditional triangular shawl with a lovely geometric lace and cable section. It is knitted from the top down, starting with a bump-free garter tab, and has a narrow garter stitch border along the top edge.
The triangular shape is achieved by increasing stitches at both edges and at either side of the centre stitch. These centre increases create a "spine" down the middle of the shawl.
The cable and lace patterning is then repeated on each side of the centre stitch spine, using either the written instructions or the charts.
YARNSmall version:
approx 100 g / 400 m 4ply/fingering-weight yarn (mustard sample)
Eden Cottage Yarns, Milburn 4ply, (4ply / fingering-weight; 200 m / 218 yd per 50 g; 85% British Bluefaced Leicester, 15% silk) 2 balls in Harvest Gold
Large version:
approx 125 g / 500 m in total of two strands of laceweight held together (pale blue sample)
Rowan, Kidsilk Haze (Laceweight, 210 m / 230 yds per 25 g; 70% mohair, 30% silk) 2 balls in Trance (582)
held together with . . . 
Jamieson & Smith, 2ply Lace Weight (Laceweight, 169 m / 185 yds per 25 g; 50% lambswool, 50% real Shetland wool) 3 balls in L40 (pale turquoise)
GAUGE
(measured over stocking stitch after blocking):
Small version: 20 sts x 32 rows = 10cm/4"
Large version: 17 sts x 24 rows = 10cm/4"
SIZES
Small version: 128cm / 50.5" x 60cm / 24"
Large version: 160cm / 62" x 70cm / 27.5"
PATTERN ATTRIBUTES
cables
charts (and written equivalents)
lace
schematic
written-pattern