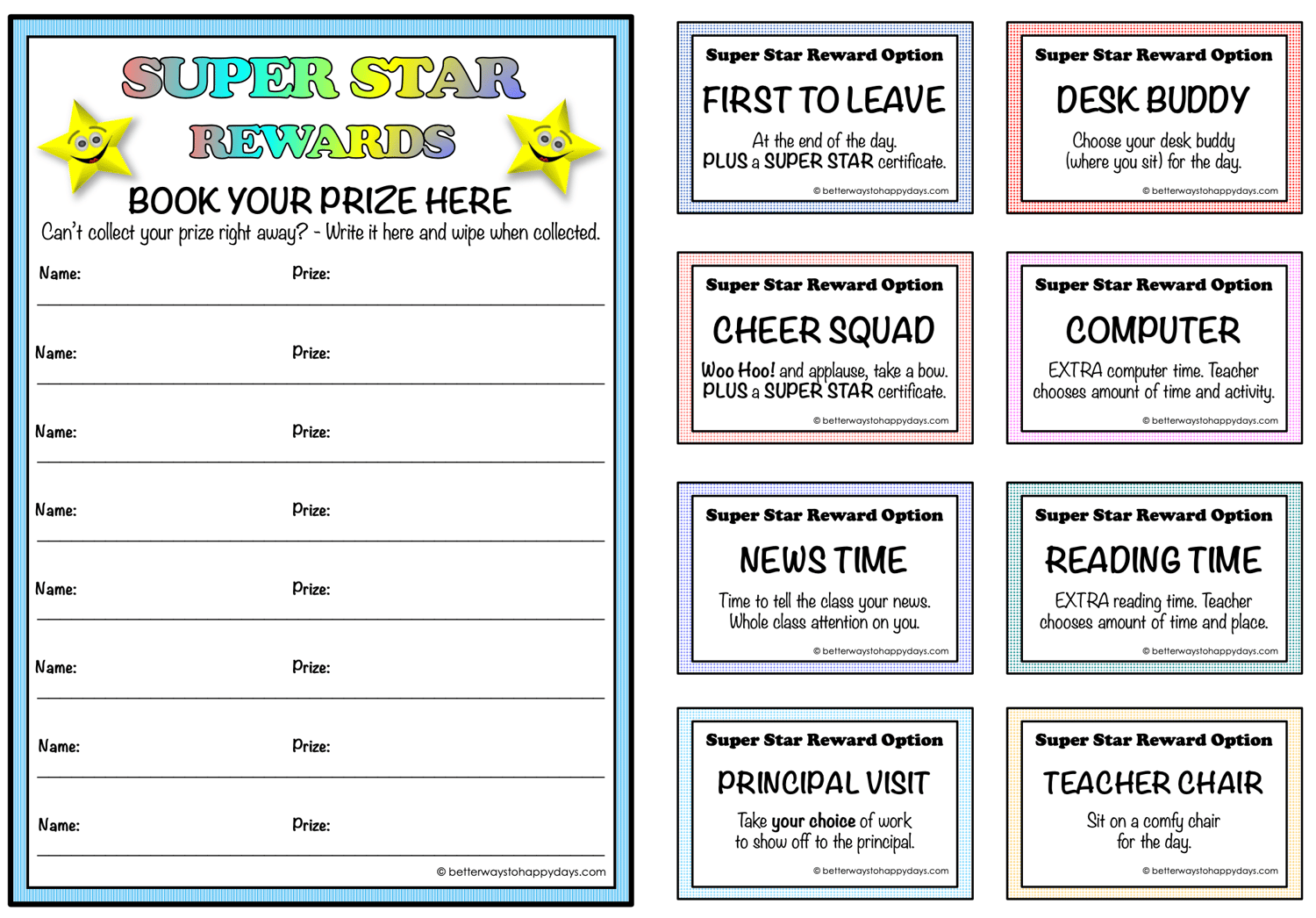 Rewards Kit NEW - BEHAVIOUR MANAGEMENT
On Sale
INSTRUCTIONS - Rewards Kit

BEHAVIOUR MANAGEMENT - INSTRUCTIONS - Better Ways to Happy Days ©

Better Ways strives to provide a school wide, clear, consistent and universal, behaviour system. When expectations and consequences are clear to all, we can deliver consistency from adults, and students can make educated behaviour choices.

STAMP CARDS - choose from 2 systems booklet or card

Bank books - print cover pages (My rewards bank book) 3 pages for 30 books and a sheet (I am working towards) for each student, cut and attach cover, student earns stamp for each square and cashes a full sheet in on a prize (rip out and hand to teacher to claim prize or teacher signs back of page when prize collected)

OR

Super star stamp cards - Print and laminate cards (or print on card) - students earn stamps, stickers or hole punches over each number (2 options included; long bookmark or small credit card size)

Prize box labels/cards/booking sheet - Print, laminate and attach PRIZE BOX label to the prize box, attach REWARDS WALL to a wall or window

Print and laminate prize cards, tack prize cards around Rewards Wall poster, for students to choose prize – optional; place cards backwards for mystery prize

Print and laminate booking sheet, place on wall near prize cards and attach a dry erase marker for student to write and wipe names as necessary

Super star certificates/target notes/warm fuzzy book marks - print these notes and add stickers to send home at the end of the day, use these for students who have turned behaviour around, those who need reassurance or those who are always good or often missed and target behaviour notes for those who need help to get back on track

All items can be printed in colour or black and white on coloured or white paper or card

TO USE:

Always explicitly teach expectations and explain consequences (both negative and positive)

Explain what is required to receive a stamp/sticker,

Explain when the reward will take place or be collected

Sign and date the students stamp card when reward has been allocated

Ask for and answer any student questions regarding the rewards process

Explain intrinsic positive consequences pride, respect, friendship, celebration, teamwork etc.

Use in conjunction with our Rules Posters and Behaviour Charts for a whole behaviour system

 

Check out our other Social, Emotional, Behavioural and Academic Resources at

Better Ways to Happy Days

 

WEBSITE: http://www.betterwaystohappydays.com/

TPT: https://www.teacherspayteachers.com/Store/Better-Ways-To-Happy-Days

FACEBOOK: https://www.facebook.com/betterwaystohappydays/

INSTAGRAM: https://www.instagram.com/betterways101/?hl=en

 

BWTHD has a range of resources that use consistent language and can be implemented throughout your school as whole school behaviour management tools. Consistency is key. Why not become a Better Ways School today?