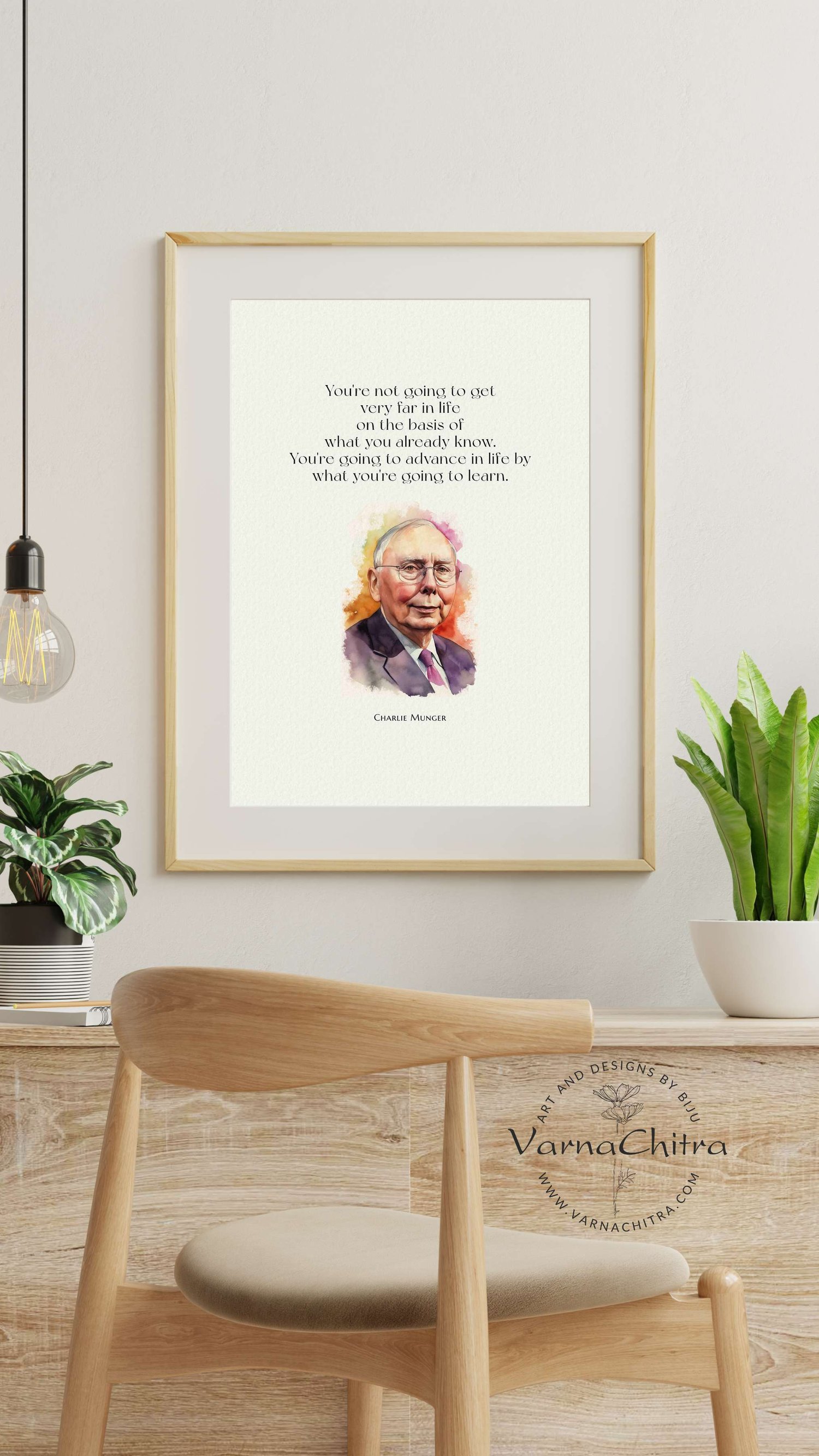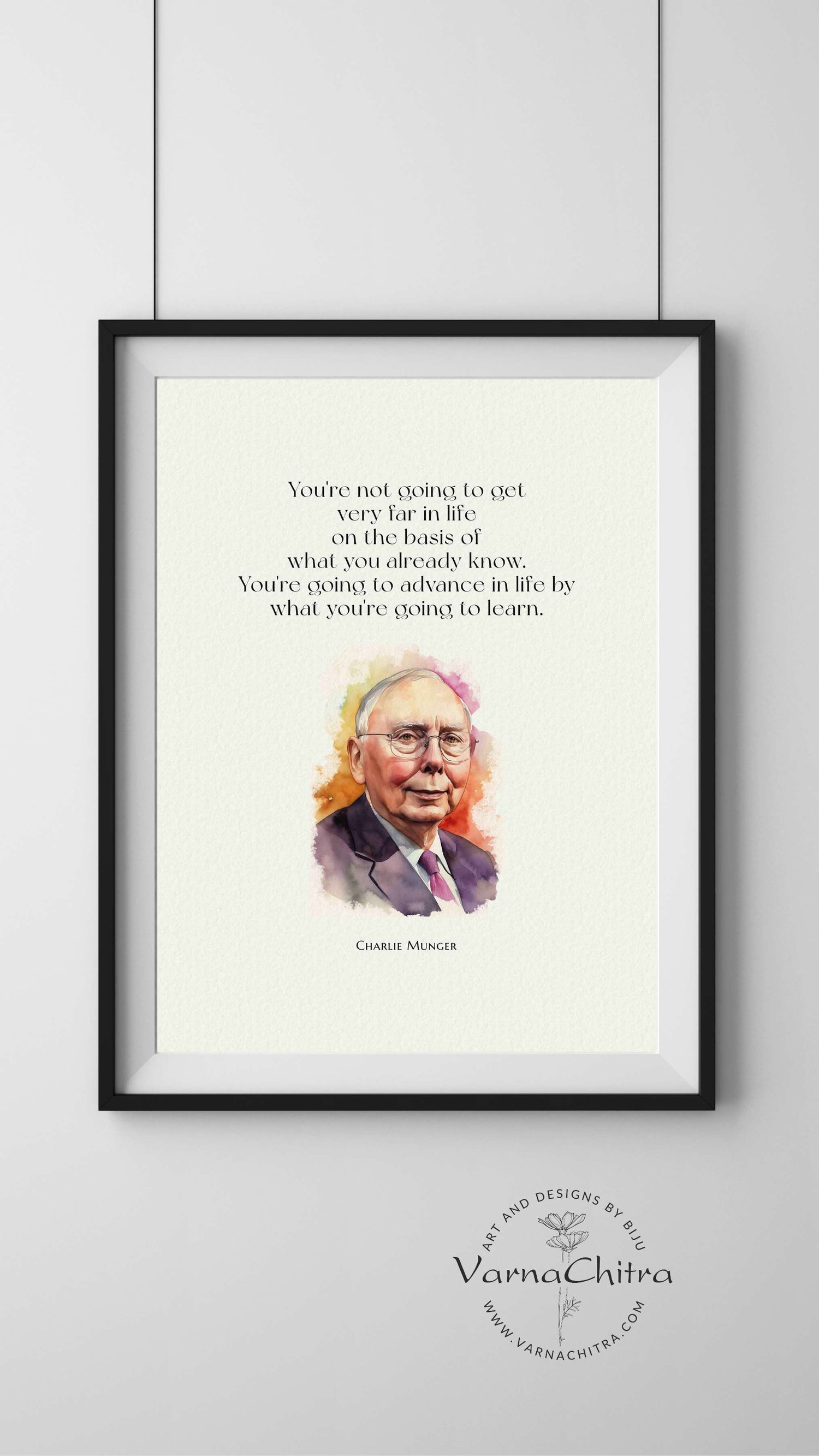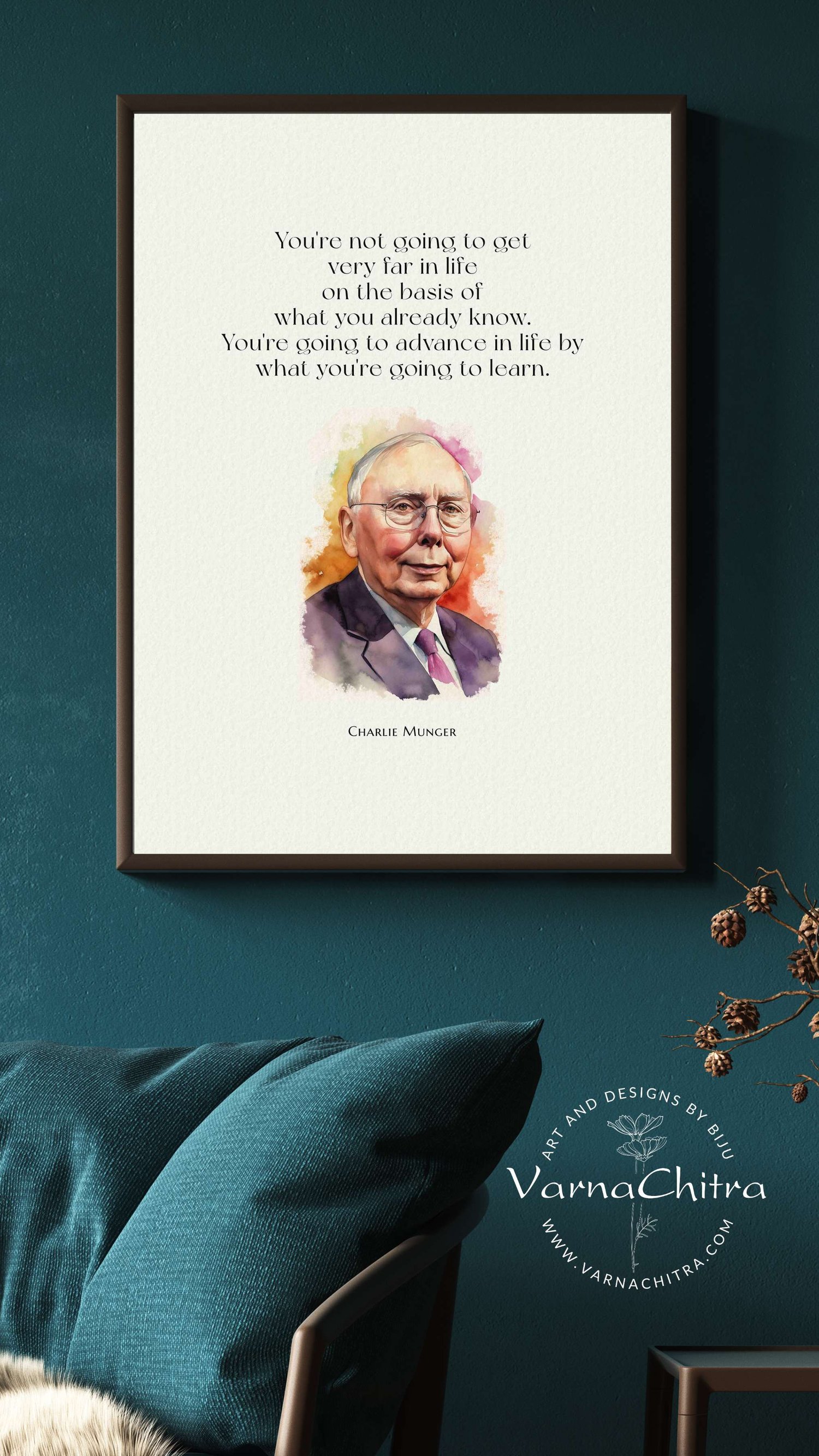 Charlie Munger Quote Poster. What You Are Going to Learn is More Important than What You Already Know
"You're not going to get very far in life on the basis of what you already know. You're going to advance in life by what you're going to learn."
In the age of AI, where automation is becoming increasingly prevalent in many industries, Charlie Munger's quote is more relevant than ever. With machines capable of performing routine tasks faster and more accurately than humans, it is essential to focus on continual learning and personal growth to stay ahead in one's career and personal life. Those who are adaptable, willing to learn, and able to apply new knowledge will be better equipped to thrive in the rapidly evolving job market, while those who rely solely on their existing knowledge risk being left behind. Therefore, embracing lifelong learning is crucial for success in the age of AI.
The overall design of the poster is simple and clean, with no distracting graphics or colors to detract from the powerful message of the quote. There is a beautiful watercolor painting of Charlie Munger as a graphic element. The dimensions of the poster are large, making it easily visible from a distance.
The poster would be suitable for display in a classroom, office, or other learning environment, serving as a constant reminder to students or employees that personal growth and development is key to success. It could also make a great gift for someone who values education and lifelong learning.
Upon purchase you will receive 1 jpg files as instant download.
Use the downloaded files for customized printing and framing at any of the online printing and framing services like shutterfly, canvaschamp etc. You may also utilize the service of your local printing and framing shops. Read more about it here.
THIS ITEM IS A DIGITAL DOWNLOAD ONLY. NO PHYSICAL ITEM WILL BE SHIPPED.
YOU WILL GET 1 JPG FILE OF SIZE 28x40 inches with 300 ppi AS A DIGITAL DOWNLOAD.
The file can be easily resized to
24x36 inches(2:3 aspect ratio) and below
24x24 inches (1:1 aspect ratio) and below
18x24 inches (3:4 aspect ratio) and below
16x20 inches (4:5 aspect ratio) and below
11x14 inches
A3 (ISO) 11.7x16.5 inches
You can contact me for any other size after purchase.
For personal use only. No commercial use permitted.