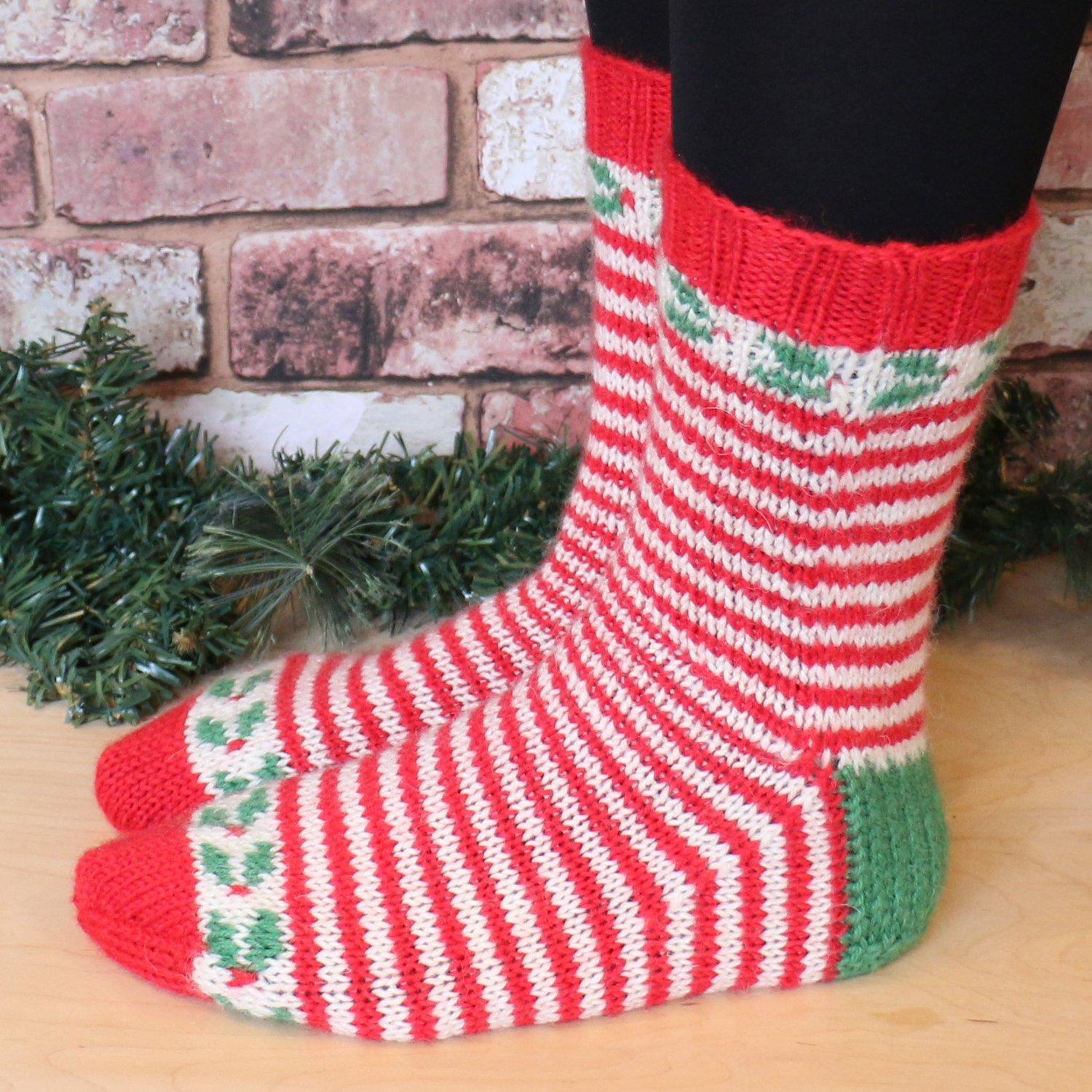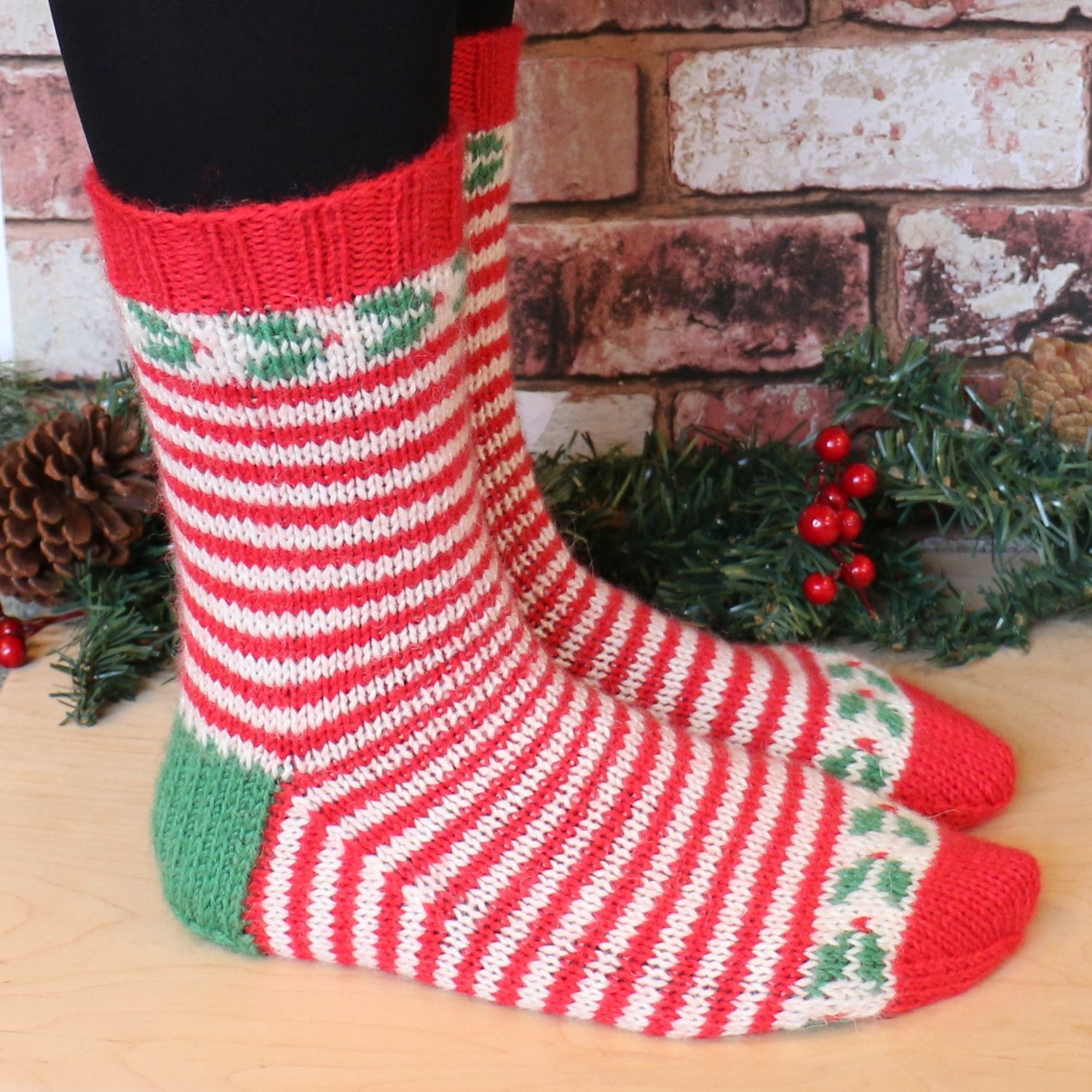 Jolly Holly Socks
On Sale
£4.99
Want 10% off? Sign up to the Vikki Bird Designs newsletter
I LOVE Christmas socks and wear them as soon as I see the first Christmas decorations in the shops. These festive Jolly Holly Socks are made using aran weight sock yarn, making them perfect for cosying up by the fireside, wearing to lounge about, or for pottering around the house as you're wrapping your Christmas presents. Being knitted in aran yarn means they also make quick last-minute gifts.
The socks are knitted from the cuff down with a heel flap and gusset construction. The contrast cuff is knitted, then a short colourwork section is worked to transition into the striped leg. The rest of the sock is knitted in a simple stripe-pattern, until just before the toe, when a second colourwork section is added; the sock is finished with a contrast heel and toe. The toe is Kitchener-free, finished by gathering the final few stitches. The socks are knitted from the top down using a standard heel flap and gusset construction. The foot length of the socks is adjustable to fit.
The pattern is written to be needle-neutral and can be knitted using either the magic-loop technique, short circulars or DPNs, depending on your individual preference. The pattern also features helpful hints for beginners.
Sizes
A (B, C, D, E, F, G)
Finished sock circumferences: 11 (13.5, 16.5, 19, 22, 24.5, 27.5) cm [4.25 (5.5, 6.5, 7.75, 8.75, 9.75, 11) in]; for the best fit, choose a size that is approximately 2.5 cm [1 in] smaller than your foot circumference.
Leg length to heel: 7.5 (10, 12.5, 15, 18, 20.5, 23) cm [3 (4, 5, 6, 7, 8, 9) in].
Foot length is adjustable.
Tension
22 sts and 32 rnds = 10 cm [4 in] in stocking stitch and worked in the rnd on 4 mm (US 6) needle(s) after wet blocking, or size needed to obtain correct tension.
Yarn
Aran-weight yarn in the following colours and amounts:
55 (85, 120, 165, 215, 265, 335) m [65 (95, 135, 185, 240, 290, 370) yds] C1 (red)
5 (10, 10, 15, 20, 25, 30) m [10 (15, 15, 20, 25, 30, 35) yds] C2 (green)
15 (25, 35, 45, 60, 70, 90) m [20 (30, 40, 50, 70, 80, 100) yds] C3 (cream)
Amounts are approximate as the amount of yarn used will depend on the length of the foot, which is adjustable.
I would recommend using a dedicated sock yarn that is tightly plied wool and has some nylon content for durability.
You can also knit these socks in 4-ply sock yarn held double. If you do this, you will need double the yardages listed.
Needles
3.5 mm (US 4) and 4 mm (US 6) DPNs, 15 cm [6 in], set of 5, or
3.5 mm (US 4) and 4 mm (US 6) circular needle, at least 80 cm [32 in] in length to work magic loop, or
3.5 mm (US 4) and 4 mm (US 6) circular needle, 22.5 cm [9 in] in length
Notions
Pattern notes
The instructions are for the smallest size, with larger sizes in parentheses: A (B, C, D, E, F, G).
The sample details are as follows: Novita 7 Veljestä (7 Brothers) (aran, 200 m per 100 g ball, 75% wool, 25% nylon) in 549 Christmas (C1), 366 Nettle (C2) and 010 Off-White (C3). Knitted in size E, to fit a UK women's size 10 [foot length 27.5 cm (10.75 in)].
Pattern edited by Jo Torr.