The Psychology Of Copywriting
Choosing the right words is an art form. Let this course be your step-by-step roadmap.
Psych Up Your Copy
The complaint I hear from people most often is that their copy simply isn't converting.
Sound familiar?
Maybe it's not what you're saying, but how you're saying it that's the problem. The language you choose is pivotal in helping you attract attention, create meaningful connections, and convince your potential buyers that you're the right choice for them.
Choosing the right words is an art form. Let this course be your step-by-step roadmap.
You'll learn everything you need to know to put your words to work for you. Including how to:
Attract like-minded customers and clients
Meet people where they are
Build better relationships
Create legions of loyal buyers
Cut through the static and noise
Simplify your points
Communicate more effectively
Elucidate your position
Get noticed
Capture interest
Illuminate your message
Evoke emotion
Shape perceptions
Influence choices
Rationalize and prove
Inspire action
Ready to whip your existing copy into shape and start connecting and converting more?
Let's go.
---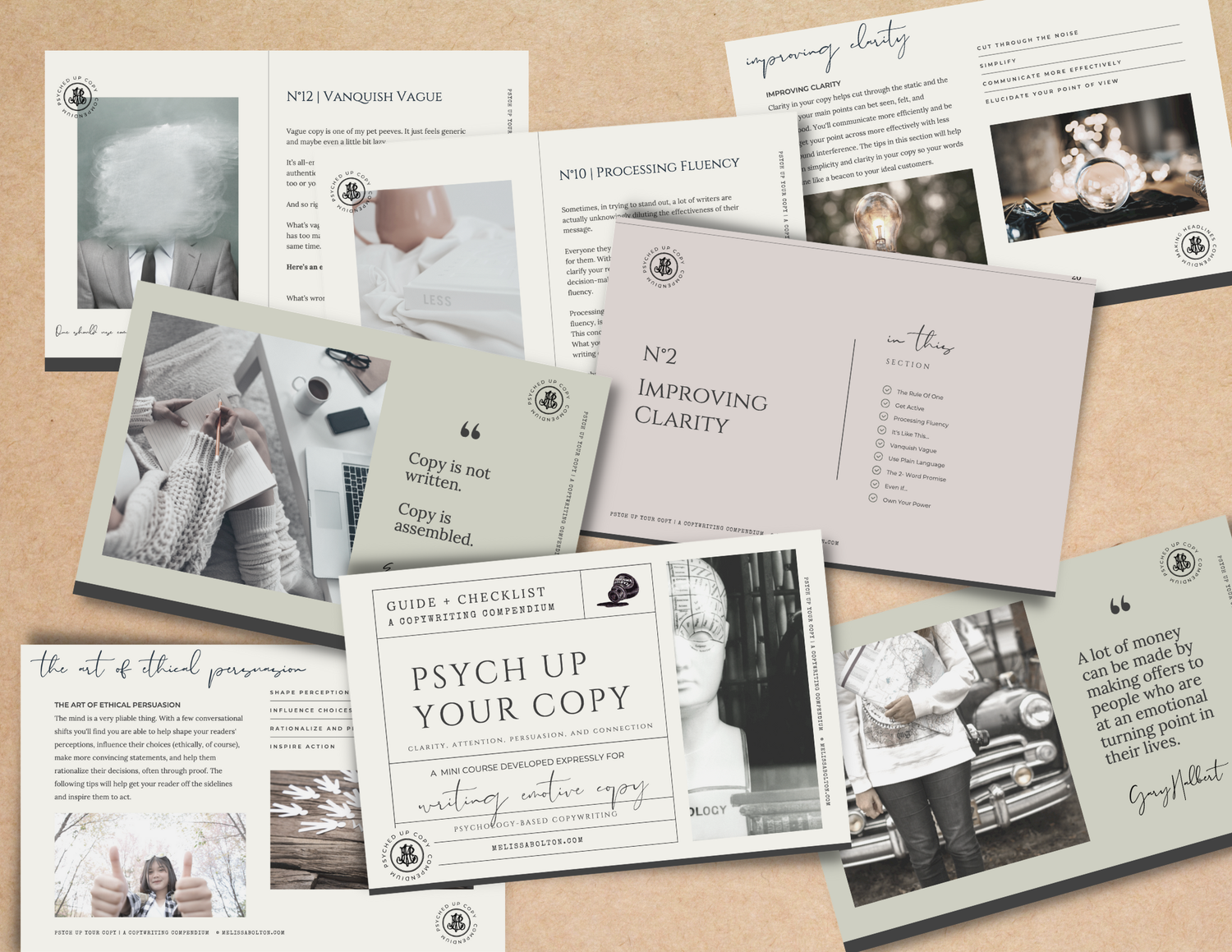 This course will walk you through how to borrow from the magic of psychology to make your words more impactful and potent.
It's a crash course in the art of ethical persuasion.
---
NOTE:
With your purchase, you'll receive both the online version of the course as well as the ebook version plus a downloadable checklist.
If your copy is falling flat, you've got three choices...
1. you can hire an expensive copywriter
2. you can keep losing sales
3. or you can invest a small amount in this guide and learn the tips of the trade for yourself
What's Inside
32 psychology-based copywriting tips explained with examples to help you understand how to craft your words to meet your customers' needs.
A downloadable checklist
+
The online course version of the course
+
The full ebook version of the course
By the end of this course your writing will be transformed from informative to evocative.
Make Better Connections
Creating connections with your readers will help you attract the right kinds of people into your realm. It will also gently repel the wrong people who may not be the best fit for your brand.
You'll build more genuine relationships, learn to meet people where they are, and create a loyal legion of buyers who are sure to return and refer others.
Attract Attention
Never under estimate the importance of grabbing your readers' attention early and hanging onto it.
The tips shared in this course will help you get noticed, spark your readers' interest, illuminate your message (and do so in the very way they need to see it), and evoke the emotions necessary for them to feel invested enough to take the next steps in the buying process.
Improve Clarity
Clarity in your copy helps cut through the static and the noise so your main points can bet seen, felt, and understood.
You'll communicate more effectively and be able to get your point across with less interference.
Learn the art of copywriting simplicity so your words will shine like a beacon to your ideal customers.
Master Ethical Persuasion
The mind is a very pliable thing. With a few conversational shifts you'll find you are able to help shape your readers' perceptions, influence their choices (ethically, of course), make more convincing statements, and help them rationalize their decisions, often through proof.
Get your reader off the sidelines and inspire them to act.
Course curriculum
2

Part One | Making A Connection

Introduction | Making A Connection

No. 01 | Your Ideal Customers

No. 02 | Stages Of Awareness

No. 03 | Connection Trifecta

No. 04 | Be Conversational

No. 05 | Showcase Benefits

3

Part Two | Improving Clarity

Introduction | Improving Clarity

No. 10 | Processing Fluency

No. 13 | Use Plain Language

No. 14 | The 2-Word Promise

4

Part Three | Attracting Attention

Introduction | Attracting Attention

No. 17 | Best Headline Wins

No. 22 | The Primacy Effect

No. 23 | Affirmative Actions

5

Part Four | The Art Of Ethical Persuasion

Introduction | The Art Of Ethical Persuasion

No. 24 | Tell A Better Story

No. 25 | Paradox Of Choice

No. 26 | Scarcity And FOMO

No. 27 | Power In Numbers

No. 29 | Provide Rationale

No. 30 | It's Not About You

No. 32 | Eliminate Obstacles

6

Psych Up Your Copy | The Ebook