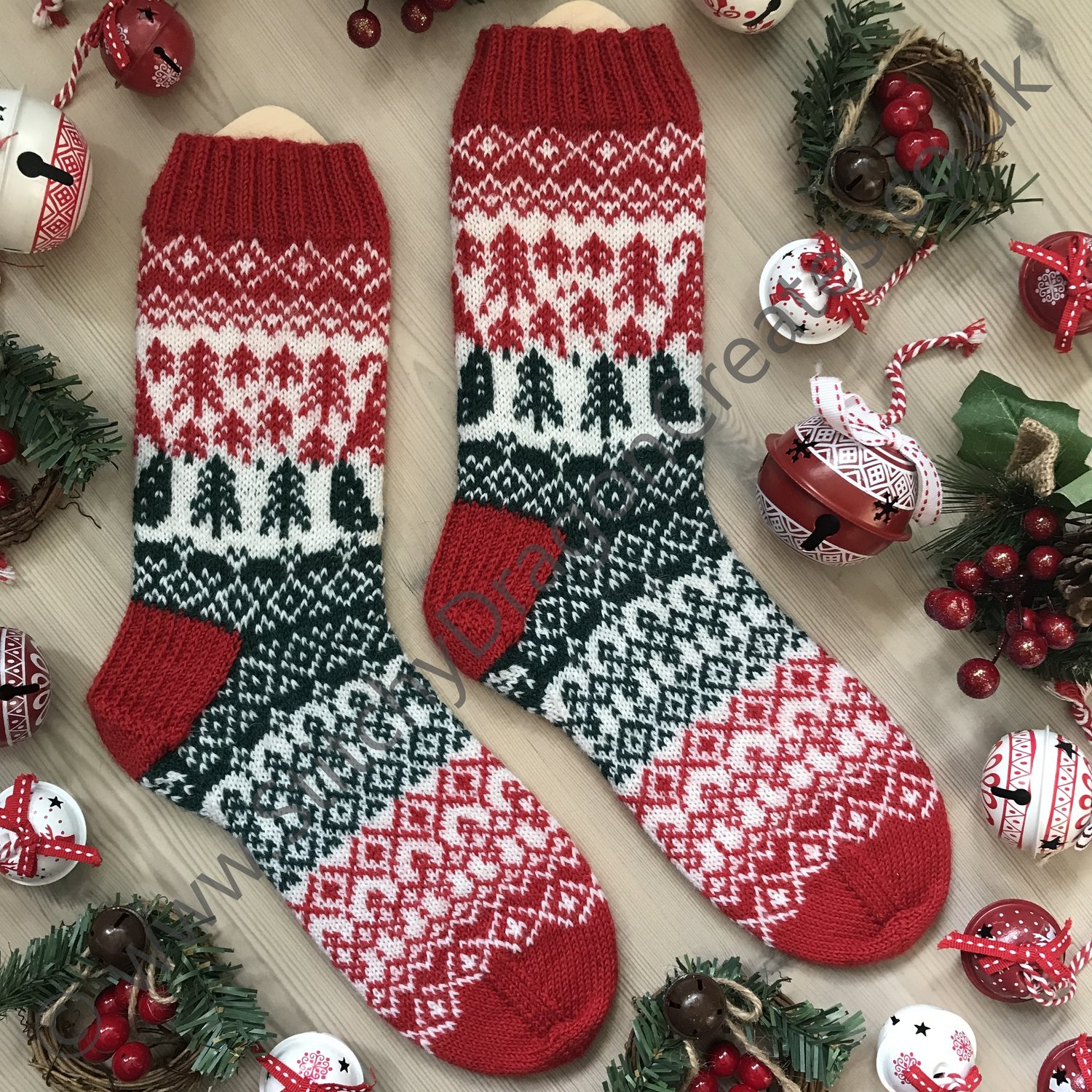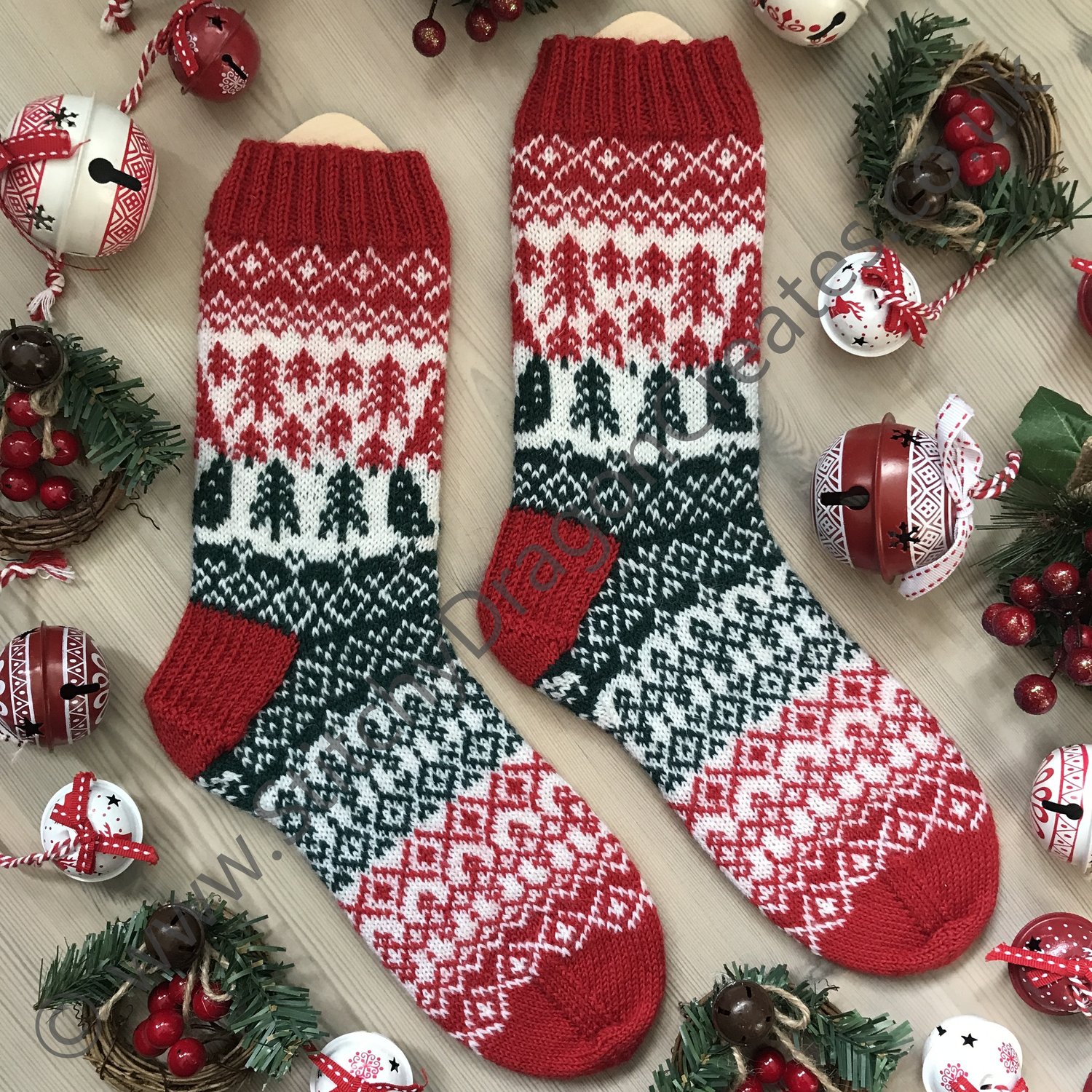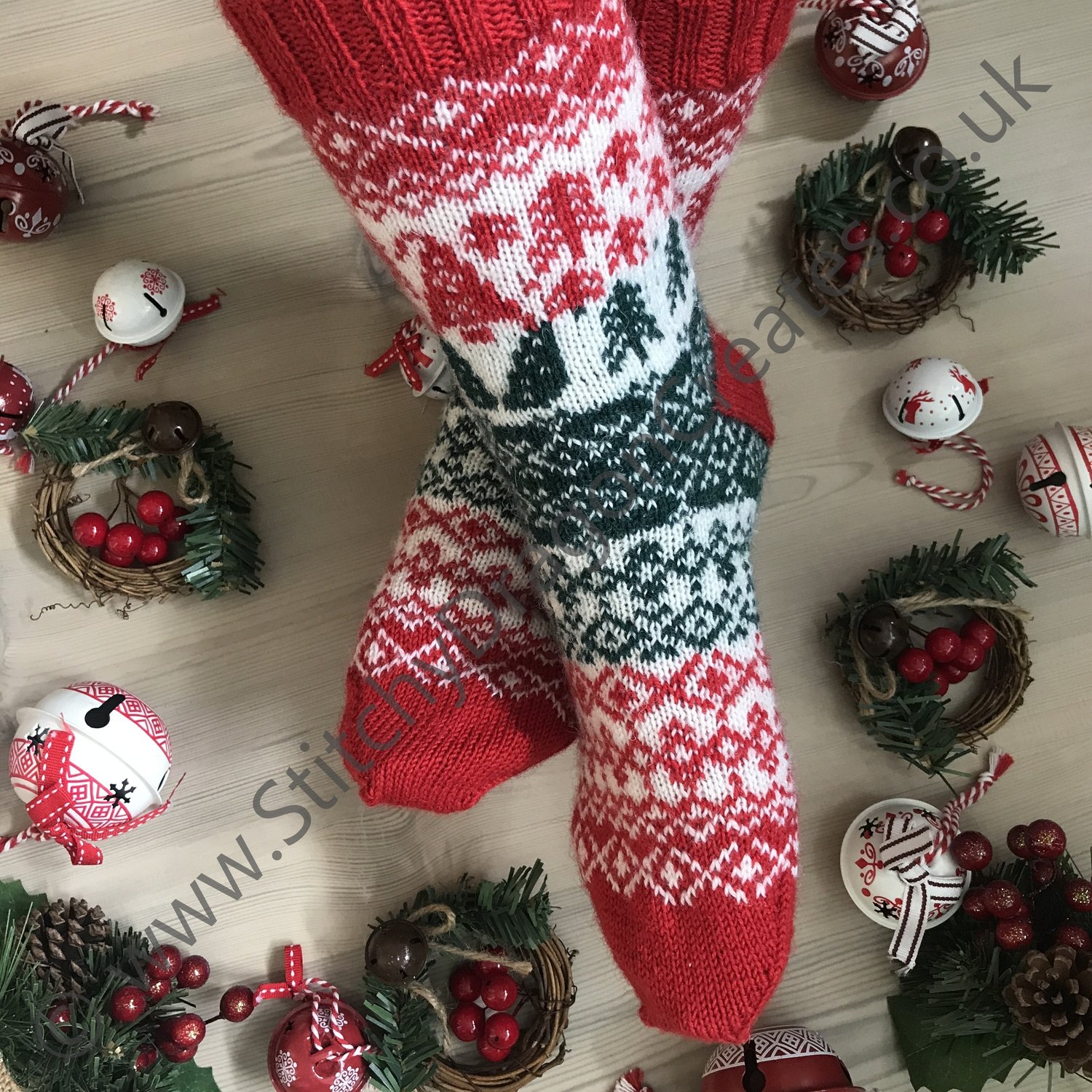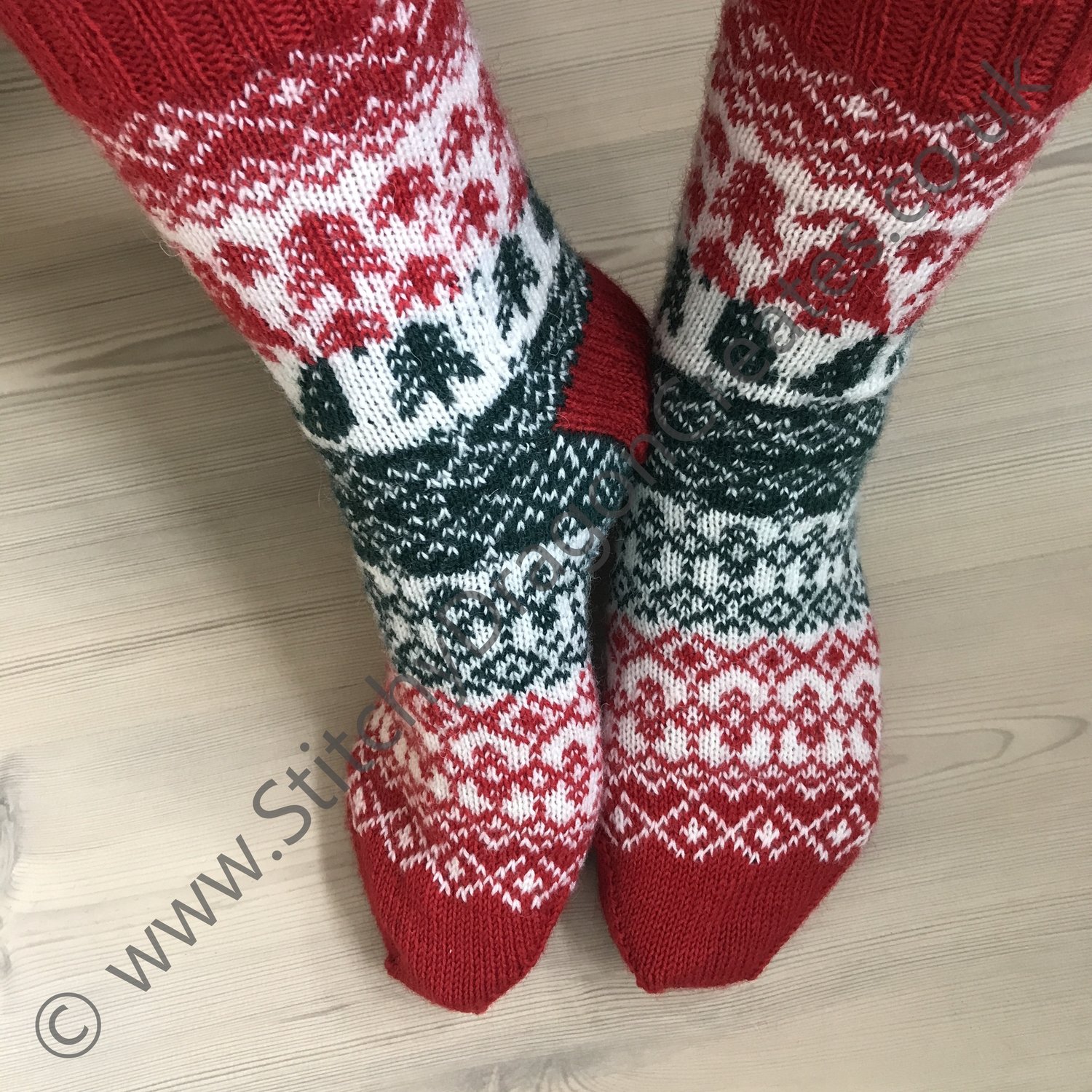 Jussi Tonttu Socks
On Sale
Website exclusive!
Save 20% off The Jussi Tonttu Collection
(Socks, Mittens, Hat, and Cowl)
Compared to buying all patterns individually at full price
For this years' Christmas design, I took my inspiration from folklore. Known as tomte in Sweden, nisse in Norway and Denmark, and tonttu in Finland this little chap has become a familiar figure in the wider world in recent years. Originally believed to live in the nearby forests he would protect the farmstead, its' family and animals when treated with respect - offend him or misbehave and you would be punished! To thank him for his year-round protection it was customary on Christmas Eve to leave him out a bowl of porridge topped with a generous knob of butter (look for this hidden under the heel of your sock!).
When he first hopped off my needles, I asked my Finnish cousin to suggest a traditional name. Jussi is Finnish for John and, as it is pronounced "you-see", it seemed the perfect name – "you-see tonttu"!
Method: These stranded colorwork socks are knit in the round from the cuff down with a heel flap and round heel. Featuring a cute tonttu and motifs based on traditional Finnish patterns they can be worked in three or more contrasting colors.
The colorwork in this design is both charted and written out, you do not have to be comfortable reading charts to enjoy knitting these socks!
Size: This pattern is written in 4 sizes. All instructions that differ depending on the size you are knitting are indicated with parentheses and color coded like this: S (M, L, XL). The length of both the leg and the foot are easily adjustable and notes for achieving this are contained in the pattern
SizeSock CircumferenceApprox. UK SizesS7"18 cmChildren's 13-4, Ladies 1-4M8"20.5 cmLadies 5-7.5L8⅞"22.5 cmMen's 8-10.5XL9¾"24.5 cmMen's 11-13
Yarn: You can use any 4 ply (fingering) sock yarn that you like and with which you can get tension/ gauge.
Please note I do not recommend using yarns with a high cotton content as cotton doesn't stretch as much as other fibers and this will affect the fit of your socks.
This pattern works well with three (or more) solid colors. Be creative, have fun, but keep in mind changes will affect yardage and number of ends to weave in. The amounts of each color required will depend on how many colors you pick, where you choose to use them in the sock, and which size you are knitting. As a guide for the pair pictured (size M in three colors) I used the following:
MC – West Yorkshire Spinners Signature 4 ply 11 Marshmallow approx. 160 metres (175 yards)
CC1 – Cygnet Truly Wool Rich 4 ply 204 Holly approx. 70 metres, (77 yards)
CC2 – West Yorkshire Spinners Signature 4 ply 510 Cayenne Pepper approx. 145 metres, (159 yards)
Gauge: 9 stitches and 10 rows per inch (2.5 cm) over colorwork pattern.
Needles:
3mm dpns
2.5mm dpns / short circular or size needed for gauge.
Other Materials Required:
Stitch Markers
Tape Measure
Scissors
Darning needle to sew in ends.