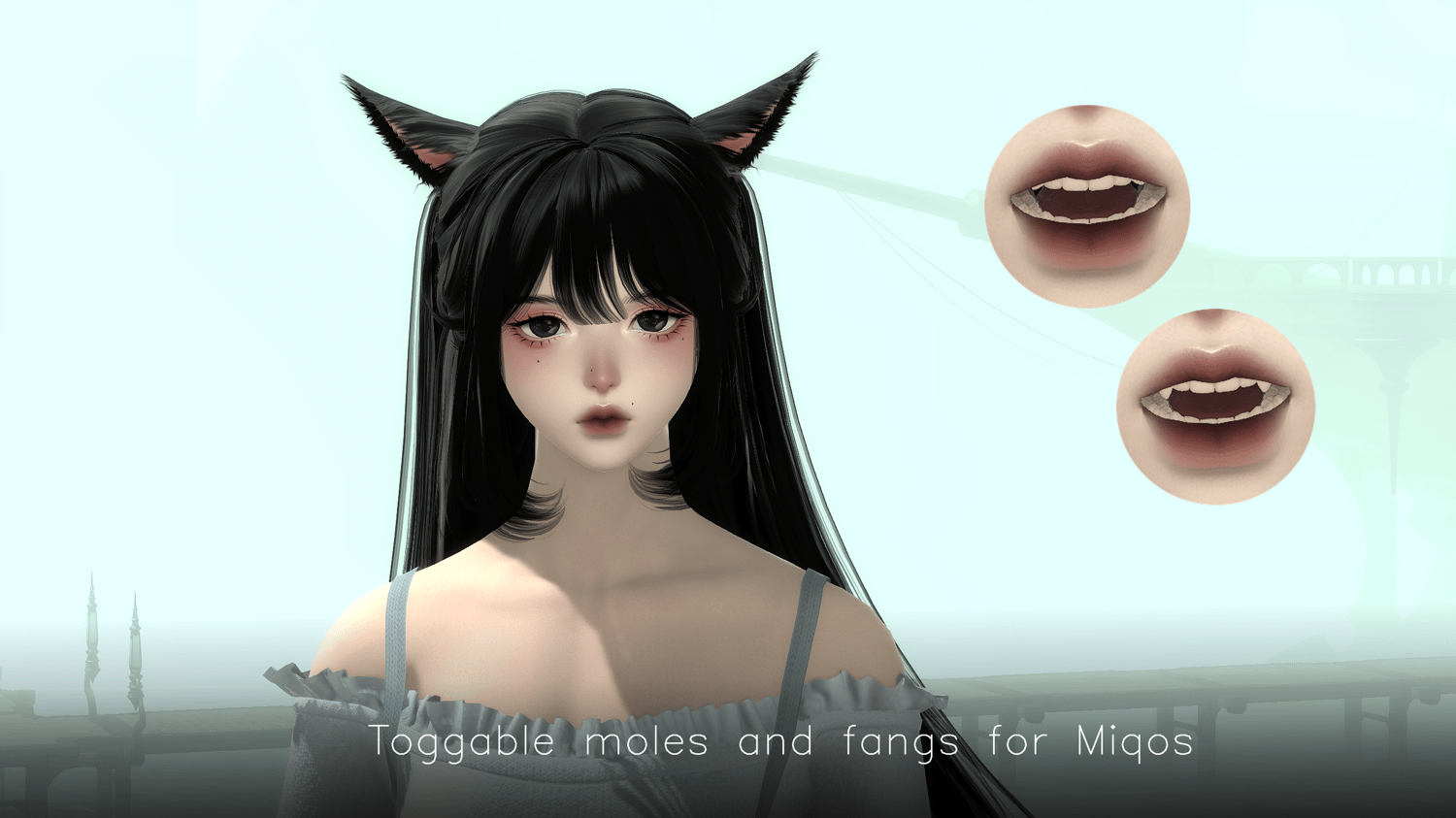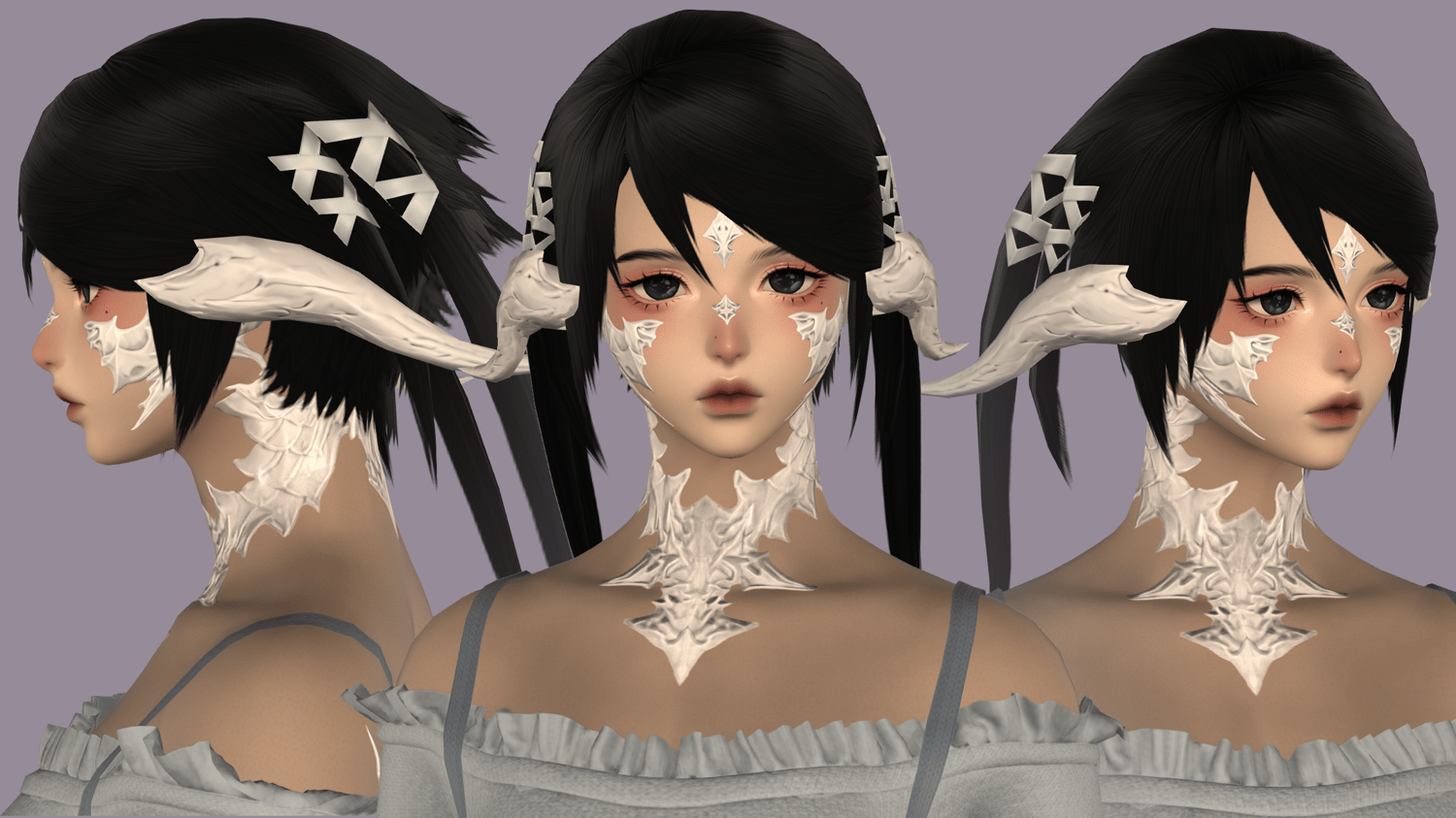 Maja - Sculpt for Miqo & Aura (+Viera)
High-Poly Face Sculpt for all female Miqo- & Viera-Faces & Aura-Faces 1-3 based on female Viera F1
If you have previously purchased the Miqo & Aura Version please re-download your files for the Viera-Port
————––– ◾◽◻‒♡❀♡‒◻◽◾ –––————
Make-Up-Previews: https://imgur.com/a/nVZkY6n 
Skintone-Previews: https://imgur.com/a/Oz0VlHY
GPose-Previews (Gshade on): https://imgur.com/a/opjxmXV
————––– ◾◽◻‒♡❀♡‒◻◽◾ –––————
Included are (for both Miqo, Viera and Aura):
Custom eyelashes, iris, catchlight and eyebrows
Multis for lighter / darker eyebrows & lashes that dye with hair (included as loose files)
4 different custom make-ups
3D-Teeth and spherical eyeballs
Gradient eyes ("odd eyes" toggle makes irises dye with a gradient)
Toggable moles
Toggable gradient pupils (dyes with limbal rings (Aura) / tattoos (Miqo) / earclasps (Miqo)
Neck-Seam-Fix.ttmp2's
.CSP and .PSD files so you can customize the make-up to you liking (add / remove blush, clanmarks etc)
Miqo-only:
o Toggable earflaps
o Toggable Fangs
Viera-only:
o Toggable Bunny-Teeth
Aura-only:
o Toggable horns
o Toggable facial scales
o Two different options for the base facial scales (not the toggles!): F1 Scales and edited F4 Scales
o Comes with neckscales, without neckscales and completely scaleless (the latter two are included as loose files)
o Options for Vanilla-Scales as well as Black&White-Scales
Toggles can be toggled through the glamourer-plugin or the aesthetician/hairdresser!
Notes/Disclaimer:
• Every make-up file for Miqo also works on Viera!
• Teeth, eyeballs, horns, toggable scales and earflaps are on ETC_B. 
• Aura- and Viera-Animations differ from face to face, please make sure to check the previews diligently!
• Minor clipping on Aura-F1 "pucker up" (corners of the mouth) and Aura-F3 "pucker up" (eyes stay ever so slightly open)
• Does not come with vanilla teeth, but I matched the color closely to vanilla teeth
• There will be a slight neckseam on Aura, this is inevitable sadly as it's originally a Viera-face. Please keep that in mind (and make sure to install the neckseam-fix with a higher prio than the sculpt to minimize it!)
————––– ◾◽◻‒♡❀♡‒◻◽◾ –––————
Before-you-buy:
o Shapekeys are removed, this means you cannot change the shape of eyes, noses, mouths etc.
o My sculpts use a custom UV-layout for eyelashes and brows
o I cannot guarantee that make-ups that weren't specifically made for this sculpt will look good with it as I changed the face quite a lot from the original F1Viera-Base. Please keep this in mind before purchasing.
o Make sure you check the previews diligently, I try to make them as thorough as possible.
o If you are still unsure about something after checking them, feel free to reach out for further previews!
ToU / Permissions:
• This is a digital product, therefore I cannot offer refunds. If you find any issues with my paid releases please reach out to me and I will fix them!
• Please do not share my files with others (except for: family members, significant others).
• Please do not use my paid releases as a base for your own releases.
• Feel free to edit and port any of my mods for personal use. Go ham and have fun, as long as it does not involve Lala-NSFW.
• I didn't include a commission folder this time because I'm lazy so if you want to commission someone for make-up or 3D edits feel free to just send them the whole thing :)
————––– ◾◽◻‒♡❀♡‒◻◽◾ –––————
Huge thanks and credits to:
Mallow for the Scales: https://ko-fi.com/pepepupuext
Yuria for the Aura-Face-Kit: https://yuriamods.com/
@greystone_tears and @Torinnyy for taking such gorgeous preview pictures ♥
————––– ◾◽◻‒♡❀♡‒◻◽◾ –––————
Feel free to use #vivimods on Twitter so I get a chance to see your lovely characters! ✧⭒
For any questions / issues / suggestions / feedback please reach out to me on Discord (pameyshi) or Twitter (@vivi_mods) ♥