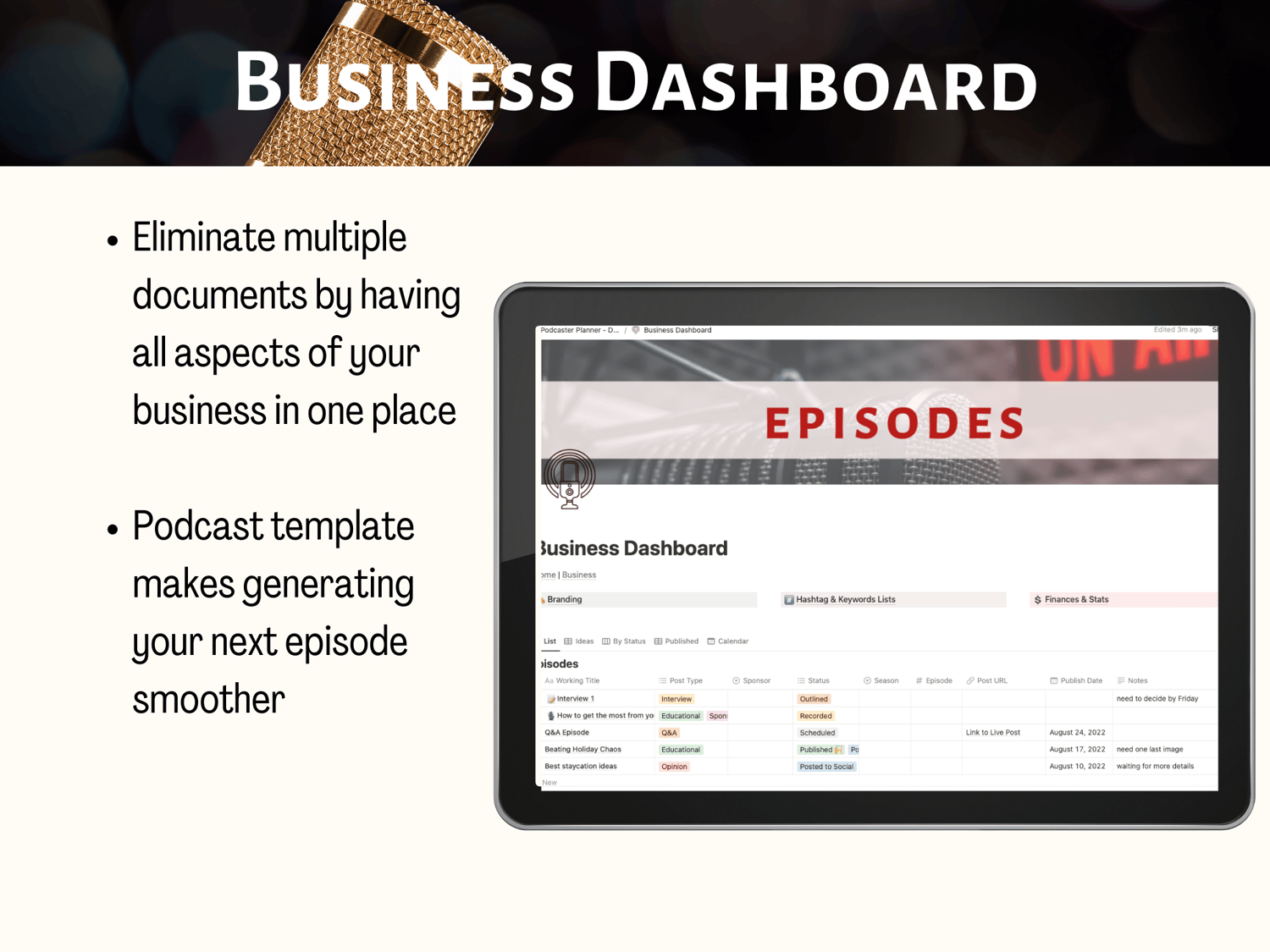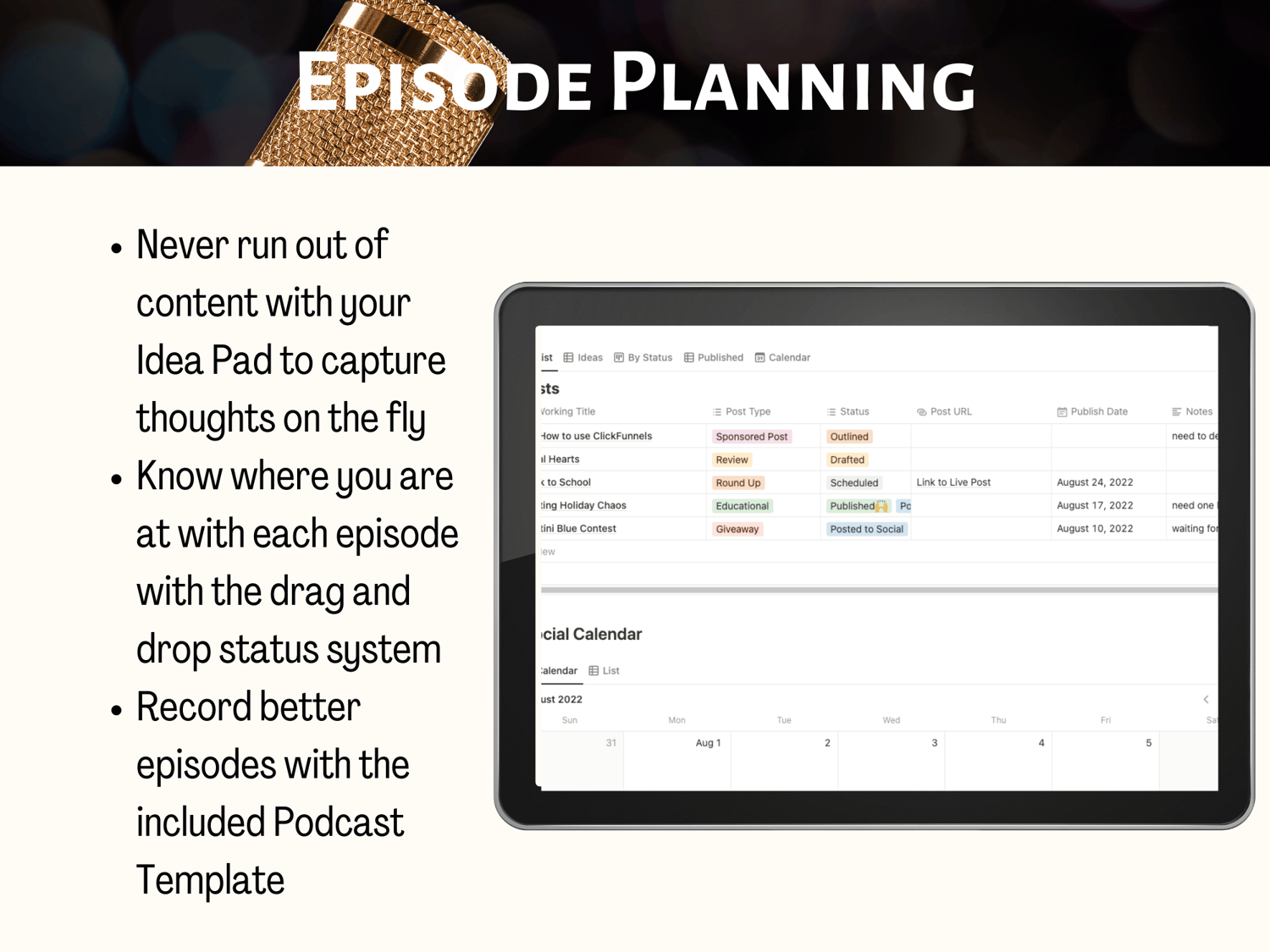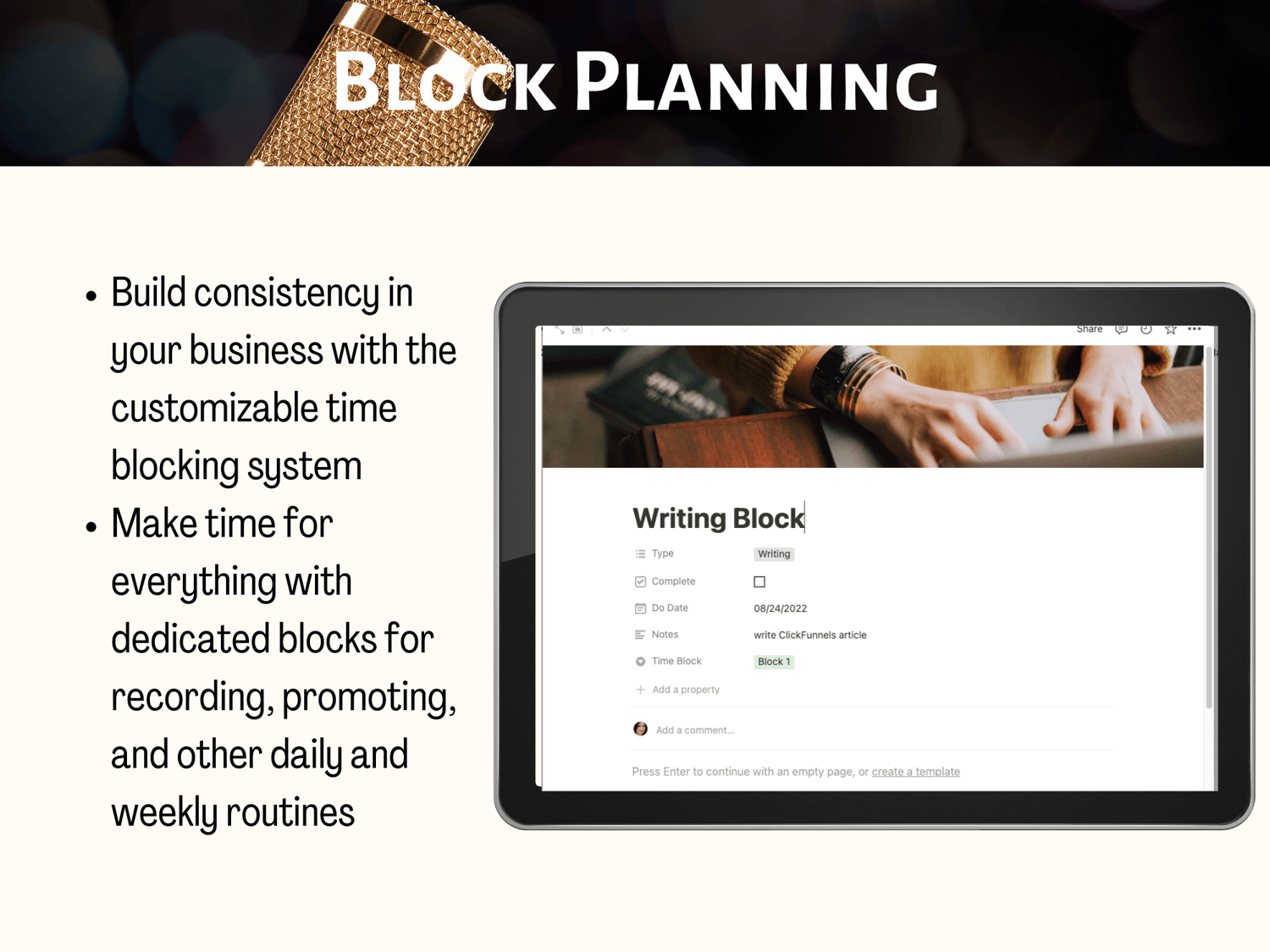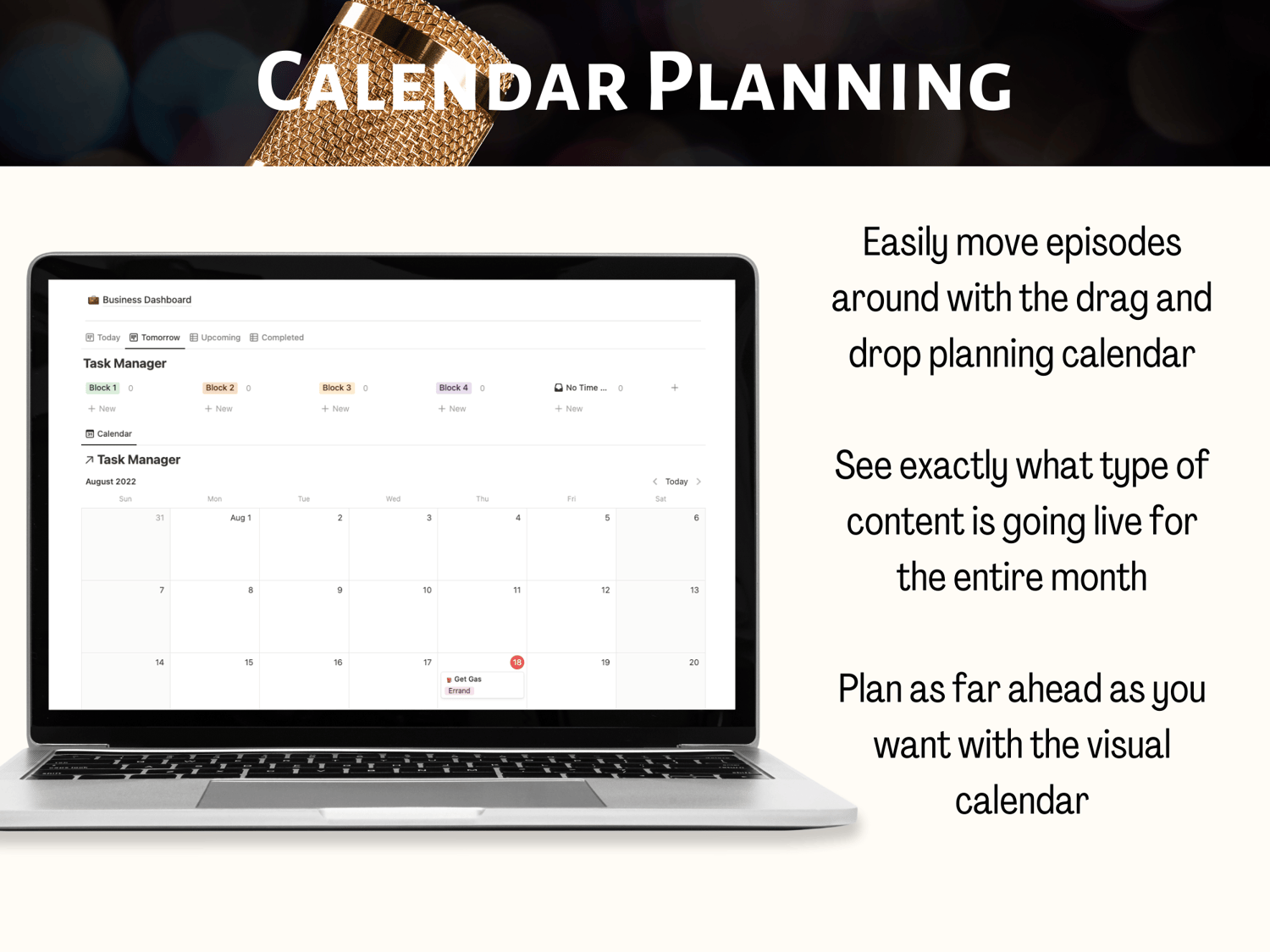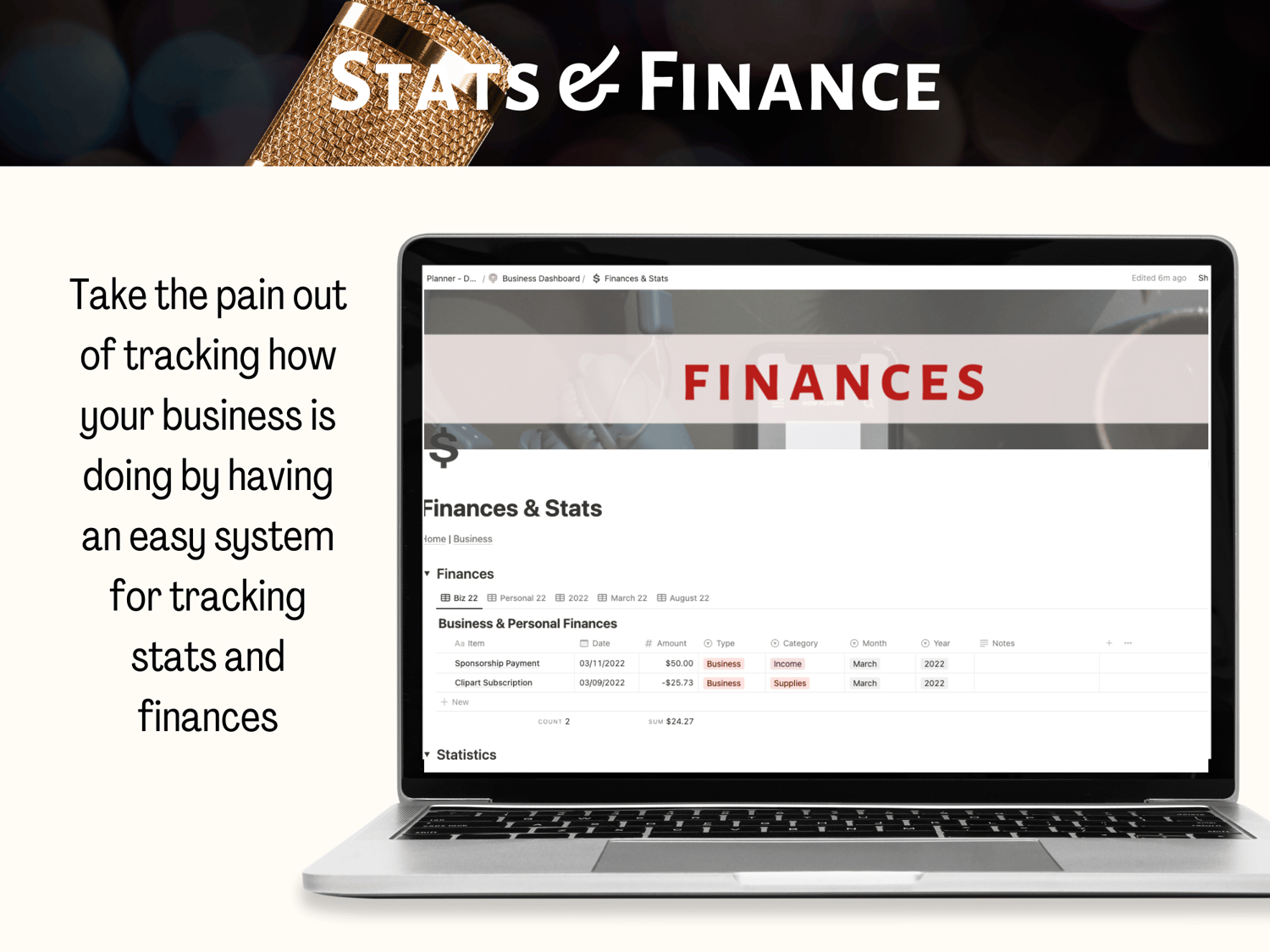 Podcast Planner
Podcasting Business Notion Database
Make your podcast a bigger success by treating it like the business it is—no more documents and spreadsheets all over the place. With Notion, you will write your drafts, store ideas, track stats, and record your finances all in one place.
Building a podcast business is hard enough! Don't make it harder by searching through folders and wasting time hunting for the information you need. Notion is so versatile. Imagine taking an episode idea, doing your research, pasting images and relevant links, and outlining your episode all in one flowing template system.
You will be amazed at how much time you save with Notion!
You will also find your consistency increases with the visual planning system. At a glance, you can see what you have in the works, what you have to publish, what you have to promote, and what else is on your plate. No more messy paper planners. Just drag and drop to move your episode ideas around.
This database and the tutorial videos will help you get the hang of using Notion and will act as an excellent base for you to start customizing your own Notion planning system.
Notion is an amazing free online tool that can be completely customized to your needs. This template pack will give you a great foundation to keep track of all your to-do's. All pages are accessible on your desktop, phone, and tablet and changes will sync across all devices. You can access your notes, ideas, contact lists, and more from anywhere at any time.
Be more productive with Notion as all of your information, research, tracking, and content are accessible all in one place. No more hunting for information or jumping from one tool to another. This template pack will take the headache out of tracking all of your business details while keeping the rest of your life organized. 
INCLUDED PAGES
- Weekly Agenda with drag & drop functionality
- Episode tracker with status, posting and social dates, and category types
- Hashtag and keyword tracker
- Branding Dashboard to keep track of fonts, hex codes, and logs
- Simple time-blocking task manager
- Finance Tracker can be sorted and filtered to let you see budget by month or spending by category
Plus get access to a library of free alternate covers and icons.
You need a FREE Notion Account to use this template.  
Video tutorials are included showing you how to use each page.
After purchase, you will get a PDF showing you how to access the template. Just follow the simple instructions.
**This is a digital download. No physical product will be shipped.
**This is for personal use only and may not be resold.
**As this is a digital product, no returns are accepted.
Don't hesitate to get in touch with this shop if you have any issues accessing the template