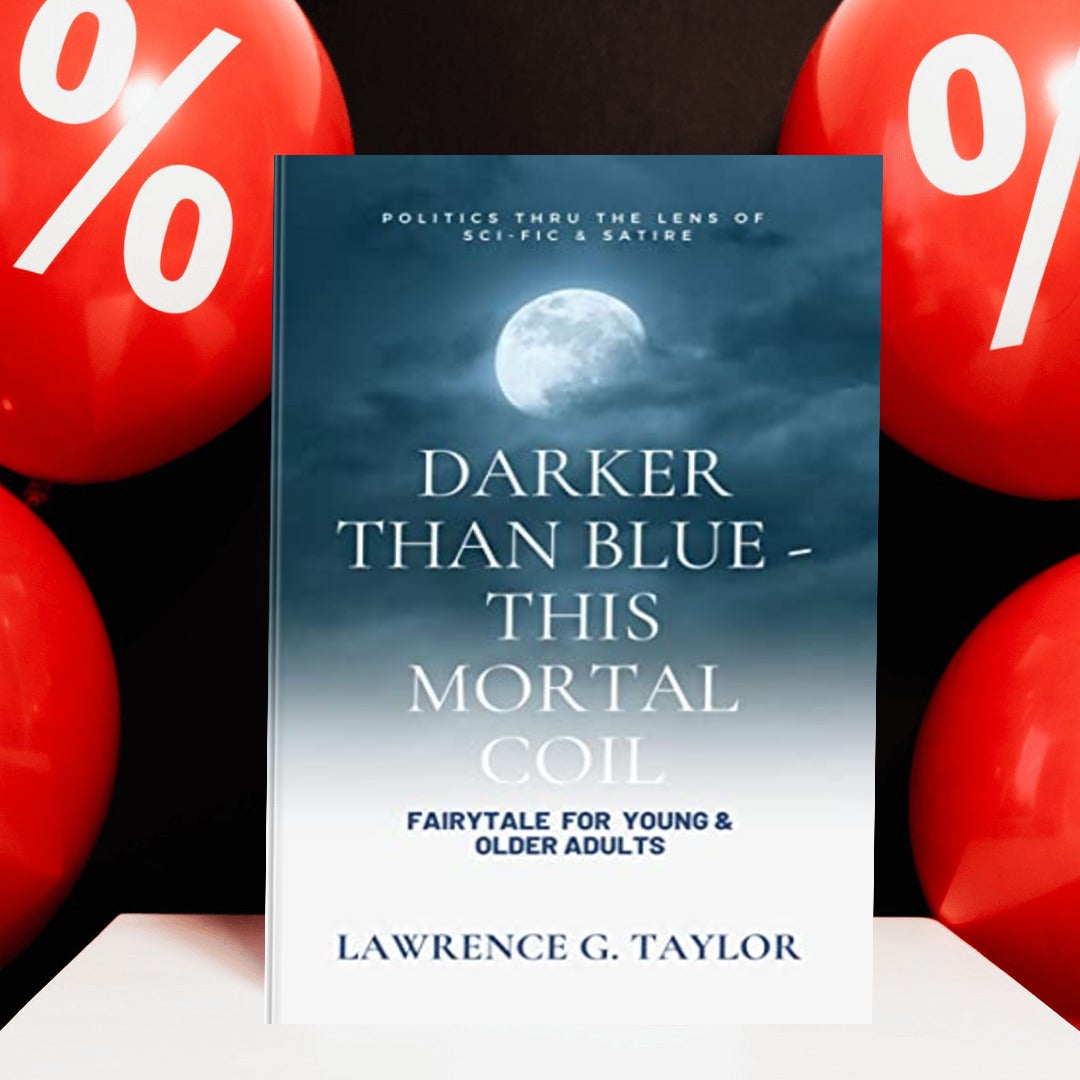 Darker Than Blue – This Mortal Coil
On Sale
$3.17
Product Description

Updated: 30.8.22

Will Boy Blue avoid a ten-year prison sentence after his discharge from a mental asylum?

Darker than Blue - a Mortal Coil is a dystopian story set in 2030 and takes place in the imaginary country Atlantis Island. Boy Blue, the antihero, is a psychiatric patient with seasonal depression and recurring nocturnal hallucinations in a mental asylum. He is 45 years old, darker than blue, tall, massive, and muscular, like a giant, and has struggled to get his life in order. He lost his parents at a young age and committed minor crimes in his teens.

Boy Blue faces ten years in prison for imaginary rape as soon as he is discharged from the asylum. The only way to avoid the sentence is to sign up for Dr Google's vaccine program against the virus, a cover for a pharmaceutical company's research on a cure to help young women with insufficient sensuality.

Boy Blue commits himself to the pink doctor's program by signing up. He has high respect for Dr Google.

Then the word reaches Boy Blue that Dr Google will not keep his word. He becomes stressed and ambivalent.

And so the fate of Boy Blue, the giant, now swings into a pendulum.

Meanwhile, a dark force hangs over Atlantis Island and threatens democracy as presidential elections approach. The pink president aspires to be a tyrant and has the blessing of trolls and others. The race is between charismatic, nationalist incumbent DeeDee and social-democratic candidate Charlie Marx, billionaire and philanthropist. Both candidates are pink. Politicians expect the results to be close. Fear persists that the end of democracy could soon be near.

The short story (just under 10,000 words) spans several genres: dystopia, fantasy, speculative fiction experimental, and literary fiction.


"I enjoyed reading Darker than Blue, I was taken aback by how clever and well-written it was! I can't wait until it's published, I'll definitely be buying it and I'd be more than happy to help you advertise and promote it once it's all done!"

–– Chelsea Terry, the copywriter who did an excellent job editing the story, and to whom I offer my sincere gratitude.

Go up and click Read Now or Buy Now to find out about the fate of Boy Blue.



Review Rating:
4 Stars

Reviewed By Natalie Soine for Readers' Favorite
... Darker Than Blue by Lawrence G. Taylor is well written and transports the reader through an imaginary world that certainly gives us food for thought. The story highlights how most of us have been victims of discrimination which impacts our lives and stays with us forever. Through many interesting characters, Darker Than Blue explores various forms of discrimination and how some benefit at the expense of others. The scenes and characters are vividly described and easy to understand, keeping the reader's attention from start to finish. We dream of a future free of all forms of discrimination; however, we are the only ones who can make that dream a reality. As highlighted in Darker Than Blue, we have to work together if we want positive change in our beliefs and values.


Author's last word

A word about the making of the story Darker than Blue: I began writing it on my iPhone and made a few attempts before the creative juices started to flow. By then, I switched to my 12-inch iPad. I had become fired up after reading on FB about the unlawful killing of a black brother who got shot while out jogging: Ahmaud Marquez Arbery. My instant response was to post my reaction on FB. 

Getting hold of my anger, I decided to write a fictitious tale story instead. I think Freud talked about "sublimation" -- to act of diverting one's instinctual impulse into something socially acceptable. 

In my case, into art. I chose fiction. Could you not ask me why? Though I'm likely to lie - over rationalising.  

The story is not about the jogger who died at the hands of racial injustice. It's about the white world and what it means to be non-white and impoverished and what not. And of course, there are white folks who are poor and who are also victims of law enforcement brutality and economic injustice -- which is another form of violence. The story alludes to "economic violence". There are no heroes in the story -- not intentionally, that is. But I'll say (echoing D. H. Lawrence) Trust the story, not the writer.