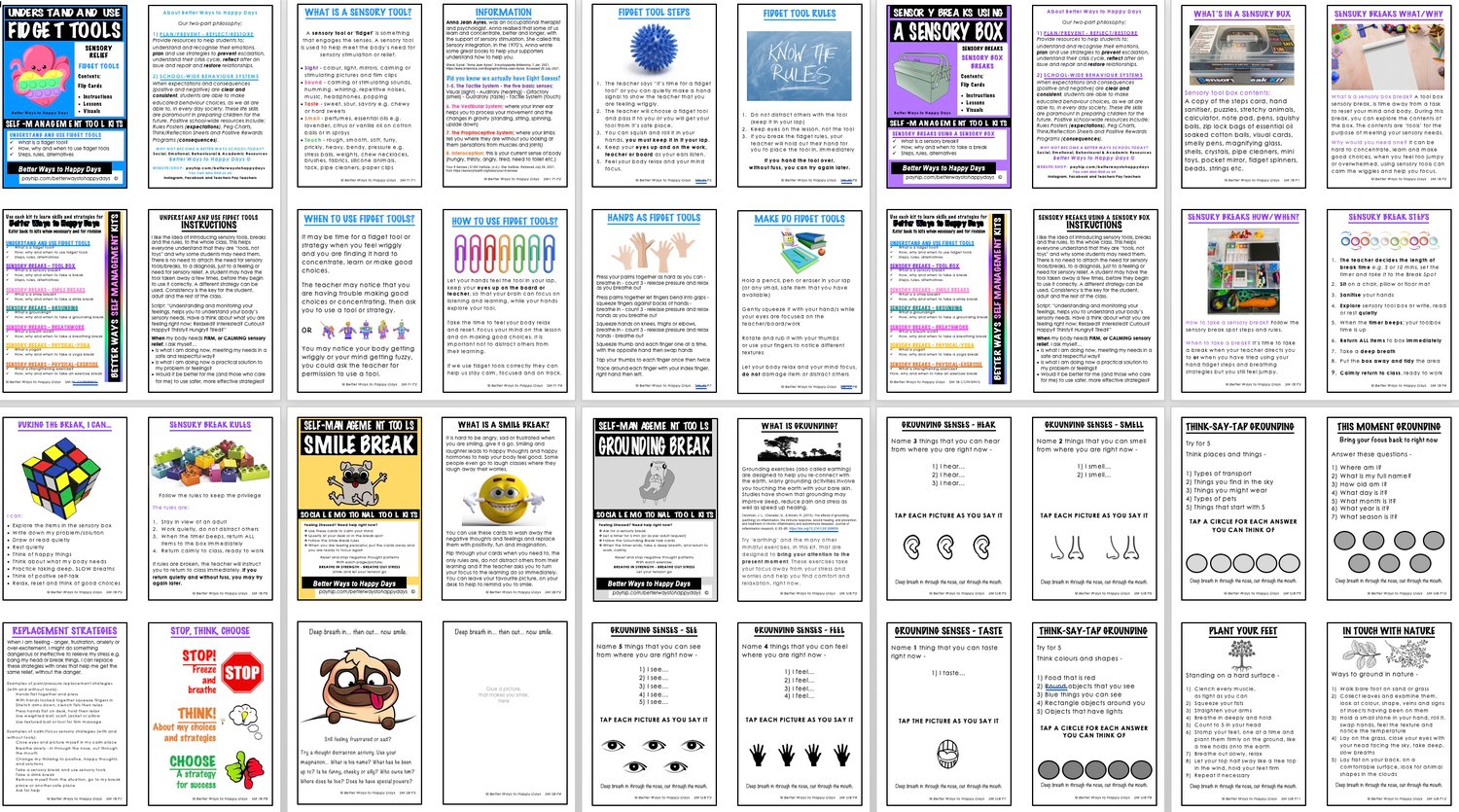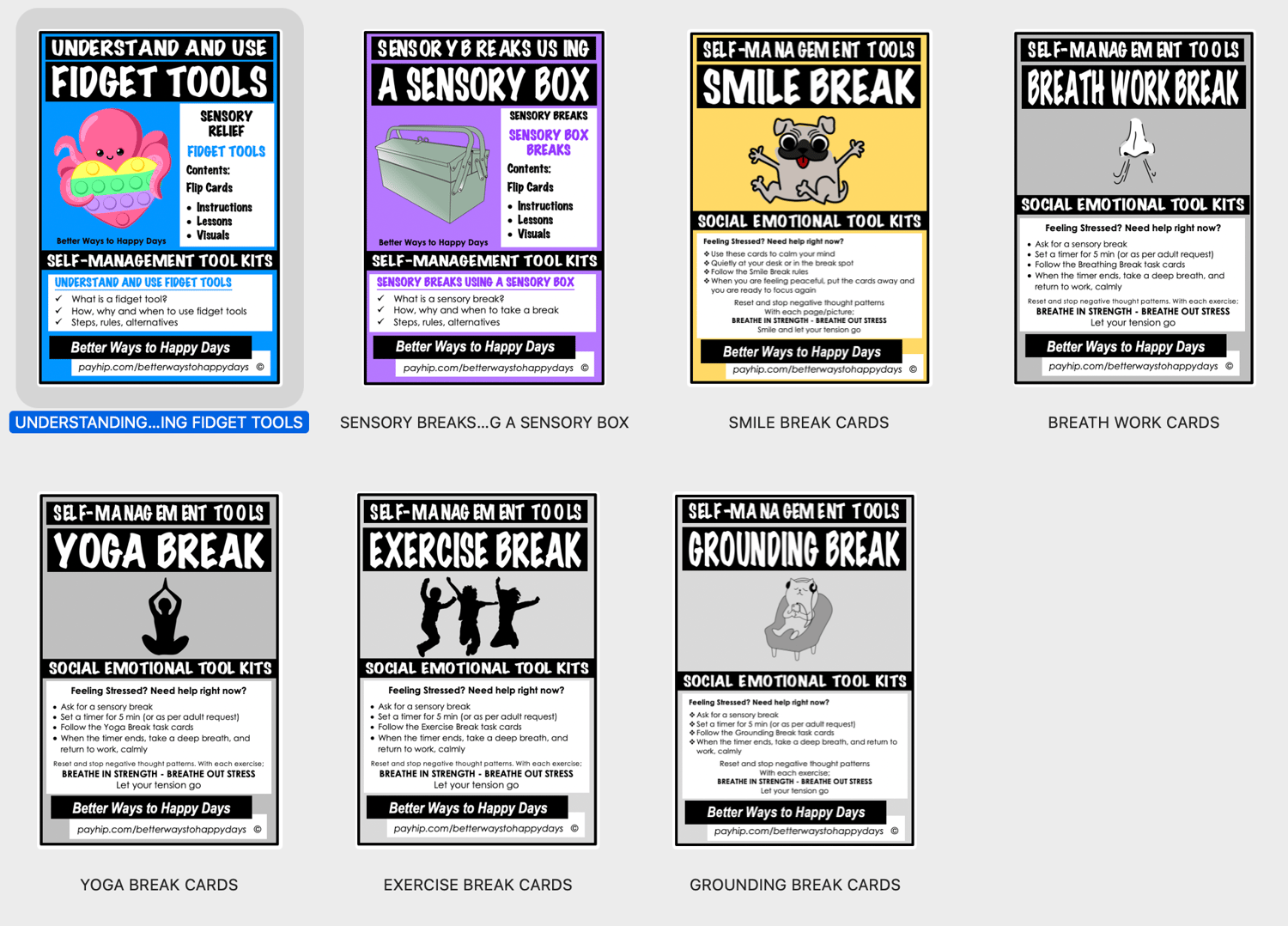 Sensory Breaks & Fidget Tools - Lesson/Activity Flip Cards
On Sale
SENSORY KITS - Self-management lessons, activities, visuals
7 kits in one download. Print and laminate on rings or put in mini photo albums
Helps students understand the need for sensory relief and how to effectively use strategies to meet their needs and still focus on lessons, without distracting others.
A fantastic bundle of activity and lesson cards. This kit is very comprehensive and includes self management strategies, visuals, activities, explanations and rules.
Understanding and using fidget tools
Sensory breaks using a sensory tool box
Smile break cards
Breath work cards
Grounding cards
Yoga cards
Exercise cards
Great for individual students or the whole class (pdf can be displayed on the whiteboard for explaining sensory needs and rules).
Also a positive reminder to students, and adult supporters, of the process and options available for sensory relief, to keep everyone on the same page.
Once cards have been role modelled by an adult, students can then independently manage and recognise their need for sensory breaks or relief.
About Better Ways to Happy Days
Our two-part philosophy;
1) PLAN/PREVENT - REFLECT/RESTORE
Provide resources to help students to; understand and recognise their emotions, plan and use strategies to prevent escalation, understand their crisis cycle, reflect after an issue and repair and restore relationships.
2) SCHOOL-WIDE BEHAVIOUR SYSTEMS
When expectations and consequences (positive and negative) are clear and consistent, students are able to make educated behaviour choices, as we all are able to, in every day society. These life skills are paramount in preparing children for the future. Positive school-wide resources include;
Rules Posters (expectations), Peg Charts, Think/Reflection Sheets and Positive Rewards Programs (consequences).
WHY NOT BECOME A BETTER WAYS SCHOOL TODAY?
Social, Emotional, Behavioural & Academic Resources
Better Ways to Happy Days ©
WEBSITE/SHOP: payhip.com/betterwaystohappydays
You can also find us on
Instagram, Facebook and Teachers Pay Teachers
INSTRUCTIONS TO MAKE STRATEGY CARDS:
· Print the pages you require to make the flip book of your choice
· Laminate, cut out
· Punch holes and place cards on rings or in mini photo albums to create books
OPTIONS:
· Print pages or enlarge to A3 size for classroom posters
* Ink saver - Print in black and white on coloured paper (activity kits are in grayscale for this reason)
Check out our other Social, Emotional, Behavioural and Academic Resources at
Better Ways to Happy Days
WEBSITE: https://www.payhip.com/betterwaystohappydays
TPT: https://www.teacherspayteachers.com/Store/Better-Ways-To-Happy-Days
FACEBOOK: https://www.facebook.com/betterwaystohappydays/
INSTAGRAM: @betterways101