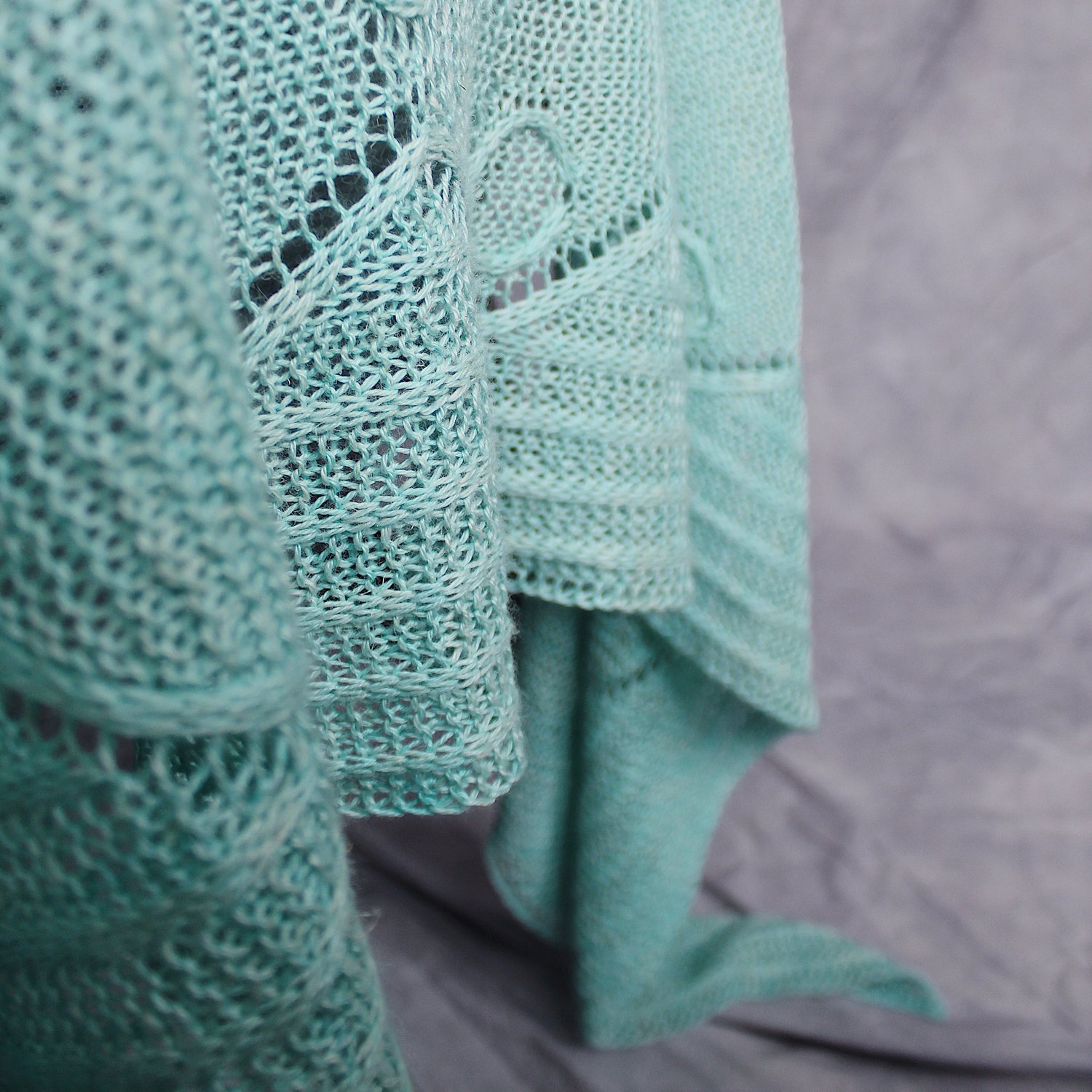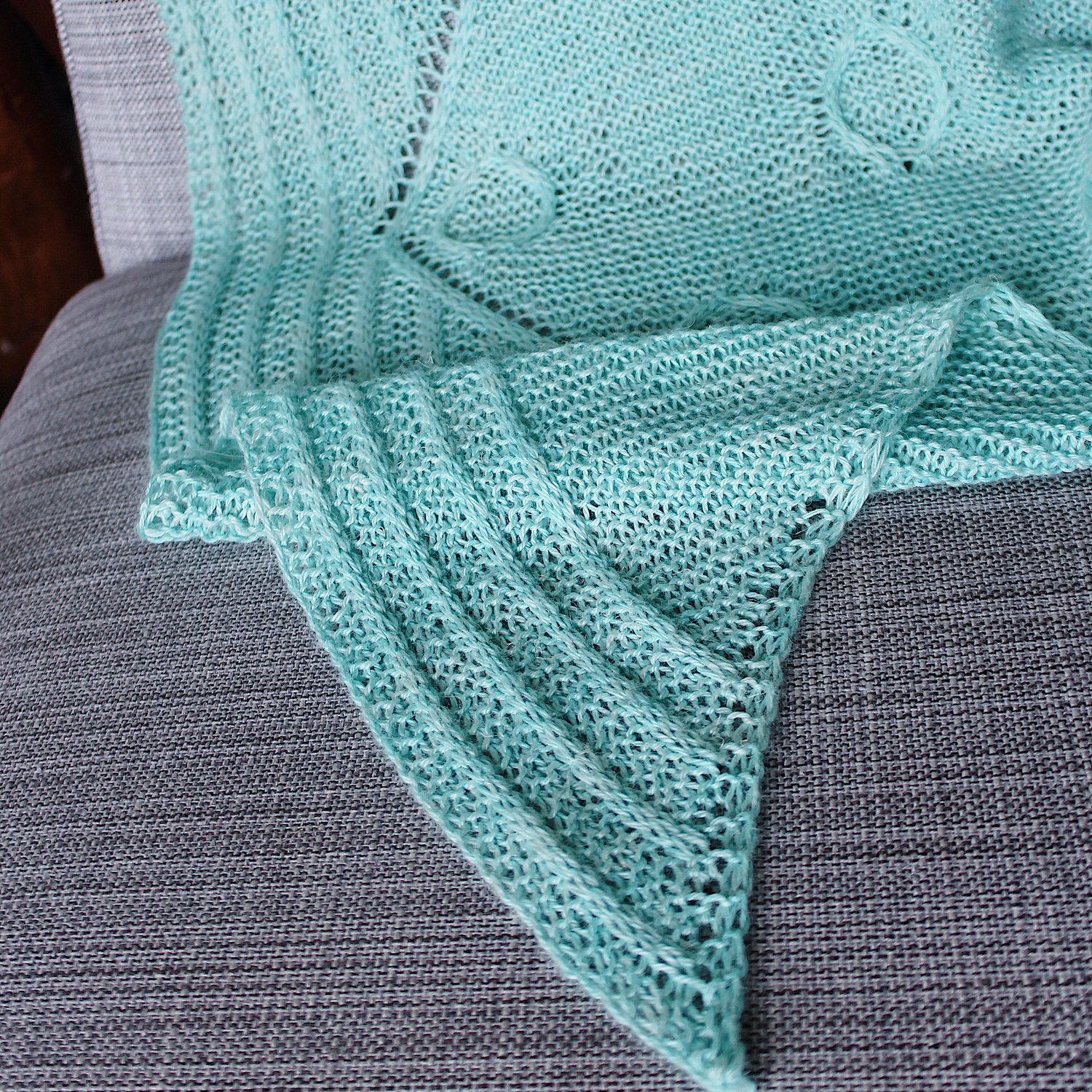 Bombshell Shawl
On Sale
It's that time of year when it's too warm: your skin is clammy, you can't cool down, and walking just a few metres has you perspiring. Suddenly, a cool breeze catches your clothing, making it billow and swirl. At that moment, is there anything nicer?
You're probably familiar with the iconic 1950s image of Marilyn Monroe in the film The Seven Year Itch, with her skirt blowing upwards, as she stands over a subway grate? That joyous feeling of flowing fabric against the skin is captured in the movement of the knitted stitches in the Bombshell Shawl.
Created in collaboration with Jessica James-Thomson from Ginger's Hand Dyed, as a 7-year anniversary celebration of her yarn-business, the sample is knitted in a brand-new colourway on a brand-new base: The Seven Year Itch on Sweet Flax (50% alpaca, 25% linen and 25% silk).
The gorgeous drape of the Sweet Flax yarn, combined with the Marilyn Monroe-linked colourway name, led me to design a shawl with a bombshell aesthetic, inspired by swirling hem lines and polka dot prints.
FIND YARN KITS HERE in Ginger Twist Studio's online shop
The pattern includes charts (and equivalent written instructions), photographs, a schematic and has been professionally tech edited. All of this will help you to create a shawl that you feel proud of and that is wonderful to wear, especially in a summer breeze!
CONSTRUCTION
Bombshell is a trapezium shaped shawl that's worked from side-to side beginning with an increasing section. Slip stitch columns are worked on the left-hand side of the shawl, whilst fun cabled polka dots emerge on the right-hand side. The slip stitch pattern moves in a wave across the garter stitch background and is created by working yarnover increases and matching decreases. The trapezium shape is finished off by working a decreasing section.
YARN
Ginger Twist, Sweet Flax, (4ply; 400m / 437 yds per 100g skein; 50% alpaca, 25% linen & 25% silk)
2 skeins in The Seven-Year Itch
GAUGE, NEEDLES & NOTIONS
20 sts x 36 rows = 10 cm / 4" measured Garter St before blocking
18 sts x 28 rows = 10 cm / 4" measured over Garter St after blocking
Please take time to check your gauge, as this will affect how much yarn you use, and the finished size of your shawl. My sample used nearly all of the 800m.
4 mm / US 6 (shawl is worked flat, so use straight or circular needles, whichever you prefer)
cable needle, stitch markers of two different types: 7 markers of one type (I used small ring markers), including one that is distinctive from the others and 5 markers of a different type (I used coil-less safety pins)
SIZE
One size (see schematic in photos for details) It's possible to make a slightly smaller shawl by working one less repeat each of Pattern B/D and Pattern B/C
PATTERN ATTRIBUTES
cables
chart & written equivalents
one-piece
schematic
sideways
slipped-stitches
written-pattern
First published June 2020