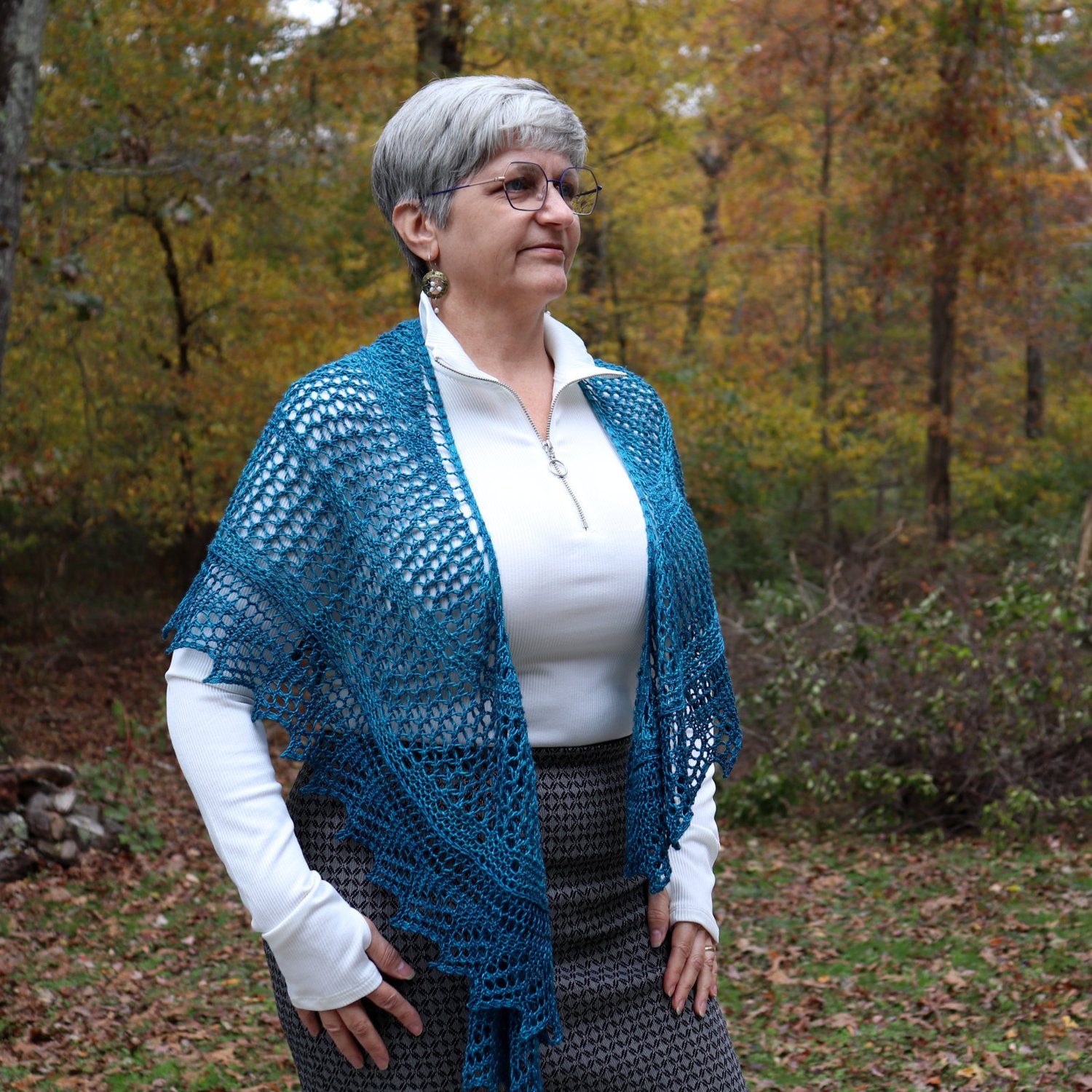 Meshing Around Shawl
$7.50
CONSTRUCTION
The Meshing Around Shawl has a crescent shape that is worked from the top down beginning with a long garter tab cast-on. The instructions for this cast-on result in a nice curved edge that's a breeze to block without the dreaded garter hump!
The shawl body alternates between a mesh pattern and a garter stitch stripe containing a single row of eyelets. Once the wingspan has been reached, you'll work on the elegant sawtooth lace edging. Change yarn colors or continue working it with the same color, it's your choice.
As you work the edging you'll also be binding off all the shawl stitches at the same time. Only a 16 stitch bind off is needed once the edging is done.
Pattern Includes:
instructions and tips included for applied edging,
row tracker,
schematic and,
optional chart for the edging.
YARN USED:
 Inspired FiberWorx Silk Sport (50% Merino, 50% Mulberry Silk; 3 ply sport; 328 yd / 300 m per skein): sample size small uses 2 skeins of The Teal Deal.
YARDAGE S (L): 
Total 487 (1092) yds; 446 (999)m.
Top 292 (839) yds; 267 (767) m.
Lace Border 195 (254) yds; 179 (232) m.
YARN SUBSTITUTION:
 Any sport weight yarn with at least 50% wool content for stretching the mesh and edging. Although written for sport yarns, DK can be used and may require a larger needle as well as more yardage. The edging looks its best in a tonal, solid, lightly speckled, or gradient. The body can be the same or different color. Use the yarn that makes you happy.
WINGSPAN S (L):
 53 (68.5)"; 135 (174) cm after blocking.
DEPTH S (L):
 21 (25.5)"; 53 (65) cm at deepest point.
NEEDLES:
 US #8 (5 mm) is recommended or size to obtain gauge. 40" (100 cm) or longer circular needle. One US # 8 (5 mm) dpn or straight needle to work edging (needle is optional).
GAUGE:
 22 sts x 19 rows = 4" / 10 cm worked flat in mesh pattern (and blocked); Gauge is not critical for this pattern, but a different gauge will affect drape, yardage required, and size.
NOTIONS REQUIRED: 
Tapestry needle and 2 stitch markers, at least one locking stitch marker.
SKILLS NEEDED:
 K2tog, p2tog, yo, kfb, m1, backwards loop cast-on; instructions and tips included for applied edging; row tracker, schematic, and optional chart for the edging included.
PATTERN STORY
I've been wanting a shawl that I could wear on cool evenings. Something airy, light and easy to wear. Mesh came to mind so I did some research. I found out that there were lots of mesh shawl patterns. If I was going to design one, I needed to make it different.
Most of the patterns had just one kind of mesh all over the shawl. So, I thought I'd swatch several types of mesh stitch patterns together. I knit both vertical and horizontal meshes in the same fabric. What my swatch showed me was that these meshes just got lost in one another and looked messy.
I had to change my design and use only one mesh pattern. You know what's also in a lot of other shawls? Garter stitch. You know why it's in a lot of other shawls? Because it's easy to knit, easy to design with, looks great, feels squishy, and knitters love it. It's a great way to add texture while providing knitters with a rest from more complex stitches.
What finally worked for this shawl design was the combination of a single mesh pattern and a garter stitch stripe containing a row of eyelets. To give this shawl some flare, I added a lacy sawtooth edging. The top of the shawl is easy going while the small repeat of the applied edging requires your attention.
Since I spent a fair amount of time experimenting with different mesh patterns, I decided to name this pattern Meshing Around Shawl.
The crescent shape is easy to wear as it conforms to the natural curve of your neck. The lacy sawtooth edging combined with a silky wool gives the shawl a note of elegance that
pairs well with a fancy outfit but can dress up your favorite jeans and a t-shirt.
This pattern is a
copyright of Brenda Schack of BrenJS Knits
. Credit must be given to BrenJS Knits when selling items made from this pattern. Pattern and photos can not be used for resale purposes. Please share your work with the hashtag
#meshingaroundshawl
and #brenjsknits so that I can admire your knitting!