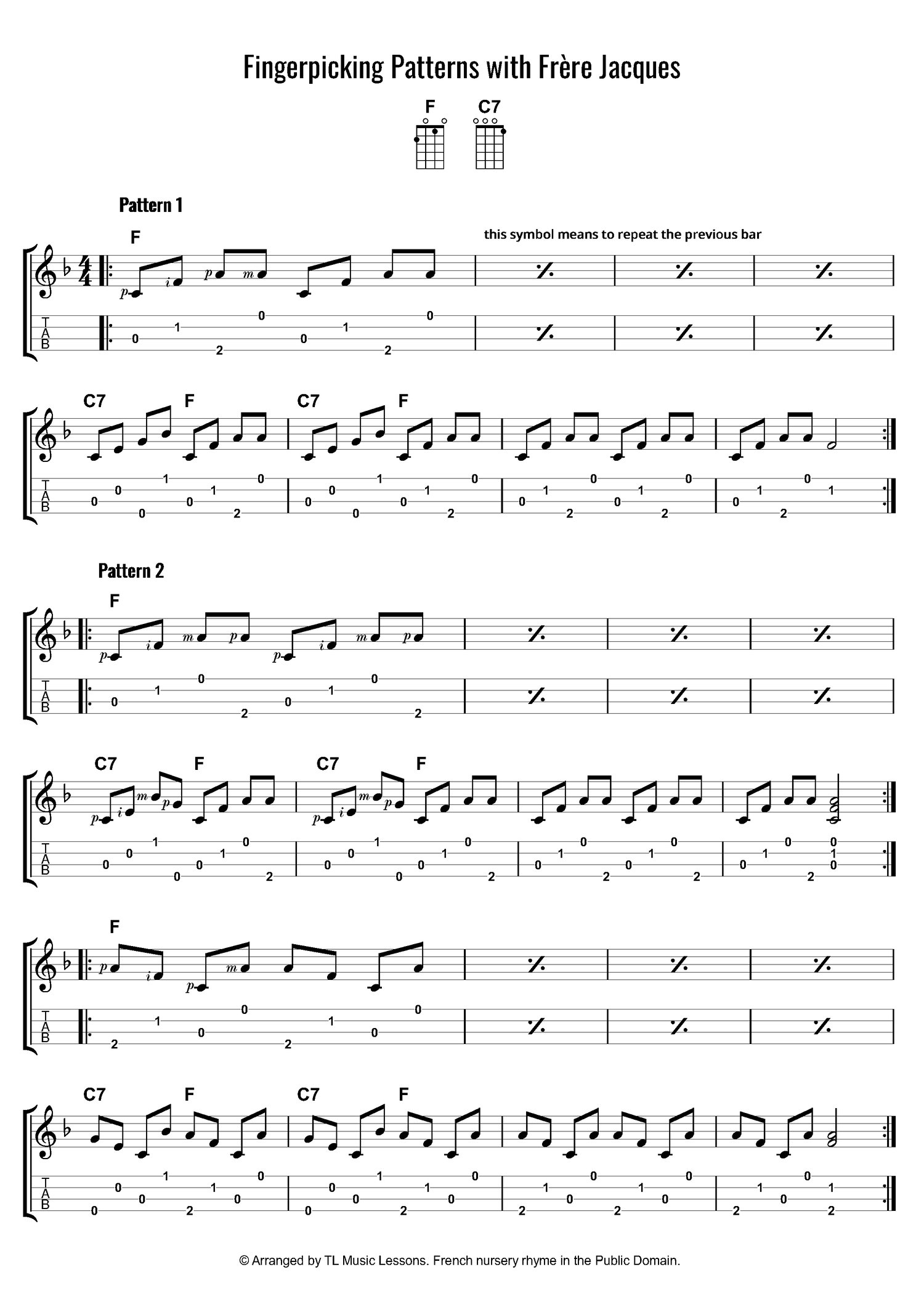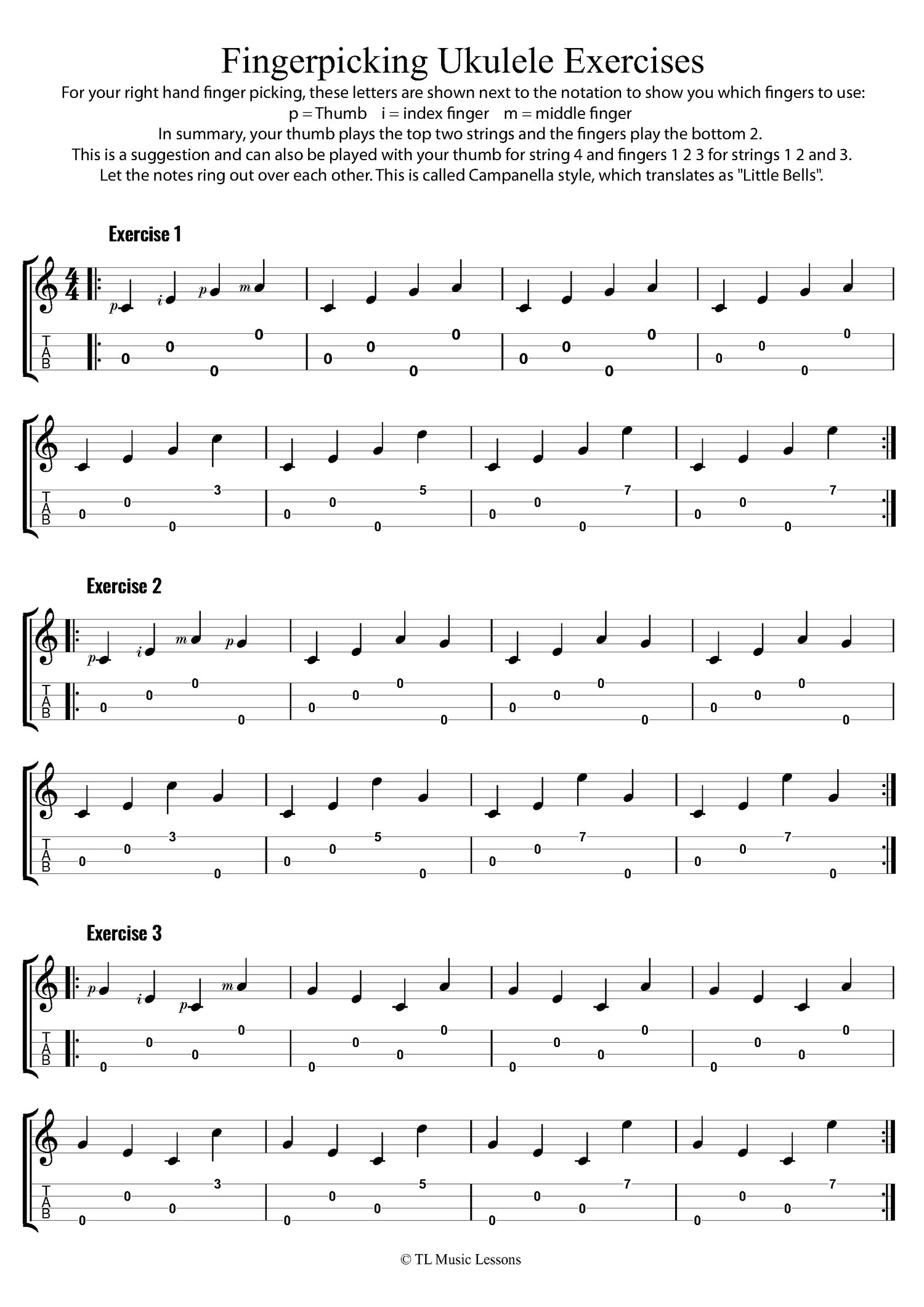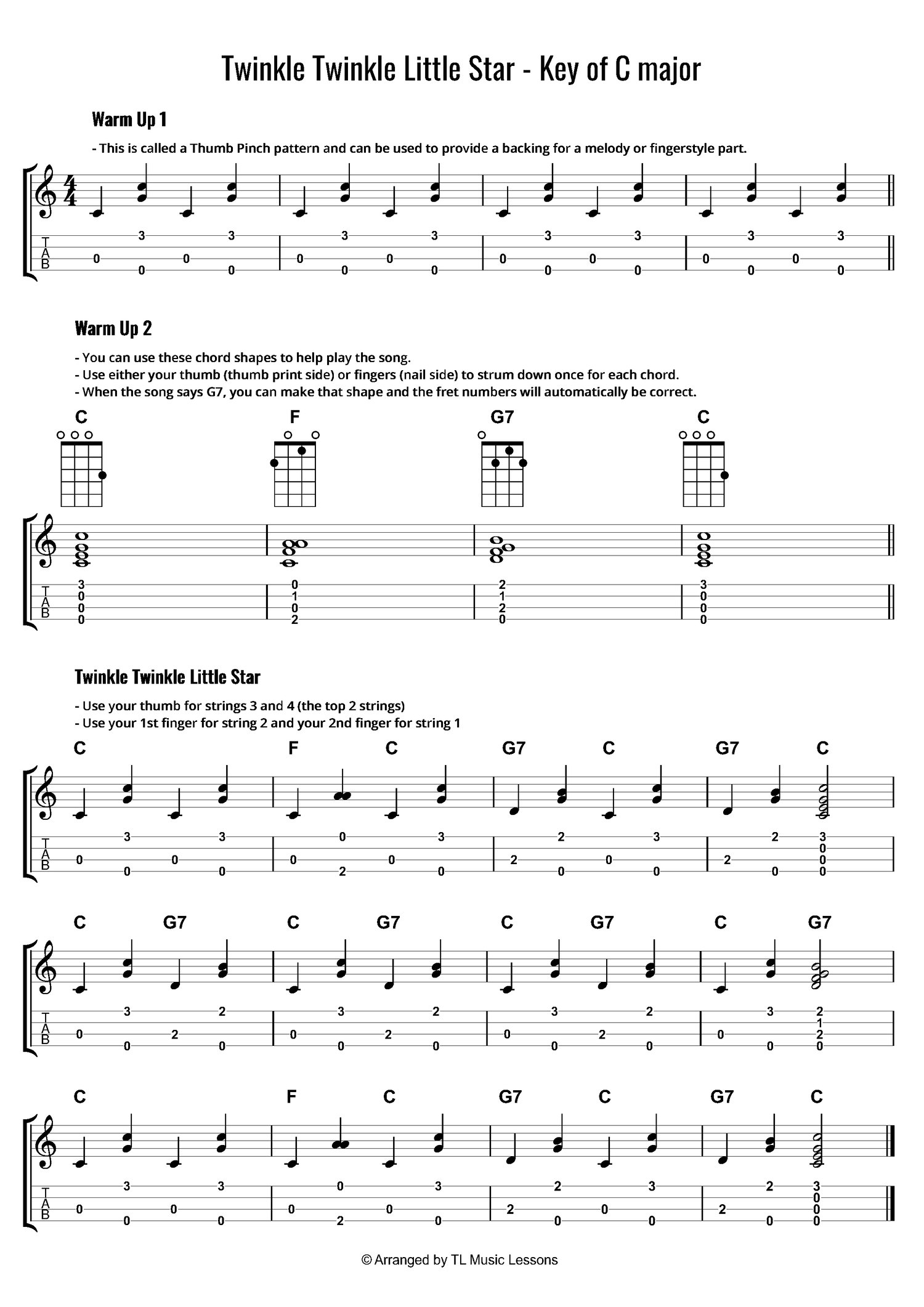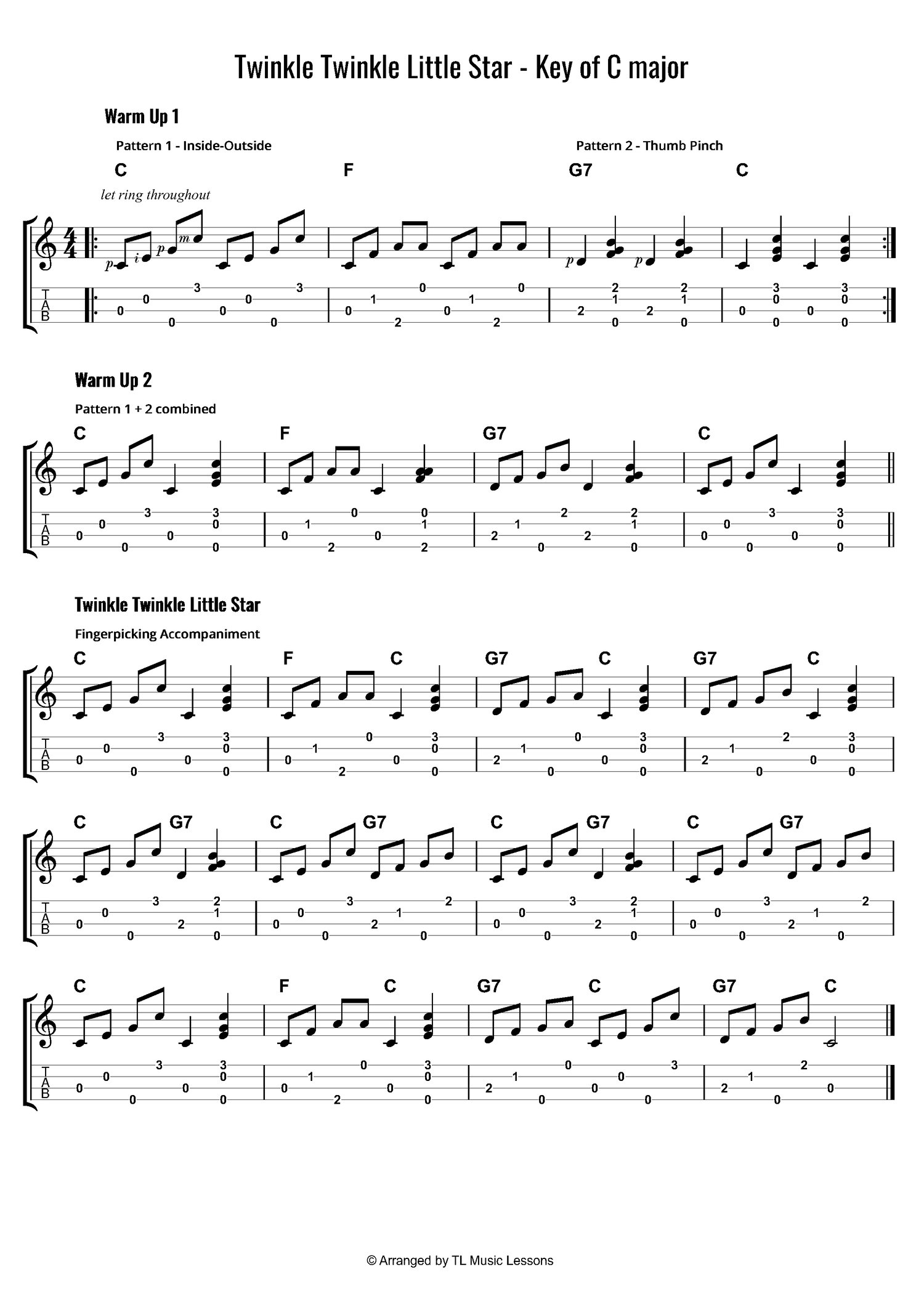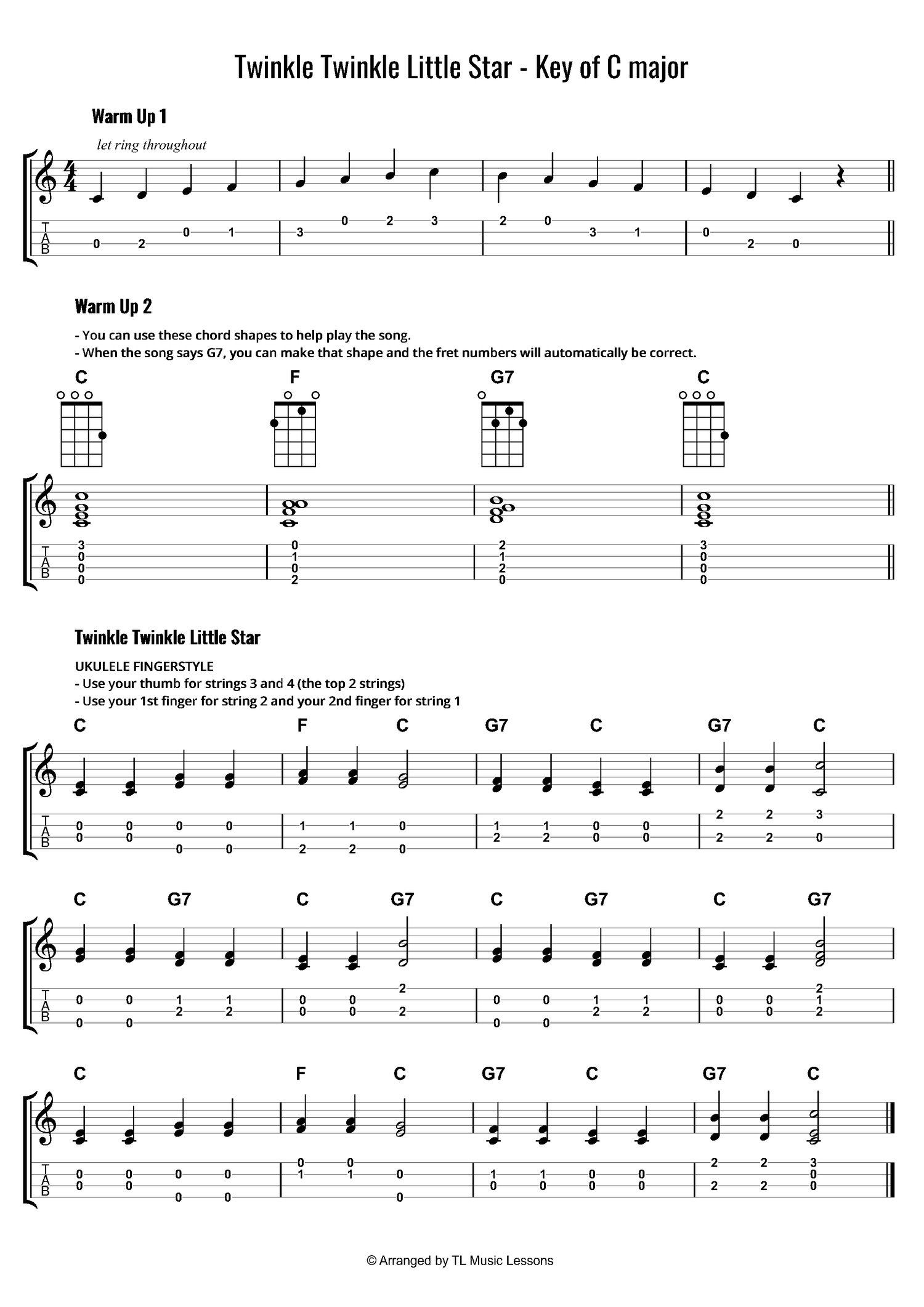 Fingerstyle Ukulele - Easy Songs in the Public Domain
Preview
Includes PDF ebook with fingerstyle and fingerpicking
Includes bonus folder of just the melodies and chord names for each song
In this book you will find a collection of public domain songs with unique fingerstyle arrangements. There are also fingerpicking exercises and song accompaniments for some of the pieces, which will give you tips and ideas for fingerpicking along to other songs based on the song's chords. My aim for this book is to make it easy for people to find an collection of simple fingerstyle songs that doesn't get too hard too quickly, and opens the door for learning harder or longer songs after confidence has been built up by playing songs that have been arranged to be fairly easy and inviting to play for the beginner or advanced beginner. 
This book of easy songs has been created by making new arrangements from public domain songs. Public domain songs are great for learning because the tunes are familiar and there are no copyright restrictions for performing or for creating arrangements of them. This book can be used by teachers and students, or by anyone learning ukulele on their own.
I started writing this book at the end of January during the covid-19 coronavirus pandemic, after the vaccinations had started, but still before many rules were relaxed. As I release the book during the summer of 2021, we are still in it but I've been back to work properly a couple of times and I had to take a break from finishing the book. It's been a good process to nearly finish it and come back to it months later with fresh eyes. I decided to add more songs and also to add more fingerpicking and scale exercises and song accompaniments so it wasn't just the songs. I also wanted to add exercises so that there was more depth.
The fingerstyle arrangements are unique to this book and have been made by playing around with various combinations of melody, bass and notes from the chords until a good balance was reached between being fairly easy to play but also challenging and enjoyable/relaxing. 
Whilst you may find other fingerstyle versions of these songs elsewhere, they won't be the same as these. You can find many different melody transcriptions with the same melody presented in slightly different ways, but the beauty of fingerstyle playing is that you can be quite creative with the arrangements to make something fairly different and unique, even though these public domain songs have been played countless times before. 
The style of the book should come accross as a coherent body of work as it's been arranged by one person. However, it's good to explore other books written by other people too if you are interested in learning more fingerstyle playing, because other arrangers will add their own style to pieces too and you will learn different things from them. I can recommend
The Quiet American
and
Samantha Muir
as being good resources to explore.
Theo Lawrence / TL Music Lessons