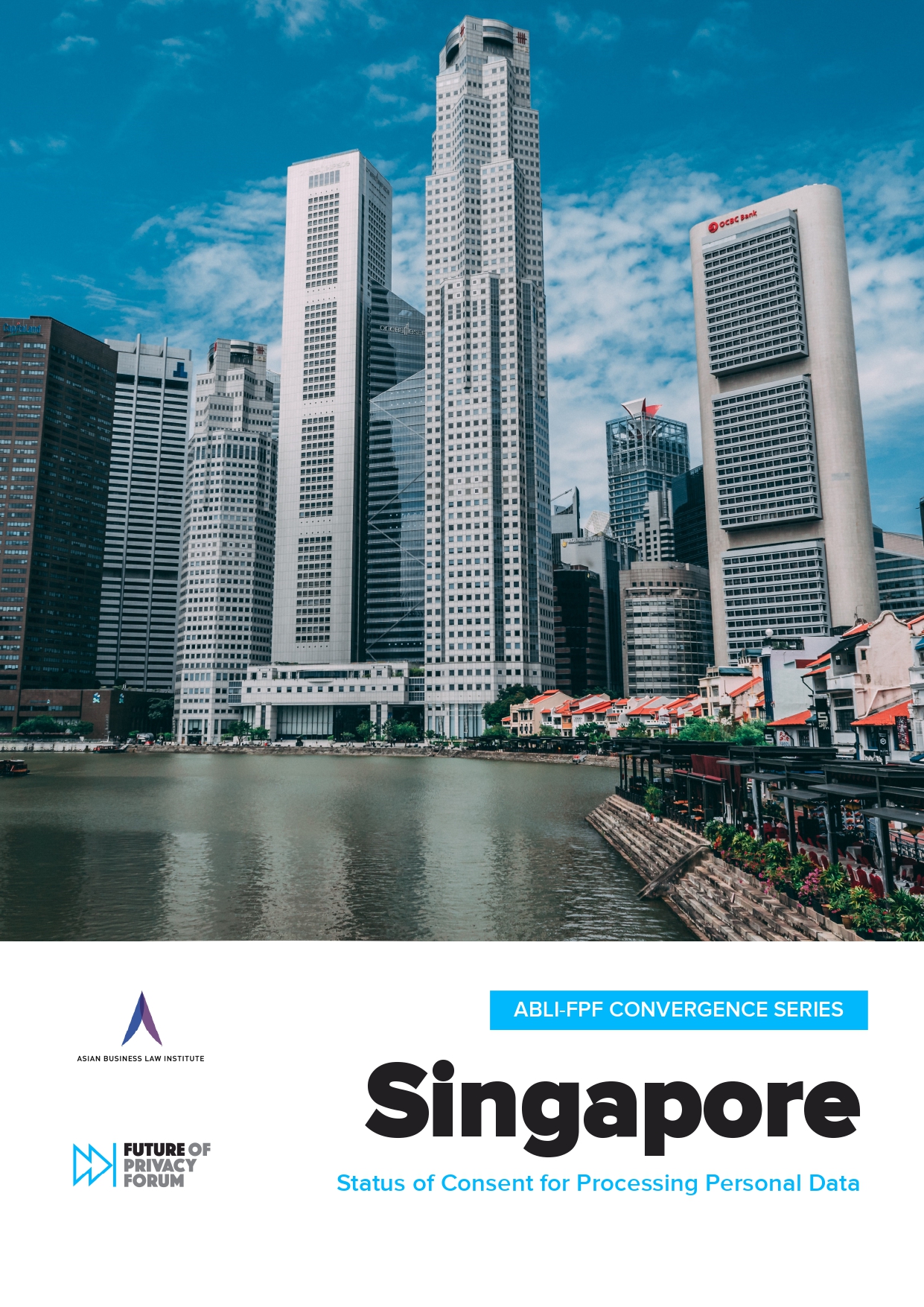 ABLI-FPF Convergences Series - Status of Consent for Processing Personal Data (Singapore report)
On Sale
ABLI-FPF Convergences Series - Status of Consent for Processing Personal Data (Singapore report)Authors: Dr. Clarisse Girot, Honorary Senior Fellow, Asian Business Law Institute and Dominic Paulger, Policy Manager (APAC), Future of Privacy ForumAsian Business Law Institute and Future of Privacy Forum
August 2022
This report provides a detailed overview of relevant laws and regulations in Singapore on
notice and consent requirements for processing personal data;
alternative legal bases for processing personal data which permit processing of personal data without consent if the data controller undertakes a risk impact assessment (e.g., legitimate interests); and
statutory bases for processing personal data without consent and exceptions or derogations from consent requirements in laws and regulations.
Table of Contents
1. INTRODUCTION 
2. CONSENT AND PRIVACY SELF-MANAGEMENT UNDER THE PERSONAL DATA PROTECTION ACT ("PDPA")
3. ROLE OF THE PERSONAL DATA PROTECTION COMMISSION ("PDPC")
    3.1. Advisory
    3.2. Sanctions and enforcement
           a. Majestic Debt Recovery Pte Ltd [2020] SGPDPC 7
           b. H3 Leasing [2019] SGPDPC 9
           c. German European School Singapore [2019] SGPDPC 8.
4. SECTORAL LEGISLATION
5. CONDITIONS FOR CONSENT 
    5.1. Definition and forms of consent
    5.2. "Deemed consent"
    5.3. Withdrawal of consent
    5.4. Bundled consent
6. CONSENT FOR SPECIAL CATEGORIES OR USES OF DATA
7. CONSENT FOR CROSS-BORDER DATA TRANSFERS
8. TRANSPARENCY AND NOTICE 
9. COLLECTING, USING, AND DISCLOSING DATA WITHOUT CONSENT SUBJECT TO A RISK IMPACT ASSESSMENT
      9.1. Background: 2021 amendments to the PDPA
      9.2. Legitimate interests of organizations
             a. General legitimate interests provision
             b. General legitimate interests provisions
      9.3. "Deemed consent by notification" .
10. COLLECTING, USING, AND DISCLOSING DATA WITHOUT CONSENT IN OTHER CIRCUMSTANCES DEFINED BY LAW
     10.1. Business improvement purposes
     10.2. Deemed consent by contractual necessity
     10.3. Research purpose
     10.4. Carrying out a task in the public interest and matters affecting the public
     10.5. Law enforcement, defense, or national security
     10.6. Publicly available personal data
     10.7. Vital interests of the individual
     10.8. Business asset transactions
     10.9. Others