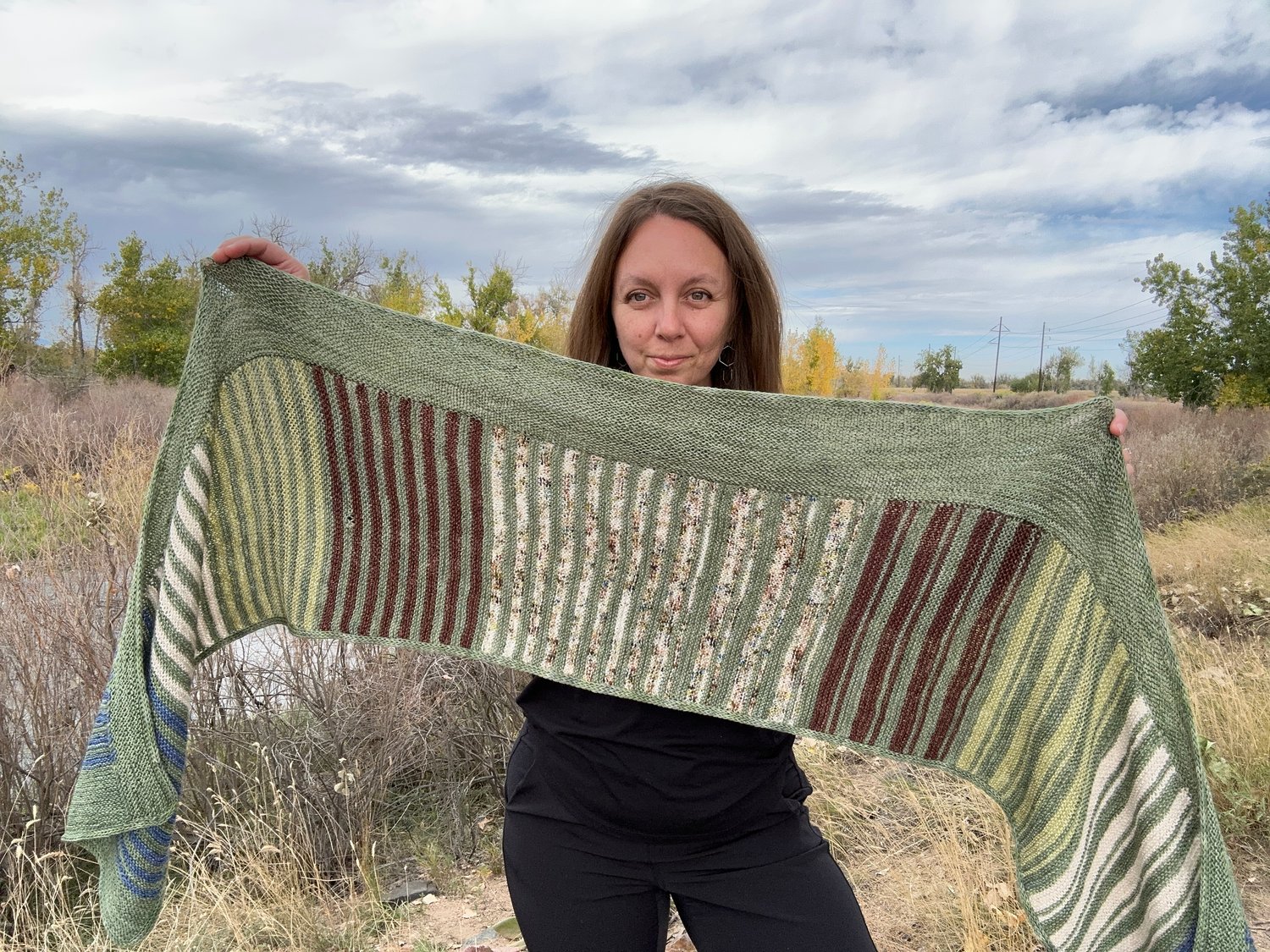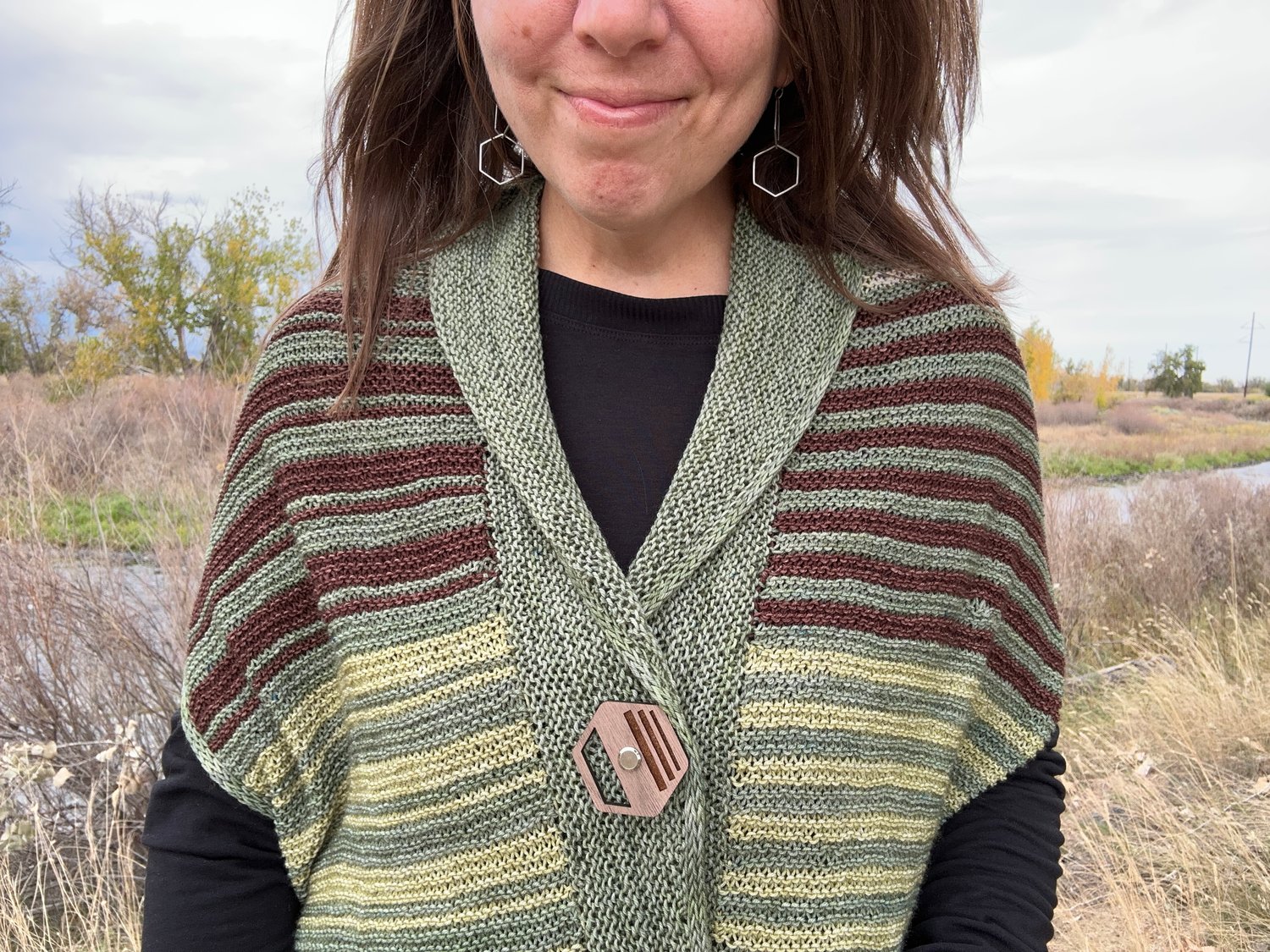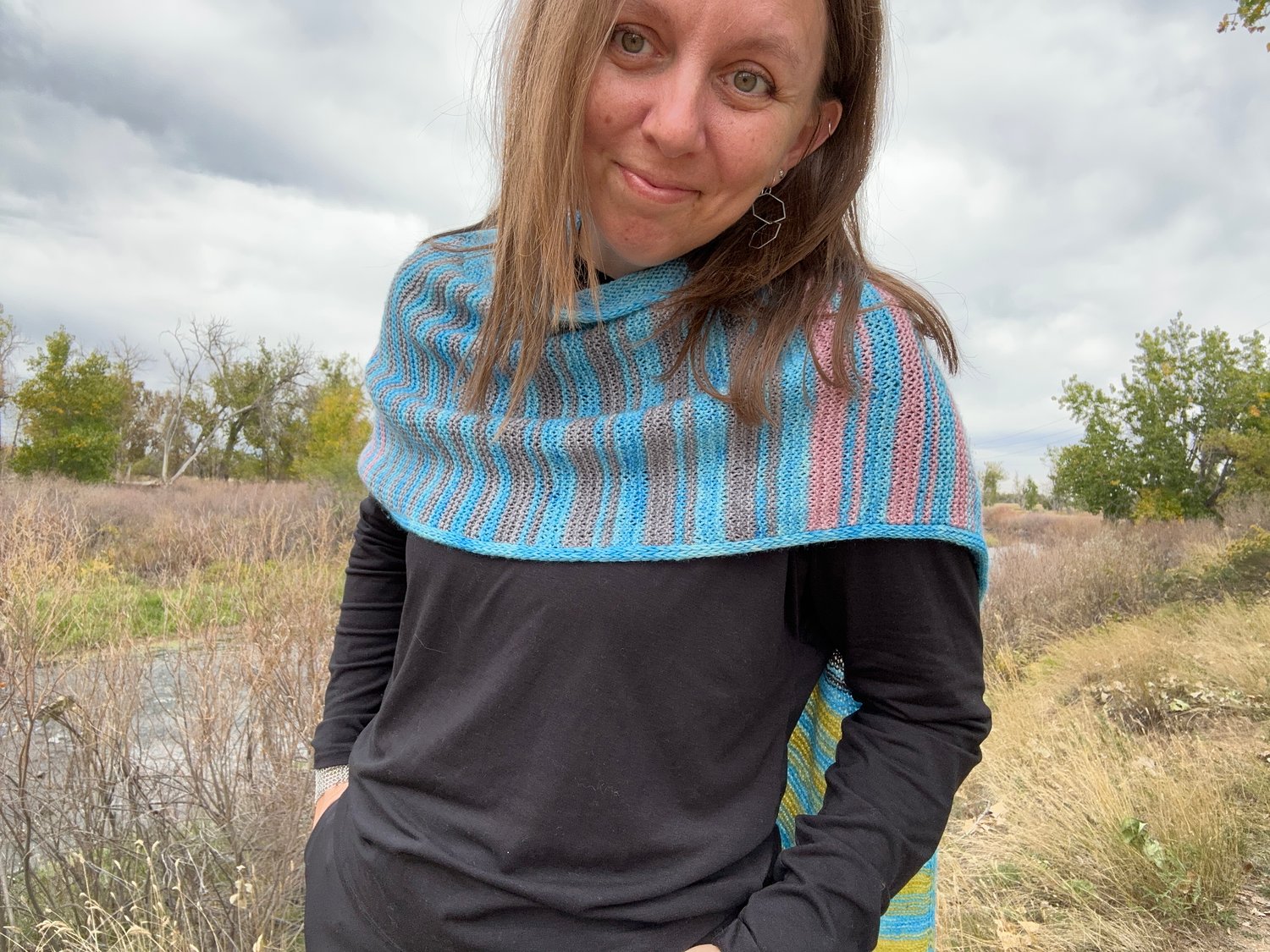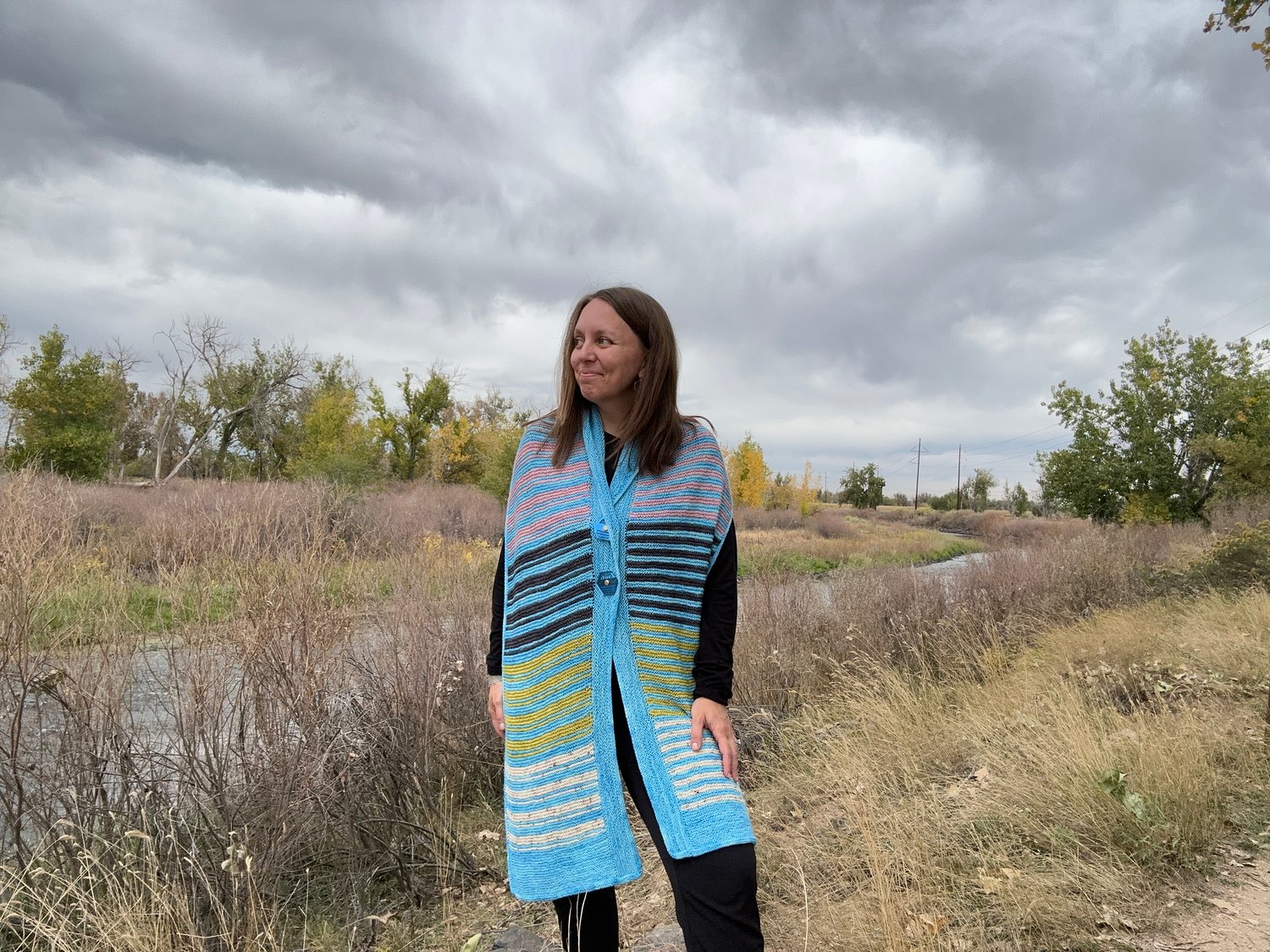 Multistate
On Sale
Pay what you want:
(minimum $7.00)
Designed in collaboration with Cesium Yarn.
One of the amazing things I've found through knitting is connecting with other makers through sharing our creative makes, and, in many cases, becoming friends who share more about our lives with each other. Living in different parts of the country (and world!), fiber events, either in person or virtual, allow us to make memories together while enjoying our crafts. 
MULTISTATE is a knit design with friends—both near and far—in mind. Perfect for virtual knit nights with friends, this garter stitch wrap has a shawl collar and thoughtful finishing details. This wrap is designed to showcase a featured color along with coordinating mini skeins, and looks equally striking with a single contrast color. Use the same colors in the same order as a friend for matching pieces or switch the order of the same color pack for a different look. It's a fun way to show off some souvenir yarn and remember times with friends while knitting in new memories. Use temporary closures to easily modify this piece, wearing it as a wrap, poncho, shrug, scarf or cowl. 
YARN
Cesium Yarn Merino Sock, 75% Superwash Merino, 25% Nylon, 463 yd / 423 m per 100 g, or similar fingering weight yarn, www.cesiumyarn.com.
This design uses 2 skeins of a main color (MC) and 5 coordinating mini skein contrast colors (CC). A single skein of contrast color may be used in lieu of mini skeins.
MC: 860 yd / 786 m (186 g)
CC1-5: 87 yd / 80 m (19 g) in EACH of 5 colors
Yarn estimate includes 10% buffer.
Sample 1 colors:
MC: Penelope Green – 796 yd / 728 m (172 g)
CC1: The Limit – 78.7 yd / 72 m (17 g)
CC2: sTANding strong – 78.7 yd / 72 m (17 g)
CC3: Can't Grow Moss – 78.7 yd / 72 m (17 g)
CC4: Next Step – 78.7 yd / 72 m (17 g)
CC5: Do Better – 78.7 yd / 72 m (17 g)
Sample 2 colors: 
MC: Blue Doily – 782.5 yd / 715.5 m (169 g)
CC1: Stoneware – 78.7 yd / 72 m (17 g)
CC2: Verde – 78.7 yd / 72 m (17 g)
CC3: Pueblo – 78.7 yd / 72 m (17 g)
CC4: Friendship – 78.7 yd / 72 m (17 g)
CC5: Homestead – 78.7 yd / 72 m (17 g)
Both samples are shown with Shawl Sandwiches (custom shawl pins) from Twin Mountain Handcrafts www.twinmountainhandcrafts.com.
For a single contrast color instead of mini skeins, 435 yd / 398 m (95 g) required. Use this CC each time a numbered CC is referenced. 
Likewise, use up to 10 unique contrast colors, introducing a new color in each Section 2-11. As written, each CC is used twice.
DIMENSIONS
Length: 71" / 180 cm
Width at center: 18"/ 46 cm
Width at edges: 14.5" / 37 cm
See schematic for additional size information.
GAUGE
20 stitches & 40 rows = 4" / 10 cm in garter stitch, blocked
Gauge is not critical but will impact finished size and yarn requirements
TOOLS
US 5 / 3.75 mm circular needle, min. length 24" / 60 cm or size needed to get gauge. 
Optional: additional needle tip for icord bind off.
Waste yarn, spare needle or stitch holders for live stitches 
Crochet hook of similar size for provisional cast-on
Smooth waste yarn in contrast color for provisional cast-on 
Flexible tape measure
Scissors 
Small gram scale 
4 locking clip stitch markers to mark progress & indicate RS of work
4 stitch markers for short rows
Tapestry needle
Thanks and credits also go to: 
Yarn support: Cesium Yarn www.cesiumyarn.com
Shawl Sandwich accessories: Twin Mountain Handcrafts www.twinmountainhandcrafts.com
Tech editing: Bronwyn Hahn
Test knitting: Dianne B., Mandy B., Leslie C-R., Valerie J., Kathrin K., & Kim R