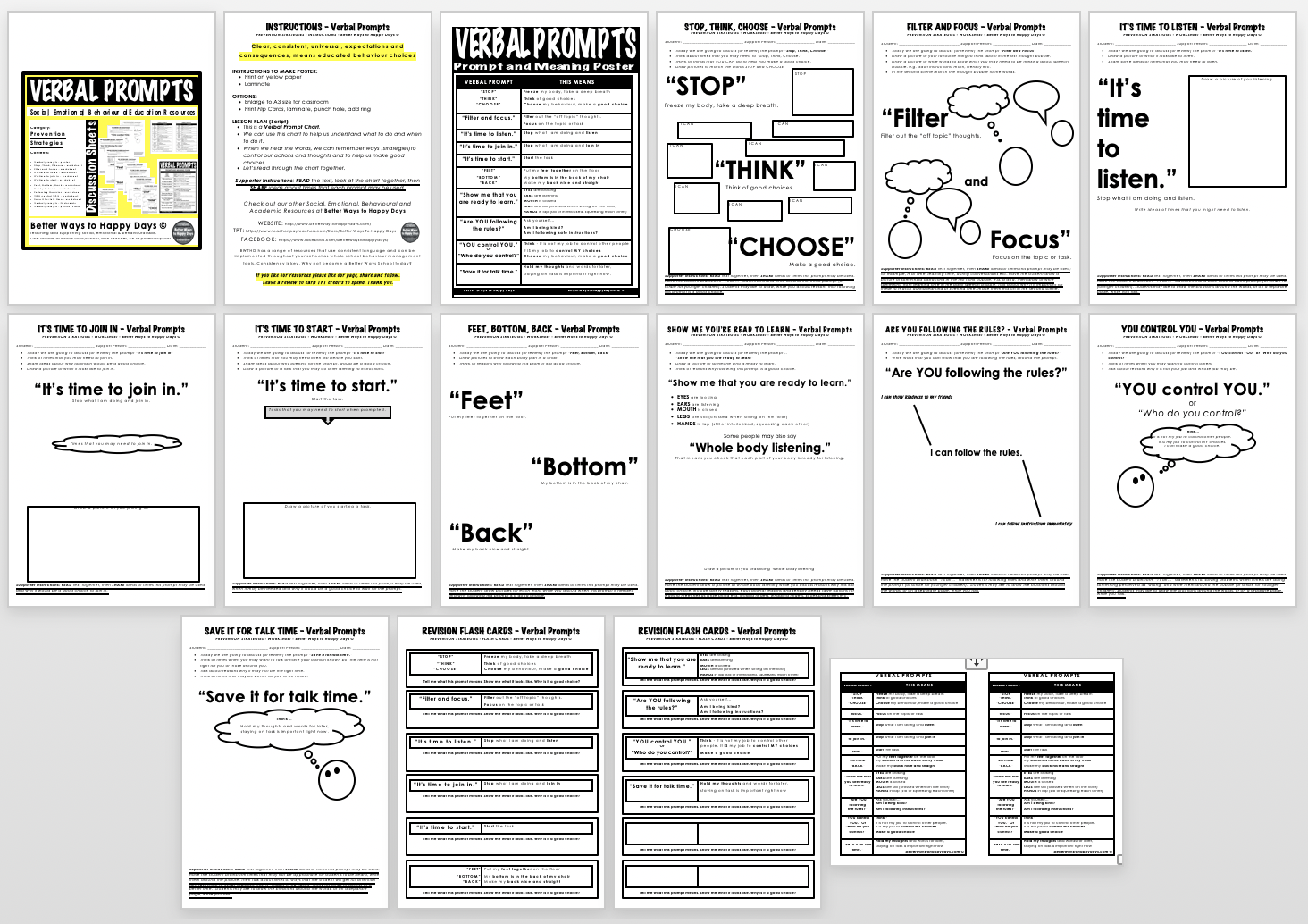 Verbal Prompts - PREVENTION STRATEGIES
On Sale
Instagram - @betterways101
These prompt sheets can be shown on the classroom whiteboard and or printed as worksheets for your students. This is a great way to set up your classroom language and behaviour expectations for the term or year, improving behaviour choices and classroom environment.
INSTRUCTIONS - Verbal Prompts
PREVENTION STRATEGIES - INSTRUCTIONS - Better Ways to Happy Days © 
Clear, consistent, universal, expectations and consequences, means educated behaviour choices 
Print as worksheets for your students.
INSTRUCTIONS TO MAKE POSTER:
·      Print on yellow paper
·      Laminate 
OPTIONS:
·      Enlarge to A3 size for classroom
·      Print Flip Cards, laminate, punch hole, add ring 
LESSON PLAN (Script):
This is a Verbal Prompt Chart.
We can use this chart to help us understand what to do and when to do it.
When we hear the words, we can remember ways (strategies)to control our actions and thoughts and to help us make good choices.
Let's read through the chart together.
Supporter Instructions: READ the text, look at the chart together, then SHARE ideas about times that each prompt may be used. 
Check out our other Social, Emotional, Behavioural and Academic Resources at
Better Ways to Happy Days 
WEBSITE/SHOP: https://payhip.com/betterwaystohappydays
TPT: https://www.teacherspayteachers.com/Store/Better-Ways-To-Happy-Days
FACEBOOK: https://www.facebook.com/betterwaystohappydays/
INSTAGRAM: @betterways101 
BWTHD has a range of resources that use consistent language and can be implemented throughout your school as whole school behaviour management tools. Consistency is key. Why not become a Better Ways School today? 
If you like our resources please like our page, share and follow.   Thank you.