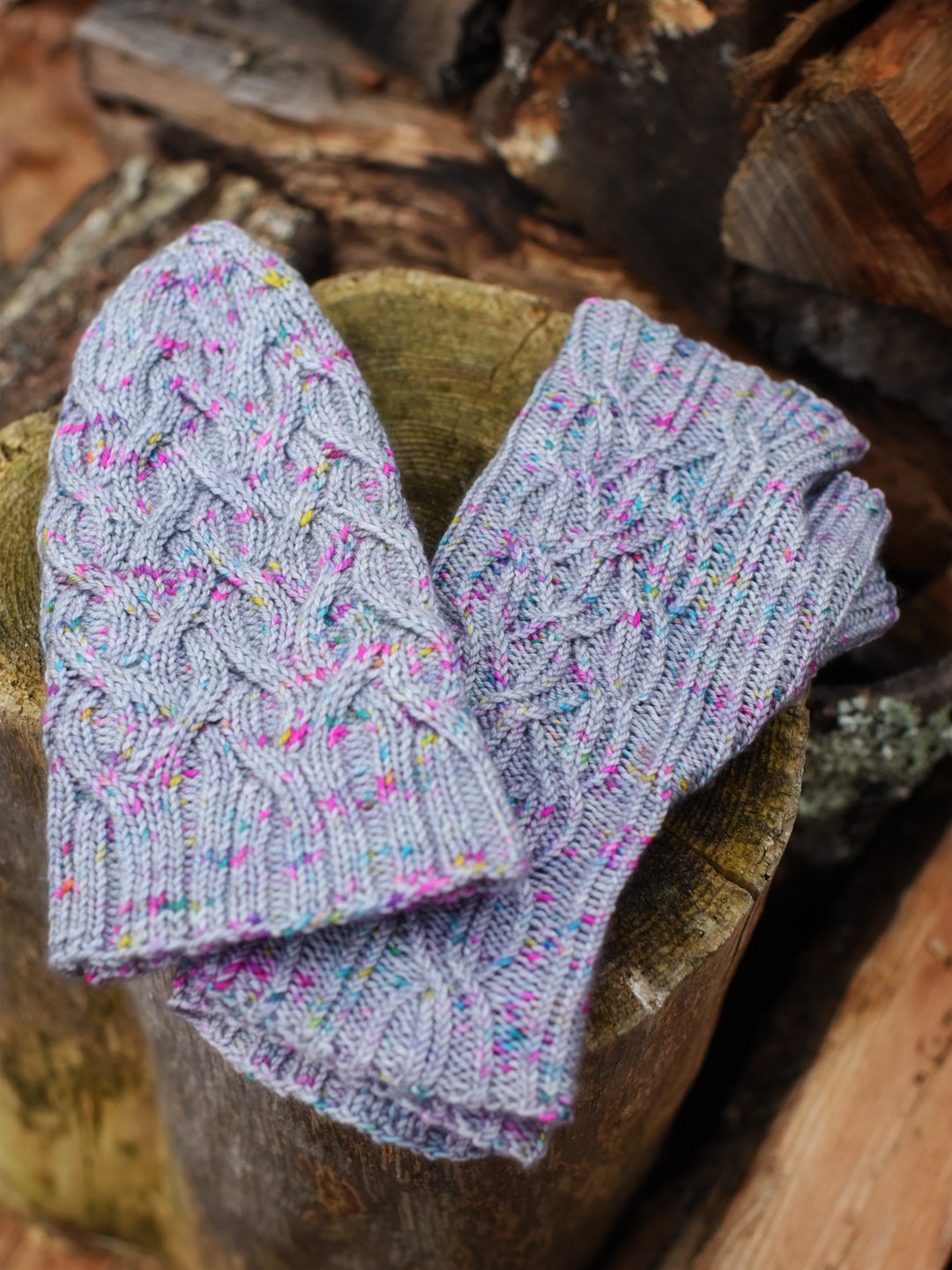 Causation
On Sale
$8.00
---
Causation
noun
the act of causing something, the relationship between cause and effect
---
Ok, let's get this out of the way right up front...it's reversible. It's reversible, and not just in the 'looks the same on both sides' sort of way. It looks totally different (and, if I may say so, totally awesome) on both sides. Even the thumbs are delightful on both sides, they fill me with glee!
For you, who are no doubt more fashionable and more organized than I am, this means you get to decide which side you like best and show that one off. For me? Well for me it means I can yank my mitts out of my coat pocket and shove them on my hands without having to fiddle around and get them facing the right way, no matter how early in the morning it is!
And no, no before you ask it isn't any harder to work reversible cables than it is to work regular cables. The process is exactly the same! Think about it...all you're doing for cables is setting some stitches aside for a moment, working some other stitches, and then working the stitches you set aside. That's *really* all cables are, working stitches out of order. And that's true for reversible cables as well. Promise! You can totally do this!
---
The mitt is written in three sizes (castons of 42, 49, and 56 stitches), and you should feel free to adjust your gauge a bit to fine tune the fit of the mitt. Just be sure that you're working at a gauge that gives you a fabric you like with your chosen yarn!
I recommend working at something around 5.5, 6, 6.5, or 7 stitches per inch, and I've included a table to help you figure out what gauge you'll want to use for your size. With that range of sizes and gauges, the hat will fit a wrist between 5.75 and 8.5 inches (with lots of points in between).
---
This is perfect for you if:
- Some days you just need to call 'I put my gloves on' a win, and trying to fiddle with right side and wrong side is just too much to ask
- You absolutely must know how those cables work
It's not for you if:
- You don't like charts (the pattern uses charts)
- You hate swatching (you need to swatch to check your needle size)
---
If you're interested in the companion hat (shown in the next to last picture), you can find it
here
. If you buy both patterns together at the same time, you'll get 50% off the second pattern (make sure you see the discount before you pay, the price for both pieces together should be $12.00).