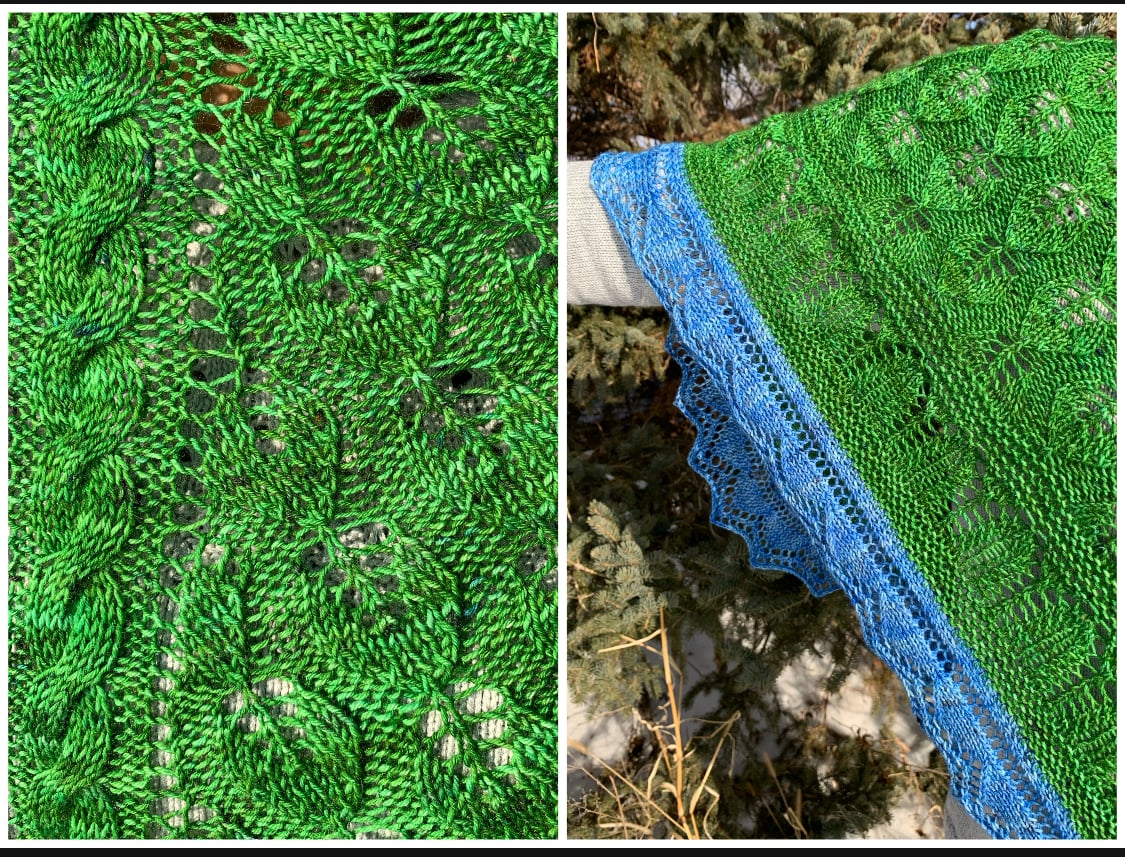 Planet of Beauty Shawl
On Sale
$12.00
MAY THE FOURTH BE WITH YOU DISCOUNT

From today, May 4 to Sunday, May 9, use the coupon code MAYFOUR for a 60% discount!

PAY WHAT WORKS:
In order to make knitting more affordable & available to everyone, I'm pleased to offer a variety of prices. The price listed represents the actual value of the pattern and factors in my work, yarn/editing/testers fees. Use the code next to each price at checkout (prices listed are what you'll pay, not the amount discounted).


PLANET1: $6.00
PLANET2: $7.20
PLANET3: $9.60
NO CODE: $12.00



LONG AGO IN A GALAXY FAR FAR AWAY


George Lucas introduced viewers to Star Wars. This December, after five decades, the Skywalker saga will come to an end. While I'm excited to see how the story ends, it's bittersweet because it means saying farewell to Carrie Fisher's character, Leia Organa Solo. I love Leia's fierce determination to help others even when it seemed like she was fighting alone. Both Carrie and Leia have taught me so much, and the older I get, the more I've relied on their wit and wisdom.
The shawl is is inspired by Leia's home planet, Alderaan. A blue-green orb, and known as a "planet of beauty," it was destroyed by the Death Star when Leia was only 16. She may never have had the chance to rule, but it is undeniable growing up there helped shaped Leia into the impressive leader she was.
Each stitch pattern represents something special to Leia: the dominant lace and leaves pattern represents Alderaan's respect for the planet. The city was built in harmony with the landscape, making sure none of the buildings dominated the planet's mountains, grasslands or rivers. A single row of leaves symbolizes the forests surrounding Appenza Peak, the mountain Leia climbs as part of a ceremony to prove her worthiness to one day rule the planet. A simple cable down the center spine represents the braided hairstyles worn by Alderaanian royalty. The shawl's wavy border represents Istabith Falls. After being away for humanitarian visits or feeling worn out after participating in the junior Senate, Leia spent time at the falls to gather her thoughts.
Materials Needed:
Light fingering or fingering weight yarn, total yardage for test versions was about 970 yds/887 m.
For the Green & Blue sample:
Dyer Bear Yarns Bear Foot Sock (463 yds/423m per 100 g)
MC: Sun on New Spruce – 2 skeins (approx. 750 yards used)
CC: Autumn Sky—1 skein (approx. 220 yards used)
I suggest using a yarn with some wool to help the stitches block well (check out the photos for information on yarns the testers used), but the Grey & Blue sample is done in 100% acrylic (Loops & Threads Woolike); be sure to look up specific blocking techniques for acrylic yarn if you choose to use it. Stick with solid, semisolid or tonal colorways to help the lace pattern be clear.
-US 6 32" circular needle or size to obtain gauge
-Cable needle US 6 DPN or size to match circular needle above
-4 ring stitch markers
-Darning needle
-Spare yarn for lifelines (optional) Locking stitch markers (optional)
Shawl size (blocked):
-Gauge: 30 stitches and 35 rows = 4 inches in Chart A, Lace & Leaves, blocked
-Wingspan: 60"-62.5"/152 cm-158.75 cm
-Spine depth: 28"-28.5"/71 cm-72 cm Total bottom edge: 78"-82"/198 cm-208 cm
Skill level:
intermediate. Pattern is both written & charted. There are links to tutorials in the pattern & a photo tutorial for the applied border.
Skills needed:
knit & purl
yarn over
k2tog & p2tog
ssk & ssp
CDD
cabling
psso
long tail cast-on & cable cast-on
garter tab cast-on
applied border
Pattern has been tech edited & tested. I would love to see your finished design! Please tag me @rasmusknits and use the hashtags #planetofbeautyshawl & #rasmusknits