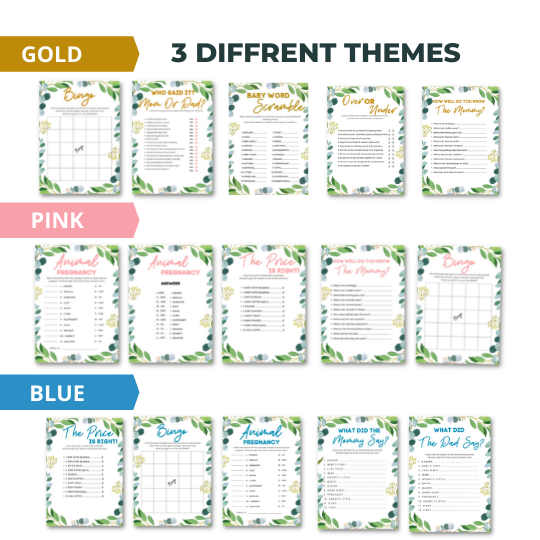 "Don't Miss Out on the Fun: Baby Shower Printable Collection with Laughter-Inducing Games, Customizable Banners, Invitations, 21-Page Planner, Signs, and Thank You Tags"
On Sale
$29.99
The secret to planning a successful and beautiful party
Are you ready to throw the ultimate baby shower celebration that's full of laughs and giggles? Our printable collection has got you covered!
With a variety of funny and creative games to choose from, including "Name That Baby Food" (can you guess the gross puree just by looking at it?), "Diaper Derby" (baby race, anyone?), and "Don't Say Baby" (good luck with that one, folks!), this bundle is sure to keep your guests entertained. And with easy printable instructions included, all you have to do is hit "print" and let the giggles begin!
But wait, there's more! This bundle also includes banner cuts, editable invitations, an editable planner with 21 printables inside (because let's be real, planning a baby shower can be almost as much work as having a baby), table signs, and thank you tags to help you plan and execute the perfect shower. Plus, with a variety of themes to choose from, including blue, pink, and gold, you can customize the look and feel of your celebration to fit your style and preferences.
So go ahead, add this collection to your cart and let the baby shower fun begin!
What you will get in this pack ?
A detailed and editable planner to help you make sure that everything is taken care of for the big day.
Banner flag cuts with all letters to create the banner you want (3 Colors included : Blue/Pink/Gold)
18 Table signs to welcome your guests, present food , favors ... and much more also available in 3 colors.
45 fun and unique games and activities not only to break the ice but also to inspire a whole lot of laughter and fun
4 different tags with different sayings & colors , to put on favors and prizes.
24 editable invitations that you can you can personalize in a few simple clicks.