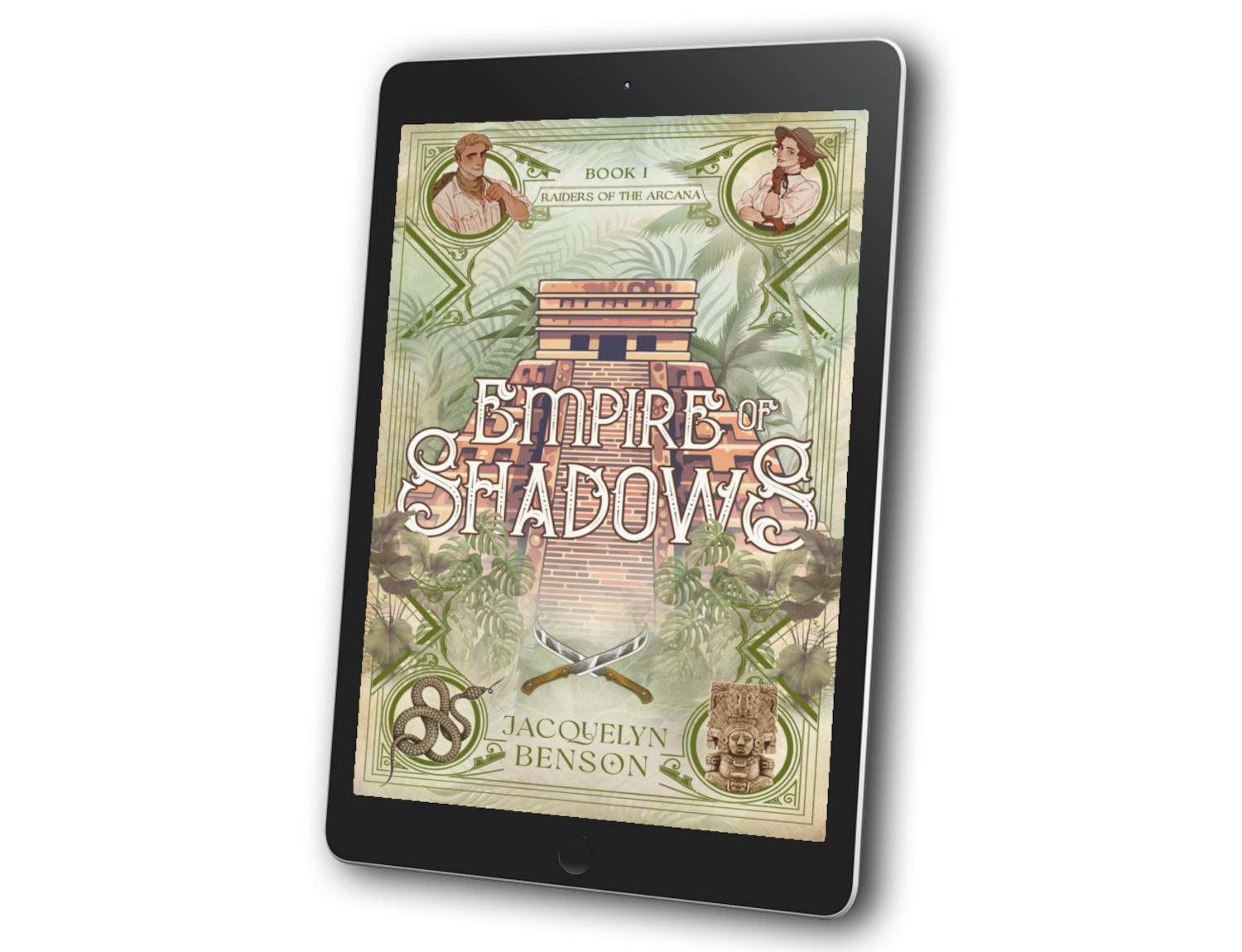 Empire of Shadows Ebook - with preorder bonuses!
Actual cover to be revealed on November 13! Book releases April 2, 2024.
Ebook edition of Empire of Shadows, Book 1 of the Raiders of the Arcana.
Special preorder bonus!
Order your copy before April 2, 2024, and receive two bonus downloads:
Digital image of Ellie's map
The infamous snake-wrangling scene from Adam's point of view
Ebooks will be delivered via the Bookfunnel platform on April 2, 2024, when you will receive a link to access your book. Books can be read on Bookfunnel, or Bookfunnel will facilitate delivery to your preferred e-reading device.
---
Nice Victorian ladies don't run off to find legendary lost cities.
One trifling little arrest shouldn't have cost Ellie Mallory her job, but it's only the latest in a line of injustices facing any educated woman with archaeological ambitions.
When Ellie stumbles across the map to a mysterious ancient city, she knows she's holding her chance to revolutionize Pre-Colombian history. There's just one teensy complication. A ruthless villain wants it, and Ellie is all that stands in his way.
To race him to the ruins—and avoid being violently disposed of—she needs the help of maverick surveyor Adam Bates, a snake-wrangling rogue who can't seem to keep his dratted shirt on.
But there's more than Ellie's scholarly reputation (and life) on the line. Her enemies aren't just looters. They're after an arcane secret rumored to lie in the heart of the ruins, a mythical artifact with a power that could shake the world.
Between stealing trousers, plummeting over waterfalls, and trying not to fall in love with her machete-wielding partner, will Ellie be able to stop the oracle of a lost empire from falling into the wrong hands?
Empire of Shadows is the first book in Jacquelyn Benson's smart, swashbuckling Raiders of the Arcana series. Read it now and dive into a rip-roaring historical fantasy adventure perfect for fans of Romancing the Stone and The Mummy.