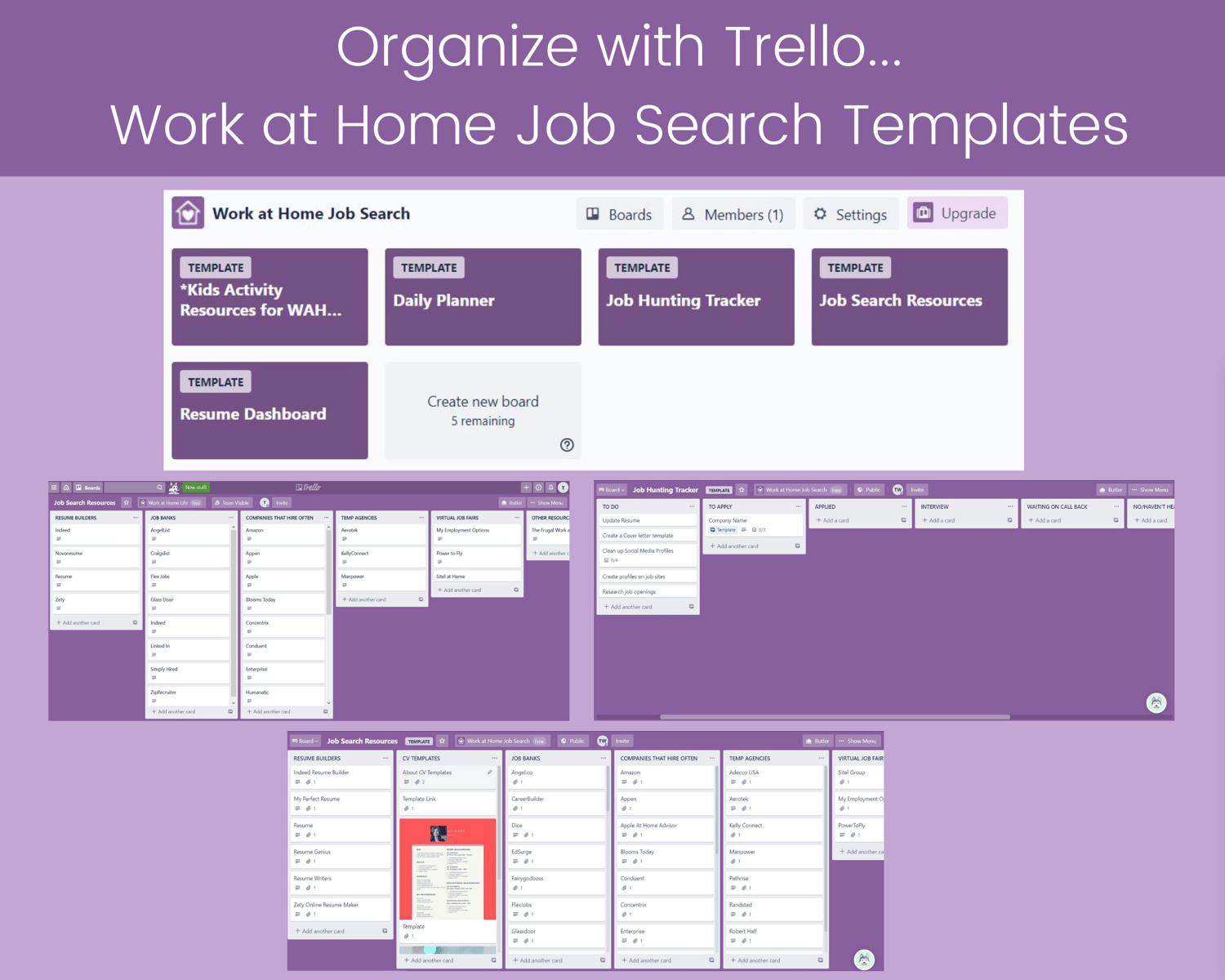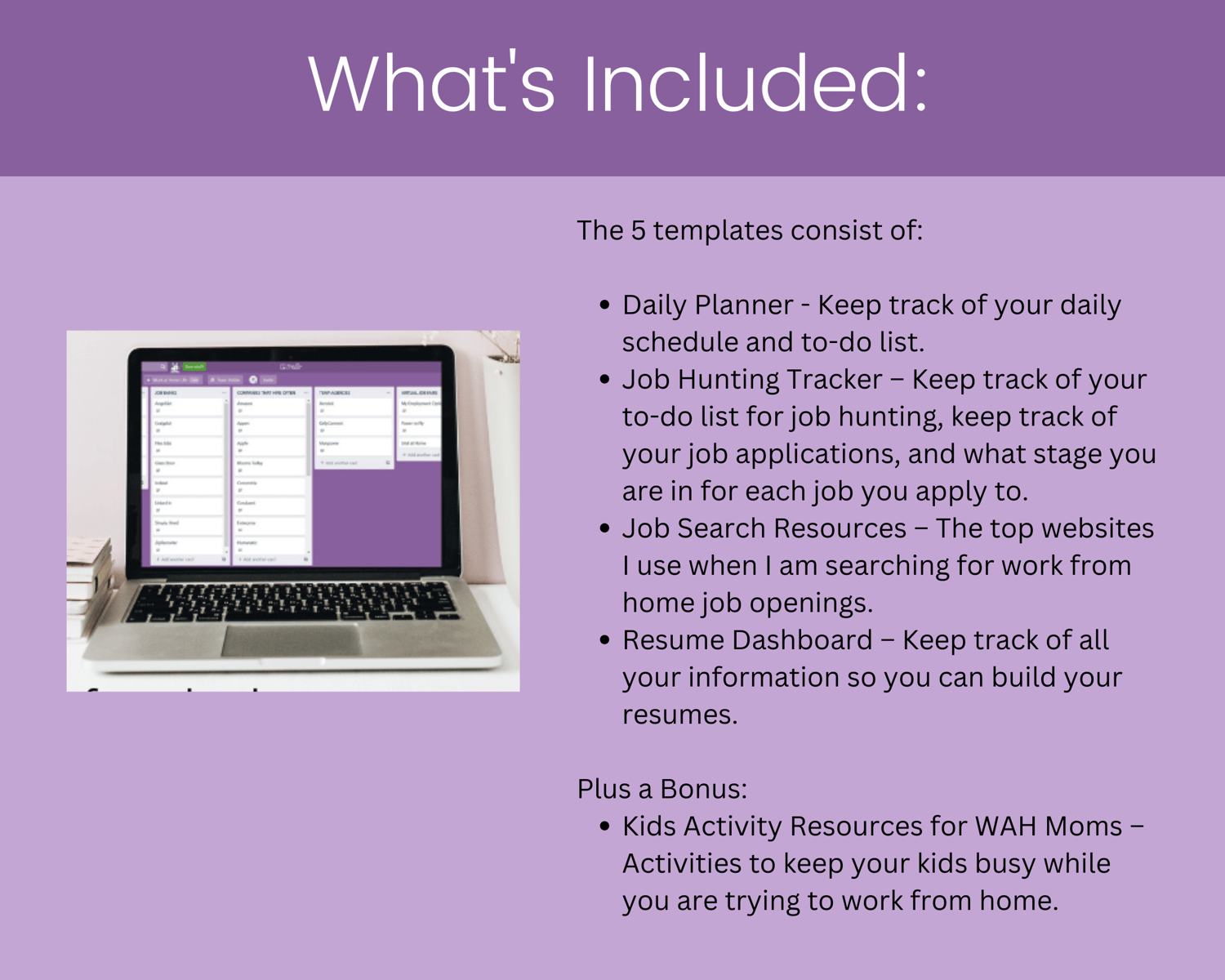 Organize with Trello...Work at Home Job Search Templates
Have you applied for job after job and then not remembered where you applied? Did you keep track of what jobs you applied to or where you are in the process? Is your job search as disorganized as mine was?
That was until I found a system to keep myself organized and more productive. I have been using this system for a while now and it has saved me time, energy, and sanity. I wanted to share with others like you so you can be more productive and stop wasting time.
-Keep track of your personal life and your personal to-do list.
-Keep track of your to-do list before and after you get hired.
-Keep track of where you have applied, including job details like what position, how much it pays, website, and logins.
-Keep track of where you are in the process of a job search. Application filled out, resume sent, a cover letter sent, waiting for an interview, waiting on a callback.
-Resources to resume builders and CV templates.
-Keep track of the details you need for your resumes. Different jobs need different resumes.
-Keep all your important details in one place.
-Resources to many job boards that hire for work at home positions.
What is Trello?
A free online organizational tool.
Available on the web, computer, tablet, and smartphone apps for Android and Apple.
Automatically syncs between your devices and/or teammates.
It is made up of boards, lists, and cards that help you organize information and tasks.
You can organize it as steps in a workflow, categories, or whatever works for you.
It can help you keep track of everything you need to remember in an organized manner.
There are many features like checklists, due dates, calendar views, comments, the ability to add attachments, and so much more.
There are so many things you can do and keep track of in Trello.
♥♥This DIGITAL PRODUCT is an instant download. NO PHYSICAL PRODUCT will be shipped.
♥WHAT YOU GET
The 5 templates consist of:
Daily Planner - Keep track of your daily schedule and to-do list.
Job Hunting Tracker – Keep track of your to-do list for job hunting, keep track of your job applications, and what stage you are in for each job you apply to.
Job Search Resources – The top websites I use when I am searching for work from home job openings.
Resume Dashboard – Keep track of all your information so you can build your resumes.
Plus a Bonus:
Kids Activity Resources for WAH Moms – Activities to keep your kids busy while you are trying to work from home.
♥MATERIALS
This listing is a digital product with instant download. No physical item will be shipped to you. The templates are for Trello. You can create a free account at https://trello.com.
♥HOW TO DOWNLOAD FILES:
Use a web browser on your computer to download the files
Once you purchase, you'll have access to your files immediately
Click the DOWNLOAD button (you will also receive a link to your download in your email)
You will download a pdf with the links to your files
Open the downloaded pdf
Click the link (s) to access your product files
Open your product files
Click "Create Board from Template"
If you don't already have a Trello account you can create one
♥EXCHANGE OR REFUND
Due to the nature of the product being a digital and instant download, there are no refunds. If you have any issues or are unhappy with your purchase, please get in touch with me directly at printables@frugalwahmom.com and I will do my best to provide a solution.
♥LICENSE 
Personal Use License only.
This printable planner is for your own personal use only.
You are not allowed to resell or redistribute the printable.
♥Thank you so much for visiting my shop and supporting my small business!
The Frugal Work at Home Mom
https://frugalwahmom.com