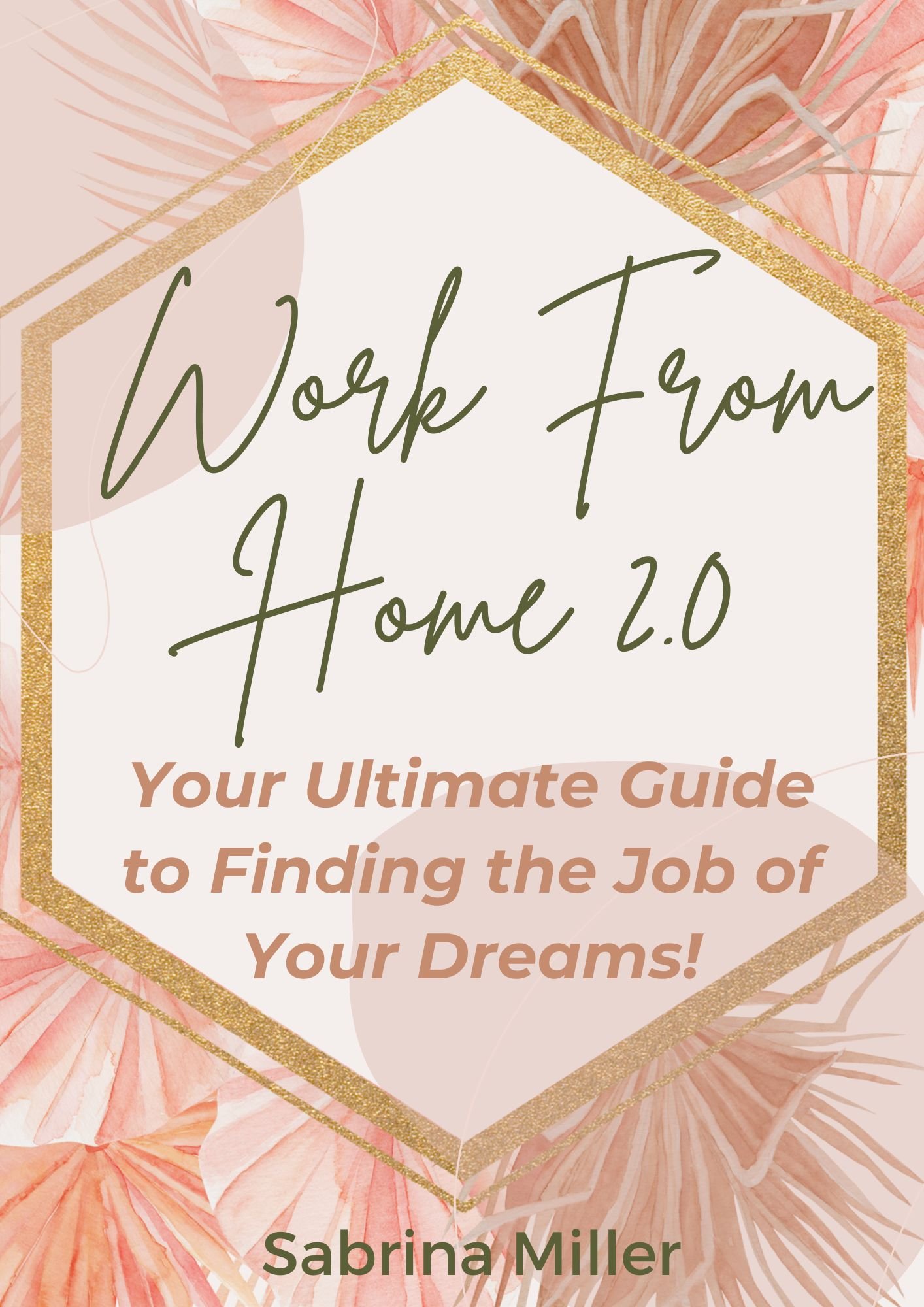 Work From Home 2.0: Your Ultimate Guide to Finding the Job of Your Dreams!
On Sale
THIS IS A DIGITAL BOOK WITH NO PHYSICAL COPY
due to the Nature of the book, Sorry, NO REFUNDS
Hey Virtual Besties!
Are you tired of the traditional 9-to-5 grind? Do you dream of finding a job that allows you to work from your home? Look no further because I've got the ultimate guide just for you! Introducing "Work From Home 2.0: Your Ultimate Guide to Finding the Job of Your Dreams!"
In this book, I've compiled all the insider secrets and expert advice you need to successfully land a work-from-home job and embark on an exciting new career journey. Here are some of the highlights you can expect:
Steps To Successfully Getting A Work From Home Job: I'll walk you through the entire process of securing a work-from-home job, from creating a compelling resume to acing virtual interviews. Say goodbye to long commutes and hello to a flexible work-life balance!
How to Successfully Change Careers with No Experience: Worried about switching industries? Fear not! I'll show you how to leverage your transferable skills and smoothly transition into a new field, even if you don't have direct experience.
How Learning New Skills Helps You Get the Job of Your Dreams: Discover the power of continuous learning and how acquiring new skills can open doors to exciting work-from-home opportunities. I'll guide you on the most effective ways to develop your skillset and stand out from the competition.
How to Search for Work From Home Jobs: Uncover the best strategies and platforms for finding remote jobs tailored to your interests and qualifications. Say goodbye to tedious job searches and hello to a curated list of over 200 work-from-home jobs across various industries!
Now, let's talk about those job listings. For each of the 15 career fields mentioned, I provide an in-depth description of the job and the certificates, skills, and qualifications required to excel in that particular role. You'll also find the keywords you need to use when searching for these jobs and a list of the best websites to apply on.
But that's not all! I've included step-by-step instructions on navigating the application process and increasing your chances of landing your dream job. Plus, you'll find invaluable tips and tricks specific to each career field to help you hit the ground running.
So, whether you're interested in healthcare and medicine, technology and IT, business and finance, or any other exciting industries, "Work From Home 2.0" has got you covered!
Prepare to wave goodbye to the traditional office setting and say hello to a fulfilling work-from-home career. It's time to take control of your professional life and create the lifestyle you've always wanted. Grab your copy of "Work From Home 2.0: Your Ultimate Guide to Finding the Job of Your Dreams!" and let's embark on this exciting journey together!
Remember, Virtual Besties, your dream job is just a few pages away!
Highlights of Work From Home 2.0
Steps To Successfully Getting A Work From Home Job
how to successfully change careers with no experience in it 
how to learn new skills to help you to get the job of your dreams. 
How to Search for Work From Home Jobs
Over 200 Jobs Across Various Career Field Industries:
Healthcare and Medicine
Technology and IT: 
Business and Finance:
Education: 
Arts and Entertainment:
Engineering: 
Legal and Law: 
Social Services:
Science and Research: 
Marketing and Advertising: 
Hospitality and Tourism: 
Government and Public Service: 
Sports and Fitness: 
Media and Communications: 
Environmental and Sustainability: 
For Each Job
Description
what certificates are needed, and if so,
skills and qualifications needed for
keywords needed to search for
What sites to apply
steps on how to successfully get the job
best tips
This book goes perfectly with my first Work From Home, which features over 150 jobs and companies you can work from home.