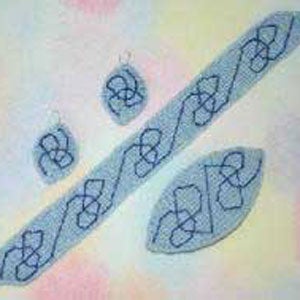 Celtic Blues
On Sale
£4.15
The Celtic Knot is one of the best known motifs in Celtic jewellery and art.  The delicate twists and turns are found in ancient stone art and tattoos, in illuminated manuscripts - in fact, just about anywhere the Celtic people have travelled.
Similar designs exist in Norse culture, and as far as China.
I have only used some of the simplest but I am really pleased with the effect.
Materials:  Each set has the approximate individual amounts used for that set.  Please make sure you buy plenty is using Perle rather than Petra.
All jewellery findings are available from good suppliers or on eBay.  When using the hoops for the earrings in the 3rd set, make sure you fix the ends firmly before starting. 
They are made to come apart to thread beads on.
Equipment: 1.50mm hook, Needle for sewing in ends.
Tension: Using Perle No.5 and 1.50mm hook, 18 dc and 19 rows to 5cm square.