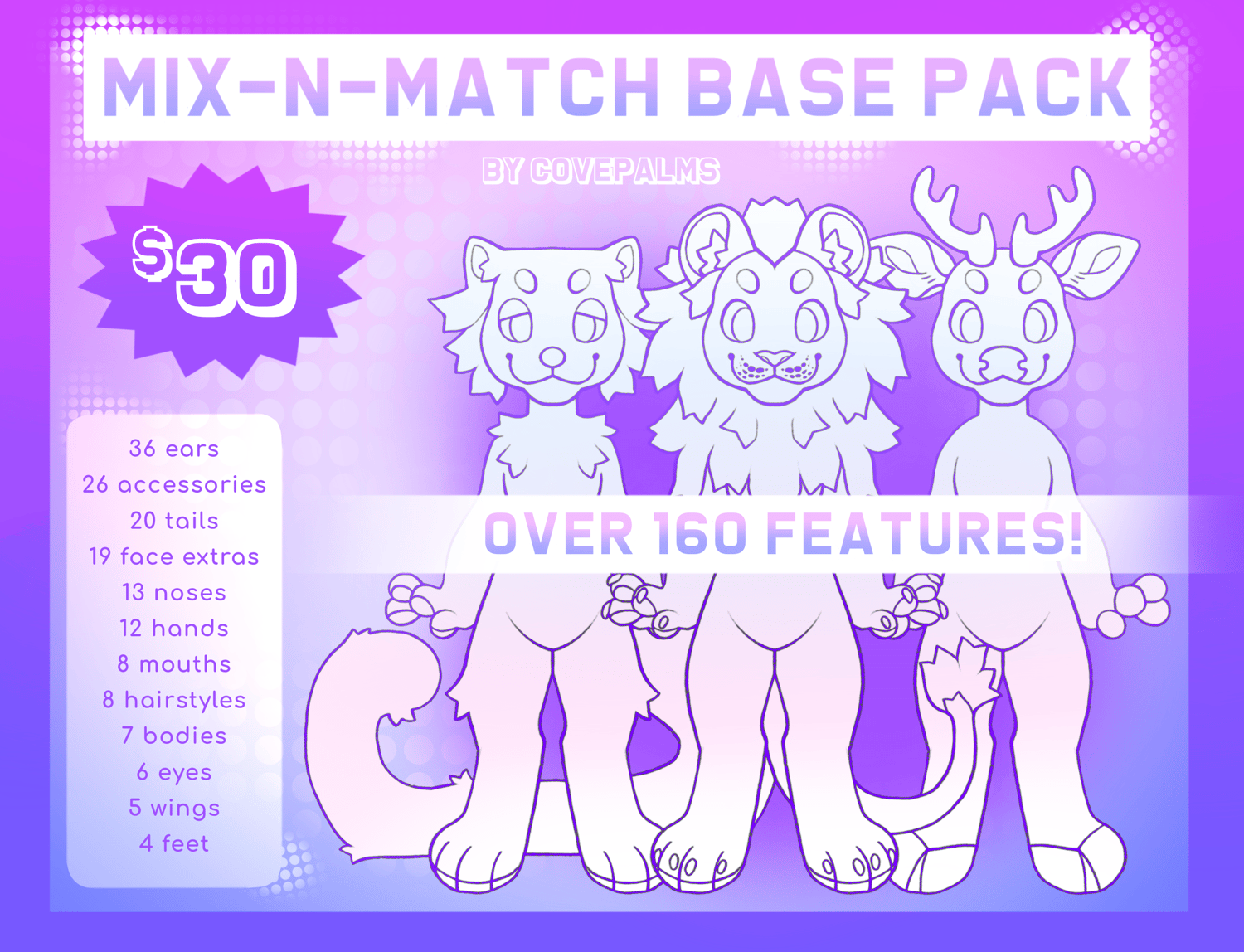 Mix-N-Match Base Pack
On Sale
With thousands of combination possibilities, this mix and match pack has nearly everything you're looking for in a fursona creator! 
Neatly sorted into 12 PSD files, this base pack includes:
36 ears
26 accessories
20 tails
19 face extras
13 noses
12 hands
8 mouths
8 hairstyles
7 bodies
6 eyes
5 wings
4 feet
Scroll to bottom of description for a complete in-depth detailed list of everything included!

Rules:
You must credit me for the lines in the description/caption ("lineart by covepalms" is perfect!) OR credit me for the lines in the art itself (must be clearly visible in easy to read color and font)
These bases are condensed into PSD files, rather than my other bases, which come in individual PNGs. This should be compatible with any art program that can open PSD files. It is your responsibility to make sure your art program can import PSD files! Once purchased, I do NOT allow refunds due to your program not being able to import the files. 
You may edit the lines however you like, as long as you still credit me for the original
You may NOT resell or redistribute any of the lines from the base pack. If someone wants to use it please direct them to me or send them a link to this listing!
You may ONLY use this pack if you have purchased it. You may NOT share the files with friends or anyone other than yourself. If you purchase a copy you are the ONLY person allowed to use the files. If a friend wants to use them they must buy their own copy, OR you can purchase a gift code from me by contacting me on Instagram or telegram.
You may use this base to color in for your own character, to sell adoptable designs on, or to take custom design commissions on. Both personal use and for-profit use are allowed as long as you're following the above rules!
It's not required, but please feel free to tag my social media in whatever you use the base for, I love to see what people make on my bases and often boost them on my story! 
If you have difficulty downloading the files, send me a DM on instagram (@covepalms) with proof of purchase for help! A few customers have reported the site refreshing before they were able to download the files they purchased, and I want to make sure everyone receives their product <3
By purchasing this base you are acknowledging you have read the rules and agree to follow them.
FILES INCLUDED: 
-Lynx
-Fennec
-Droopy smooth
-Droopy curly
-Cropped short
-Cropped thin
-Cropped tall
-Deer 1
-Deer 2
-Bat
-Manokit
-Red panda
-Hyena 1
-Hyena 2
-Hyena 3
-Mouse
-Dutchie 1
-Dutchie 2
-Small round
-Small pointed
-Shiba
-Canine pointed
-Canine 1
-Floppy 1
-Floppy 2
-Dobby 1
-Dobby 2
-House cat 1
-House cat 2
-House cat 3
-Big cat 1
-Big cat 2
-Big cat 3
-Bunny down
-Bunny up
-Cow
-Hoodie
-Tshirt
-X harness
-Ferret harness
-Y Harness
-Bulldog Harness
-Top surgery scars
-Bandaid nose bridge
-Bandaid flat
-Dew claws 1
-Dew claws 2
-Tummy nips
-Pride flag
-Septum ring
-Glasses arched
-Glasses rectangular 
-Glasses round
-Head sprout 1
-Head sprout 2
-Head sprout 3
-Binder
-Necklace
-Bandana
-Flower
-Normal collar
-Spike collar
-Leopard gecko
-Lion
-Cat smooth
-Reptile
-Nine tails
-Mouth
-Demon
-Shark
-Otter
-Floor Dragger
-Fluffy fox
-Smooth fox
-Low scruffy
-Rat
-Big low curl
-Big fluffy
-Dutchie 1
-Dutchie 2
-Dutchie 2 spikes
-Cow
-Pumpkin head
-Skull head
-Lion mane
-Dutchie face spikes
-Tomgue
-Unicorn corn
-Deer antlers 1
-Deer antlers 2
-Deer antlers 3
-Bull horns
-Ram horns
-Long horns
-Nub horns
-Bunny teeth
-Small fangs
-Saber teeth
-Muzzle ovals
-Whisker dots
-Whiskers
-Deer
-Bat
-Small critter
-Small 
-Bear
-Manokit
-Nostrils point
-House cat
-Big cat
-Cow
-Nostrils round
-Bunny
-Oval
-Bat wings
-Bat wings 2
-Wings
-Feathers
-Flippers
-Hooves 1
-Hooves 2
-Hooves 3
-Paws Big Claws
-Pads n claws
-Pads
-Smooth
-Beak Owl
-Beak Round
-Beak Flat
-Wiggly
-Parted
-Neutral
-Droopy smile
-Smile
-Curly
-Short bangs
-Dreads
-Scene 1
-Scene 2
-Fringe
-Bun
-Mohawk tuft
-Thick Chubby
-Thick
-Fluffy Chubby
-Fluffy 1
-Fluffy 2
-Bare Limbs
-Smooth
-Bored
-Angry
-Sleepy
-Squint
-Happy
-Normal
-Dragon large
-Dragon mini
-Chibi (feathered)
-Medium (feathered)
-Small (feathered)
-Hooves cloven
-Paws pads n claws
-Paws pads
-Paws smooth