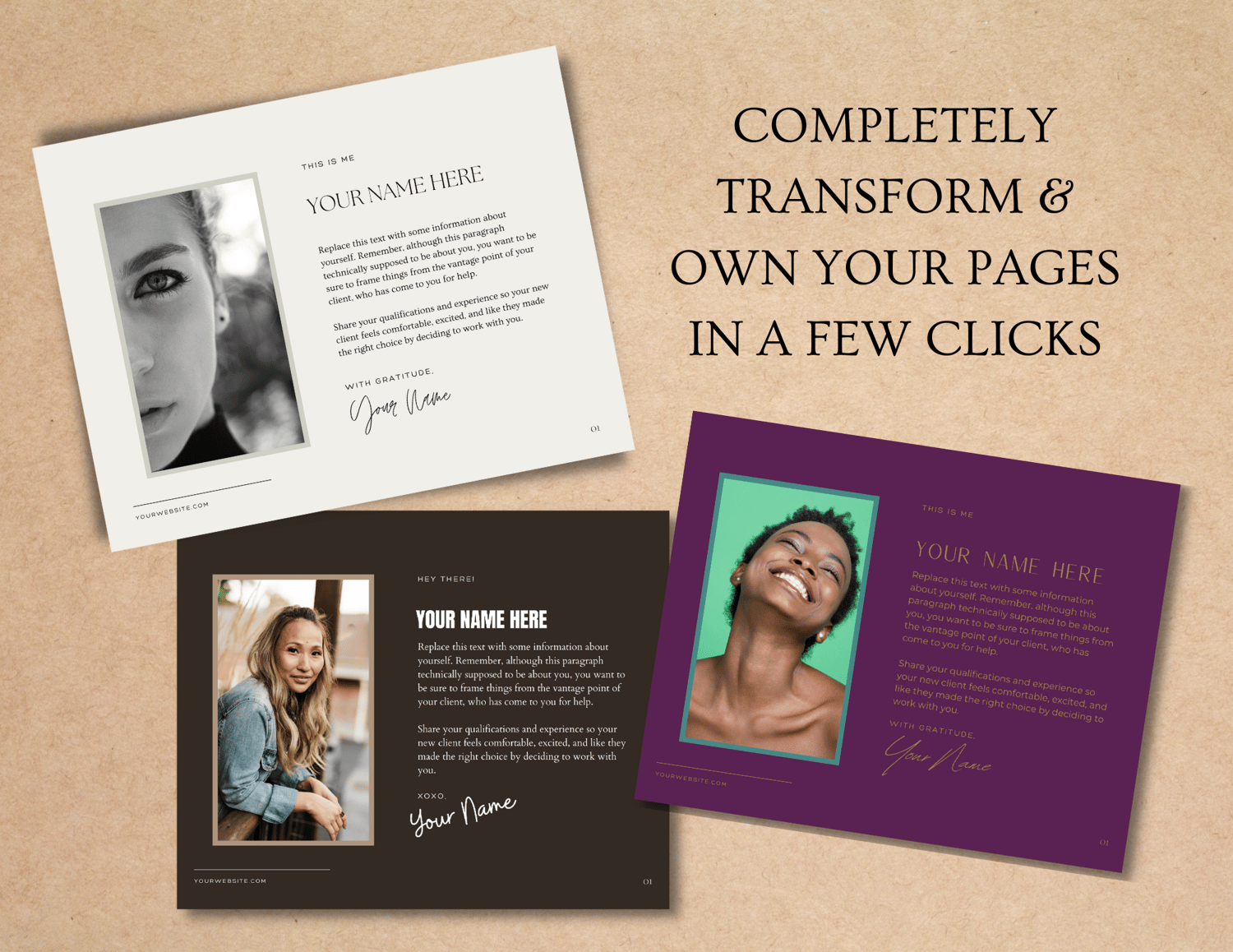 Client Welcome Packet | Sage [H]
Coaches, Consultants, and Service Providers of all stripes... this one's for you.
If you work with clients in any capacity, this is a must-have. The Client Welcome Packet is loaded with individually designed pages, each with a unique and meaningful purpose. It outlines absolutely everything your new client needs to know. Plus, it looks professional and is a beautiful way to welcome someone into your professional world. And because it's a reusable template, you'll save time, stay consistent, and can be sure you don't leave anything out. All the designing is done for you. Just customize, download, and send. 
USE THIS GUIDE TO
Welcome new clients to your business
Introduce yourself and your team
Set communication preferences
Lay out the project timeline
Manage expectations
Set boundaries
Outline the project scope
Answer questions and upsell
Share deliverables and resources
...and more
SO YOU CAN
Make a stellar first impression
Instill confidence that your new client made the right choice in hiring you
Save time and energy
Have more time to work on (and in) your own business
Position yourself as an expert
Have consistently branded, professional collateral
FEATURES
Edit using the free desktop version of Canva
Change fonts, colors, imagery, and design elements
Choose your own layout by duplicating, removing, and rearranging pages to suit your needs
No design skills necessary. Just customize, download, and share
Reusable for multiple clients
Free lifetime updates

SPECS
Size: US Letter (11 x 8.5")
Style: Sage
Layout: Landscape
You can find the portrait version of this guide HERE.

Includes these 30 customizable templates to help you create a branded welcome kit in no time:
2 Cover page layouts
1 Introduction to the Project page
2 About Me layouts
3 Meet The Team layouts
2 Client Expectation layouts
2 Process layouts
3 Timeline layouts
2 FAQ page layouts
2 Deliverables layouts
1 Communication + Office Hours page
2 Quote page layouts
1 Bonuses page
2 Upgrades layouts
2 Upsells layouts
1 Client Resources page
1 Terms + Conditions page
1 Let's Get Started/Kickoff page

NOTE
Due to licensing restrictions photos are not included, however Canva has thousands of free images to choose from or you can upload your own imagery. I used free Canva fonts in this design, or you can select your own fonts. I included professional copy and copywriting prompts throughout the guide for you to use.

By purchasing this guide you agree to these Terms & Conditions.