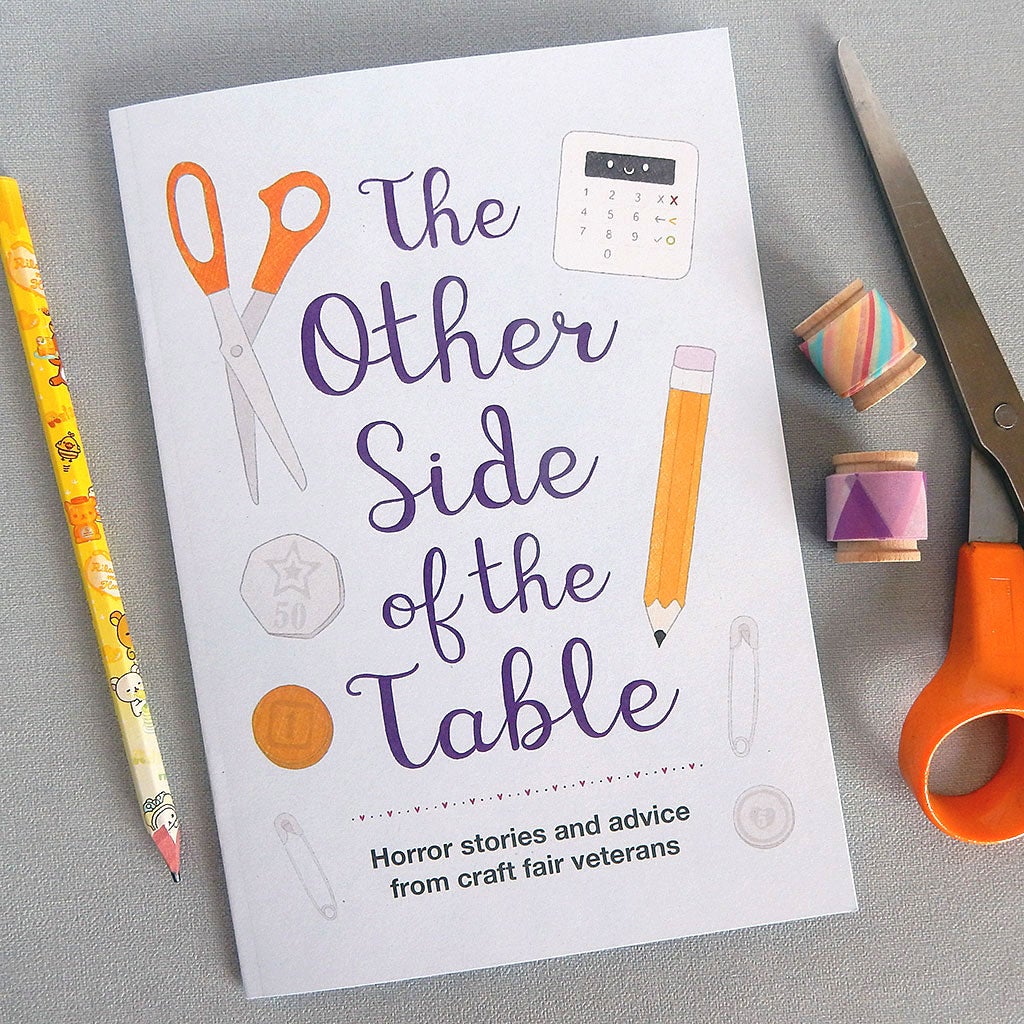 The Other Side of the Table - Horror Stories and Advice from Craft Fair Veterans
On Sale
£2.00
This zine tells all from the other side of the table, from nightmare customers and disastrous events plus how to avoid making the same mistakes yourself.
Digital PDF to read on mobile devices
Original writing and illustrations
Instant download
Also available as ebook or print zine.
Whether you're preparing for your first craft fair, an old hand at setting up your stall or just a happy customer, you'll enjoy these hilarious tales from our craft fair veterans. If you didn't laugh, you'd cry.
Myself and Claire (of The Bellwether) have been selling our wares at craft fairs for over ten years. In this zine we share our worst experiences for your amusement plus tips on how to avoid a bad craft fair and be a good customer or organiser. We also rounded up some friends for even more stories and advice.
Your download also includes a printable fun activity section with colouring in, quiz and BINGO. Buy a copy and you'll never be bored out of your mind at a poorly-attended craft "fayre" again.
Contents:
Craft Fair Horror Stories
How to Choose Your Market with Anna of Custom Made
Essential Craft Fair Kit
Colouring Sheet
Craft Fair Hell Bingo
Craft Fair Quiz
Our Worst Craft Fairs
#RUBBISHCRAFTFAIR by Sally of Hand Over Your Fairy Cakes
How To Be A Good Craft Fair Customer
How To Be A Good Craft Fair Organiser
+ bonus content: Ice Breakers & Day in the Life of a Zine Fair
16 pages in full colour. The PDF is set up for viewing on screen in a PDF reader such as Adobe Acrobat Reader or Preview, as well as on e-book readers. It can also be printed but as individual pages, not as a booklet.
Personal use only - do not resell, distribute or share these files or their content without my permission.
Print copies are available from
Asking For Trouble
. Ebook editions can be purchased directly from all the major ebook sellers including
Amazon/Kindle
,
Apple iBooks
, Nook, B&N and more.