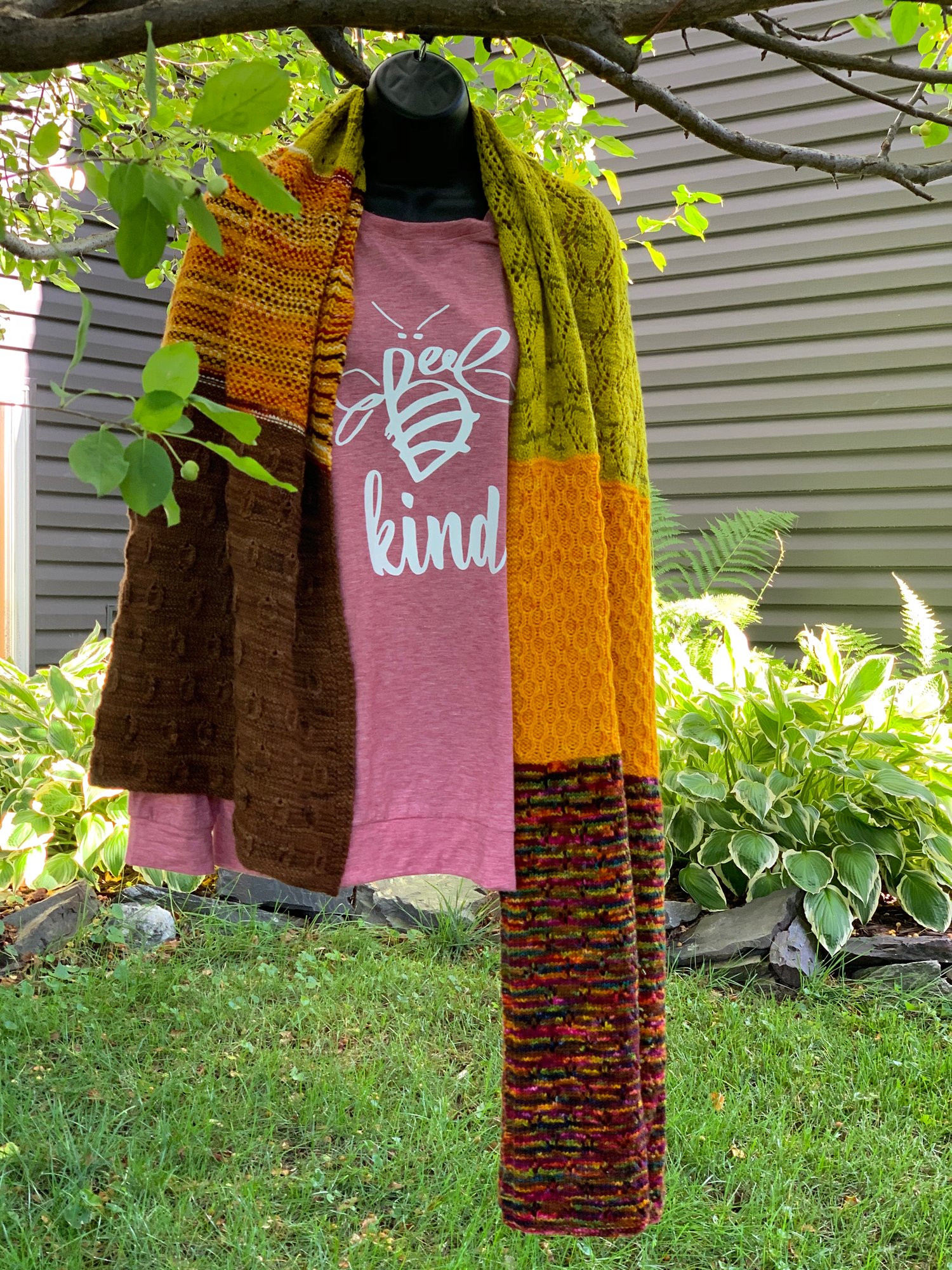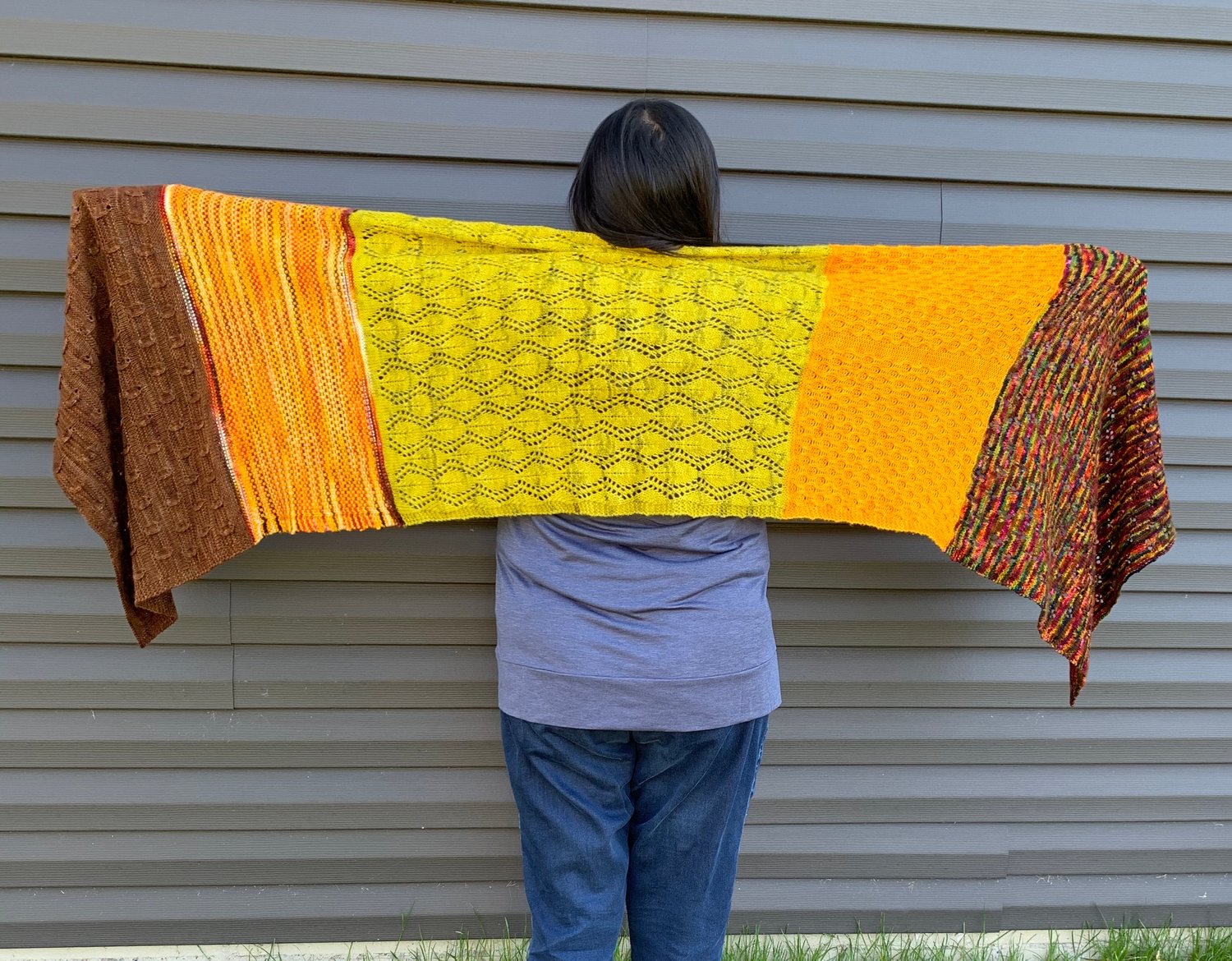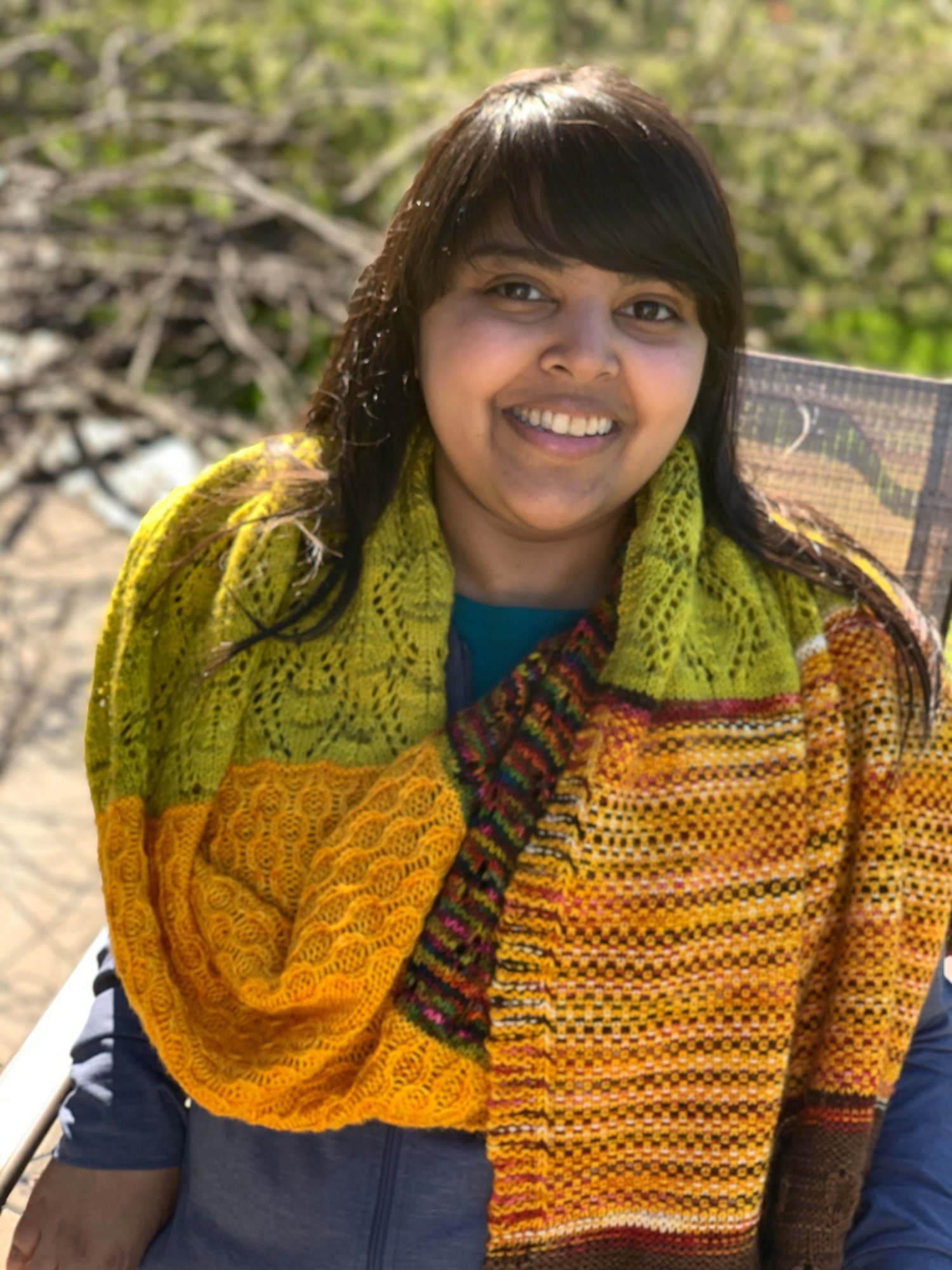 What's the Buzz Wrap
On Sale
$12.00
Pay What Works: In order to make knitting more affordable & available to everyone, I'm pleased to offer a variety of prices. The price listed represents the actual value of the pattern and factors in my work, yarn/editing/testers fees. Use the code next to each price at checkout (prices listed are what you'll pay, not the amount discounted).
BUZZ1
: $6.00
BUZZ2
: $7.20
BUZZ3
: $9.60
NO CODE
: $12.00
What's the Buzz is inspired by the Art in Bloom event at the Minneapolis Institute of Arts (Mia). Each year, florists choose their favorite work of art & create matching floral arrangements. One of my favorite paintings is "Tempest in Yellow" by Dorothea Tanning. In 2017, a florist used a vase with a hexagonal texture that captured the movement and fractured look of the painting. Little did I know that a neat vase had a more significant meaning. A volunteer overheard me oohing over the painting and told me it also represented the beehives on Mia's rooftop! Even cooler, not only does Mia sell the honey harvested from the hives, the bees help keep the local area healthy and increase the overall bee population.
My What's the Buzz Wrap is a visual thank you to Mia and all the people working tirelessly to save the world's bee population. The color palette and textured stitches represent the fall (the busiest time for bees) and serve as a reminder: we may not always notice or appreciate bees, but they play a huge role in pollinating our food crops and help keep our ecosystems healthy.
A portion of the total profits made will be donated to Mia so they can continue to keep the hives healthy and share the arts with schoolchildren all over Minnesota.
Yarn:
Sport weight yarn (3 ply). Total yardage from test versions was 2,850 yds/2,606 m
Yarn used: Knitted Wit Sport (380 yds/347.5 m per skein; 1.5 skeins per color).
I suggest using a yarn with some wool so each section blocks nicely. Solids, semisolids and tonals will work best for most of the sections, but a speckled or variegated colorway will work for the quatrefoil section.
Colors used:
-Autumn version: Autumn Rainbow, Pollen, Golden Delicious, Dancing Queen, Tree bark
-Bright version: Liberally Bleeding Heart, Study Hall, Cedar, Turquoise, Orchid
Materials needed:
US 6/4 mm 20"/50 cm circular needle, or size to obtain gauge
Cable needle or US 6/4 mm DPN
4 ring stitch markers in 2 different colors
Darning needle
Spare yarn for lifelines (optional)
Wrap size, blocked:
Autumn version: 83" x 23"/211 cm x 58 cm
Bright version: 80" x 16"/ 203 cm x 41 cm
Skill level: intermediate. Pattern is both written & charted.
Skills needed:
cabling (1/2LPC & 2/1RPC)
cast on & bind off
decrease 5 sts to 1 st
increase 1 st to 5 sts
k2tog
knit & purl
ssk
slipping stitches with yarn in front & slipping stitches with yarn in back
yarn over
Pattern has been tech edited & tested. I would love to see your finished design! Please tag me @rasmusknits and use the hashtags #whatsthebuzzwrap #rasmusknits & #kwfallsportcollab