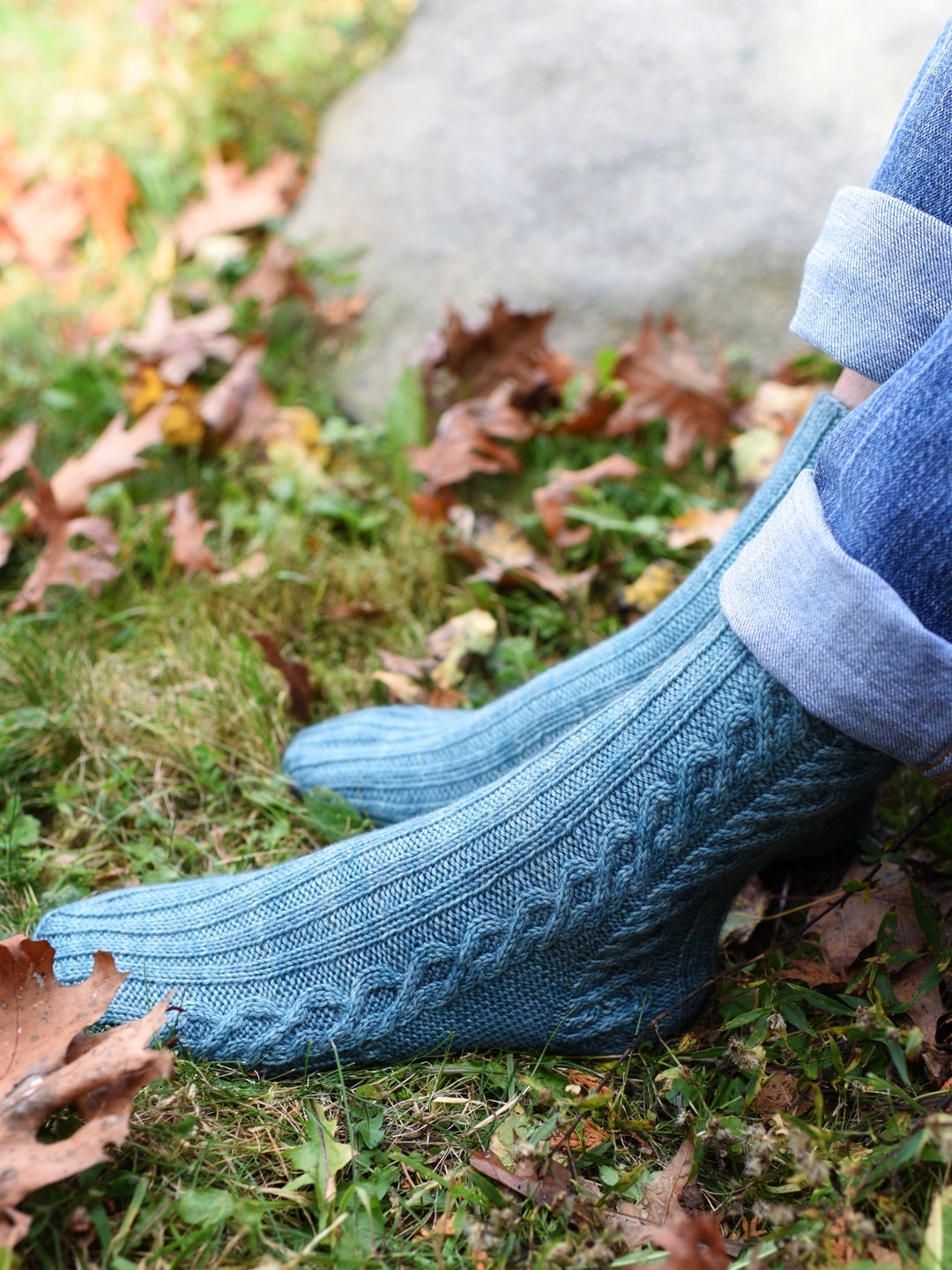 Cleave
On Sale
$8.00
---
Cleave verb split or sever, especially along a natural line or grain

---
These socks start out like a standard top-down sock, but things take a little twist when you get to the heel. Instead of setting half the stitches aside and working a heel flap on the other half, you'll keep working in the round, increasing at the beginning and midpoint of the round to form the heel flap and gusset. Then you'll switch to working in rows to turn the heel and work a bit of the sole. Finally, you'll resume working in the round again to finish off the foot.

This construction is comfy and looks great, but it also eliminates the need to pick up stitches along the sides of the heel flap (a process that many knitters dislike). Also, if your socks tend to wear out under the heel (as mine so often do), you can easily carry a reinforcing thread along with your yarn when working the section in rows for added durability. If you've only ever made top-down socks with heel flaps in the past, this approach is a simple, nonthreatening way to branch out into another type of construction.

But don't worry, if you're feeling like different is hard (and really, we all have those days), there's a variation included in the individual version to let you work them with a traditional heel flap. Because really, that cable is pretty enough to carry the show without any extra fancy bits!

---
They're written in five sizes (56, 64, 72, 80, and 88 stitch cast ons) to fit most anyone. And of course you should feel free to adjust your gauge a bit to fine tune the fit of the sock. Just be sure that you're working at a gauge that gives you a sturdy sock fabric with your chosen yarn!

I recommend working at something around 7, 8, or 9 stitches per inch, and I've included a table to help you figure out what gauge you'll want to use for the size you need. With that range of sizes and gauges, the socks will fit a foot (measured around the ball of the foot) between 6.75 and 13.75 inches (with lots of points in between).

---
These are perfect for you if:
- You want to play with a fun way to put socks together...but without letting things get too wild
- You share my fondness for that beautiful cable

They're not for you if:
- You don't like charts (the pattern uses charts)
- You hate swatching (you need to swatch to check your needle size)

---