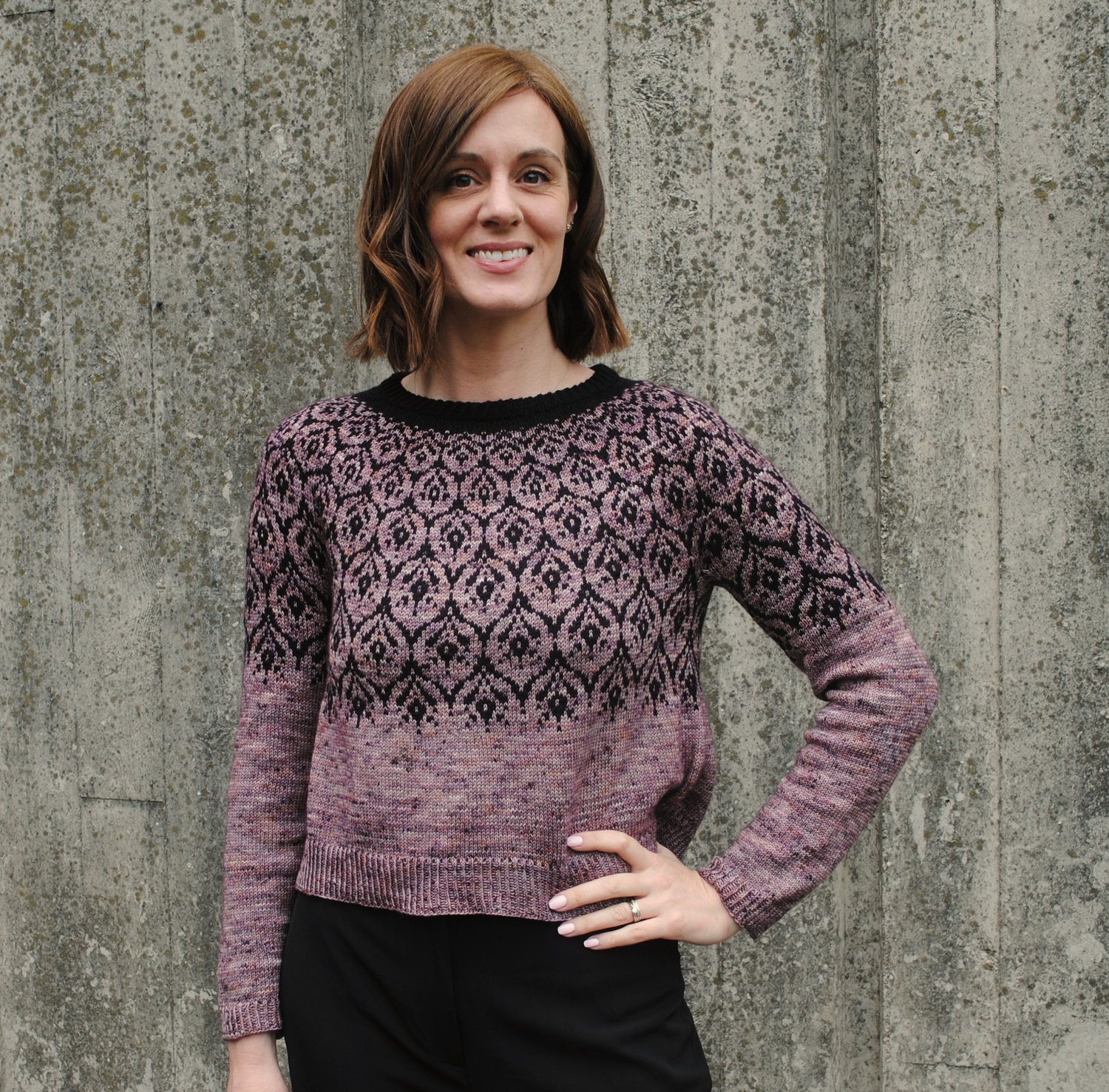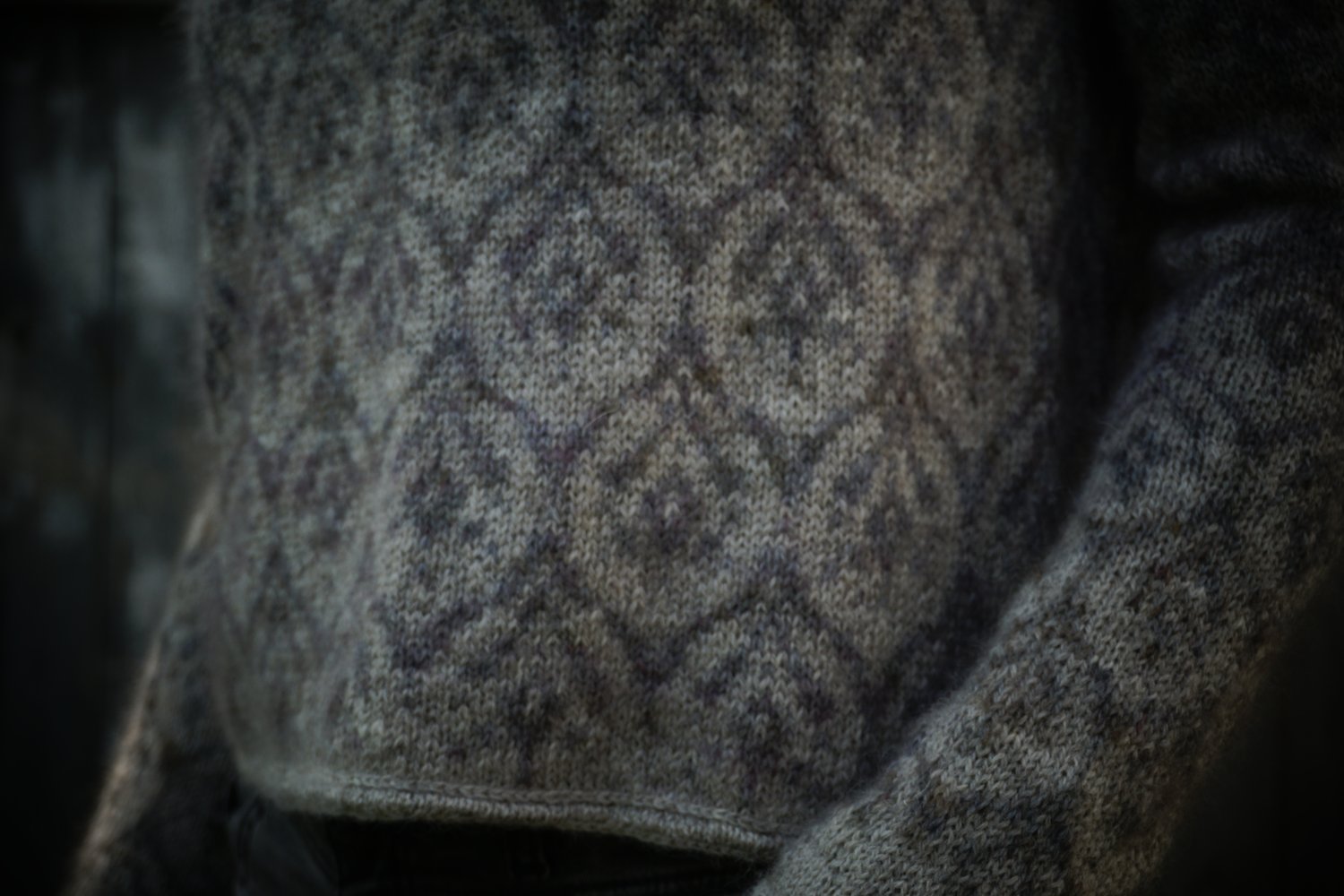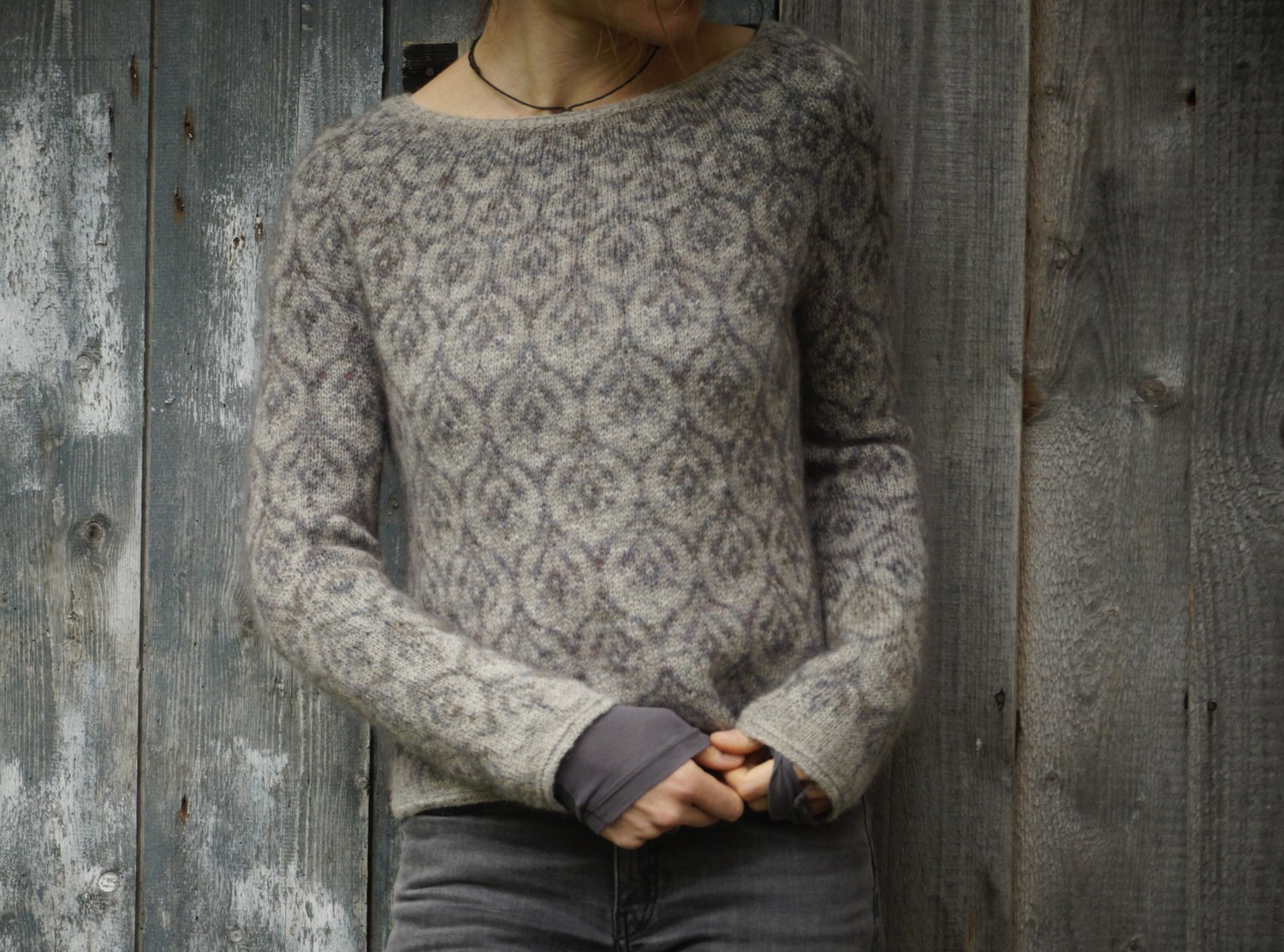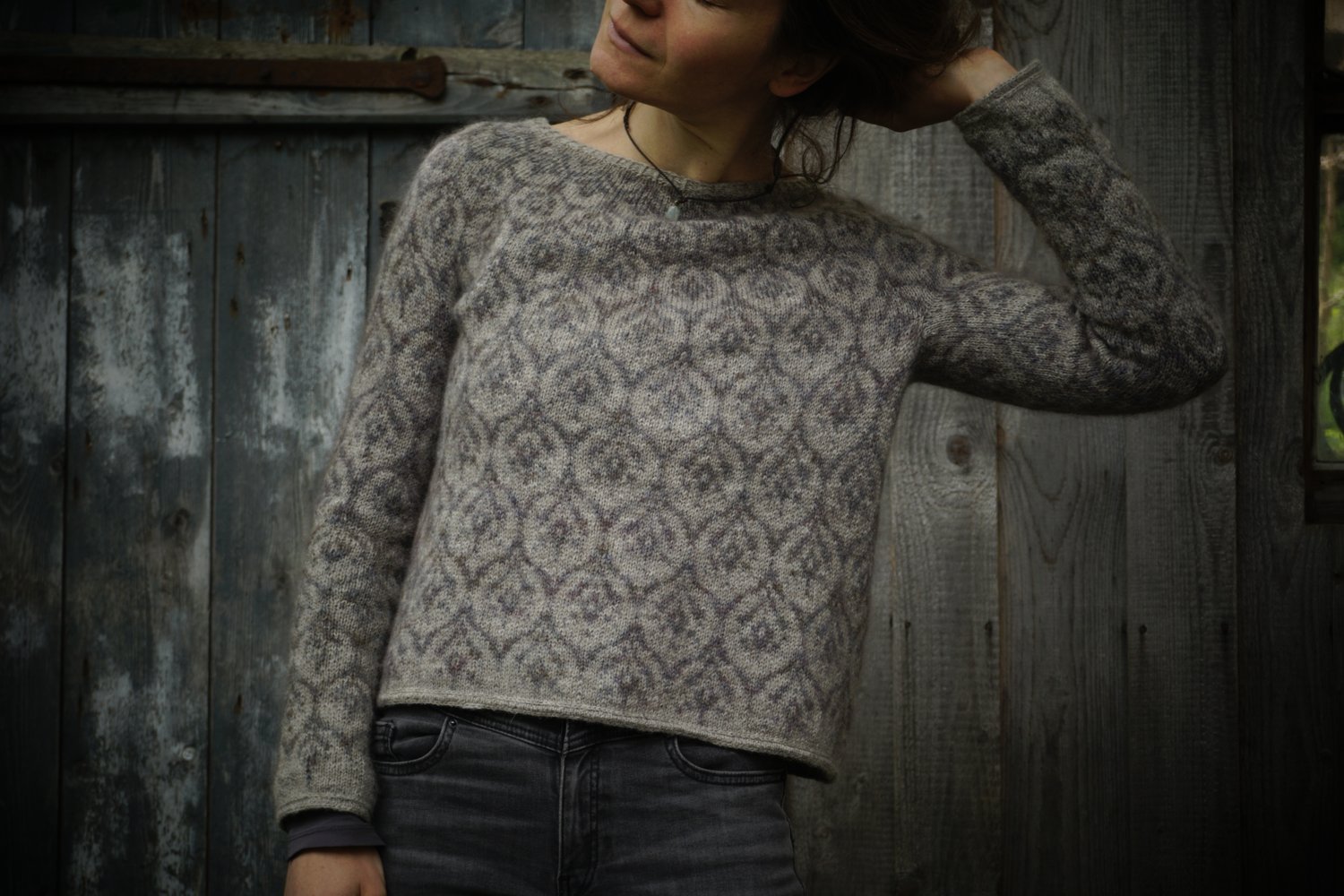 A Game of Croquet
On Sale
A Game of Croquet is inspired by a piece of music of the same name by Icelandic composer Jóhann Jóhannsson used in the film The Theory of Everything. It's a beautiful and emotive piece, with repeated undulating phrases accompanied by longer, slow-changing chords.
CONSTRUCTION
This garment is worked top-down, in the round. The neckband can be worked in either the main or contrast colour, after which short row shaping is incorporated to optimise fit. The majority of the yoke features a stranded colourwork pattern. Once the yoke is completed, stitches are separated into body and sleeves, which are each worked separately and in the round. The stranded colourwork pattern is worked in the upper body and sleeves, then the remainder of each is worked in stockinette to the waistband and cuffs. Included in the pattern is an option to extend the colourwork through the majority of the body and sleeves, if preferred.
Photographs of the extended colourwork version courtesy of Ravelry user Animuk.
SAMPLE
The wearer is 5'10" / 178 cm with a 37" / 92.5 cm chest circumference. The sample has been worked in size L, giving the wearer 10" / 25 cm of positive ease at the chest. To allow for the wearer's height, the yoke has been worked to a depth of 8.5" / 21.5 cm and an extra 1" of length has been worked into the body and sleeves. The sleeve extension has not been worked, reducing upper sleeve circumference by 1.25" / 3 cm. The neckband has been worked with the contrast colour.
SIZING GUIDE
This garment is graded into sizes XS (S, M, L, XL) (2XL, 3XL, 4XL, 5XL). Recommended positive ease is 3-10" / 7.5–25 cm at the chest circumference.
Finished Garment Chest Circumference:
33.25 (38.75, 41.5, 47, 49.75) (55.5, 58.25, 61, 63.75)" /
83 (97, 104, 117.5, 124.5) (138.5, 145.5, 152.5, 159) cm.
GAUGE
Using 3.25 mm / US size 3 needles, or needle size required to meet gauge, 26 stitches over 32 rounds in both stockinette stitch and colourwork, blocked, creates a 4x4" / 10x10 cm square.
Neckband, waistband and cuff circumferences assume you are working 7 sts per 1" / 2.5 cm.
YARN
This design is suitable for sock weight yarn.
The sample's Main Colour is The Camel's Yarn's Standard Sock base (75% Superwash Merino / 25% Nylon; 425 m / 465 yds per 100 g) in colourway Wych Elm.
The Contrast Colour is Mothy and the Squid's sock yarn (75% Superwash Merino / 25% Nylon; 420 m / 459 yds per 100 g) in colourway Aubergine.
YARDAGE (includes ~10% excess)
Main Colour:
764 (857, 950, 1054, 1144) (1240, 1312, 1378, 1414) metres /
836 (938, 1040, 1153, 1252) (1357, 1435, 1508, 1547) yards /
180 (202, 224, 248, 269) (292, 309, 324, 333) grams
Contrast Colour:
342 (386, 429, 473, 510) (557, 564, 587, 605) metres /
374 (422, 469, 517, 558) (609, 616, 643, 662) yards /
80 (81, 101, 111, 120) (131, 133, 138, 142) grams
TOOLS & NOTIONS
2.75 mm / US size 2 circular needles (to work neckband, cuffs and waistband; varying cable lengths would be helpful)
3.25 mm / US size 3 circular needles (to work yoke, body and sleeves; varying cable lengths would be helpful)
1 marker
scrap yarn
tapestry needle to weave in ends
SKILLS REQUIRED
-long tail cast on
-joining and working in the round
-working half-twisted ribbing
-working left and right lifted increases
-German short row shaping
-reading colourwork charts
-working stranded colourwork with two colours
-long tail cast on with two colours
-working a repeating pattern of decreases
-decreasing using K2tog and SSK
-standard bind off