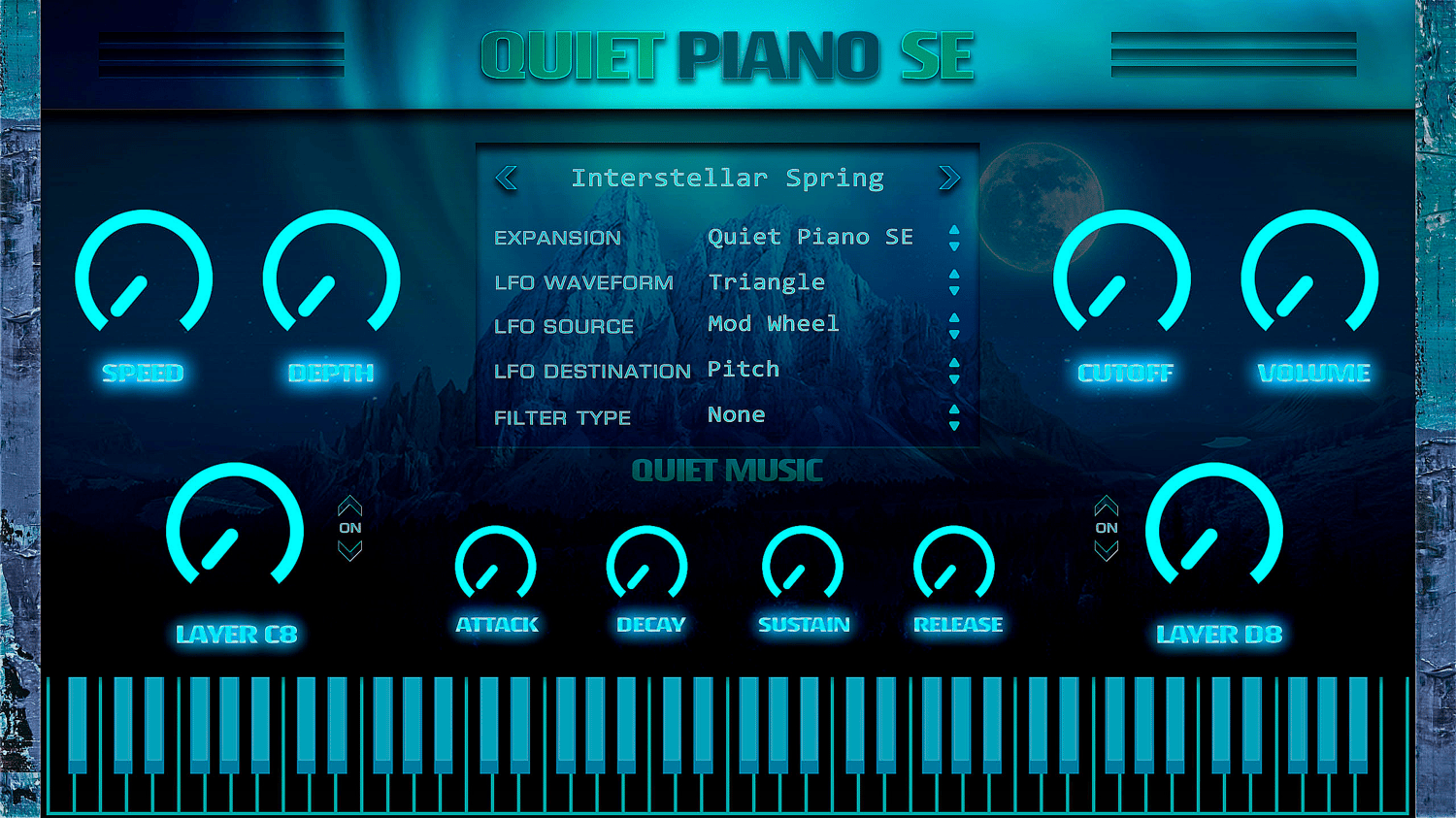 QUIET PIANO SE
Quiet Piano SE
is a piano virtual instrument in VST3/VST/AU plugin formats for Windows and macOS. This virtual piano is based on samples that were professionally captured from a Steinway & Sons A-188 piano. They were multi-sampled at 96kHz 24-bit, then processed through various high-quality stompboxes and high-end plugins.
Quiet Piano SE
comes with 32 presets specially designed for genres such as Lo-Fi, Ambient, Chillout, Downtempo, Relaxing and/or Meditation Music, but also Hip Hop, Trap and other EDM styles. Also, each preset can be blended with two extra layers of sound effects.
The GUI is intuitive and comes packed with ADSR envelope, LFO modulation module with destination, source, shape selector, speed & depth, lowpass/highpass filter with cutoff, global volume, plus gain knobs and on/off switches for the two SFX layers. Quiet Piano SE is available for Windows and Mac (VST/VST3/AU 64-bit).
Features:
Windows & Mac 64 Bit
32 multi-sampled presets
2 extra layers of SFX
ASDR envelope
LFO modulation
Filter section
Easy to use & friendly interface
Includes all presets from the original Quiet Piano
System Requirements on Windows:
Windows 8.1/10/11
2.0 GB disk space
1.0 GB RAM
VST/VST3 host (64-bit)
System Requirements on macOS:
OS X 10.13.6 and above
2.0 GB disk space
1.0 GB RAM
AU/VST/VST3 host (64-bit)
ATTENTION: NOT COMPATIBLE WITH PROTOOLS -
If you are a Protools user and ignore this notice, you will not be refunded in any way.
Please try the free version before purchasing the full version.
https://quietmusic.eu/quiet-piano