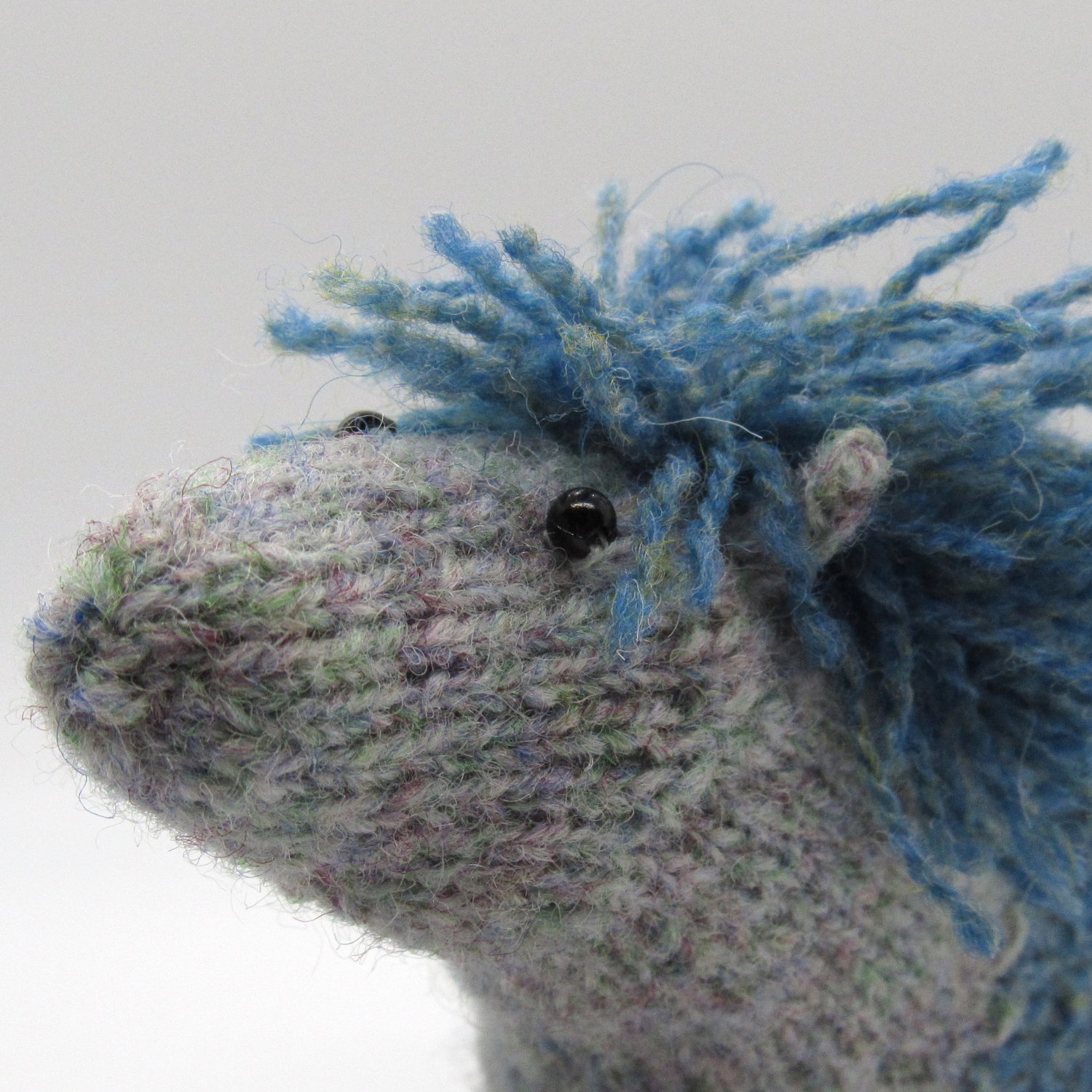 Homer the Hippocampus
On Sale
Literally a sea horse! While the name Hippocampus derives from Greek, the creature actually appears in the myths of many different European and Middle Eastern cultures. It has the upper body and forelegs of a horse with the tail of a fish. In the Illiad, Homer (7th Century BCE) describes the Olympian God Poseidon being drawn in a chariot over the surface of the sea by a pair of hooved horses.
Sample uses:
Jamieson & Smith 2 Ply Jumper Weight
Colour 1: FC39 (Medium Turquoise Blue)
Colour 2: 1280 (Light Turquoise Blue)
This pattern is also available as part of the 
Mythical Bestiary 
collection, see
here
for details. 
Materials
132 yds / 120.5 m fingering weight yarn.
Colour 1: 72 yds / 65.75 m
Colour 2: 60 yds / 55.75 m
2.00 mm / US 0 DPNs, or circular needles suitable for magic loop
Stitch marker (1)
Tapestry needle
Sewing needle
Thread
4mm round beads (2) (Black or preferred eye colour)
Toy stuffing
Embroidery thread (optional)
Gauge
8 stitches = 1 " / 2.5 cm; 32 stitches and 44 rows = 4 " / 10 cm
Size
Height: 4 " / 10 cm
Length: 11 " / 28 cm
Notes
Toy Safety
If the toys are for children, it is highly recommended that measures are taken to ensure that the toy is safe - for the eyes, use safety eyes or secure embroidery; and ensure that all limbs / wings / other additions - including manes and tails where appropriate - are secured firmly.
Sizing
The toys can be scaled up by knitting them in a heavier weight yarn (using the appropriate needles for that yarn weight). Please note that yardage / meterage requirements will change when altering size.