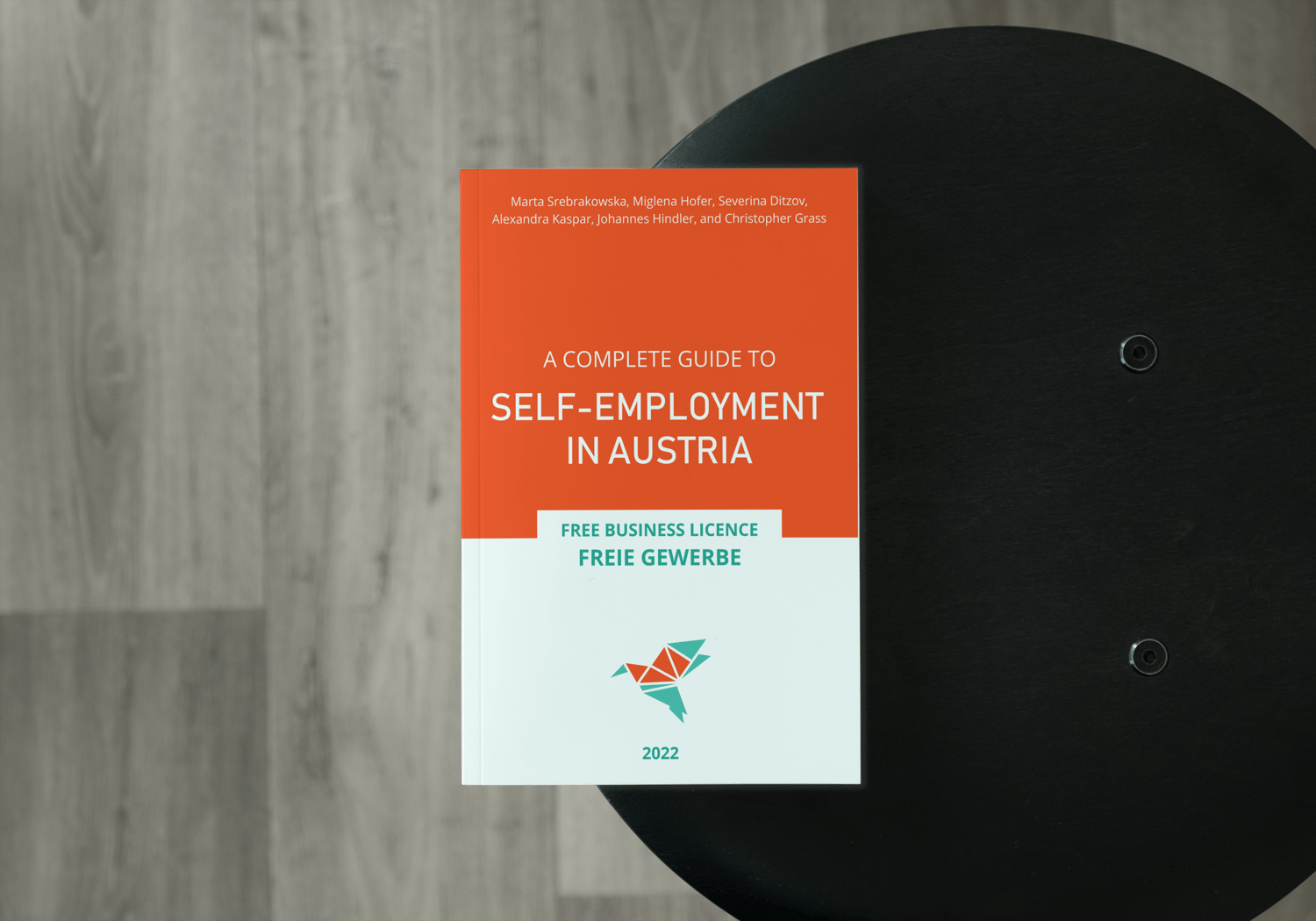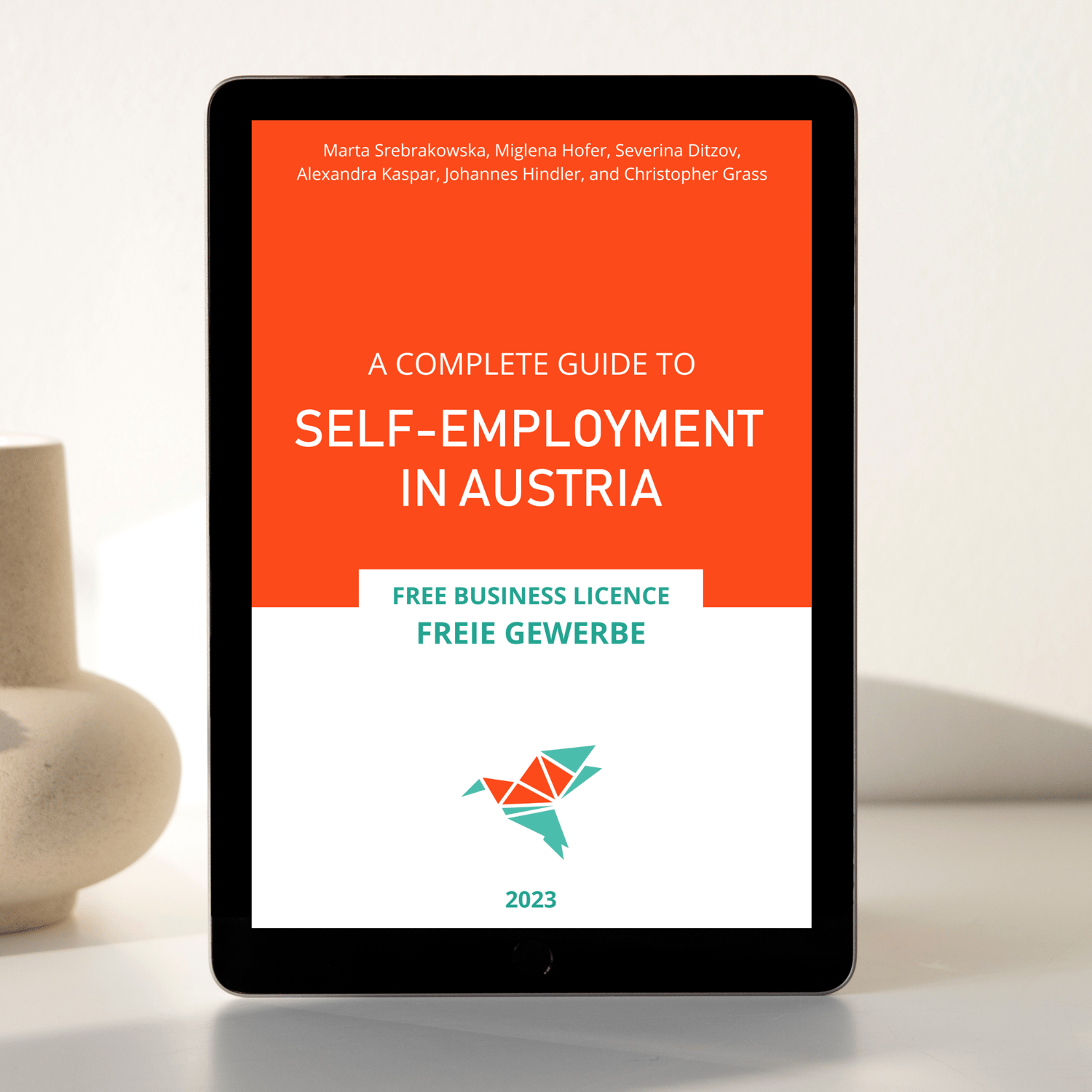 (paperback 2022)
PAPERBACK: FREE SHIPPING WITHIN EUROPE

Edition 2022
delivery time: 2 days - 7 days within Austria; 2 days - 14 days within Europe
format: 157mm x 233,9mm
pages: 250
softcover
language: English
---
Is this a guide for you? Find out by reading an article on
 types of self-employment in Austria
!
---
It's a must-have compendium for those who want to start or grow their careers as self-employed individuals with a free business licence (freie Gewerbe) in Austria. It contains valid laws for 2022 explained by professionals as well as practical advice from experienced freelancers.
The book guides you through the entire process: from registration, through dealing with taxes and insurance until the termination of your business. It will lead you through decisions, help with setting everything up, and also prepare you to endure the ride. We don't only care that you avoid expensive penalties for forgetting to fill out the right forms at the right time, but also that your business thrives and you are successful in the long run. We make sure that you know about upcoming payments, obstacles, and all our techniques for staying organized and motivated. 
Interested in a German version of the guide? Pre-order: hi@self-employed.at.  
Do you prefer this guide as an eBook? Click here: 
https://payhip.com/b/61fL
CONTENTS
:
BEFORE GETTING STARTED
- you will find out all known about the benefits and drawbacks of self-employment, what it means and whether it's something for you
TYPES OF SELF-EMPLOYMENT IN AUSTRIA
- when it comes to social insurance law in Austria, there are different types of self-employment
REGISTRATION AS A BUSINESS LICENCE OWNER
- we will explain how to register at the WKO, the Austrian Tax Office and the Social Insurance Institution
BUSINESS NAME & ADDRESS
- you'll learn about special regulations related to choosing a new or different name and address for your business
COMMERCIAL REGISTER
- everything you need to know about getting listed in the commercial register at the commercial court
TAXES AND BOOKKEEPING
- you will become an expert in taxes, deadlines, rates, bookkeeping & more. We will also explain when it makes sense to hire a tax advisor
SERVICES AND ADVOCACY OF WKO
- as a member of the Chamber of Commerce you will gain access to their services and support, this chapter will explain what exactly you're entitled to
LIABILITY INSURANCE
- you will learn about additional measures of protecting yourself and your business
SVS: SOCIAL SECURITY FOR SELF-EMPLOYED
- everything about the SVS, your health and accident insurance as well as retirement costs
INABILITY TO WORK AND INSURANCE COVERAGE
- you will learn what to do to receive financial assistance & relief services in case of inability to work
TERMS & CONDITIONS
- what to include when creating terms & conditions for your services?
INVOICES & CASH REGISTER
- you will learn what an invoice has to include as well as about the obligation to obtain a cash register, when it applies and how to do it
CONTRACTS
- we will discuss who needs a contract and what has to be included 
OUTSOURCING
- all the questions about hiring other professionals as a self-employed person will be answered
BOGUS SELF-EMPLOYMENT
- the problem of false self-employment explained. How is it determined and how can one avoid it?
UNEMPLOYMENT
- everything about unemployment coverage from the SVS
PREGNANCY & MATERNITY LEAVE
- we will take a look at the insurance coverage the SVS offers in times of pregnancy, maternity, birth, and motherhood
FULL-TIME VS PART-TIME SELF-EMPLOYMENT
- learn about the general requirements and differences in costs
SELF-EMPLOYMENT & RESIDENCE PERMIT & CITIZENSHIP
- do I have a chance for obtaining a residence permit or citizenship if I work fully as self-employed? 
SELF-EMPLOYMENT & RENTING A FLAT
- how to prove your creditworthiness to landlords and real estate agents?
SELF-EMPLOYMENT & CREDIT CARD/ LOAN
- learn about special requirements for self-employed individuals at Austrian banks
FINANCIAL SUPPORT AND COST REDUCTIONS
- learn how to save money and limit costs
MARKETING ESSENTIALS
- once you have your business set up and registered, how to start with marketing and branding?
MOTIVATION & ORGANISATION
- methods for gaining motivation and focus; introduction to top Austrian coworking spaces. Learn how to avoid procrastination and stay organized
TERMINATION OF SELF-EMPLOYMENT
- how to successfully end your relationship with the SVS and the Tax Office if you no longer want to work as a self-employed in Austria?
MORE HELP
- information about companies, institutions, and individuals that will answer more of your questions related to self-employment in Austria
DICTIONARY
- important terms translated from German to English and from English to German